I don't need to tell you that Bali is a massively popular tourist destination. And for a lot of people, a trip to Bali usually consists of a week or two of excessive drinking, sun baking and partying to the wee hours of the morning.
While it might be a great place for cutting loose and letting your hair down, it's also a place that many digital nomads have set up base in. Whether its the beach life in Canggu, or the chilled yogi life up in Ubud – more and more people are choosing Bali to live and work from.
Personally we have kind of avoided it. Mainly because there have always been so many places higher up on our list to visit.
But we thought since we were living in Thailand and it was relatively close by,  it was time to give Bali a test run for ourselves.
LEARN HOW TO WORK &

TRAVEL

THE WORLD

FULL TIME
---
Download our FREE guide in seconds!
By signing up, you are agreeing to receive periodic emails from Fulltime Nomad. No spam. Only the good stuff.
We wanted to see if Bali was a place we could see ourselves working from.
Could we live there, enjoy ourselves and be productive?
So we decided to check out two of the most popular areas digital nomads tend to gravite to – Ubud and Canggu. And of course we explored a couple of islands to see what else was on offer.
So this was our two week Bali workation.
Ubud for Digital Nomads
So the first stop on our workation was Ubud. Ubud is about 1.5 to 2 hours to reach from the airport. It would be a lot less – however traffic in Bali, as we soon found out, was insane!
The first thing we noticed about Ubud was how the beautiful the landscape is. A combination of bright green rice paddies, lush jungle, Hindu temples and traditional Balinese architecture.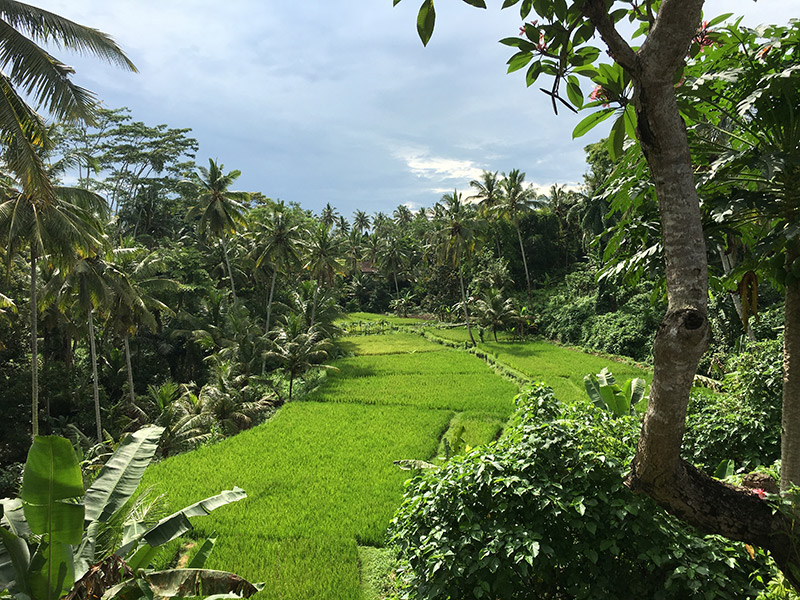 The rice paddies of ubud
It was easy to see why many foreigners are flocking here. We instantly got a good vibe from the place.
Accommodation in Ubud
For our 5 days in Ubud, we rented a small villa, which was an incredible place to stay. It looked right out onto some rice paddies, came with a pool and had fibre optic internet. While the internet wasn't super fast it was good enough to be able to get some work done when we were home.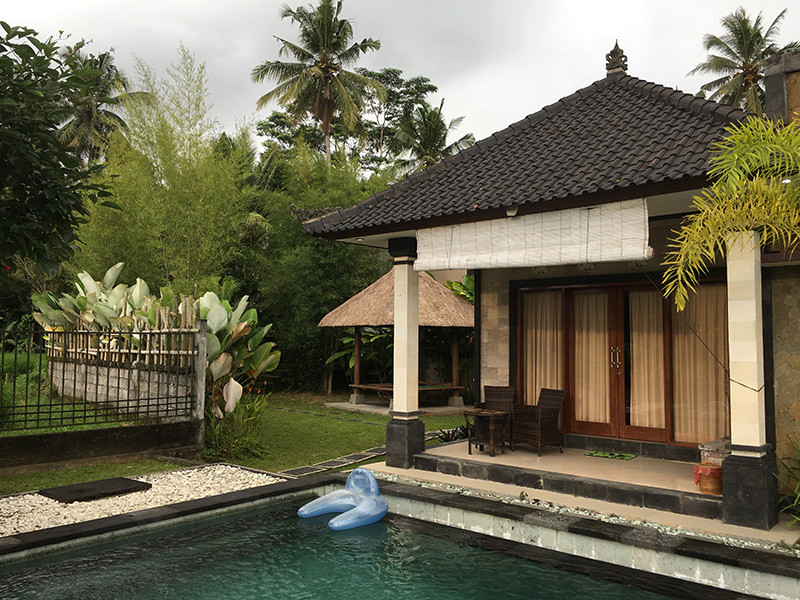 Our villa in Ubud.
The villa was $30 a night, however if you are looking to rent per month you can find a decent villa in Ubud for about 400-500 USD per month.
If you are looking for some listings check this Facebook group.
We also rented a bike, which was organised by our host. It was around $6 a day including drop off and pickup. You can definitely get it a lot cheaper than that, especially if you rent it for longer.
The villa was located about a 10 minute drive outside the main centre of Ubud – which was perfect, as the main part of town can be a little hectic with tourists and traffic.
If you have the capacity to ride a bike, I would hire one and choose to stay outside town rather than in the centre.
Coworking in Ubud
Ubud has become a digital nomad hotspot and has one of the most well-known coworking spaces – Hubud. We had already heard a lot of good things about Hubud so we were pretty excited to go check it out.
Well we were not disappointed.
Let me just say that it is one of the best coworking spaces we have worked from. Firstly it ticks all the boxes. They have comfortable work space, proper office chairs and of course super fast WiFi.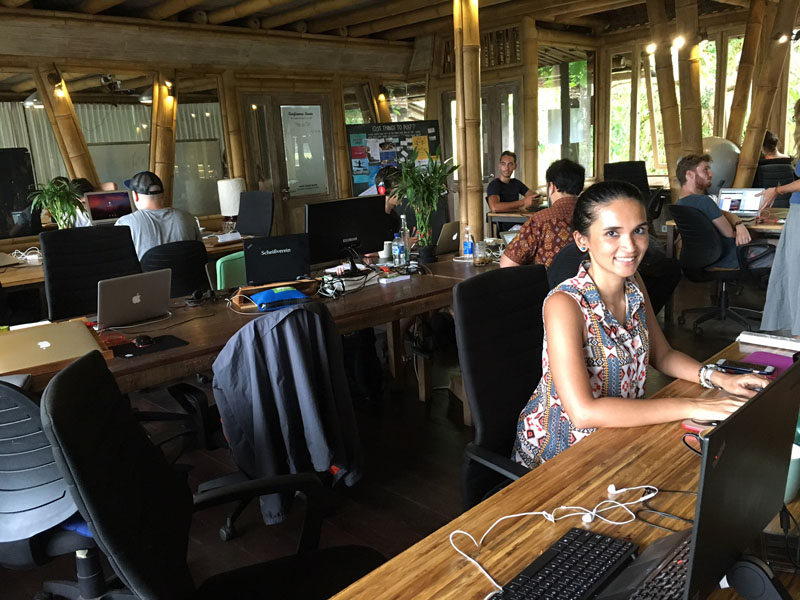 Hubud coworking space.
In additional to getting the basics right it also has:
A thriving community.
Regular events and meetups.
An in-house cafe that serves up delicious healthy food.
Multiple places to work (inside, outside, private rooms, even a loft).
An interior made of bamboo, which just makes the place feel pretty damn cool.
I can't say enough good things about Hubud. Its a great place to work as a digital nomad.
As impressed as we were with the coworking space in Ubud, we were equally impressed by the food Ubud had on offer.
Food in Ubud
So before coming to Bali one of the big mysteries to us was the food.
We've been to a lot of places with good food, Vietnam, Thailand, India and I will say that overall as a place Ubud was right up there.
I've never really eaten much Indonesian food myself nor have I heard many people go on about the food in Bali. So it was a bit of a shock to me how good the food was in Ubud.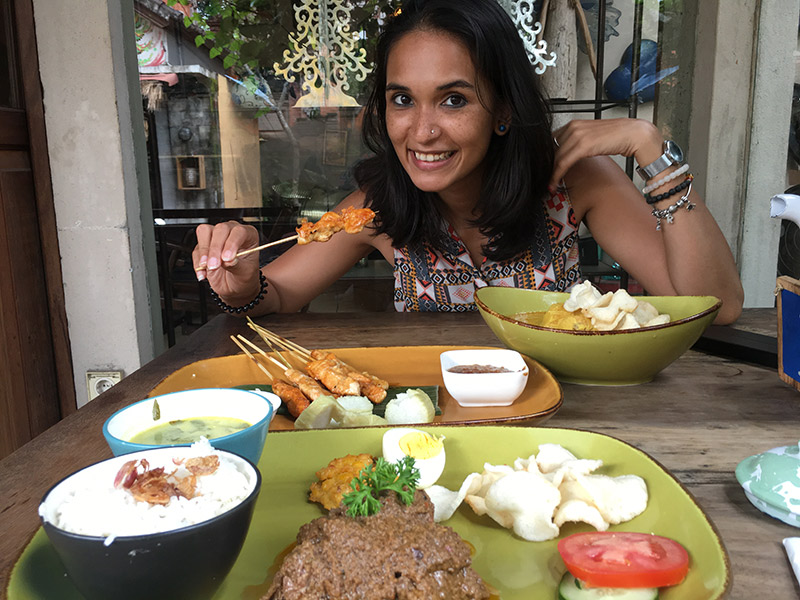 Radhika hooking into some satay.
Everything we ordered – whether it was from a cafe, restaurant or a local warung (small family run restaurant) hit the spot.
Ubud really embraces the whole organic, yoga, well-being lifestyle thing, so you'll find that is reflected in the food served at the restaurants as well.
So if you eat organic, vegetarian, vegan or paleo food than you will fit right in at Ubud as there are plenty of options.
So the food's a hit, there's decent enough internet and a good coworking space, what about things to do?
Things to do in Ubud
In terms of tourist attractions, Ubud is mostly about the temples and the natural sights.
There's few things like:
The monkey forest – a nature reserve and sanctuary for monkeys. Here you will find a lush forest inhabited with a whole lot of cheeky monkeys on a mission to steal any food you may have. You will also find some pretty cool temples and structures along the way.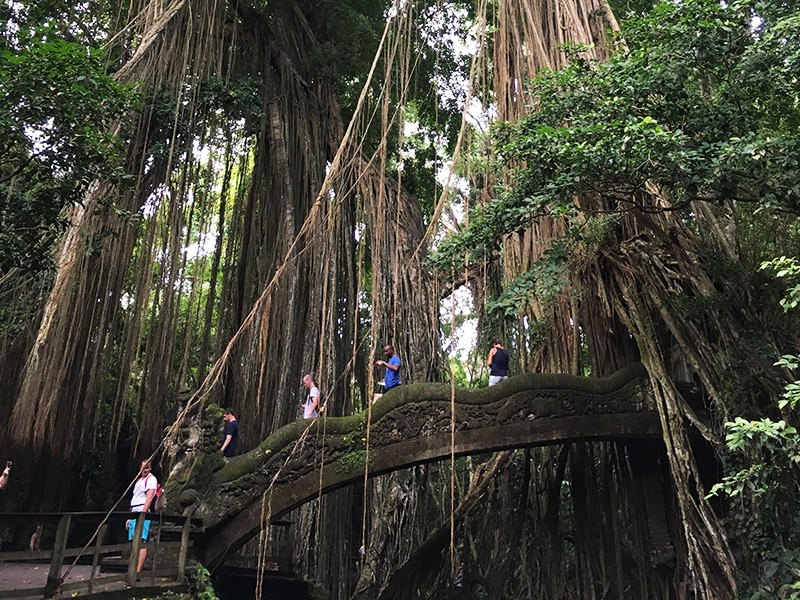 The monkey forest.
Tegalalang Rice Terraces in Bali – The most famous Rice terraces in Bali. These were amazing, although the touts and the hoards or souvenir shops somewhat took away from the experience.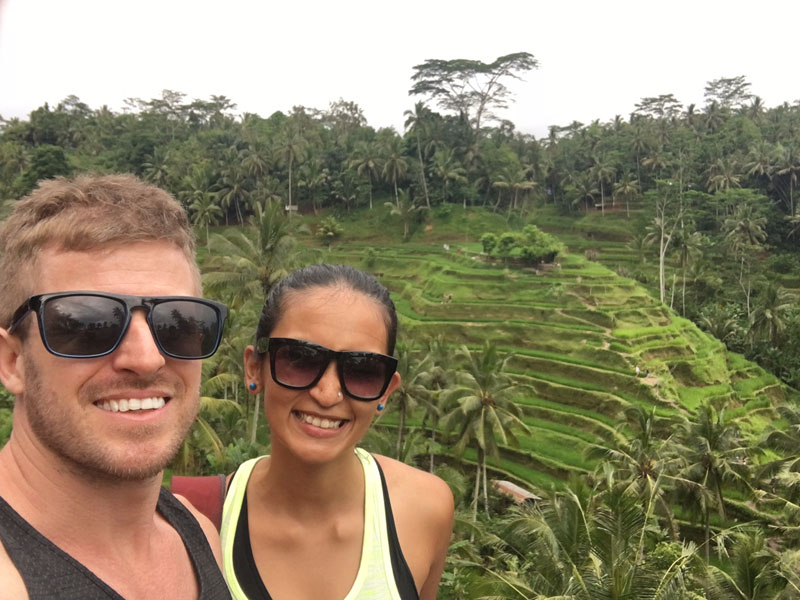 Tegalalang Rice Terraces.
Also if you are into yoga. Ubud is a yogi's heaven. There's dozens of studios. The biggest and well known is Yoga Barn but there are plenty of others.
Of course, like everywhere in Bali, there are some pretty amazing temples to check out too.
So if you were to choose to base yourself in Ubud, within a few hours of Ubud you also have some other pretty cool things to check out, like:
Hiking the Volcanos Mount Batur & Mount Agung
The Gili Islands.
Kuta, Seminyak, Legian and Canngu
Nusa Lembongan
For us the thing we enjoyed most about Ubud was the nature. It was really good to be in place with such beautiful and peaceful surroundings. Also the good food and just exploring the nearby villages and roads by bike was enough to keep us very happy.
So…
Is Ubud good for digital nomads?
Personally we loved Ubud. I think it would be a great place to set up base for a couple of months. There's good internet, coworking spaces, great food and there's enough to see and do.
After Ubud it was time to check out Canngu
Canngu for digital nomads
About 10 kms north of Kuta lies the coastal village of Canggu. While a lot quieter than it' neighbours of Seminyak & Kuta, Canggu seems to be the next big thing in Bali. And you can see this with the amount of expats, tourists, digital nomads and construction going on in the Area.
Canggu is famous for its surf, trendy cafes, beachfront bars, rice paddies and overall laid back, bohemian, vibe.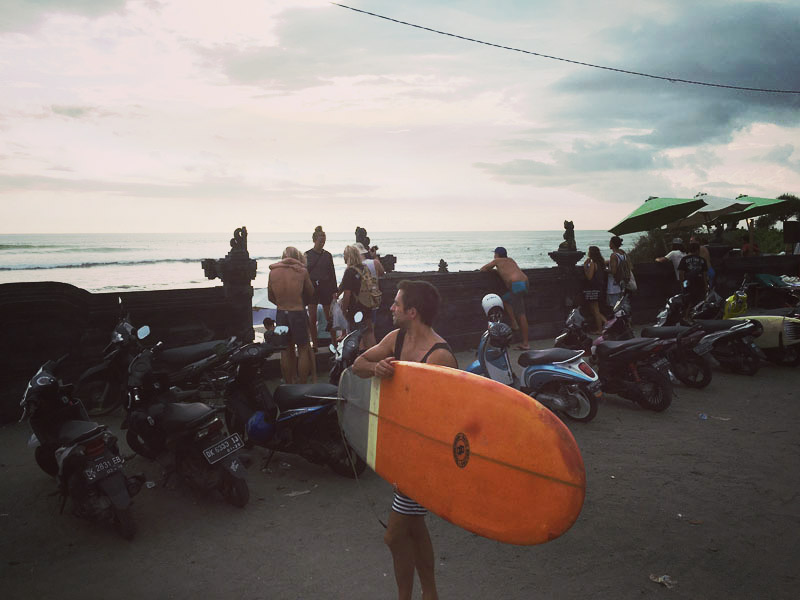 Batu Bolong Beach.
For me Canggu seems like a cool enough place. I'll admit it does have a pretty cool feel about it, nice restaurants, nice bars but, we were extremely disappointed by the beaches.
The beaches are one of the main attractions of the place but they were littered with rubbish. The surf was good, so I guess if you're there just catch waves, then cool. But overall the beach was dirty and wasn't really a place where we wanted to hang out. (We're a bit snobby about our beaches)
The other thing worth mentioning about Canggu is that while is close in proximity to other notable places like Seminyak and Kuta, getting out is painful. The heavy traffic around this area, combined with some of the worst roads I have ever driven in make it more trouble than it is worth.
Ok so enough of the negatives what about some positives?
Accommodation in Canngu
For our stay in Canngu we decided to again stay in a Villa. The place was super nice, had a great pool and had decent enough WiFi to get work done.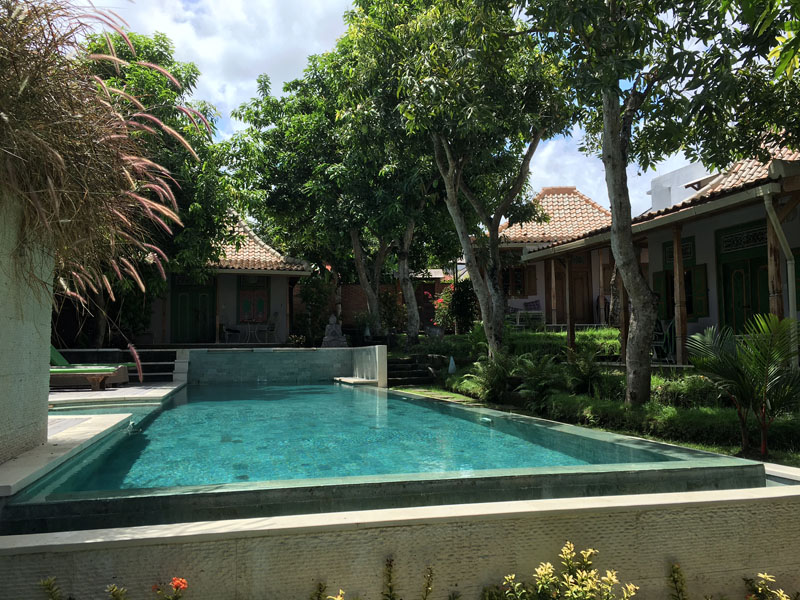 Our villa in Canngu.
The location was about 3km from the beach, which was fine because we had a bike.
However Canngu is quite spread out so if you don't have your own transport it is a difficult place to get around by foot.
I think it essential if you are going to stay here for an extended period, you do need a scooter or a bike of some sort.
Coworking in Canngu
Canngu's main coworking space is Dojo Bali and Like Hubud it quite well-known in the digital nomad community. So we were super pumped to go check it out.
The Dojo coworking space is pretty amazing. It has a really open plan and multiple places that you can work. It has a decent cafe inside and even has a swimming pool and change rooms.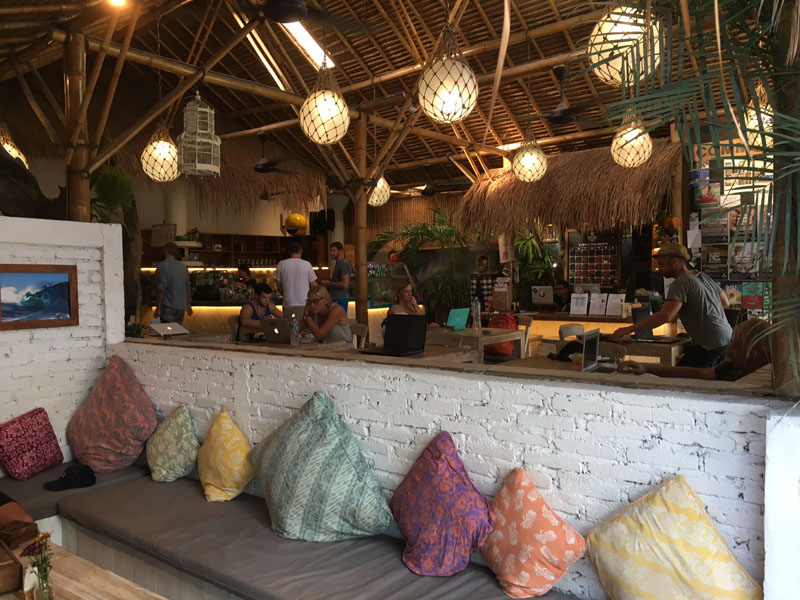 Dojo Coworking Space.
I would say that it is up there with Hubud, and could have easily pipped Hubud if Dojo had proper office chairs. That was their only real blemish. Personally I need a good chair if I'm sitting for 8 hours a day.
Now to be honest we didn't actually work out of Dojo – we went in and got a tour of the place from one of the friendly staff. So we are making our judgement off what we saw during our 5 minute tour. But it did look incredible!
Our villa had pretty good WiFi and some cool spots to work from so we were happy to work from there.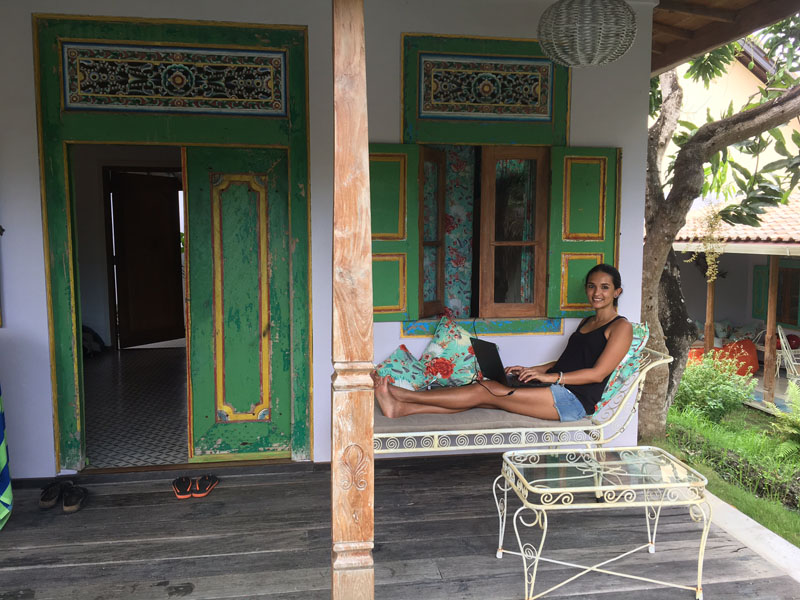 Radhika catching up on some work.
Food In Canngu
While it didn't quite reach the heights of the food we had in Ubud, overall the food in Canngu was pretty good.
There's loads of options and a good mix of international and local restaurants. And for us, being massive coffee addicts, we were impressed with the number of trendy cafes on offer.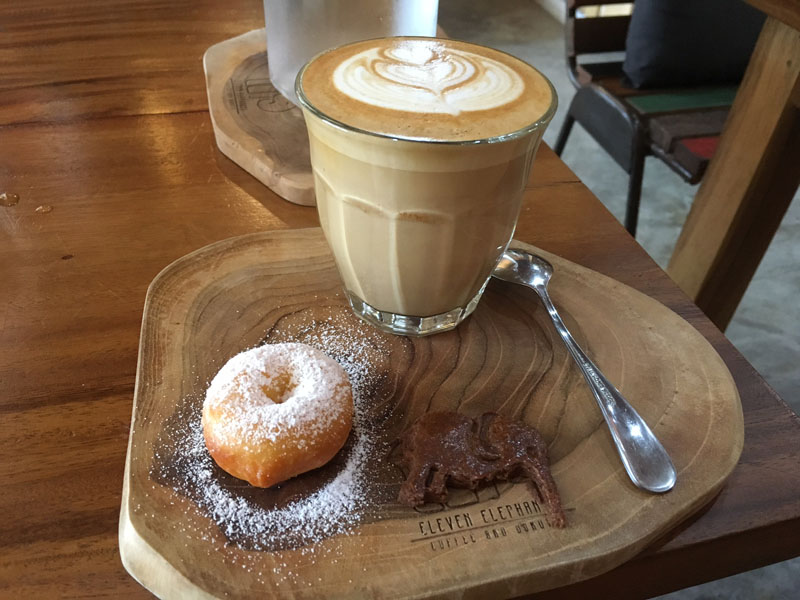 Eleven Elephants Cafe.
Ok so what about things to do in Canngu?
Things to do in Canngu
The biggest attraction in Canngu is the beaches and the surfing.
At Batu Bolong Beach the surf is good for both experienced riders and for people wanting to learn. Here you will find plenty of vendors willing to rent you a board.
The other activity that competes with surfing is yoga. Like Ubud you will have a choice of many yoga studios.
The main tourist attraction around this area is the famous temple Tanah lot. Its basically a temple that sits on a rock in the ocean and is a huge star on Instagram.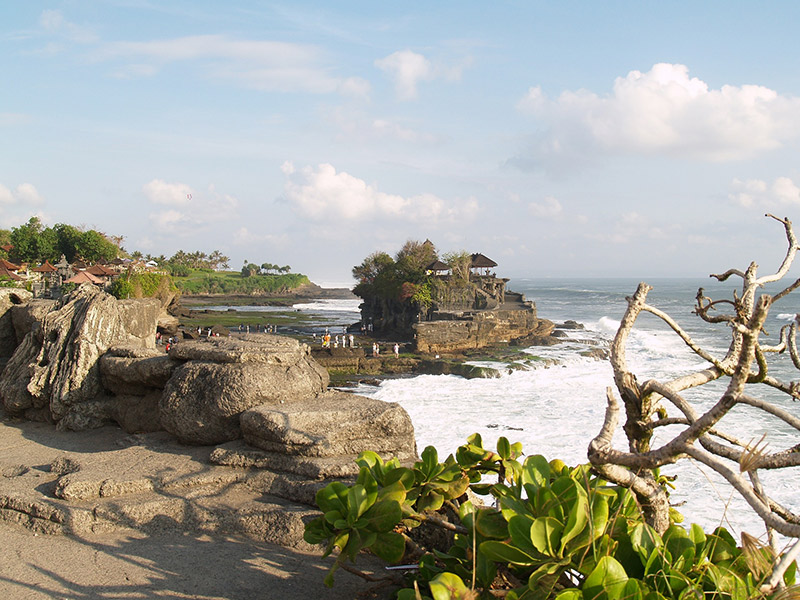 Tanah Lot.
If you were to set up base in Canngu, the good thing is that you are away from the main tourist parts like Kuta and Seminyak but still close enough to enjoy them. Especially if nightlife is a big factor for you.
So the question is….
Is Canngu good for digital nomads?
Canngu is good for digital nomads. It has everything that you need to run your business productively from.
Would we live there for a few months? Probably not.
The beach isn't that great, the roads and traffic are horrible and places nearby like Seminyak and Kuta just isn't our thing.
Don't get me wrong. I can see the appeal, but for me there's so many other places in the world where we would rather spend our time.
Ok so after checking out both Ubud and Canggu it was time to put some icing on the workation cake and check out some of the islands in and around Bali.
We only had a week left so rather than try to see everything we picked 2 spots. Gili Trawangan and Nusa Lembongan.
Both place are easily accessible by ferry/ speed boat from Bali.
Gili Trawangan
Gili Trawangan is one big party island and attracts a fairly young crowd. Although it's not just all party. It also has some great food, nice beaches and some spectacular sunsets.
Here are some pics from our trip: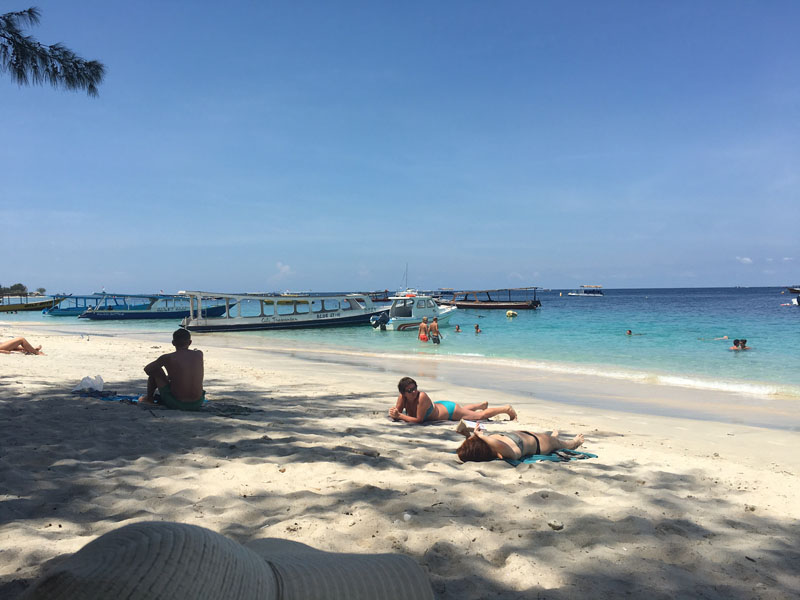 The main beach in Gili T.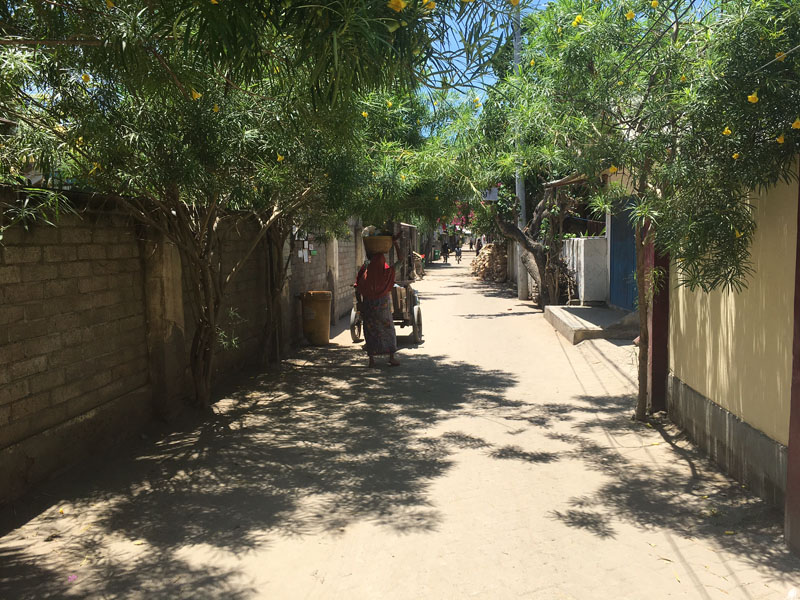 Pretty much all dirt roads in Gili T.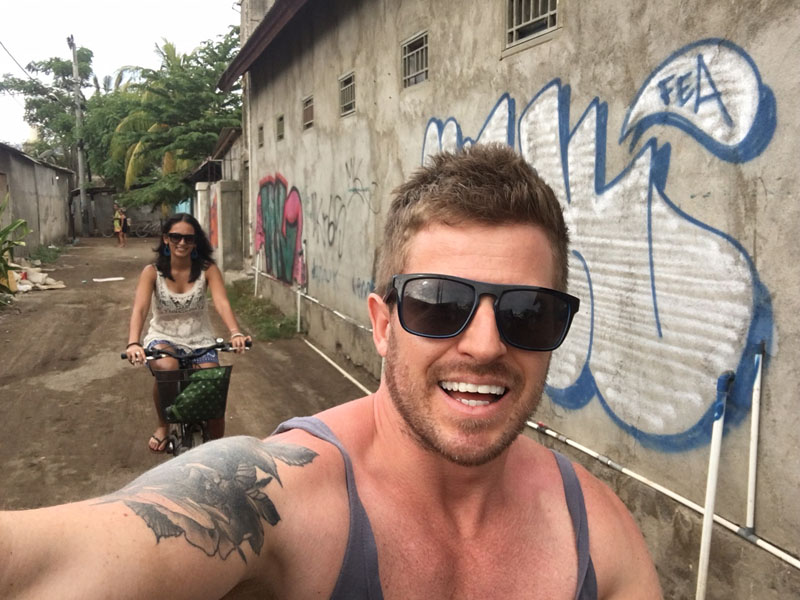 Bombing round on our rented bicycles.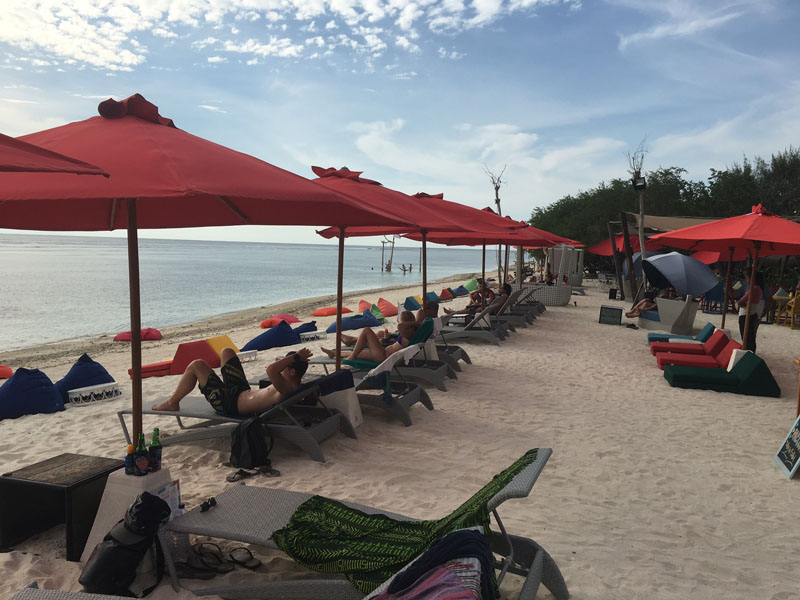 The perfect place for a sunset.
Nusa Lembongan
In contrast to Gili Trawangan, Nusa Lembongan is a lot quieter. Not so many bars, more families, bigger resorts, that kind of thing. It is a great place for diving and has a variety of different beaches.
Here are some pics from our trip: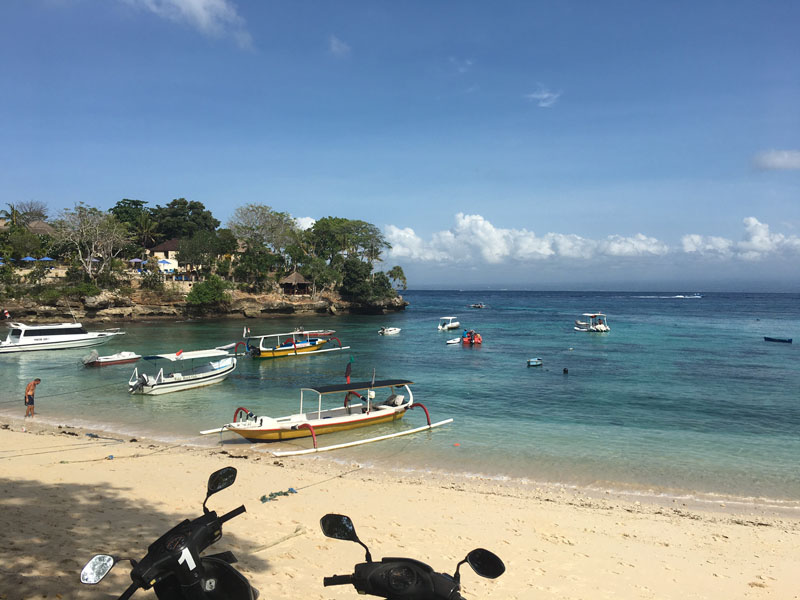 Mushroom beach.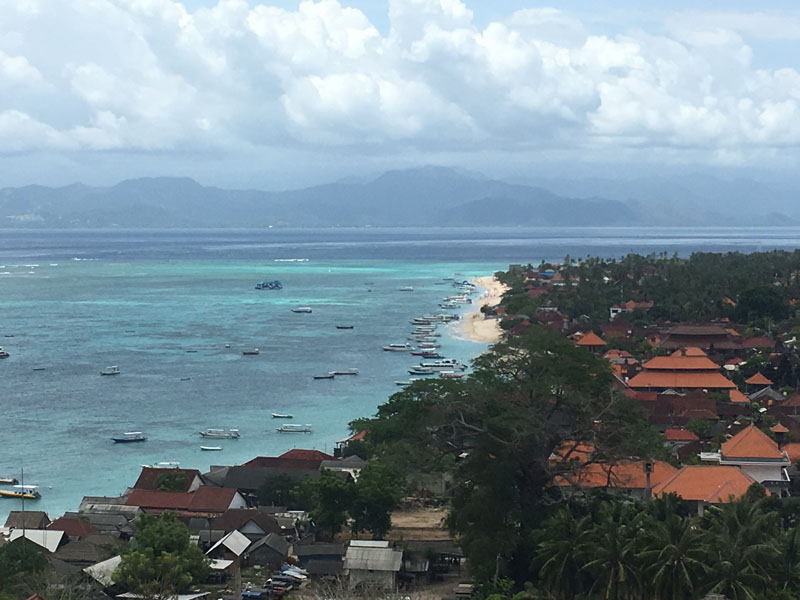 Overlooking Nusa Lembongan.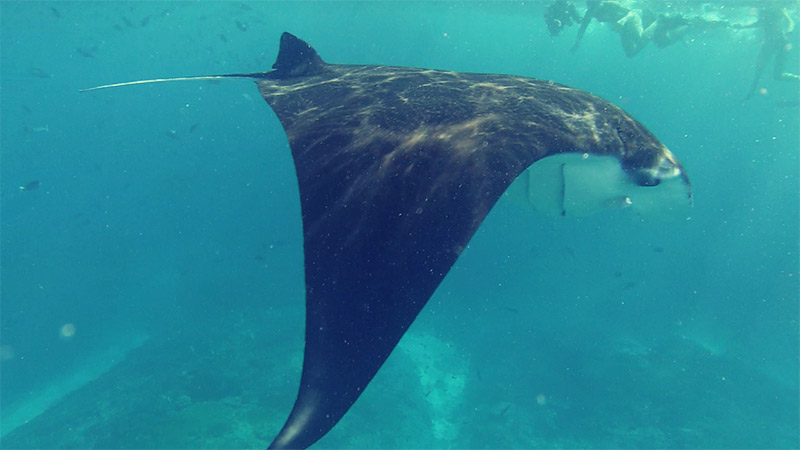 Diving with manta rays.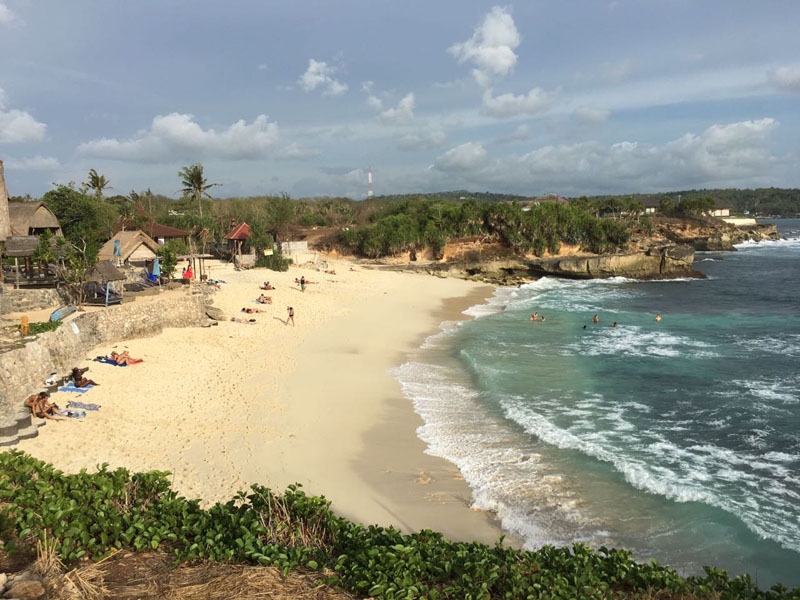 Dream beach.
Both Gili T and Nusa Lembongan were impressive and had some amazing beaches. They are definitely worth a visit.
While I wouldn't suggest choosing either of these places as a base for work, the internet is good enough to be able to maintain some work on the go if you are doing a bit of travel there.
So final thoughts….
Both Ubud and Canngu are places that are suitable for digital nomads to live and work from. While Ubud was definitely our preference I can also see the appeal of Canngu for digital nomads as well.
Either way, what ever place you choose, there' lots to do in and around Bali that make it worth staying for a few months.
We don't see ourselves getting back to Bali any time soon, but if we do we'll be getting a villa in Ubud, chilling out by the pool and trying as many local restaurants as we can.
What about you? Have you lived in Bali before and what did you think? Are there any other places you would recommend?
Leave a comment below.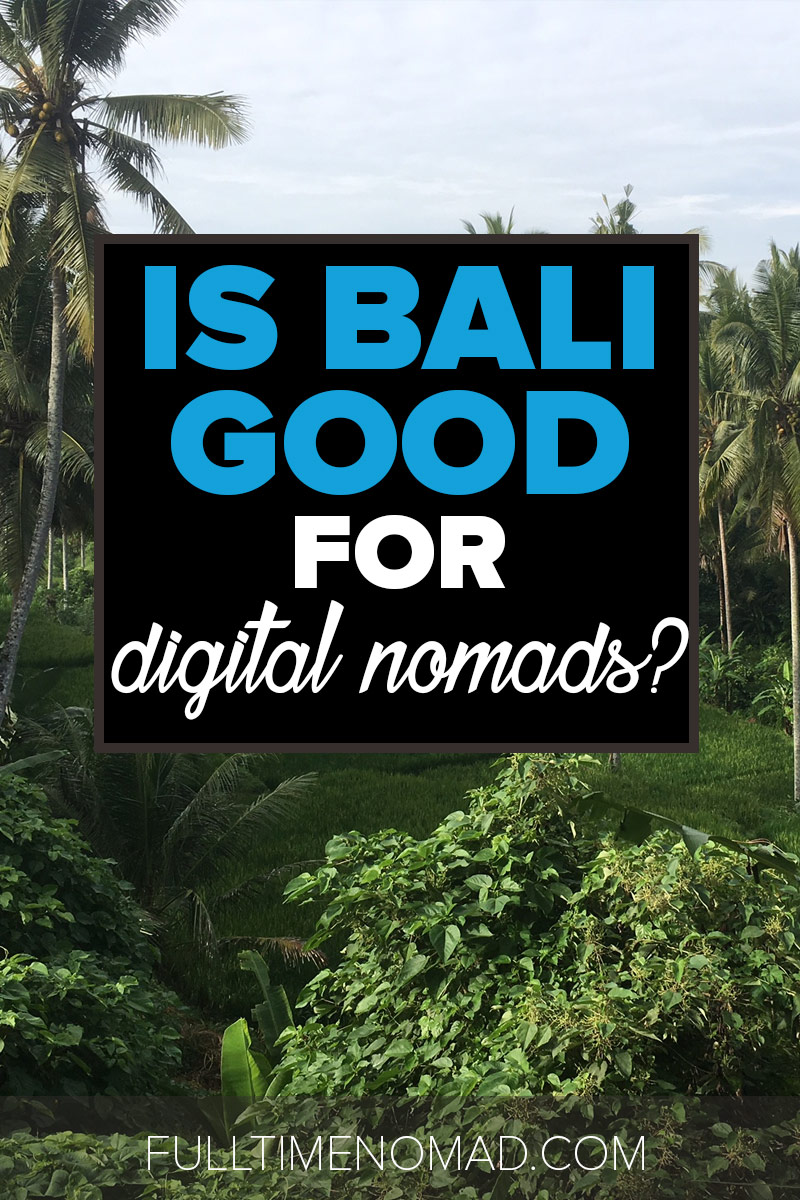 Written by
---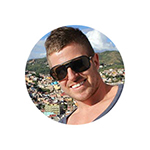 Johnny H.
As the co-founder of Fulltime Nomad, Johnny really believes the world is too big to stay in once place. In 2013 he broke away from his non-location independent job to chase his passion of travel and living abroad. Now he helps others do the same.