What are the best travel jobs in the world?
No we're not talking about becoming a flight attendant or working in hostels as your backpack the world.
We're talking about jobs that travel with you as you go. No matter where in the world you may happen to be.
You've seen people travel the world full time and have the best time of their lives. They've made travel part of their lives. They earn a living as they globetrot. You envy them. You wonder how you too can get one of those travel jobs.
FREE 5 Day Course
How to start a blog
that makes money
---
In this free course, we will take you through, step-by-step, everything you need to start a profitable blog.
By signing up, you are agreeing to receive periodic emails from Fulltime Nomad. No spam. Only the good stuff.
Wonder no more. We have the answer!
There are so many jobs where you travel while you work. Fortunately, you now have many more options than just taking a bar or waitressing job at your favourite destination.
You don't have to work at a hostel either. You now have a lot more satisfying and sustainable options.
Let's take a quick look at seven of the best travel jobs that let you work while you travel the world. We'll dive into what it takes and how to get started with each.
*This post may contain affiliate links. If you click on them and purchase something we get a small percentage of the sale. More info here*
Related posts:
The 7 Best Travel Jobs for Digital Nomad Wannabes
1. Blogging
Blogging is one of the post popular travelling jobs.
You've probably seen many digital nomads who're living the blogger lifestyle and travelling the world.
If you want to make a good income from blogging, it's hard work, no doubt but it's totally worth it. I mean, does it cooler than being your own boss, writing about stuff you enjoy and making money from it.
It's not impossible, it's totally achievable. You can earn anything from $1 to tens of thousands of dollars every month, depending on the effort you put into your blog.
While many digital nomads like to write about travel, it's also important to remember that a travel blog is not the only option. You can write about anything you want and make so much money.
For example, on FulltimeNomad.com, we don't write about travel. In fact, we write about ways to make the digital nomad lifestyle possible and sustainable.
Ready to start your own blog? Use our exclusive BlueHost link to get started today for as little as $2.95 a month. PLUS, you'll get a free domain and easy-peasy 1-click WordPress installation.
The secret to making the journey to monetising your blog easier and faster, is to prepare well. Don't just start a blog because you think you can write. Think about what you want to write about and the people that you want to target with your writing.
Think of your blog like any other business. Have goals and a plan on how to make it grow and financially successful.
There are different ways to earn money from your blog. Some of the popular income streams include:
Affiliate marketing: This works by adding an affiliate link or product banner on your blog. You then get paid a commission every time someone clicks on the link or the banner and buys the product being advertised.
Sponsored posts: This is where companies or individuals write blog posts promoting their businesses and they pay you to post them on your blog.
Advertising space: You can also sell advertising space on your blog. You get paid monthly to place an advertiser's banner on your blog.
Digital products/e-books: These are products available for consumption in digital form either online, on mobile devices or PC after purchase. Popular digital products include e-books, online courses, webinars and video tutorials.
A membership section: This is where you offer offer premium blog posts, digital products or simply a private forum. A membership area has restricted access and people have to pay a monthly subscription fee to become members and access the content available.
See also: Make Money Blogging (for Beginners): How to Make Your First $100
What does it take to start blogging?
Good writing skills are the pillar of a good blog. You may not be good at writing but there are many online courses that you can take to learn how to write for online audiences.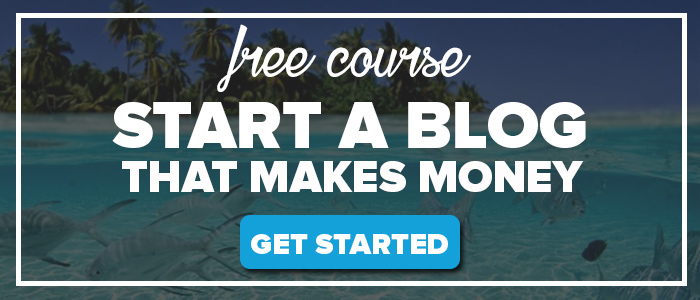 Marketing skills are also important because you will need to market your content in order to grow your audience and to make money from your blog. Learn how online marketing works to understand how to promote your blog.
As a blogger, it's important that you also have social media skills. Social media is a great way to promote your blog to bigger audiences so learning how to do social media marketing will help you make your blog more popular.
Need a hang getting your blog up and running? Check out our step-by-step guide: How to Start a Blog in Under 10 Minutes
2. Instagram Marketing
Not quite ready to start a blog yet? How about a travel job using a social media skills you probably already have?
Instagram marketing is becoming a hugely in-demand skill. Businesses want to make the most of Instagram to get in front of their audience. So, they need people to know how to work the platform.
Instagram marketers can earn anything between $20 to $100 per hour depending on their experience.
What does an Instagram marketer do you wonder?
Let's look at a few tasks you will be expected to handle as an Instagram marketer:
Industry research
Post creation
Image creation
Hashtag research
Community management
Advertising
Monitoring & Analytics
What does it take to become an Instagram marketer?
An aesthetic eye is very important when running an Instagram account.
Good graphics are the backbone of Instagram marketing and you therefore, need to be able to pick out catchy, exciting and high quality images that will attract the most users.
Copywriting is also important because you will have to write good captions for all the graphics that you share on Instagram.
Learn how Search Engine Optimisation (SEO) works. SEO is important because it makes your content available to your target audience. Learn the best keywords to use as well as the right hashtags. Hashtags are quite popular on Instagram so you do want to know how these work to stay ahead of the game.
Customer support is a good skill to have as an Instagram marketer. Why? You will be required to not only post content but to engage with your followers. Being able to communicate and give feedback to users online is important in building a good image for your clients.
No experience in Instagram marketing? Worry not we have a few suggested online courses that will help you gain the skills you need:
Courses by Alex Tooby:
If you want to learn about Instagram, who better to learn from than someone who's been there, done that and grown a massive following on Instagram – right?
Alex Tooby has two great Instagram courses to help you understand how the platform works and how to explode growth on Instagram:
Infamous to Influential: Where Alex shares the strategies that helped her grow her following to over 350k followers AND, it makes her money. Awesome.
Hashtag Hero: You know you're supposed to use hashtags on Instagram but do you know how to use them to grow your account and increase your engagement? This course shows you exactly how to.
Courses on Udemy:
Additionally, you may also find these courses helpful:
For a more detailed guide on how to take your Insta skills and turn them into a location independent business, don't forget to check out our blog post: How to Become an Instagram Marketer & Travel the World
3. Freelance Writing
Freelance writing is one of the most online jobs that allow you to travel. It that has been around for years and will continue to be huge in years to come. I mean, people will always need writers, right?
This is one of the best travel jobs to get paid to travel the world because there are so many areas and opportunities to explore.
Freelance writers offer their skills to businesses in a variety of ways. There are many areas of writing that you can pursue such as:
Blogging: This involves getting paid to write content for blogs to help businesses gain an increased web presence.
Web content writing: A freelance web content writer writes content for different websites with SEO as the main focus. Web content writing is geared towards helping businesses rank higher on search engines such as Google.
News writing: As a news writer you will write news articles for various news outlets such as online news publications, newspapers or magazines.
Copywriting: Copywriters write persuasive content aimed at convincing readers to take desired actions. This will often include sales copy, marketing copy, advertisements, product descriptions, landing pages etc.
Ghostwriting: This is the practise of writing content on behalf of someone. Though you do the writing, your name is not included in the writing and you can't claim ownership to the work.
Magazine writing: This is writing content for online and offline magazines.
Freelance writers charge anything from $10 to even $1000 per article depending on experience and the type of freelance writing they engage in.
Brush up your writing skills with these popular online courses:
Writing Courses on Udemy:
For a detailed guide on how to make use of your writing skills to score a location independent job, be sure to check out our article: How to Become a Freelance Writer & Travel The World
4. Facebook Marketing
Facebook is not only a huge social media platform but is also making huge bucks for businesses.
Businesses know how important Facebook is to their bottomline so they want to hire someone who has the skills and will get them results.
Facebook marketers are in-charge of a variety of things, including but not limited to:
Creating an effective Facebook marketing strategy that identifies the target audience, and type of content that will engage them most.
Scheduling and publishing posts on Facebook using tools such as Buffer and Hootsuite.
Creating Facebook graphics such as images and videos.
Creating and managing engaging advertising campaigns on Facebook.
Analysing data and finding opportunities for growth with Facebook advertising.
Just as with Instagram marketing, Facebook marketers can earn anything between $20 to $100 per hour depending on their skills and experience.
What does it take to become a Facebook marketer?
Every Facebook marketer MUST have good copywriting skills. You will probably be writing lots of posts and ads so being able to write effective and engaging copy, is a must.
Of course, most importantly you should understand Facebook's advertising platform and how to use it to meet business needs. Facebook ads are one of the most popular ways that businesses are leveraging Facebook to increase content engagement, reach and sales.
Facebook ads management is actually one of the most sought after skills among Facebook marketers so it's a great area to brush up on.
Make sure you have what it takes to be a good Facebook marketer. Try out these online courses:
Facebook's own Blueprint course is a good starting point. It's not comprehensive but it is a good introduction if you're a complete newbie.
Courses on Udemy:
Curious about Facebook marketing? Our article, How to Become a Facebook Marketer & Travel the World goes into great depth about what it takes to become a Facebook marketing digital nomad. Check it out.
5. Graphic Design
Like writing, design is another skill that is never likely to go out of fashion.
Graphic design is a great job where you travel. Your presence isn't required to get the work done so you will never be confined to one location and you can travel as much as you want.
There are so many jobs that graphic designers can do. These include: designing websites, logos, brochures, flyers, business cards, adverts, postcards, letterheads, catalogs, invitation or greeting cards, social media pages and so much more.
The amount of money that graphic designers make varies depending on an individual's skills and experience. Highly experienced designers earn upto $300 an hour while newbies make $20-$30 an hour.
What does it take to become a graphic designer?
To begin with, you must learn how to use the different tools and software available for designers. Learn how Photoshop, Illustrator and InDesign work as these are the most popular design software that you will be using a lot.
Visual creativity is a must for any graphic designer. You want to be able to create designs that are visually appealing. Visual creativity is what will help you turn an idea into a visual piece of work.
Basic HTML & CSS may be programming languages, but, they are equally important to a graphic designer especially for web designers.
Don't have these skills yet? Take these recommended online courses:
Graphic design courses on Udemy:
Don't forget to check out How to Become A Graphic Designer & Travel the World for a complete insight on how graphic designers can start making a remote income.
6. Virtual Assistant
A virtual assistant (VA) is a freelance or contract worker who works remotely doing almost anything from anywhere in the world. A VA's most important task is to offer support services to businesses.
A virtual assistant can offer a host of support services ranging from simple administrative tasks to complex creative tasks such as:
Social media management
Blogging/ghostwriting
Ecommerce assistant
Web design
Customer service
Email management and marketing
Bookkeeping
Data entry
General admin work
As most businesses require support services, virtual assistants are also quickly becoming one of the best travel job options out there as well.
What does it take to become a virtual assistant?
Computer skills are obviously a must have skill as your work will be done on a computer. Learn how to effectively use a computer before you start looking for virtual assistant clients.
Microsoft Office is another must have skill. Know how to use Word, Excel and Powerpoint because clients will expect you to use these products in the course of your work.
Good communication skills are important even though you may not be in constant communication with your clients. You will do a lot of your communication via Skype, email or IM. You still have to be able to communicate clearly and in a professional manner.
Even if you aren't hired to do a writing job as a virtual assistant, writing skills are still important. As a VA, you will likely be communicating with your clients via email a lot so clear communication is crucial.
Additionally, you will often find yourself sending marketing messages to potential clients promoting your services and therefore, need to write well to be taken seriously as a professional.
You will want to polish up on some skills if you want to be a successful virtual assistant. The role of a VA, however, is very varied so the courses you take will depend on what kind of VA you want to become. Some recommendations are:
Courses on Udemy:
To get a better understanding of what it takes to become a virtual assistant and figure out where your interests lie, check out: How to Become A Virtual Assistant and Travel the World
7. Pinterest Marketing
This one is for the Pinterest addicts! If you love pinning beautiful images then you might just have found yourself the perfect travelling job.
Pinterest marketing has become a big strategy for businesses and qualified freelancers are making a killing from it. As a Pinterest marketer, you will therefore, use the platform to promote businesses and their products.
Pinterest marketing tasks include:
Creating relevant boards that represent what your client does
Optimising boards so that they are easy to find for users
Researching on content relevant to your clients and pinning it to the relevant board
Pinning client's content to relevant boards
Creating promoted pins (Pinterest ads)
Running contests on Pinterest to increase engagement
Analysing Pinterest Analytics (reviewing your account's performance)
What does it take to become a Pinterest marketer?
You must have good taste in visuals because good visuals are what bring people to Pinterest and keep them addicted.
SEO is a must if you want your Pinterest marketing efforts to bear any fruit. SEO makes your pins and boards easy to find both on Pinterest and on search engines. By learning how SEO works, you get to understand how to use relevant keywords and hashtags to gain more visibility.
Internet marketing skills will help you to understand how to generate more traffic to your Pinterest content, how to generate leads and convert these leads into customers.
Thinking of becoming a Pinterest marketer but haven't got the skills required? Learn today with these online courses:
Courses on Udemy:
See more: How to Become a Pinterest Marketer & Travel the World
Jobs That Travel with You: It Really is Possible
Having a job that travels with you is no longer a far-fetched dream. So many people (us included), are doing it successfully.
We chose the jobs above because they truly are best travel jobs ANYONE can do. You can learn these skills and set yourself up with a digital nomad business in no time.
So if you've eve thought "I want to work while I travel the world…" now is the time to stop thinking and start taking action.
With all these travel jobs options, you can turn your desire into reality in just a few weeks. Make your digital nomad dreams come true.
Questions? Leave us a comment and we'll be happy to help.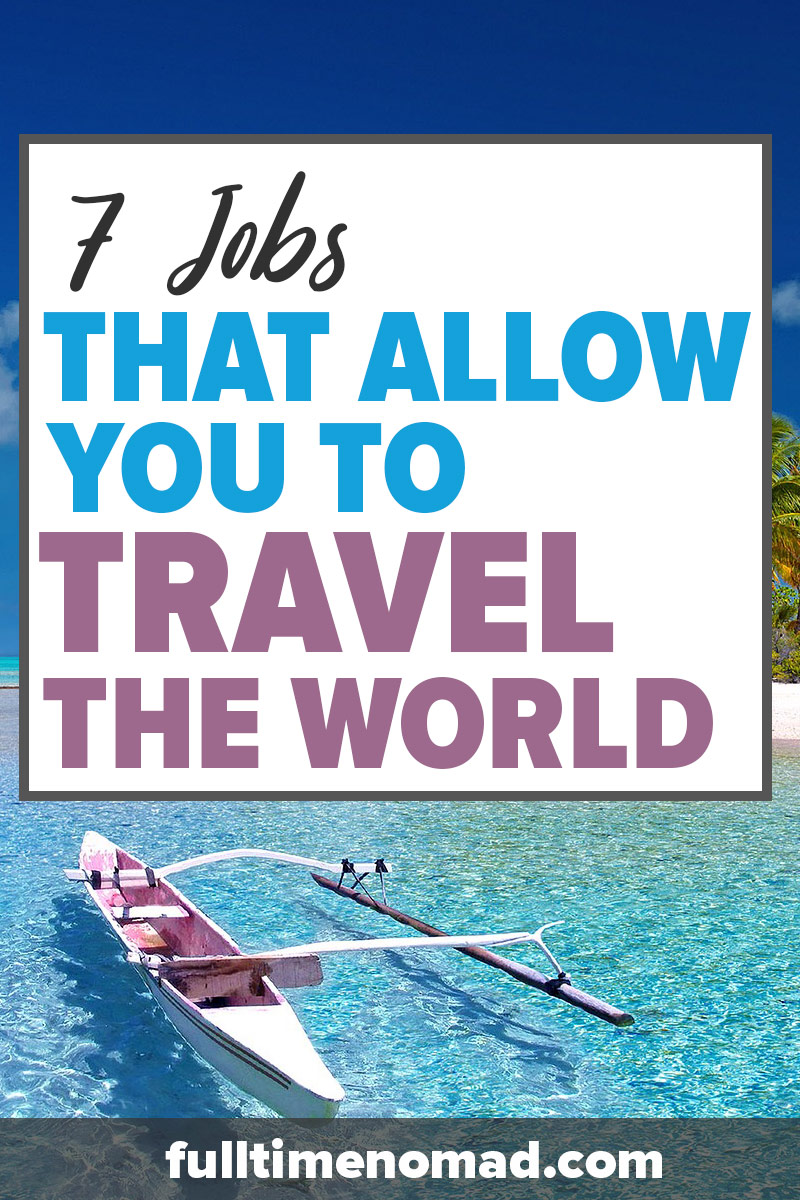 You might also be interested in:
Written by
---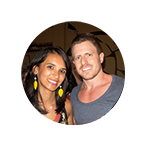 Fulltime Nomad
Fulltime Nomad is your passport to saying no to normal, and yes to a life of unlimited travel. Founded by Radhika & Johnny, this blog will help YOU take that big scary first step towards building your own freedom lifestyle. Are you new? Start here.