I'm from Australia but I'm currently based in Mexico.
I work with people all over the world: Australia, Canada, Denmark, Kenya, New Zealand, Singapore and USA.
That's a lot of time zones to keep track of and – just between you and me – I really struggle to wrap my head around it most days.  😉
As a regularly traveling digital nomad, I don't trust myself to keep track of time differences and the varying freelancing deadlines they come with. So I've put a few systems in place that help me make sure that
86 Ways to Make Money Online
Download our free guide on legitimate ways to make money online in 2021
By signing up, you are agreeing to receive periodic emails from Fulltime Nomad. No spam. Only the good stuff.
my work is always completed on time, and
I'm not working 24/7 just to keep all my international clients happy.
How do I manage to stay on track while juggling clients in different time zones? Read the full article on Millo. 
Written by
---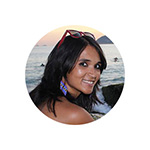 Radhika B.
After turning her back on office life in Australia, Radhika set out to create a life lived on her own terms (a constant work in progress). As co-founder of Fulltime Nomad, she is super passionate about helping others live life with more freedom and flexibility, and a bit of travel thrown in for good measure.