Ever wanted to lead a life that was built around freedom?
Ever wished your work revolved around your life and not the other way around.
Ever ached to travel more, see more, do more… be more?
Welcome to the club!
86 Ways to Make Money Online
Download our free guide on legitimate ways to make money online in 2021
By signing up, you are agreeing to receive periodic emails from Fulltime Nomad. No spam. Only the good stuff.
And guess what? Thanks to technology, this is no longer a dream but a reality that many people are living.
Digital nomads are living proof of the ultimate work from anywhere dream – earning money online, while they travel the world and experience different cultures.
It's now possible to run a business from the beautiful beaches of the Maldives, a hammock in Bali or even your favourite cafe round the corner. As long as there's WiFi of course. 😉
The choice is definitely yours!
New ways to work and earn an income online make all of this possible. From working remotely for an employer to freelancing; from blogging to even building and growing your own startup – digital nomads are living the freedom lifestyle in a variety of ways.
More and more people are adopting flexible ways of earning a living instead of depending on corporate office jobs.
People now want to do more with their lives, than just work, work, work.
They want freedom, flexibility, and unlimited travel.
They want to work and travel at the same time. Aka a digital nomad job.
So the question you're dying to have answered is, can YOU do it?
Sure! All you need is the right digitial skill set or, at least the willingness to acquire these skills.
The ability to work from anywhere requires a combination of the right mindset and the right skills.
Having the right skills will open up income streams for you, helping you to build and manage a life on the road.
So what are the digital nomad skills you should focus on? 
Related posts:
**This post may contain affiliate links. If you click on them and purchase something we get a small percentage of the sale. More info here** 
25 Profitable Skills for Wannabe Digital Nomads
1. Copywriting
Got a way with words and can inspire people to take action with your words? Copywriting could be the gig for you.
As a copywriter, you can not only start freelancing but it's a useful skill for your own startup or business as well. It'll definitely come in handy when you want to create ads, landing pages, sales copy etc.
Want to become a copywriter? Check out these courses to get started:
See also: Freelance Writing Jobs: 26 Resources for Finding PAID Work
2. Blogging
Anyone can set up a blog but to make money from a blog takes dedication and skills.
In addition to being a good writer, you have to really understand online marketing, social media and anything else you need to help your blog reach its target audience, online. Without an audience, your blog is never going to take off or make money.
Even if you don't intend to make your income from blogging, it's a useful skill for startup creators or even to use as a freelancer.
Blogging is by far one of the most popular skills to have a digital nomad as it gives you complete freedom and flexibility with your work.
Want to learn more about blogging? Check out our fee course to help you get started: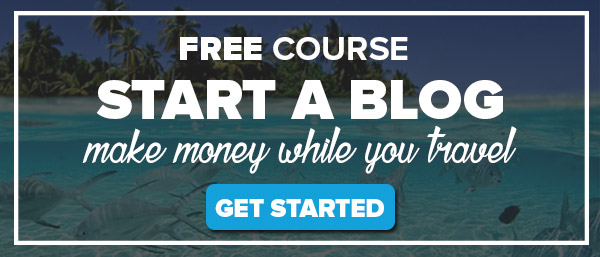 Here are some other recommend courses for blogging:
Blogging and writing courses on Skillshare:
See also: How People ACTUALLY Make Money From Blogging?
3. Web Design
Creative + technically inclined? Those are two essential attributes of web designers. 
Who doesn't have a website these days? And so, there's a never-ending need for good web designers who can build beautiful and functional websites.
Want to become a web designer? Check out these courses to get started:
Web Designer Courses on Udemy:
Web Designer Courses on Skillshare
:
Web Designer Courses on

Lynda

:
Web Designer Courses on
Pluralsight
:
Other course options to check out:
4. Graphic Design
Got an eye for aesthetics? Graphic designers are the creatives behind all the beautiful visuals you see online (and offline) including ads, logos, brochures, posters, signs, social media images and so much more.
There's always a demand for good graphic designers and it's a digital skill that will come in handy as a freelancer but also if you ever need to do graphics for your own startup.
Want to become a graphic designer? Check out these courses to get started:
Graphic Design Courses on Skillshare
:
See also: Freelance Design Jobs: 25 Resources for Finding PAID Graphic & Web Design Jobs
5. Virtual Assistance
Ever thought about using your skills to support business owners in the form of an assistant? Virtual Assistants (or VAs) work in several different areas and provide support in administrative, technical or even creative areas.
If you're a digital nomad newbie, selling yourself as a virtual assistant could give you a good start. From social media management to data entry, accounting to answering emails – there's a range of jobs for virtual assistants to do.
Want to become a virtual assistant? Check these courses to get started:
Virtual Assistant Courses on
Udemy
:
For a comprehensive list of courses that cover a variety of VA roles, check out this post: How to Become A Virtual Assistant and Travel the World.
See also: Virtual Assistant Jobs : 20 Resources for Finding PAID Freelance VA Work
6. Translation

Fluent in more than one language? A career in translation might just be for you.
With more businesses expanding internationally and doing business online, translators are finding lots of work coming their way. Share your language expertise with businesses as a freelancer. 
Want to become a translator? Check these courses to get started:
7. Online Advertising

Creative with an analytical bent of mind? Online advertising is one of the best skills for digital nomads to have.
Google, Facebook, Twitter, Instagram LinkedIn (+more) are all advertising platforms but reaching the right audience takes more skill than most realise.Learn the skills and understand the platforms because businesses are always looking for people who know how to maximise their advertising spend online.
Want to learn about online advertising ? Check these courses to get started:
Paid Advertising Courses on
Udemy
:
8. Social Media Marketing

Addicted to social media? Put your addiction to good use by learning the ins and outs of social media marketing.
From Facebook to Pinterest and everything in between, businesses are always looking to expand their social media reach. If you can help them reach their audience, better and more efficiently, you will have a lot of work on your hands. From running fan pages to developing content and creatives – it's a fun and interesting job.
Want to learn about social media marketing? Check these courses to get started:
Social Media Management Courses on

Skillshare

:
9. SEO

How Google works is a mystery to most people. Search Engine Optimisation experts are the only people who come close to understanding it.
Businesses depend on SEO to improve Google rankings and drive traffic to their websites. Put your knowledge and SEO skills to good use by consulting with companies and helping their websites rank better on Google and other search engines.
Want to learn more about SEO? Check these courses to get started:
SEO Courses on
Udemy

:
Other SEO course recommendations:
10. App Development

Got the tech skills to develop mobile apps? You're going to be in high demand.
Almost every business seems to want to build mobile apps these days. Knowing (or learning) how to create apps comes with great perks because it's a booming industry that's still growing and yet to be fully explored.
Want to become an app developer? Check these courses to get started:
11. Email Marketing
Keeping users and fans informed is an important business function. Most businesses use email marketing to inform, educate and engage their customers. 
Learning how email marketing works can open an avenue for you to make money creating newsletters, email pitches, broadcast messages, event invitations, sale notifications and other business announcements. If you're a copywriter, consider adding email marketing to your services for more income.
Want to learn more about email marketing? Check these courses to get started:
Email marketing courses on

Udemy

:
Email marketing courses on

Skillshare

:
12. Content Writing

Got writing skills but would prefer to do more long form writing over copywriting? Have you considered content writing?
As a digital nomad, you can make an income writing for a variety of businesses. Content writers create content for websites, company blogs, emails and a variety of other business needs. 
Want to become a content writer? Check these courses to get started:
Content writing courses on Udemy:
Some other good course options also include:
See also: Freelance Writing Jobs: 26 Resources for Finding PAID Work
13. Internet Research

Good at Googling? Well, who isn't really? 😉 If you can quickly and efficiently work your way through the wealth of information online to find the stuff that you really need, then you can start working as an internet researcher.
Internet researchers work with individuals or companies to collect and present research on a variety of topics. You can work with writers, publishers, marketing agencies, law firms, insurance companies, healthcare providers, and much more to conduct market research to help them launch a new product or service.
Want to learn more about internet research skills? Check these guides to get started:
14. Logo Design

A logo gives a business an identity and personality. Logo designers are responsible for incorporating a client's branding ideas into one single graphic.
Creating logos can turn into a lucrative business so if you have any design skills, look for clients who are either just starting their businesses or are redesigning their brand materials and ask them if you can create logos for them, for pay obviously.
Want to become a logo designer and travel as a digital nomad? Check these courses to get started:
Logo design courses on Udemy:
15. Customer Service

If you've ever done customer service offline, your skills can quite easily translate to working remotely as well.
Businesses are increasingly looking for customer support staff able to provide email support, tech support and even respond to customer queries via social media. Find a business with a strong need for good support staff and you could have a great online job on your hands.
Want to develop your customer service skills? Check these courses to get started:
16. Illustration

For those of you who are creative with a super artistic bent of mind, have you ever considered developing your digital skills in illustration to find online work?
From fashion to magazines, books to technical design – an illustrator's skills are widely sought after. You can also sell your creative illustrations on sites like Behance.
Want to learn more about illustration? Check out these courses to get started:
17. Proofreading

Obsessed with picking on other people's grammar and spelling errors? Hello proofreader.
Businesses, publishers and even writers themselves will often hire a proofreader to make sure their written content is error-free and ready to hit the masses. So polish up your grammar nazi skills and get ready to pitch yourself as a proofreader.
Want to learn more about proofreading? Check out these resources to get started:
18. Animation

If you have animation skills, you'd be silly not to make money from it.
With animation skills, you can create animation and visual effects for video games, TV, films, mobile devices, and various other forms of media. Businesses and entrepreneurs want to engage with their audiences so show them how your animation skills can help them do that and you'll never be out of work.
Want to learn more about animation skills? Check out these courses to get started:
19. Data Analysis

Love data? Every business collects data inform of market research, sales figures, logistics, and so on. As a data analyst, you take this data and interpret it to help the companies make better business decisions.
Businesses are keen to make use of data to understand their performance and customer behaviour better. With your data analysis skills, you can help them interpret what the data means in real world terms.
Want to learn more about data analysis skills? Check out these courses to get started:
20. Video Editing

Video is everything. Did you know that people watch more videos than they read text?
Businesses and entrepreneurs are investing more time, money and effort into videos so if you've got the skills, be sure to put them to use to help your clients make better quality videos.
Want to learn more about video editing? Check out these courses to get started:
21. Bookkeeping

Balancing books is not something most of us enjoy doing. So if there's someone who is good at it, many business owners are more than happy to outsource the work.
If you are good at book keeping, you can offer your skills to help various entrepreneur and businesses to keep their accounts balanced. 
Want to learn more about bookkeeping? Check out these courses to get started:
So…the the above skills are especially important if you're planning to find remote work or want to start freelancing. However, if you'd like to forge your own way and build a business – in addition to the above – these final four skills will be especially useful as well.
22. Information Product Creator

Creating and selling information products is a huge money-maker but it has to be done right. Many entrepreneurs are making money online selling information products such as e-books, video series, templates, membership sites, online courses etc.
The secret to success is of course choosing a profitable niche, within which you can create these informational products. A niche in which the audience is ready and keen to buy. If this is an area you are skilled in (or keen to become skilled in), it can definitely turn into a lucrative business but be aware that it takes time.
Hone your skills and continue to learn about your niche but also about blogging, the ebook business, online courses and any other type of informational product you are interested in selling.
23. Programming
Interested in building software and have a knack for problem solving? Programming might be your calling.
Programming is one of the most sought-after skills on the internet. Whether you use it to build your own website, or product or use it to find freelance work – programming is definitely one of the most useful digital nomad skills to have.
Want to become a programmer? Check out these courses to get started:
See also: Freelance IT Jobs: 30 Resources for Finding PAID IT Related Work
24. E-commerce

Selling products online is one of the most common ways to make money online. So common that many think it's easy.
However, to be good at e-commerce, you need to really develop an understanding of the online selling space. It's not difficult, but you will need to spend some time doing your research in order to find a product that sells well.
Getting started is uncomplicated – online marketplaces like Amazon and eBay make it very convenient. A basic understanding and knowledge of copywriting, online advertising and SEO also go a long way towards helping you succeed.
A few goos course options to learn e-commerce.
E-commerce courses:
25. Online Business 

Ok so "online business" isn't really a skill but hear us out anyway.
There are many, many ways to make money online – from freelancing to ecommerce and everything in between. It takes a certain something to think creatively and come up with innovative ideas to become a successful online business owner. This is a mix of drive, creativity and an ability to come up with a product or service that will sell.
This "skill" is the ultimate money-making digital nomad skill. Whether it's affiliate marketing, setting up passive income websites, digital products or even your own startup – all of these avenues require skill and a spirit of entrepreneurship to make things work.
Of course the world of online work isn't limited to these 25 skills alone. These are some of the most popular skills but definitely not all of them. If you check out the job categories page on Upwork, for example, you'll see that there are a variety if areas within which you can find online work.
How to Use Your Skills & Get Started as a Digital Nomad
So by now you know, there are a LOT of ways to use your skills to become a digital nomad. There are different ways to make money online and so many different types of businesses where you can  put your skills to use.
Now a lot of people, when starting out as digital nomads have all these big business ideas. You know they want to build an app or do some affiliate marketing, create products or do some blogging or even create an e-commerce site. And these are all great ideas.
But the thing is, all of these businesses take time for you to build and even more time for you to earn a steady income from it. Also not to be a Debbie Downer but it's not guaranteed that you will eventually make income either.
So with this in mind, if you are starting out and your main goal right now is to be able to able to work and travel the world, we always recommend that you start with freelancing. We really think it is the ideal starting point for newbies.
In fact, most digital nomads start out as freelancers and there are good reasons why:
Find Work as a Digital Nomad with the Skills You Already Have
Thanks to the internet, it's easier than ever before to connect with potential clients looking to hire skilled freelancers. There are MANY websites and marketplaces where thousands of jobs are posted daily. Most of these projects allow you to work from anywhere in the world.
Getting started on most of these sites is pretty easy. Simply sign up, look for jobs and start applying.
One example is Upwork, which helps thousands of businesses connect with the right freelancers.
So what are you waiting for?
The way we work is changing and you have the opportunity to take advantage of this incredible time we live in.
If you have long-term goals of traveling, living in and experiencing other cultures and ultimately just having the freedom to do the things that you want, you can make it happen with the skills you already have. 
Why wouldn't you?
So tell us – what skill are you planning to put to use to become a digital nomad? Leave us a comment. We'd love to hear from you.
Written by
---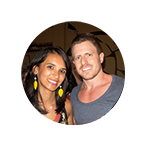 Fulltime Nomad
Fulltime Nomad is your passport to saying no to normal, and yes to a life of unlimited travel. Founded by Radhika & Johnny, this blog will help YOU take that big scary first step towards building your own freedom lifestyle. Are you new? Start here.