Freelance design jobs are a great way of living a flexible life. You choose the jobs you want to work on, where to work from and even when to work.
Being a freelance designer also allows you to work on more than one job thus expanding your skills and knowledge base. Feel like designing a website? Why not? Or would you rather design graphics? The choice is totally yours!
There are lots of jobs that a freelance designer can do and due to the increasing importance of good design – there are a large number of brands looking for quality and experienced designers. The increasing potential for finding work means more and more designers can work with international clients, from anywhere in the world and build a business remotely allowing them to travel, create more time for families and hobbies.
Being able to take on the clients you actually want to work with is definitely a dream come true! To realise this dream you have to find the available jobs.
86 Ways to Make Money Online
Download our free guide on legitimate ways to make money online in 2021
By signing up, you are agreeing to receive periodic emails from Fulltime Nomad. No spam. Only the good stuff.
**This post may contain affiliate links. If you click on them and purchase something we get a small percentage of the sale. More info here**
Related posts:
Best Courses for Becoming a Graphic/ Web Designer
If you want to learn learn new skills as a designer or improve on your existing ones, taking online courses is a fantastic idea. Not sure which graphic/web design courses to take? Take a look at some of our favorites:
Graphic design courses on Udemy:
Graphic design courses on Skillshare:
Some other platforms worth checking out:
See also: Best Online Course Providers: Learn the Skills You Need to Become a Digital Nomad
Below we've curated a collection of 25 of the best freelance design jobs sites that you can make good use of.
Top Resources for Freelance Design Jobs
1. Upwork
Upwork is one of the biggest online freelance jobs board bringing together job seekers and clients looking for high quality services. Anyone looking for any type of freelance job ranging from copywriting, blogging, customer service, virtual assistance, marketing, social media management, accounts, among others and of course there are thousands of freelance design jobs on Upwork. Getting started on the site is easy, simply register free (you can upgrade your profile later if you want) and get started immediately. Payment on the site depends on experience and the type of project done.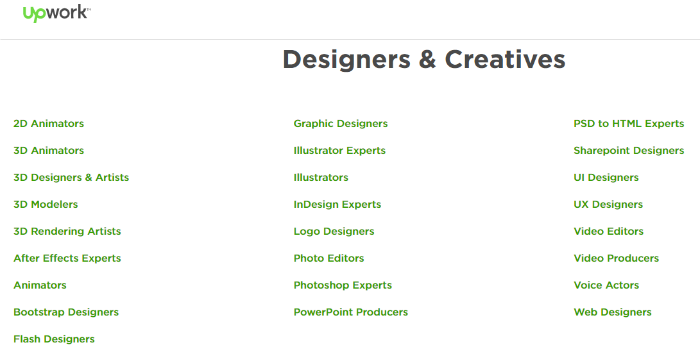 2. Freelancer
Freelancer is another popular and big online freelance jobs site that is like Upwork in the way it works and the types of jobs available. Here you can find endless design jobs, with some paying high fees.
3. PeoplePerHour
PeoplePerHour is another major jobs board with an array of jobs including freelance designer jobs such as web design and graphic designer jobs. The site focuses mainly on hourlies. These are quick small jobs that take less than an hour to complete. You can therefore do as many hourlies as you can and get paid for it.
4. LinkedIn
LinkedIn has managed to earn a reputation as the 'go to' platform for reputable companies looking to hire top talent. There are hundreds of jobs advertised on the site daily. You can find high quality design jobs on LinkedIn by simply running a quick search or by pitching top companies that you believe may be in need of your services.
5. Hubstaff
Hubstaff Talent makes it easy for freelancers find quality work, simply create a profile and wait for businesses to start contacting you. Potential employers are able to reach out to freelancers directly – no middlemen involved. Hubstaff Talent also recently launched a "Jobs" section on their website where freelancers can search through hundreds of awesome remote jobs to find the right one for them.
Hubstaff Talent is 100% free – no markups and no fees for both freelancers and businesses.

6. 99designs
99designs is one the most popular design focused jobs board. To get a job on the site, you are required to participate in contests. This means that you only get paid when you win the contest. With a large pool of freelance designer jobs, if you have good experience, you can contest for lots of interesting jobs such as graphic design, web design, logo design and product design on 99designs.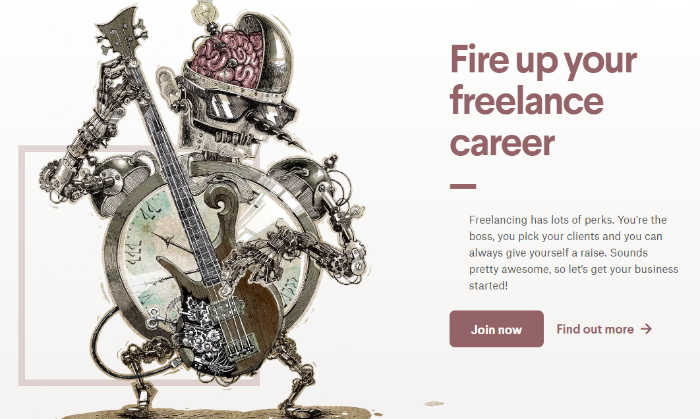 7. Envato Studio
Envato studio, is fairly new and focuses on online freelance jobs for artists. Envato studio is more of a specialist's community open to designers only. Members of the site are handpicked to enable Envato to maintain high quality. The jobs on the site are mainly short term projects paying between $50-500.
8. Toptal
Toptal offers jobs to designers and software developers. The site is popular among highly qualified designers because it attracts top tech companies and start-ups. The site has a Toptal Community open to all interested freelancers. As a member of the community, you get to attend lots of tech events and meetups that help in networking.

See also: Want to Work From Anywhere? 35 Digital Nomad Friendly Companies That Let You Work Remotely
9. AwesomeWeb
AwesomeWeb is a popular site that attracts freelance graphic designers, web designers and programmers. Freelancers are manually reviewed before being allowed to bid for jobs on the site. Once approved, you get to work and get paid by the client directly. There's a monthly subscription fee of $27, no other fees are charged.
10. DesignCrowd
DesignCrowd is another popular jobs marketplace for freelance designers looking for jobs such as website design, designing logos, flyers, posters, business cards etc. To get a job you have to participate in a contest and submit high quality designs in order to win. If your design wins, you get paid the contest money. Some clients will actually pay you a base payment for simply participating in the contest.
11. Smashing Jobs
Smashing Jobs is a reputable jobs that lists various types of freelance jobs including lots of freelance design opportunities. You don't need to create a profile on the jobs board, simply subscribe to the Jobs Alert and you'll receive job openings matching your skills directly in your mailbox.
12. Squadhelp
Squadhelp is a crowdsourcing platform that offers design jobs such as creating company names, taglines and slogans, business logos, viral marketing materials and much more. You have to take part in available contests and outdo other participants to get the project. A predetermined amount is set before the contests begin.
13. Behance
Behance which is now part of Adobe is home to millions of creatives who do jobs including animation, character design, cinematography, advertising, architecture, art direction among others. Upload your online portfolio to showcase your work and get hired.
14. Juiiicy
Juiiicy is a private community where top designers can find freelance projects. The site is different from other jobs boards because clients don't post available projects directly. Instead, fellow designers post inquiries they've received from clients but are not interested in taking them on. Once another freelancer gets the job, the designer who posted it on Juiiicy gets paid a referral fee.
15. YunoJuno
YunoJuno is another good site to find freelance design jobs. The site connects freelancers including designers, developers, coders and creatives with employers interested in various services. As a member you also get access to tools for generating contracts and invoicing.
16. We Work Remotely
Just as the name suggests, We Work Remotely is a site that advertises remote work opportunities. These jobs allow you to work from anywhere. Jobs range from design to marketing and sales to programming positions. Simply browse for available freelance design jobs and apply to those that interest you.
17. Crew
Crew brings together  top designers, developers and clients looking for high quality work. To join the site, simply submit your name, an online portfolio URL and get started. The site has opportunities in web design, app development and brand identity.
18. Fiverr
Fiverr works differently from most freelance job sites. You will not find companies advertising available jobs on the site. Instead, the freelancers create "gigs" based on what they're best at and clients buy the best "gigs". Fiverr is especially good for freelance designers who are just starting out and want to wet their feet. You can create small "gigs" that can be done quickly. This could be logo design, business card design, taglines, slogans and so much more.
19. Dribbble
Dribbble is a jobs board for designers where they can find a variety of remote freelance design opportunities. Dribble has various jobs for web designers, graphic designers, logo designers, illustrators, typographers, icon artists and other creative types. When you join the site, upload shots (small screenshots) of your work to attract suitable clients.
20. Coroflot
Coroflot is an online freelance site where design companies submit job openings looking for professional designers. As a freelance designer, create your portfolio on Coroflot to attract potential clients. The jobs available on the site are filtered according to job level categories and specialty.
21. LocalSolo
LocalSolo is open to freelance designers based anywhere in the world and who have expertise in either design, engineering, copywriting, photography or analysis.
22. OnSite
OnSite is an online jobs listing for designers, developers, and copywriters. Here you can find lots of freelance opportunities. Members are vetted carefully before being allowed to join the site. Once you are accepted, upload your portfolio, set a price rate and your availability.
23. Folyo
Folyo features a curated list of designers that available for freelance jobs. Once you become a member of the site, you will be matched with potential clients depending on their expectation and requirements.
24. Crowdsite
Crowdsite is a popular site to find freelance design jobs. To get hired you have to participate in contests. The site will pay for all submitted designs even for those who don't win the contest. This is to encourage designers to submit more  entries of higher quality from designers. The site also features private projects for established designers and developers. With a private project, you won't be required to participate in a contest to get the job, all you have to do is pitch to the client.
25. AIGA Design Jobs
AIGA Design Jobs has over 10,000 freelance design jobs mainly from the US market. The site connects freelancers with popular companies such as Facebook, Amazon, Bloomberg, MTV Networks, IDEO and Nokia.
Bonus Resource: Design Observer
Design Observer list design job opportunities that have been posted across popular targeted design websites such as Coroflot, Adforum, PSFK, CreativePro, among others. Through the site, you're able to access more job opportunities.
Before you begin using freelance design job sites, learn how each works and how to use them to the best of your advantage. Freelancing is indeed a tough profession, but a fulfilling one too. We hope these resources will help you to get more out of your freelance design career.
By the way, if you're interested in freelance writing, be sure to also check out our article on Freelance Writing Jobs: 26 Resources for Finding PAID Work
Do you have any other freelance design job opportunities to share with us? Leave us a comment and we'll add it to the list.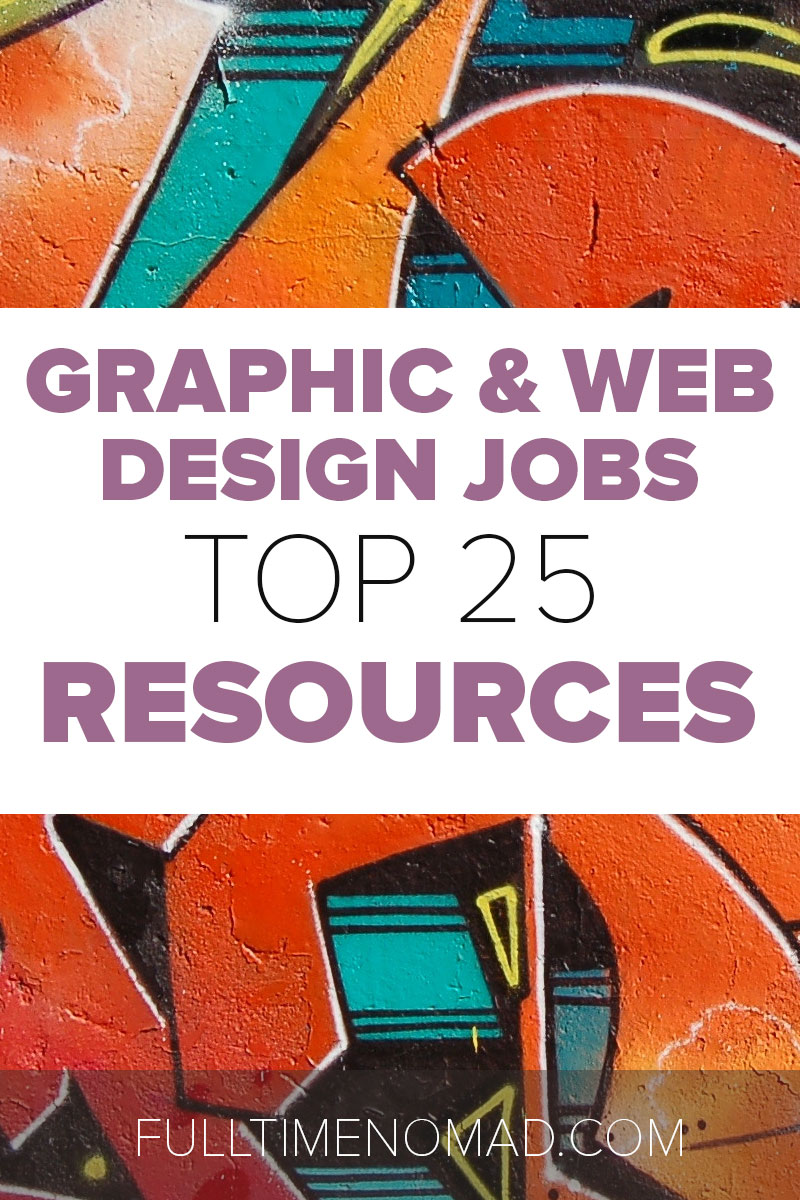 You might also be interested in:
Written by
---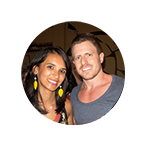 Fulltime Nomad
Fulltime Nomad is your passport to saying no to normal, and yes to a life of unlimited travel. Founded by Radhika & Johnny, this blog will help YOU take that big scary first step towards building your own freedom lifestyle. Are you new? Start here.