You've spent a good part of the year drooling over photos of gorgeous places around the world that you just can't wait to visit.
You're stuck at your office desk but your mind is thinking if only you had one if those best travel jobs that let people get paid to travel.
In fact you've thought about quitting your job a million times and just go to some exotic destination or backpack around the world and never stop.
One problem though…
86 Ways to Make Money Online
Download our free guide on legitimate ways to make money online in 2021
By signing up, you are agreeing to receive periodic emails from Fulltime Nomad. No spam. Only the good stuff.
You don't know what to do about money. You certainly need to learn how to make money to sustain your travel but how do you do that? Where do you find these lucrative travel jobs?
We have the answer.
Start your own freelance social media marketing business!
It's waay easier than you imagine.
If you're one of those people who simply can't stay away from social media, and not just reading what others have to say but actually love posting content… this may be the perfect job for you.
Plus, if you've got a marketing background or simply a good dose of creativity, then you certainly have a footing in this kind of business.
You may not have any social media marketing experience yet, but with our quick guide on how to get started we'll give you just the right nudge you need to get started.
You'll soon be doing one of the best travel jobs and you can stop drooling on the Google images and actually live the life of full time travel.
Let's show you how to get started.
*This post may contain affiliate links. If you click on them and purchase something we get a small percentage of the sale. More info here*
Related posts:
What is a social media manager?
First things first, what exactly does the job involve?
A social media manager is an expert who helps businesses manage their social media accounts with the purpose of increasing brand awareness, increase web traffic, engage with customers, generate business leads, increase sales, offer customer support among other marketing goals.
As a social media manager it will be your job to create content that will help your client build a relationship with potential clients through social media accounts. By doing so you gain loyal fans who then become customers.
Social media management is a very popular and lucrative job making it one of the top jobs that let you travel the world. This is because it's a job that can be done from anywhere in the world as all you need is a laptop and a high speed internet connection.
So what exactly are the duties of a social media manager? Social media management jobs may include all or some of the following tasks:
As a social media manager you can expect to earn anything from $20-500 – depending on the size and the scope of the project.
As you gain more experience and improve your skills your budget can sometimes even exceed $1000.
What you charge will of course depend on the size of the organisation, the scope of work expected as well as your experience.
How to become a social media manager
For most millennials, social media comes naturally. This is a great thing!
It's time to put those social media skills to work by turning it into an actual job that pays. FUN!
– If you are a professional with a background in marketing getting started as a social media manager will be easy. The best thing is to start out with the skills you already have and just build upon them.
– If you have no experience, no worries. Just start with the most basic skill, which is learning how social media for business works. You can then take up more courses that teach you specific skills for a specific platform.
– Once you've learnt some skills you can start gaining experience by practising what you've learnt. Set up various social media business pages and start running them as if you were running client accounts. By doing so, you will get to learn how the various platforms work, what kind of content is best and most importantly you will have something to show your potential clients.
– It's quite awkward to market yourself as a qualified social media manager when you don't have any social media business pages of your own. Social media pages are also great for marketing your freelance services as most clients will use social media to find freelance social media managers they can work with. So it's in your business's best interest to have a social media presence.
– Next, create a freelance website where you can promote your services. There are so many reasons why every freelancer must have a website the most important one being that it gives you the image of a serious freelancer and not just a wannabe who has no idea what they are doing.
A website makes it easy for potential clients to find you as the search for qualified social media managers online. See more: 10 Essential Elements of a Freelance Portfolio Website
Once your website is up you can now start building up a client portfolio.
There are various ways to find social media manager travel jobs. We go into more detail below.
It's important to also believe in yourself and have the right attitude. The secret to succeeding in running a freelance social media business is to have the right mindset and skills.
Social media is fun but when you're doing it for a client, it's work. Combine the two and you can have a job that is fun and still makes you good money.
See more: How to Become a Social Media Manager & Travel The World

Upgrade your social media skills with these courses
Obviously just being good at Snapchat or documenting your life on Insta isn't going to be enough to run client's social media accounts.
It's going to be uber crucial that you develop your social media skills as a marketer, if you want to build a successful business.
How?
Don't worry you don't have to go to college.
Thanks to the internet, you now don't have to sign up for a degree to be able to learn how social media management works. You can easily take up different courses online at your own time and pace.
Here are some of our top most recommended courses that will give you the right footing that you need to get started:
General Social Media Courses:
These courses will give you a great idea of social media skills in general and also, how to run a social media management business. Worth checking out.
For more, check out Udemy's complete list of social media marketing courses.
Instagram Marketing Courses:
If you want to learn about Instagram, who better to learn from than someone who's been there, done that and grown a massive following on Instagram – right?
Alex Tooby has two great Instagram courses to help you understand how the platform works and how to explode growth on Instagram:
Alternatively, these Udemy courses are also worth checking out:
Facebook Marketing Courses:
If you need to up your Facebook game, check out these courses:
Pinterest Marketing Courses:
YouTube, LinkedIn etc. Courses:
There are thousands of very affordable courses on Udemy that can bring you upto speed with the social media skills that you need to cultivate. Check them out here.
Finding social media jobs that pay
Most businesses know social media is important. But most have no idea how to do it and would rather get the job done by a social media specialist.
This means, there is a lot of work in social media – you just have to find it.
– Social media is a great place to start. Join Facebook and LinkedIn groups where potential clients hang out and interact with the group to showcase your expertise.
It's also important to join groups where fellow social media managers hang out because you not only get to find work opportunities but you get to network with people in the same industry and get to learn more.
– Online freelancing sites are also a great source of social media marketing jobs especially for newbies. Some of the best sites to consider include Upwork, Freelancer, Guru, Peopleperhour, Mashable Jobs Board, Craigslist, Fiverr among others.
These sites have all the best travel jobs you can think of including social media marketing jobs.
While competition is very high on these sites, if you make effort to create impeccable profiles on each and send convincing job applications that highlight why you're the best candidate for the jobs, you will soon have enough clients making enough from these travel jobs to be able to live anywhere in the world for however long you desire.
There are many different types of social media services that you can choose to offer. You could approach social media management in two ways; one, you can offer all social media marketing services for all networks or two, focus on specific networks or services.
Our advice is to always niche down. As you start out, it will be ok to offer all the services but as you continue to grow it's better to focus on one social media network. This way you will soon be an expert and a force to reckon with in that niche.
The more you gain expertise in an area the more high paying and elite clients you will attract. This means that you can start to charge more for your services.
Let's explore the main platforms and see how you can succeed in each.
1. Instagram marketing
Instagram has become one of the most popular platforms for businesses to market their services and products.
Due to the nature of the platform where graphics are the main attraction, there has been a great need for businesses to engage people with the right expertise to run Instagram not just for fun but for business purposes.
As an Instagram marketer you will do research work, create creative Instagram posts (images and videos with accompanying captions), post the content daily, engage with your Instagram fans and monitor how your posts perform.
You will also need a host of skills to be a successful Instagram marketer. Copywriting skill is important as you need to write good copy to accompany every graphic you share on Instagram.
Want to up your Insta game? We recommend taking these courses:
Alex Tooby has two great Instagram courses to help you understand how the platform works and how to explode growth on Instagram:
Alternatively, these Udemy courses are also worth checking out:
See more: How to Become an Instagram Marketer.
2. Facebook marketing
Facebook is still the most popular social media platform with over 2 million monthly users. This makes it one of the most high-paying travel jobs. Concentrating on Facebook marketing as your main service will definitely come with great reward, financially.
As a Facebook marketer you will be implementing strategies that will be used to increase engagement and build lasting relationships. It will be your duty to create valuable content on Facebook.
Additionally you may also be required to use your skills to advertise your client's business on Facebook.
If you're looking to enrol for a class that will help you build up your Facebook marketing skills, here's some that we recommend:
See more:  How to Become a Facebook Marketer.
3. Pinterest marketing
Pinterest marketing is a growing social media niche area. Experts in this area are especially in high demand because Pinterest is quite different from all other platforms.
The platform focuses on saving content for future use unlike other platforms that focus on content for immediate consumption.
Understanding how this works is thus of paramount importance.
Important skills to possess as a Pinterest marketer include good taste in visuals because photos are what bring and keep people on Pinterest. It's your images that will convince people to click your links and visit your website for more info.
To learn more hands on skills on Pinteresting marketing, here are some recommended courses:
See more: How to Become an Pinterest Marketer.
4. Pay-Per-Click (PPC) advertising
Businesses are turning to online ads to reach out to more potential customers. Unlike traditional ways of advertising such as TV or print ads, online ads aren't as easy to run. They are more targeted and need well crafted content in order for them to have maximum value.
Most people find online advertising to be intimidating and they are therefore, more than willing to pay someone to do pay-per-click (PPC) management for them.
The PPC ad model works by advertisers paying a small fee every time one of their ads is clicked. So essentially they are buying visits to their site, rather than earn them organically.
You can run PPC ads on search engines such as Google or on social platforms such as Facebook, Twitter, Instagram, LinkedIn etc.
Each platform has its own rules for advertisers. So make sure you are familiar with the rules on each platform.
Your job as a PPC ad manager will be to research the target audience, identify who they are, the kind of content they engage with, the platforms they are on, their interests and other demographics.
Using this knowledge you will then write convincing ad copy and use it to get your target audience to take an action such as buy a product, visit a website, download an app, attend an event, like a page etc.
Here are a few good online courses you should try out:
Why social media management is one of the best travel jobs
Social media management is one of the best travel jobs because you're getting paid to do something you already enjoy.
I mean, who knew your Instagram account could actually turn into a job – right?
Becoming a social media manager gives you the freedom to not only travel around the world while enjoying financial freedom but also to enjoy flexibility of working on your own terms.
Simply put, this job gives you the freedom to choose where you want to work, when to work and how you work, without setting foot in an office ever again. Who doesn't want that?
Anyone can start a social media business. You just have to start.
Like this article? Share it on Pinterest.
You might also be interested in:
Written by
---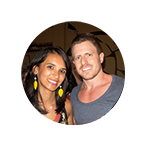 Fulltime Nomad
Fulltime Nomad is your passport to saying no to normal, and yes to a life of unlimited travel. Founded by Radhika & Johnny, this blog will help YOU take that big scary first step towards building your own freedom lifestyle. Are you new? Start here.