You've probably heard numerous times that copywriting is a great way to earn money as you travel the world and now you want to know how to become a copywriter too.
You're definitely right there.
You can easily make money working as a freelance copywriter not just from home but anywhere in the world. Better still, you don't need much to get started.
Copywriting is a multimillion dollar industry with skilled copywriters in continuous high demand. More and more businesses are understanding the importance of working with a skilled copywriter for their marketing efforts.
86 Ways to Make Money Online
Download our free guide on legitimate ways to make money online in 2021
By signing up, you are agreeing to receive periodic emails from Fulltime Nomad. No spam. Only the good stuff.
You don't need a degree but you do need to be good at writing. So if this is something you can see yourself doing, keep on reading for advice on how to be a copywriter.
Ready to get started? Here are our top tips on how to get started as a freelance copywriter
**This post may contain affiliate links. If you click on them and purchase something we get a small percentage of the sale. More info here**
Related posts:
What is copywriting?
Before we jump into the details of becoming a copywriter, lets quickly understand what copywriting actually is.
Copywriting is the process of writing promotional materials geared towards convincing the reader to take an action. This could be to make a purchase, opt-in or engage with a product/service or company. Copywriters are essentially a salesperson using the written word to get customers.
If you're going to be working as a copywriter, you should know what kind of content you will be creating too.
Copywriters are the experts who create the text you see on websites, adverts, emails, billboards, brochures, sales pages, press releases, how-to guides, blog posts, among other marketing materials.
How to become a copywriter: What skills do you need?
Copywriting is a highly specialised industry that even though doesn't necessarily demand for formal education, there are certain MUST have skills for anyone interested in becoming a copywriter. Let's take a quick look at what these are:
To succeed as a copywriter, you must write well. Stellar writing skills don't come easy and they require constant practice.
You must learn how to write in English as this is the most popular language across the world, have really good grammar, error free spelling and learn your vocabularies. Remember you don't have to be a good writer off the bat, simply practice, practice and practice some more.
Making sure that your copy is error-free is a must. An eye for detail will help you spot any errors as you proofread and edit your work before you send it to your client.
The more your copy is error-free the more professional you will be considered. No client wants work that they have to keep editing and making changes. They hired you so that you can do that for them.
You must have a curious mind in order to come up with text that will convince your readers to take an action. Be curious enough to learn as much as you can about the topic you're writing on. Even when a topic is new to you or boring explore it with a curious mind.
Impeccable Research Skills
Right up there with curiosity is impeccable research skills. To come up with great and highly converting copy you need to do good research in order to fully grasp the topic as well as the audience you're targeting.
What does a copywriter do?
The next question that wannabe copywriters often have about working as a freelance copywriter is: what do copywriters actually do?
A copywriter creates text for promotional materials including:
Adverts on TV, radio, print (magazines or newspaper) or the internet (Google and Facebook ads)
Brochures
Websites
Signup forms
Sales scripts
Press releases
How-to guides
Blog posts
Emails
Billboards
The list goes on and on…
Working as a freelance copywriter: How much money can you make?
This is probably the most important part you've been waiting for in this guide on how to become a copywriter, right?
You definitely want to know if you'll truly be able to make enough money to sustain a life of travel.
Well, the truth is that freelance copywriting income varies so much. One freelancer could be making less than $30,000 every year while another one is raking in over $2,000,000 per year.
Why is that the case?
It all depends on level of skills and experience.
A new copywriter with minimum experience and copywriting skills will earn about $3,000 – $15,000 per year while a medium experienced copywriter will make anything from $75,000 to $150,000 per year.
A highly skilled copywriter on their part could earn over $300,000 per year.
Now the best part about being a freelance copywriter is that you can work as much as you want and with more work comes more money. However, the best approach is to work on improving your skills so that you can earn more without having to work too much. You do want to have some time to explore the world you know.
How to get started as a freelance copywriter
Now let's get into the real work on how to get started as a freelance copywriter.
Follow these 8 steps and you'll be on your way to a successful freelance copywriting career in no time.
1. Pick your niche
As you start out you may want to write everything you can get your hands on. This may make sense but in reality it's not sustainable. The most sustainable way to grow your copywriting business is to niche down from the start.
What I mean here is to find one area that you're already good at or interested in and work on perfecting your writing skills in that area. For instance, if you have worked for a bank you have experience in banking and finance and specialising in financial copywriting, an area you're already familiar with, will give you an edge as a new copywriter.
2. Acquire a skill
Remember how we said skills determine how much you earn? Yep, learning an extra skill or two will give you the power to earn more.
Here are some great online courses to polish up your copywriting skills.
Udemy copywriting courses
Our #1 Recommendation :
Copywriting secrets – How to write copy that sells

Instructor is a top copywriter with clients including IBM, Vodafone, Lloyds, PricewaterhouseCoopers and the BBC.
Support available to answer your queries, or to explain things further.
Over 24,000 people have enrolled with a 4.6 review.
Other Recommended Courses
See also: Best Online Course Providers: Learn the Skills You Need to Become a Digital Nomad
3. Practice your skill/Practice doing jobs for friends & family
Once you learn a new skill put it into practice. The more you write the better you'll get at it. Some writing experience is especially necessary for a new copywriter to get a copywriting job.
One way to gain some experience is to work for friends and family either for free or for a few dollars just to get your foot into the industry. Don't let this go on for too long though, because you're trying to build a sustainable business and a few dollars per job won't get you there.
Another good way to practice your writing skills is to start a blog that covers the niche that you picked. A blog will also be a good way to offer potential clients some form of proof that you can actually write.
Starting a blog is easier than you think. Check out our complete step-by-step tutorial here: How to Start a Blog in Under 10 Minutes. Also, if you use our exclusive BlueHost link, you can get started for just a few dollars a month. PLUS they will also give a FREE domain. How awesome is that?
4. Build your personal website/online presence
To get clients you need to get your name out there where people can find you. Nothing will promote you more than creating an online presence for yourself. You also get to create credibility as a good copywriter so that you can start charging more money.
To create an online presence, begin by having your own website. It doesn't have to be fancy but something simple that shows that you have good copywriting skills.
Add a portfolio section on your website and add your best writing samples in there as you continue to gain experience.
Creating a website doesn't have to be an overwhelming experience. We've got a simple, step-by-step guide for you right here: How To Create A Personal Website For Freelancers – 3 Simple Steps
Additionally, create social media profiles for your copywriting business especially on Facebook and LinkedIn. Such profiles will help to promote your business and give you a higher chance of getting clients.
5. Decide what to charge
As you continue to work on how to become a copywriter decide how much you want to charge your clients. Remember we talked about how varied freelance copywriting rates are so you should come up with a rate that is good for you.
This may not be an easy task but look around at how much other new copywriters are currently charging, weigh that against your skills and experience and come up with an average rate.
6. Find clients
So here is the real work on how to be a copywriter starts.
No clients means no money and all the skills you've earned and practiced for weeks will be useless. So let's help you get a couple of clients to get you going.
1. Friends and family: Let your friends and family know about your copywriting business and that you're looking for new clients. Request them to send work your way or refer you to their friends or colleagues who may be interested.
See also: 5 Ways To Get Freelance Work From the People You Already Know (+ Tips on How to Approach Them)
2. Business networking events:  Go for networking events that potential clients may be attending. These could be both online and offline. Talk to people, give them your business card and let them know how you can help their businesses with your copywriting services.
3. Social media: Join Facebook and LinkedIn groups that target businesses in your niche that might be looking for a copywriter. Market yourself as an expert on such groups to gain interest from potential clients. Use your social media platforms to promote your business and let the online world know about your services and that you have room for a few clients.
4. Reach out to niche industries: Research businesses within your niche and look for prospects. Then reach out to these prospects via email. Mention your services and how they may be of value to them.
5. Reach out to print publications: Find magazines and other print publications in your niche and reach out to them to find out if they have any freelance copywriting gigs open. They may be in need of someone to write advertising copy for them or someone to join their editorial team and write how-to articles or anything else that might be of interest to you.
6. Join freelance copywriting job sites:  These are a great avenue for an inexperienced copywriter to find some work. They may not offer high paying jobs but they are quite popular with clients and therefore, they feature lots of jobs that you can apply for. Some of the best sites to consider include Upwork, Freelancer, Guru, FreelanceWriting.com, Blogging Pro, ProBlogger's, among others.
See also: Freelance Writing Jobs: 26 Resources for Finding PAID Work
7. Find communities and network
Copywriting communities and networks are not only a great way for finding clients and referrals but also a great way for newbies to learn about the industry and interact with others to learn more about how to become a copywriter.
Joining a community or network of copywriters will also give you a chance to stay up to date with current industry trends and also learn from more experienced copywriters.
8. Get reviews and build your portfolio (include case studies)
By now I believe you have started getting some luck finding a few clients. Now it's time to make use of the work that you're doing.
Ask your clients to give you feedback and reviews for the work you've done. The more positive the reviews are, the more attractive you will be to potential clients.
As you continue working as a freelance copywriter and do more work remember to add your work samples to your portfolio so that clients can see how good you are at what you do.
How copywriting work can help you become a digital nomad
Now that you have a pretty good idea on how to become a copywriter you're probably wondering how this job will work out for you if you want to be a digital nomad.
Let me ease your mind by mentioning that this is actually one of the top best jobs that offer the flexibility and income necessary for a digital nomad.
See also: Get Paid to Travel: 7 Jobs That Will Let You Travel the World And Get Paid
See, running a copywriting business requires only a laptop and a good internet connection. These are things you can get almost anywhere in the world.
It's really possible to live the enviable digital nomad life if you are brave enough to take the jump, follow our how to become a copywriter guide, put in the effort and get your business going!
Are you currently learning how to be a freelance copywriter? What are some of the challenges you're facing? Leave a comment and tell us about it, you never know we might just be able to help you :).
You might also be interested in:
Written by
---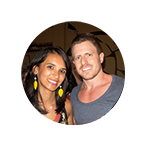 Fulltime Nomad
Fulltime Nomad is your passport to saying no to normal, and yes to a life of unlimited travel. Founded by Radhika & Johnny, this blog will help YOU take that big scary first step towards building your own freedom lifestyle. Are you new? Start here.