Remember the French class you took in high school or the Spanish you learnt on the side just because you love the language? What if I told you that you could easily learn how to become a translator and make money while you travel the world?
No seriously. That second language you picked up just for fun could be the gateway to your dream to work and travel the world full time.
Not sure where to begin? We've got you covered!
In today's blog post we'll take you through everything you need to know on how to become a freelance translator.
86 Ways to Make Money Online
Download our free guide on legitimate ways to make money online in 2021
By signing up, you are agreeing to receive periodic emails from Fulltime Nomad. No spam. Only the good stuff.
**This post may contain affiliate links. If you click on them and purchase something we get a small percentage of the sale. More info here**
Related posts:
What Is A Translator?
A translator is someone who converts written text from one language to another. A translator is tasked with the job of making sure that the translated document reads as if it were the original.
You need to understand both the original language and the translation language very well in order to write sentences that flow as well as the original text without distorting the original ideas and facts.
You should be able to put into consideration any cultural references, such as slang, that do not translate literally.
What Skills Do You Need To Make Money Translating?
The one MUST have skill as a freelance translator is obviously the knowledge of two or more languages.
However, you can't be a translator just because you speak another language, even if you are really good at it. You need some training and experience working as a translator.
These extra skills will also give you an edge in the industry:
Computer skills: Most, if not all, of your translation work, will be done on a computer. Having excellent computer skills as well as learning certain programs such as MS Office programs, desktop publishing, Photoshop and InDesign will be advantageous for you.
Commitment: You need to be very committed to each task that you take on. Learn how to be flexible, respond to your clients promptly and be dedicated. Commit to producing high-quality translation projects always.
Confidentiality: Handle each translation work with utmost confidentiality. Make sure that you comply with all the privacy guidelines set forth by your clients. By doing so, you will build client trust which will lead to repeat clients.
How To Become A Freelance Translator
As we continue learning how to become a translator, let's take a look at 7 things you need to start doing asap in order to be able to work as a translator:
1. Get certified
To start working as a translator you need to get some sort of accreditation or certification. Doing so will show that you have the recognised skills required for every professional translator.
You can take online classes from many universities and colleges to gain professional certification in translation.
2. Get Tested
If you don't have the resources to get certified immediately but you're fluent in several languages, you can take language proficiency tests to show potential clients that you are indeed fluent in the languages you want to use for translation work.
3. Acquire extra skills
The more skilled you are, the more marketable you will be. You certainly want to beat out the competition. Taking one or two online courses for added translation skills will help you do that.
Here are some great online courses that you can take to gain some new skills:
Udemy translation courses
See also: Work from Anywhere with These 25 Money Making Digital Nomad Skills
4. Practice your skill
Once you've got your certification or language test certs as well as learnt an extra skill or two, you can start practising how to work as a translator.
You can offer to work as an intern or assistant to a seasoned translator who can give you some simple jobs for practice. You may not earn much from this but it's a good way to learn the ropes.
Another great way to practice your translation skills is to work as a volunteer. Find local charities and non-profits that may have documents that need to be translated and offer to work for them for free for a short while.
5. Build your personal website/online presence
Once you've started getting the hang of how to become a translator, you can begin building your online presence to help you attract freelance clients.
Start by creating a personal freelancer website that you can use to market yourself to clients and businesses that may need translators in your area.
A website makes you look like a professional even when you have little experience in the industry. It shows that you take yourself seriously, something that attracts most clients.
Add your certifications on your website. Create a portfolio on your website and always add any completed projects that you take on.
See also: 11 Reasons Why Every Freelancer Must Have a Website
6. Find clients
I believe that you're now ready to make money online translating. Now it's time to get clients and make some money. Here are a few ways you can use to find clients:
Sending cold emails/applications: Search for translation agencies and submit your resume to be considered for freelance work. You can also search for companies that are looking for translators and send them an email expressing your desire to offer them your translation services.
Directories: Join professional associations such as ATA, NAJIT, or local associations then list your services on the association's membership directory. From here clients can find you and contact you for work.
Networking: Network with other freelance translators and inquire from them of any work opportunities. Attending conferences and meetups that attract potential clients is also a great way to find clients.
Friends/family/ex-colleagues: Sometimes it's easier to get freelance work from the people you already know. These could be colleagues, classmates, friends, and family. Even if they may not have work to give you, they may know someone who is looking.
7. Find communities and network
To continue learning how to become a translator and advance your skills you need to interact with other skilled translators so that you stay ahead of industry trends. Join online translation communities and attend networking events that will help you understand the industry further.
How to Find Work As a Translator
Freelance websites are a great place to start looking for translation work once you learn how to be a translator. Such websites have thousands upon thousands of clients looking for translators making your search easier.
Here are some of the best freelance websites to find translation work:
See also: 52 Best Freelance Jobs Websites to Help You Find Online Work
Can You Travel The World And Make Money Translating?
Yes!
When you put in the time, effort and commitment to learn how to become a translator you'll soon be able to work as a translator and make enough money to let you live anywhere in the world.
Because most of your work will be done on a computer you can take your work with you wherever you go. If you can easily work as a translator from home, there's absolutely no reason why you can't make the world your home!
See also: Get Paid to Travel: 7 Jobs That Will Let You Travel the World And Get Paid
Ready to turn your second language into a money-making project? Go one follow our advice on how to become a translator and you'll soon enough be on your way to your dream destination!
Do you think you're ready to start working as a freelance translator? What has been holding you back? Let us know in the comments section!
Written by:
---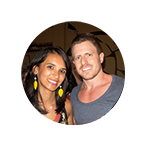 Fulltime Nomad
Fulltime Nomad is your passport to saying no to normal, and yes to a life of unlimited travel. Founded by Radhika & Johnny, this blog will help YOU take that big scary first step towards building your own freedom lifestyle. Are you new? Start here.