In the past 17 months, we have have stayed at 23 different apartments/ houses and the majority of them have been possible thanks to AirBnB.com.
Johnny and I are massive fans of AirBnB and it's the first place we look at, when looking for accommodation these days. In fact I'm such a fan girl that when people tell me they've never heard of it, I feel the need to tell them errrything I know and have experienced thanks to AirBnB.
But, I realise this can be tiresome so I just decided to write a blog post about it and next time I feel the need to gush about AirBnB I can just tell people to go to fulltimenomad dot com forward slash how dash to dash choose…. Just kidding. Maybe.
I promise this is not a sponsored blog post (I wish it was….).
LEARN HOW TO WORK &

TRAVEL

THE WORLD

FULL TIME
---
Download our FREE guide in seconds!
By signing up, you are agreeing to receive periodic emails from Fulltime Nomad. No spam. Only the good stuff.
What is AirBnB?
First things first, so what is AirBnB?
AirBnB is an accommodation booking site, powered by community. So, instead of the usual commercial properties, AirBnB allows hosts to put up a listing for their apartment/ villa/ boat and people (like you and me) can make a booking to stay at these cool properties. Often it could mean booking a room at a local's apartment (we love this!) or, you could book your own private loft in New York or, a luxury villa in Anguilla
… or even a castle!
AirBnB castle listing: https://www.airbnb.com.au/rooms/13253
How We Pick An AirBnB Apartment
I've heard of people who haven't enjoyed their AirBnB experience and I think very often it is because of a lack of understanding that AirBnB doesn't work the same way as a traditional accommodation booking site like say, Booking.com.
Here's what we look for, when looking for apartments.
Reviews
AirBnB is a massively review powered community and because you can't leave a review unless you've actually stayed at a place, I tend to find these reviews more trustworthy than some TripAdvisor reviews of a hotel.
We scour the reviews of a potential apartment to get a feel for the place. If others have had a good experience and the majority of reviews are positive, then we go ahead and contact the host.
The Profile
In addition to the reviews, I also like to read a bit about the host. This is especially important if we're considering renting a room and will be sharing the apartment with the host. A good profile description helps me assess if we'd be on a similar wavelength to the host.
We've met some amazing people thanks to AirBnB. In fact, sometimes when we see an interesting profile on the site but the apartment isn't available, Johnny and I often joke that we should just contact people to see if they want to be friends. Not creepy at all….
Many of our AirBnB have become our friends. I think this is because we try to spend some time finding the right people to stay with. It can get lonely on the road, so it's a great way to meet interesting new people, no?
Good Wi Fi
This goes without saying. Wi Fi is a necessity for us. We spell this out on our profile but when we contact a host, we make sure we ask about the Wi Fi and mention that we need it to work, so it has to be reliable and good quality.
Use of the Kitchen
We like to cook so we try to find accommodation where it's possible for us to use the kitchen to prepare our meals. This is crucial when we look for long term accommodation, but even if it's just for a few days, use of the kitchen makes it easy for us to prepare breakfast at home.
We both wake up very hangry and have to stuff something in our faces before the monster comes out… so you know, it's just self preservation really.
Area for Work
When looking for long term accommodation, we have to factor work into the equation. Yes we work from co working spaces sometimes, but it's important to have a good work area in the apartment so we can work from home if we want/ need to.
Location & Proximity
The actual neighbourhood/ area an apartment is in can have a huge impact on your experience of a place. I am not good at figuring out what's good/central/safe  so I let Johnny do this part of the research process. Once I have names of neighbourhoods, I begin the AirBnB hunt.
In addition to finding a safe & interesting neighbourhood, we also assess accommodation based on its proximity to food (supermarket, local markets, restaurants, cafes etc) and the gym. We've relied solely on public transport in most places we've lived in (except Thailand), so this only makes sense when we can't drive to places.
We cook a lot of our own food, so it's important to have a market close by. Also, when staying in a place long term, we always sign up to a gym, so having one close enough is super handy.
How Do I Join AirBnB?
AirBnB is free to join and browse.You only pay when you book accommodation. I will admit I often spend time on the site looking at the beautiful places I could one day stay in. I know, loser.
If you use this link (www.airbnb.com.au/c/jhoy3?s=8) you get $25 credit towards your first booking (and we get some free credit too, for recommending you! 😉 ). If you do use our link to sign up – thank you!
A good profile is essential as potential hosts will review your profile to make a decision about you. Take the time to write a little bit about yourself, what you do and what you expect from the host.
For example, on our profile, we make sure to mention:
2 things we look for when picking our accommodation:

– Good, stable wifi — we need it so we can work!
– Use of the kitchen — we like to stay in and cook our own meals sometimes.
I also recommend verifying your profile by linking your AirBnB account to Facebook/ LinkedIn and/or verifying with your phone number and other offline ID (such as a driving licence).
Finally, as I mentioned before, reviews are a crucial part of the AirBnB experience but as a newbie you obviously won't have any reviews just yet. However, you can request references from your personal network via email or Facebook.
Why We Prefer AirBnB Over Hotels
So now that you know how to sign up and start looking for accommodation on AirBnB, I just wanted to end by telling you why we're such fans of the site.
Meeting Locals
As I mentioned before, we've made some great friends through AirBnB. We've met so many locals who gave us a different perspective to the place we were in. Also helpful – locals know the great places to eat. So if you arrive in Mexico City well past dinner time, the hotel concierge will direct you to the dry ham sandwich at the hotel's 24/7 bar. Or, a local will tell you about a street taco truck 2 blocks away. Which is better? 😉
Most AirBnB hosts either enjoy traveling themselves or enjoy meeting people. Or both. So the hosts we've had have always been so friendly and generous with their time. We've experienced and seen things we wouldn't have, had we not met these lovely hosts.
Apartments > Hotels
Hotels can be luxurious, yes. But when you're on the road long term, you want to stay in places that feel like home. Apartments have more space, have kitchens and just feel more personal.
Also, a room in a local apartment is often cheaper than a hotel room. Sometimes, it's also been cheaper than a private hostel room.
So there you go, I've spilt all the beans on why we obsess over AirBnB so much.
What do you think about AirBnB? Love it? Hate it? Will never use it? Share with us.
Written by
---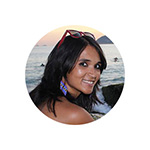 Radhika B.
After turning her back on office life in Australia, Radhika set out to create a life lived on her own terms (a constant work in progress). As co-founder of Fulltime Nomad, she is super passionate about helping others live life with more freedom and flexibility, and a bit of travel thrown in for good measure.