Ready to jump on the blog bandwagon but wait a second… how do you come up with a blog name?
I mean, isn't a name everything?
When it comes to naming something, many projects (like a blog) come to a screeching halt. We become paralysed with our indecision and don't want to choose the "wrong" name or a bad blog name.
There. Is. No. Wrong. Name.
FREE 5 Day Course
How to start a blog
that makes money
---
In this free course, we will take you through, step-by-step, everything you need to start a profitable blog.
By signing up, you are agreeing to receive periodic emails from Fulltime Nomad. No spam. Only the good stuff.
Seriously.
Take the stress out of this process. There are much bigger things to think about than coming up with a blog name , so don't waste your time over  it.
Now the thing is, choosing a name for your blog actually isn't that hard. Most people are creative enough to come up with a name.
The hard thing sometimes, is finding a name that you like and making sure the matching domain is available for you to register as well.
You see, buying up domain names is big business. Companies and people make good money from buying domains, sitting on them and then selling them later for a higher price.
So often, you think you have found the perfect name for your blog… only to find out that some else already registered the name. Sometimes they're not even doing anything with the domain – just squatting. Argh.
Anyway, what I'm trying to say is that it's important when you're coming up with a name for your blog that you are flexible. You might need to compromise a little on the name so that you can register the domain as well.
In this article, we are going to give you advice and tips on how to brainstorm and find a great name for your blog – no matter what niche you are in.
Now as you go through this process of picking a blog name – you want to check if the name is available to register.
You can check the availability of your domain here at NameCheap.com
What domain extension should you use?
One of the most common questions newbies have when registering their blog domain name is.. "What extension should I use  – .com, .org. .co.uk, .net?"
My advice is that you should always go for the .com domain (where possible).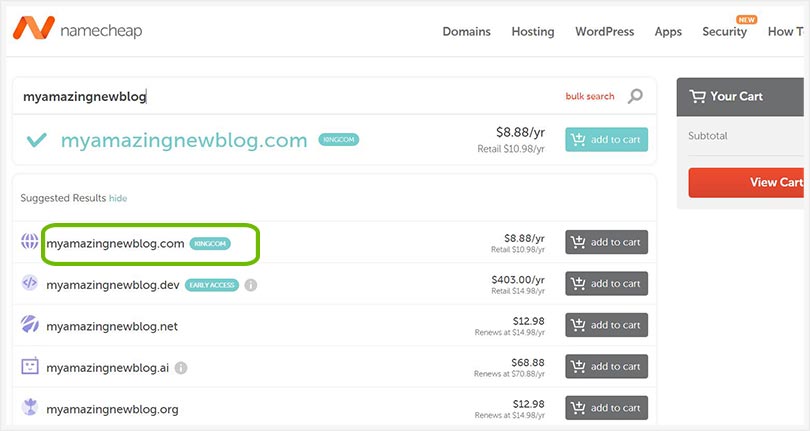 If there is no .com available, you should try to make changes to the name and find a .com that you are happy with.
If you are really set on the blog name then the next best domain extension is the .net, .org, or .co.
I go into a bit more detail about domain registration later in this post.
Ok let's get started.
How To Come Up With A Blog Name
1. Define your niche
Before you start getting all creative with naming your blog, it's important to take a moment and think about exactly what your blog's going to be about.
If you haven't already decided what area of interest you will blog about then…. snap snap, get on it. We have a great article here that will help you decide.
Before deciding a name, you want to ask yourself the following
– What niche are you in?
– What topics are you going to write about?
– Who is your target audience?
– What is the general tone/voice of your blog?
It's important to think about the above questions because the blog name you pick should resonate with your audience.
The most obvious way to do this is to use keywords in your name that are related to your niche.
For example, you might do a blog about about hiking and choose the name HikingAddicts.com
The advantage of using a keyword-based name is that it will help people make the connection between the domain name and the niche. Even without visiting the blog people know exactly what the blog is about. It's clear what niche it's in.
One important thing to think about when choosing keywords for your blog name are the limitations you might put on yourself.
If you choose a name like HikingAddicts.com for example, you are pretty much limited to blogging about hiking.
Focusing in on one area is great. However, if you think there's a chance you might write about other topics as well, then you might want to take a more general approach with your blog name.
For example you might choose the name OutdoorAddicts.com. You can still start out with just hiking, but it will also give you the flexibility if you want to add topics or even change topics completely.
2. Make it a short and catchy blog name
Ideally you want a blog name that is short, catchy & memorable for the reader.
Having a long generic name like StevesGreatCookingBlog.com isn't going to leave much of an impression. Try to limit your name to a few words.
Some examples of blogs with great names include:
ladbible
boredpanda
buzzfeed
techcrunch
Lifehacker
Additionally, your name should be easy to read in the domain format with a clear separation of words once they are strung together. This is really important as you might create a URL that reads differently than what you intended.
Take Old Man's Haven cabin rental. Sounds like a nice play to stay for a weekend…… or does it? You see once put together the URL is www.oldmanshaven.com…
I just really wouldn't want to click on that URL. I'm just not sure what I'm going to see.
Or take Pen Island for example or as their URL reads www.penisland.net.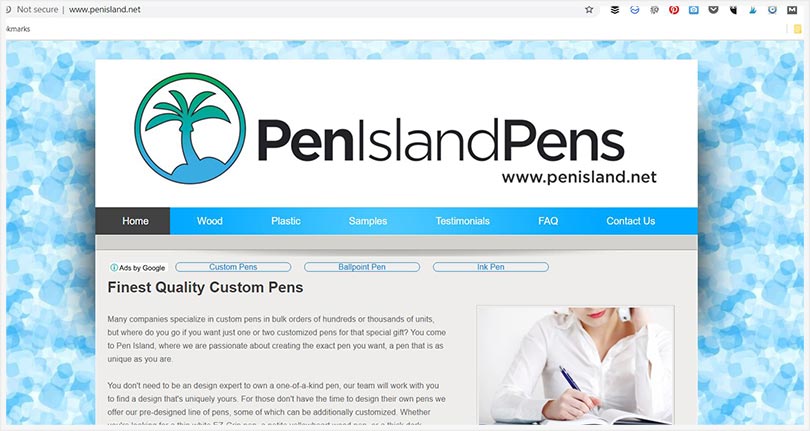 If I just saw that URL there is no way I'm clicking through!
3. Don't use numbers or special characters
Numbers can make a domain name somewhat confusing for people. Do you type the number or do you spell it?
The only time I would recommend using a number is if you have an established business name that already includes a number. Otherwise avoid using them.
Additionally, when you register your domain name, don't use any special characters, especially hyphens.
Hyphens in domain names were traditionally used to break up words (oldmanshaven.com could have probably used a hyphen), but these days it's best not to use them.
Think about a name like my-makeup-video-tutorials.com. Not only does it look outdated but imagine telling someone your domain.
"my hyphen makeup hyphen video hyphen….."
You get the point.
Pick a blog name where the domain reads well minus the hyphens.
4. Don't include brand names and trademarks
Including a brand name or trade mark in your blog name can cause a lot of problems later down the track. Specifically copyright infringement.
What happens if after a year of pouring your heart and soul into you blog only to have Apple's lawyers send you a letter telling you to shut down your blog BestApplePhones.com because it's is a trademark infringement.
While this may be unlikely, it just easier to avoid any such scenario, by not including brands or trademarks in your name.
5. Look for inspiration
Want to fill your head with blog name ideas? Scour the internet for inspiration.
Browse the web and see what domains, names or words catch your attention.
Pay attention to some of your close competitors to see what words they are using for their blog.
Another idea is to read articles within your blog niche. Take note of words and phrases that are related to your topic and use them as a starting point for your name.
A hot spot for blog name ideas is Amazon books.
Search the categories that are related to your blog and browse through the 1000s of book titles for inspiration and ideas.
6. Use a thesaurus
After you have a list of some words or phrases, you can then use a thesaurus to expand on this.
Go to Thesaurus.com, enter a word and hit search. Thesaurus will generate a bunch of synonyms and related words for blog ideas.
You can also click on each of these words to generate a new list. The ideas for naming a blog are endless.
7. Use a name generator
You've gotta love the internet. There's a tool for everything.
A blog name generator will help you come up with a blog name based off a word or phrase that you provide.
There's a number of these tools online. For most of them, this is how it it works:
You enter a word or phrase that you would like in your domain name.
The tool will suggest a number of names based off the keyword you use.
Easy!
You can also see if the domain is available. Pretty cool right?
Here an example from one of my favourite name generator tools – DomainWheel.com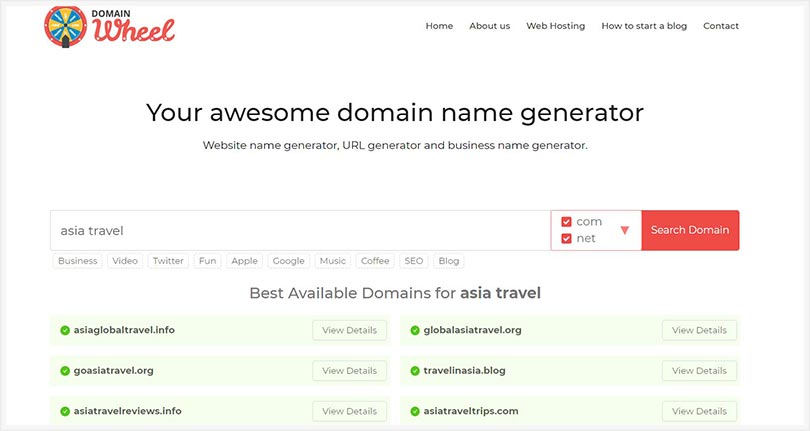 Other name generators that you might want to check out
8. Register your blog name
After you have you have decided on your name, it's time to register your domain.
If you already have web hosting for your blog then I recommend you go to Namecheap.com and register your name here.
We use Namecheap to register all our domains and I highly recommend them.
If you haven't got your web hosting yet then I recommend you take advantage of Bluehost's free domain offer.
We have been given a special discount for Fulltime Nomad reader. By using our link, you can start your blog for as little as $2.95 per month.
Our Bluehost recommendation is from personal experience. We used Bluehost to set up our first blog and have never had any issues with them.
What to do if your domain isn't available
Now like I said at at beginning of this article, there's a good chance that the domain name you want for your blog is not going to be available.
This is especially common when trying to register .com domains.
If you are in this scenario, don't panic. There are a few different things you can do.
Here's a few tips on how to come up with a blog name when your domain isn't available.
Add in extra words
Sometimes you are just going to have to make your blog name a little longer to be able to get an available domain to match.
To do do this you can add an extra word.
Let say for example you wanted to do a blog about travel in Asia. You wanted the domain AsiaTravel.com. But unfortunately it's not available.
Well try making it a little longer by adding an extra word.
For example you might change the name to AsiaTravelGuru.com or AsiaTravelGuide.com or AllAsiaTravel.com.
Try adding different words to the front or end of your domain.
Make it really unique
Another way to find available domain names is to make it really unique.
Think about brands such as Google, Flikr, Twitter or Spotify. Some of the best brands aren't even real words.
They're just made up.
How do you even come up with random words? I thought you'd never ask.
Enter Wordoids.com
Wordoids is a tool that helps you create made-up words. These words are great blog names as they are very unique, catchy and easy to read.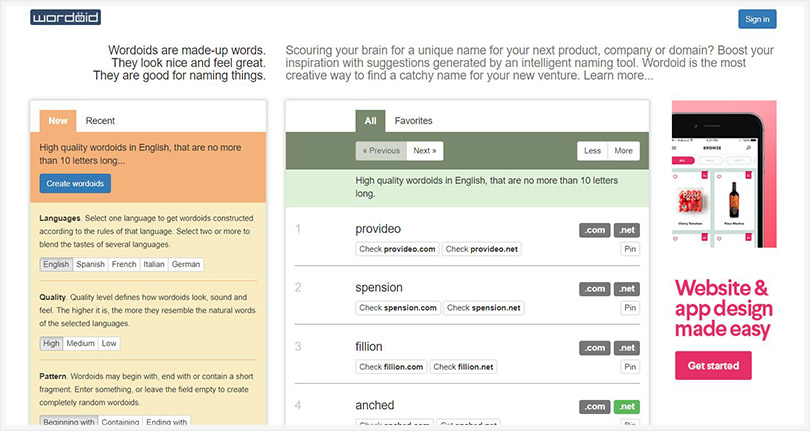 The tool also shows you if the domain for the name is available.
If you are struggling to choose a blog name where the domain is available then give wordroid a shot
Consider a different language
Another way to to help come up with a blog name is to consider using another language.
Now you might not need to make the whole name a different language even one word might be enough to find an available domain.
Not only will your name sound a little exotic, but you now have a lot more options for a name.
Use a different extension
If you are really stuck on a name for a blog than use a different extension.
After the .com domain the next most recognisable extensions are .net, .org, .co, and ,info.
Lastly… don't sweat it
While we always want the perfect blog name it really isn't the most important thing.
It's what you do with your blog that matters. And sitting around trying to secure the perfect name really just delays you getting up and running with your blog.
Is Fulltime Nomad the best name? Not by a long shot. But we are fine with it. As long as we produce quality content and help our audience, than we our name will be remembered.
As a person who has registered a number of names, my best advice is to quickly pick a name that you are content with and move on to more important things like building your blog and making money with it.
If you are looking to register your name check out NameCheap.com. If you need hosting as well, then I recommend Bluehost who have plans from $2.95 a month including a free domain.
I hope you enjoyed this article on how to come up with a blog name. If you have any questions or want feedback on your blog name feel free to leave a comment below.