Are you a digital nomad wannabe? Let me take a guess, the thing holding you back is that you're still wondering where to find jobs you can do from anywhere.
Well, the secret is that you're not the only one. In fact, this is the one question that people ask us all the time. That and how to pay for full time travel.
The good thing is that there are a variety of travel jobs you can do online and work from anywhere. You no longer need to work a full time office job only to take a few vacation days to be able to afford to travel the world.
With internet so readily available, you can easily find jobs you can do from anywhere in the world and comfortably finance your travels doing two things you love; travelling and working.
86 Ways to Make Money Online
Download our free guide on legitimate ways to make money online in 2021
By signing up, you are agreeing to receive periodic emails from Fulltime Nomad. No spam. Only the good stuff.
So where do you find these jobs?
Read on and we'll tell you the answer!
*This post may contain affiliate links. If you click on them and purchase something we get a small percentage of the sale. More info here*
Related posts:
Work From Anywhere Jobs
Before we get to where to find jobs you can do from anywhere, let's' take a quick look at some of the best location independent jobs you should consider to make money online.
Blogger
Everybody wants to know how to make money blogging. It is one of the most popular digital nomad jobs.
What makes blogging lucrative is that there are so many things to blog about that will get people interested enough to want to pay money for your content or buy stuff that you promote on your blog.
If blogging is something that you'd love to explore we have a good guide on how to get started. Check it out:  How to Start a Blog in Under 10 Minutes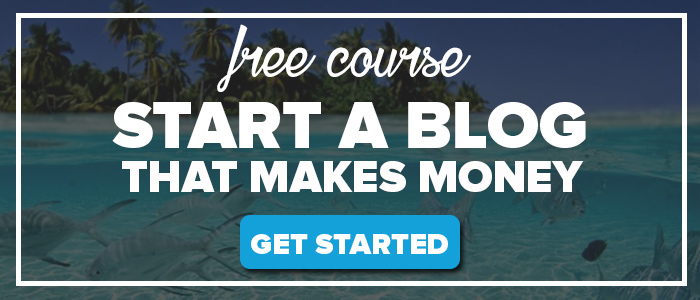 Freelance writer
Another popular job that will let you earn and travel the world is freelance writing. Many businesses are marketing themselves online making content more important than ever before.
So as a result, there are hundreds of freelance writing jobs available online.
See also: How to Become a Freelance Writer & Travel The World
Web developer
Websites are now a must-have marketing tool for all businesses. Creating a website can be done by any professional web developer no matter where in the world they are. This makes web development one of the best work from anywhere in the world jobs for creatives who enjoy coding.
The high demand for websites has made web development a very lucrative area. Check out our guide to see how you can get started: How to Become a Software Developer & Travel the World
Facebook marketer
It's the 21st century and you can now get paid to play on social media while you travel the world! Good times indeed!
Working as a Facebook marketer makes earning and living as a digital nomad easy because all you need is a laptop and a good internet connection.
Check out our guide here: How to Become a Facebook Marketer & Travel the World
Instagram marketer
Instagram has steadily increased in popularity especially among businesses who now need not so much convincing to hire a professional Instagram marketer.
Specializing in Instagram marketing is a great way of making use of your social media skills to earn money as you enjoy the world. This guide shows you everything you need to know before you get started: How to Become an Instagram Marketer & Travel the World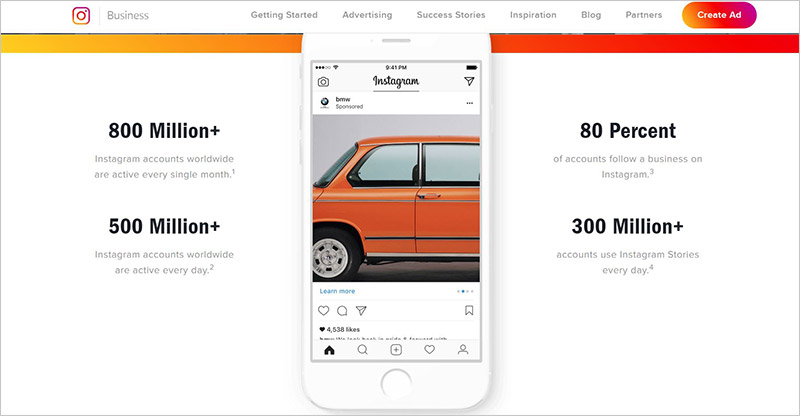 Pinterest marketer
With so many platforms available you don't actually have to be a jack of all trades. You can choose to focus on becoming a Pinterest marketer especially if you are one of those people who just can't get enough of Pinterest!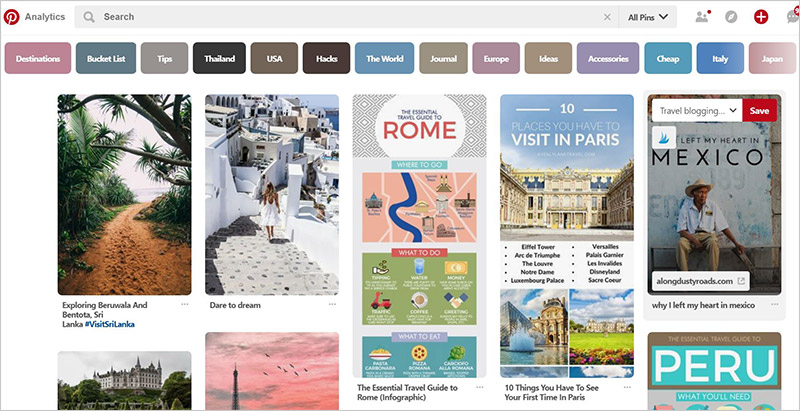 Web designer
Web designers are the people who make websites look as beautiful as they are. These are the creative peeps who determine whether you'll enjoy using a website or not.
See also: Freelance Design Jobs: 25 Resources for Finding PAID Graphic & Web Design Jobs
Copywriter
A copywriter is someone who writes sales content geared towards convincing a customer to buy a product or take another desired action such as downloading an e-book, signing up for an event, joining a mailing list, etc.
See also: How to Become a Copywriter & Travel the World
Graphic designer
Are you one of those people who love colour, fonts and great designs? Then graphic design is the career you should be chasing if you want to work a job you'll enjoy as you travel the world.
All businesses want great graphics that will make their brands stand out and attract more customer. This means, there's plenty of work to be found.
See also: How to Become a Graphic Designer & Travel the World
Video content creator
Video is now more popular than text. Have you seen a surge in the number of videos on your Facebook timeline? That's why.
There is a high demand for video content creators and companies are turning to freelancers instead of hiring someone in-house.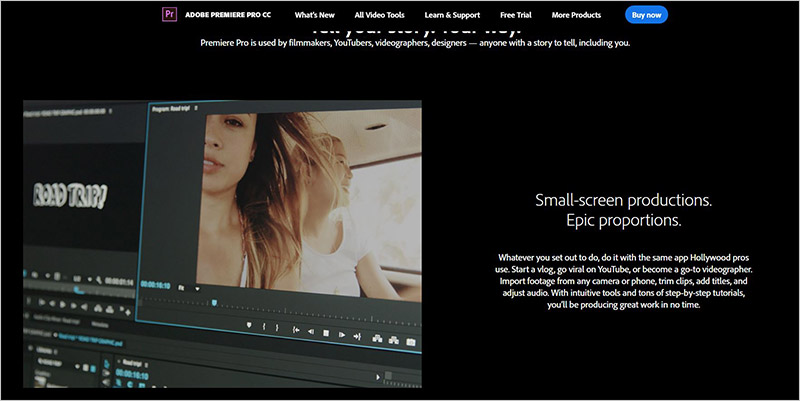 Virtual assistant
Talk about work from anywhere jobs and someone will definitely mention virtual assistants. The mere nature of virtual assistant jobs (they are done virtually) makes them jobs you can do from anywhere by nature.
There are a variety of virtual assistant jobs requiring different skills and talent, therefore, giving you a wider scope of jobs to choose from depending on your interest.
See also: How to Become A Virtual Assistant and Travel the World
These are just some of the highly popular jobs that can be done from anywhere in the world. For a wider list of other jobs that let you travel the world check out: Digital Nomad Jobs: 15 Jobs That Let You Travel the World.
How to Find Jobs You Can Do From Anywhere
So now that you know what your job options are, let's go into where you can find them. There are tons of resources to find work, whether you're looking for freelance work or simply a remote job.
Let's take a look at some of the best resources to find jobs you can do from anywhere in the world.
1. AngelList
AngelList is a great online jobs board to look for remote jobs especially with startups. To start finding jobs, create a profile on the site and start pitching the companies.
When searching for jobs, do make sure that you narrow down your search to 'remote'. This way, you'll only get results of jobs that let you work from anywhere.
2. Upwork
Upwork is by far the most popular freelance jobs site today. The site has thousands of jobs added daily.
Here you can find all types of jobs that you can do online including writing, email marketing, graphics design, web development, copywriting, VA jobs, social media jobs, customer service jobs among so many more. Joining the site is free.
3. FlexJobs
FlexJobs is another great site where you can find lots of digital nomad jobs. The site features a host of jobs that can be done on a full time, part time and telecommuting basis.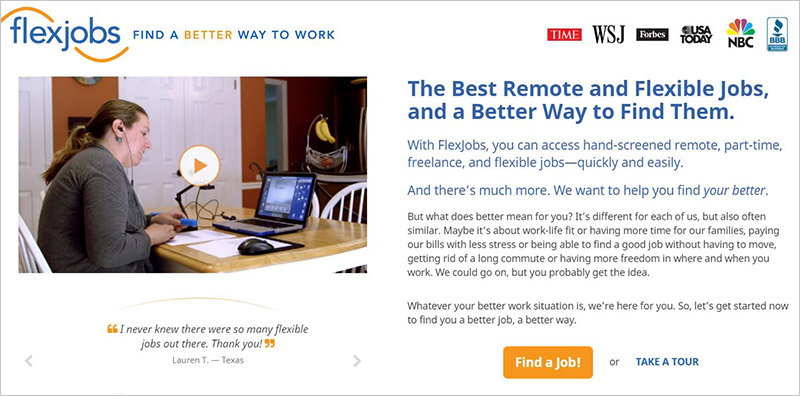 4. CloudPeeps
CloudPeeps is a premium jobs board that vets and hand selects freelancers as well as clients.
To join the site, you have to send your application and go through a vetting process. If you have great skills then you'll be selected to join this platform and start getting well-paying jobs.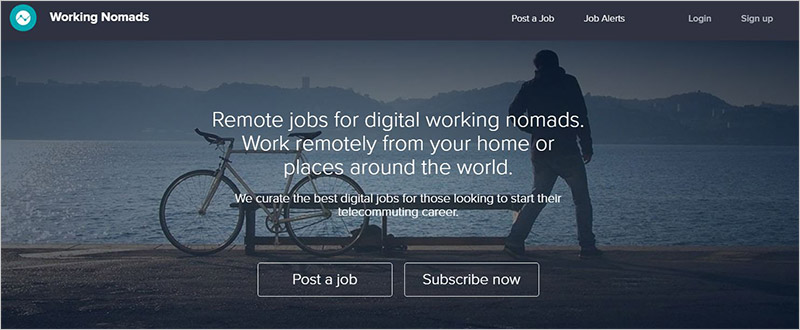 5. Stack Overflow
Stack Overflow is a community of programmers that features a jobs board for people looking for remote programming jobs. The jobs available are of high quality and well paying.

6. We Work Remotely
We Work Remotely is an online jobs resource that features remote jobs including design, programming, copywriting, customer service, and so much more.
7. Remotive
Remotive is a great site for new digital nomads and freelancers.
The site has a wide range of work-from-home, remote and telecommuting jobs. You will also find lots of weekly tips on remote work and productivity.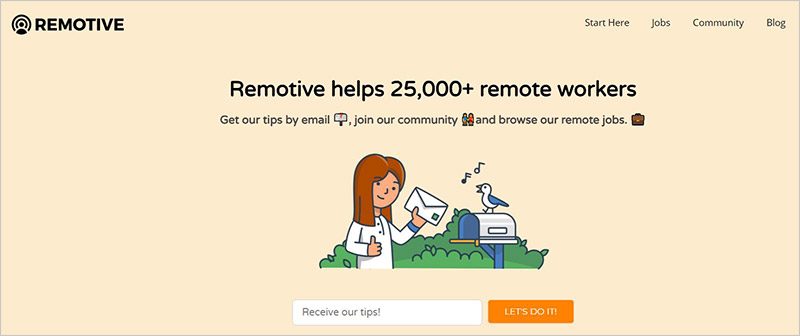 8. Working Nomads
As the name suggests, Working Nomads is jobs site designed for digital nomads to find jobs you can do from anywhere.
The site features jobs across a wide range of categories, such as customer service, writing, programming, design, sales, etc.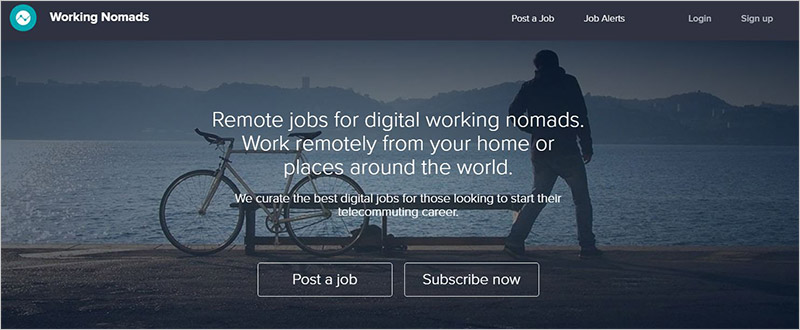 9. Friends and Family
Friends and family can be a great source of freelance work even though we tend to overlook them.
Once you decide the type of freelance job you want to do, let your friends and family know and request them to either give you a job if they have one, or refer you to people they know.
See also: 5 Ways To Get Freelance Work From the People You Already Know (+ Tips on How to Approach Them)
10. Previous employers
Previous employers can surprisingly be your freelance clients too. If you were good at your old job and didn't burn your bridges after quitting you can continue working for your previous employers on a freelance basis. They can also be a great source of referrals.
11. Businesses you frequent
Do you have a favorite coffee place or a restaurant that you frequent? Or perhaps it's a boutique where you get all your clothes and shoes. Consider requesting them for business.
Whether you're a graphic design, a copywriter, a Facebook marketer, or web designer, you can approach the business and pitch them your services. You never know, they may just be in need of a freelancer!
12. Other freelancers
Sometimes as freelancers we get job offers that either we're not skilled in or currently have too much on our plate to handle them ourselves. In such cases, we're always looking to pass on the work to someone else.
Join circles of freelancers especially those in your line of work and form partnerships with them.
13. Facebook groups
Facebook groups have become a go to source of work for many freelancers. This is because Facebook is a very popular platform for clients.
Look for and join Facebook groups that have your ideal client. Become active in the groups by posting relevant content regularly, commenting, and engaging in the discussions held there.
Clients looking to hire likely want to work with for demonstrating your expertise.
Finding jobs you can do from anywhere is no longer impossible, not with all these resources.
Yes, there is definitely competition, but if you do your search right sooner or later you'll be working one of these work from anywhere jobs in an exotic location of your choice!
Are you lookingfor jobs you can do from anywhere? Do you know of other job resources that we may have skipped? Share them with us in the comments section!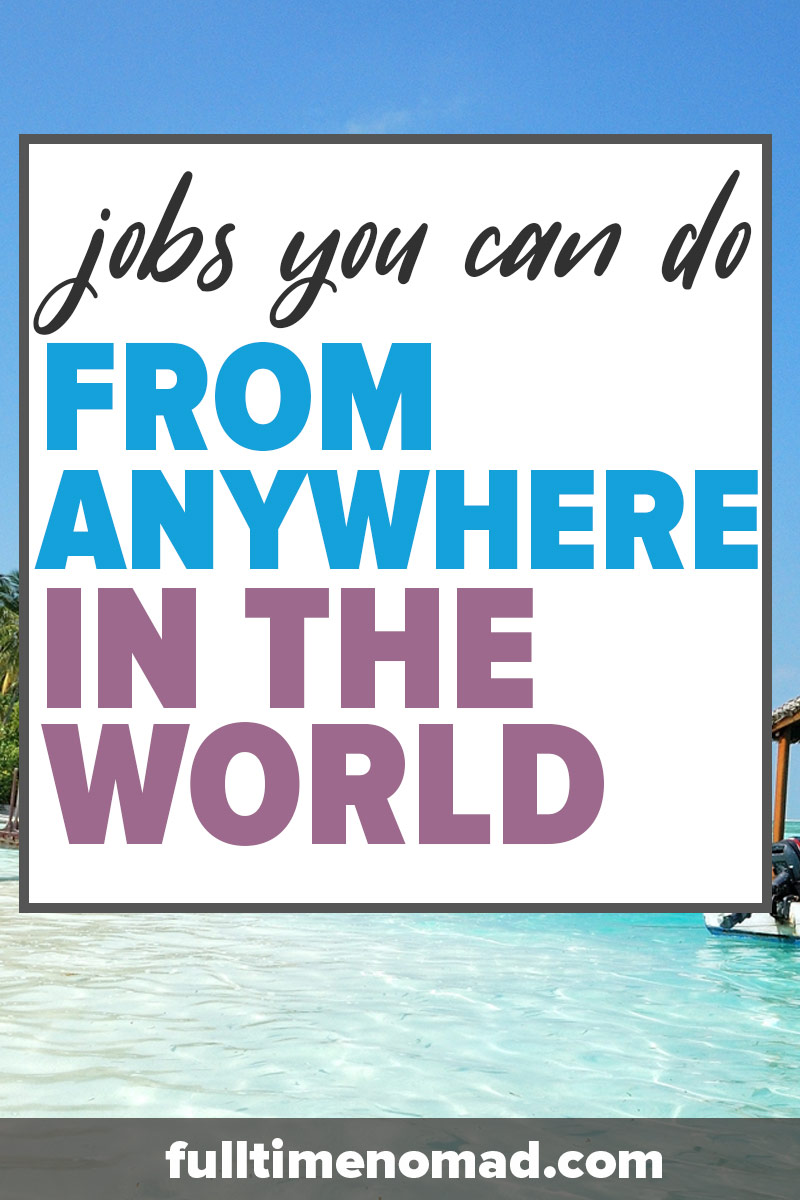 You might also be interested in:
Written by
---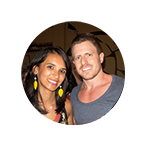 Fulltime Nomad
Fulltime Nomad is your passport to saying no to normal, and yes to a life of unlimited travel. Founded by Radhika & Johnny, this blog will help YOU take that big scary first step towards building your own freedom lifestyle. Are you new? Start here.