I have been freelancing for 10 years. It's not so much a statement as a sudden realisation of how long I've been doing this.
I did my first freelance job back in 2005. I was in my 2nd year of college and broadband was a relatively new phenomenon. I was spending more time online than dial up internet (and my parents' wrath) had ever previously allowed.
I remember stumbling upon a job ad about looking for a writer who could work from home. I applied and was sent my first project. This was in the dark ages of SEO mind you, so my "writing" job involved stuffing as many keywords into an article as possible. And for my skilful stuffing of keywords, I was paid a fee.

Getting Hooked to Freelancing
That first job, as mind numbingly boring as it was, got me hooked to freelancing. I was a full time uni student and these freelance jobs gave me the opportunity to make an income by working around my schedule. What a revelation!
86 Ways to Make Money Online
Download our free guide on legitimate ways to make money online in 2021
By signing up, you are agreeing to receive periodic emails from Fulltime Nomad. No spam. Only the good stuff.
Between finishing my degree and moving to Australia in 2007, I had 8 months of boredom to fill. 8 months wasn't long enough to apply for a "real job" but it was definitely long enough to get better at freelancing. I took on as many jobs as I could and learnt the difference between writing website content, marketing copy, blog writing and more.
Over the next 10 years, my freelancing career was sometimes my primary source of earning and sometimes my primary source of learning.
I freelanced while I was a full time international post graduate student unable to get any other jobs; freelanced while also working a part time job as a waitress; freelanced alongside my full time marketing job just so I could keep learning and have been freelancing since becoming a digital nomad in 2013.
For me, freelancing has always been about the flexibility it has offered me.
How Freelancing is Different in 2015
Freelancing and the internet has changed dramatically in the past 10 years. Starting a freelance career is in many ways, a lot easier now. Sustaining it and developing it into a full time income takes hard work but it is definitely possible.
More opportunities than ever before
There are more freelancing opportunities now than I could dream of in 2005. Quality content is also much more appreciated now than it used to be. For freelance writers, there are many, many more media outlets looking for good content than there used to be 10 years ago.
Companies are also more open-minded today and understand the value of outsourcing to a freelancer if they can't find the expertise in-house. For freelancers, this means an opportunity to score long term, consistent work rather than working on bite-sized projects all the time.
Freelancing is a valid choice
Not many people took me seriously as a freelancer back in the day. That outlook is definitely changing. Being a freelancer is a valid (and much sought after) career option now. Especially if you're aspiring towards a location independent life.
A study of the American workforce found that, 53 million Americans are now freelancing.  65% said freelancing as a career path is more respected today than it was three years ago.
And for some Australian context:
The survey found 3.7 million people in Australia undertake some sort of freelance work.
Freelancing pays better
One of the reasons freelancing is becoming a viable career choice is because freelance jobs are starting to pay much better than they used to. Clients realise the value of expertise and are willing to pay for it rather than wasting time over hiring someone with cheaper raters but fewer skills.
The rise of freelancing platforms
Back in 2005, freelancing platforms like oDesk (now Upwork)* weren't what they are today. When I first signed up, the opportunities were limited and the jobs were largely very poorly paid.
However, in 2012, I signed up for Upwork again – out of curiosity. Since signing up, it has been a great source of jobs and contacts for me. Upwork also taught me a lot about the type of clients I like to work with. (I elaborate on this below)
For freelancers who have no idea what to do or where to start, I highly recommend signing up to Upwork. It not only helps you get your first job but also teaches you how to sell yourself, pitch for projects, work with clients and various other valuable freelance skills.
A competitive space
Freelancing today is definitely more competitive than it used to be 10 years ago. Many millennials are choosing to freelance over stuffy corporate jobs and it's a trend I only see growing. Competition doesn't make any career impossible though. I believe competition is good because it will improve the world of freelancing.
9 Tried & Tested Bits of Advice for New Freelancers
1. Work hard
Obvious but often overlooked. Freelancing success doesn't come overnight. I worked really hard to become good at what I do. Be prepared to give it your all.
You can't apply for a few jobs, get rejected and decide it's all too hard. If it is, then may be freelancing is not for you.
2. Know your worth
When I started freelancing, I did a lot of free jobs to prove I was worth hiring. I wrote free articles to get bylines and didn't charge clients for the time I spent rewriting and editing work.
I don't do this anymore.
I have a very strong understanding of what my time is worth now. I will never do any free work for a client to prove I can write. I have enough work samples, references and bylines to prove this now.
3. Be patient
It's important to know your worth, but it's also crucial to be patient. You may be an excellent writer/developer/designer but if you haven't got the experience to back you up, you're still a newbie. It's important to understand this from the client's point of view.
So be patient while you prove your worth. Don't be unreasonably demanding from the start. Work a few lower-paying jobs if you have to, just to get the experience and references.
4. Build your brand
Many freelancers cringe when I say this, but it's true. You/your skills are a brand and you need to stand out from the competition when you sell yourself to clients.
You can build your brand in various ways:
A complete freelancer profile on a site like Upwork
A detailed LinkedIn profile
Your own website
Creating and maintaining an active, professional social media presence
Blogging
5. Establish a niche
When I first started freelancing, I used to write about anything and everything. I was desperate for the experience and wanted to try it all. The problem is, these jack of all trades jobs don't pay as well as the "expert" jobs.
I then decided to establish myself as an internet marketing writer, with a specific focus on social media marketing. I worked in social media marketing, so a lot of the writing I did was based on professional knowledge I had acquired over the years. Doing this allowed me to establish myself as an expert in this niche and eventually demand higher rates because of my expertise.
6. Be professional
One of the things that frustrates me about many freelancers is their inability to take themselves and their work seriously. This gives the rest of us a bad name.
It's very important to approach your freelancing jobs professionally. Always deliver work on time and communicate with the client regularly. Needless to say, your work should also be of very good quality.
As a digital nomad, my life involves a fair bit of travel. This is my choice, not the client's; so I never let this affect my work. I always advise clients (in advance) of the dates I will be traveling and may be unavailable to respond immediately. Additionally, I also make sure all my work is done in advance so I can justify taking the time off without it affecting the client in any way.
I like to believe this is why my clients don't really care whether I'm working from Australia, Mexico or Vietnam. As long as the work is done, the timezones make no difference to them.
7. Don't be afraid to say no
After 10 years of freelancing, I've learnt that I don't want to work with everyone.
It's important to understand what type of clients you want to work with and continue to seek out these clients.
I've had disrespectful clients, ones who didn't value my work, clients who don't understand the difference between negotiating fees and haggling, and ones who hired me for my expertise but thought they knew better anyway. Bad clients are a waste of time and I don't have the patience for these clients any more.
I like to understand client goals and give them a clear idea of what I expect of them as well. I interview my clients as much as they interview me, to make sure we're a good match. If I don't get the right vibe or for some reason think we're not suited to working together, I like to be upfront and say no straight away.
Don't be afraid to say no to a project if you think it's not the right client for you.
8. Watch out for the scams
As a naive 20 year old freelancer, I was duped a few times. I applied and got hired for jobs that never paid me for the work I did. I've lost thousands of dollars but learnt valuable lessons. If a job offer seems way too good to be true, it definitely is.
This is actually another reason why I recommend working on Upwork as their escrow system prevents you from losing out on money when you have genuinely done the work.
9. Just start
Finally, if you want to become a freelancer, just start. Seriously. No maybes. Just dive in and learn to swim. It's how I (and many others) learnt. You can read articles like this forever but the best way to learn is by doing.
My work and experience as a freelancer gave me the opportunity to start my own agency (along with Johnny). Without the skills I have picked up in the past 10 years of freelancing, this would never have been possible. I like to think my hard work has paid off.
Freelancing is a valid and very viable way of earning an income in 2015. It's an especially excellent option for those considering a location independent lifestyle because you really can work from anywhere when you're a freelancer.
Ever considered giving freelancing a shot? Did my advice help? Drop me a line in the comments if there's anything else I can help you with. Or feel free to tweet at us or send us a private message on Facebook.
Written by
---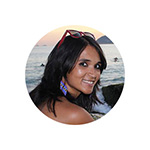 Radhika B.
After turning her back on office life in Australia, Radhika set out to create a life lived on her own terms (a constant work in progress). As co-founder of Fulltime Nomad, she is super passionate about helping others live life with more freedom and flexibility, and a bit of travel thrown in for good measure.