Sometimes you just want to get away from the city and discover the uncharted lands around the globe. This has been Sonja's experience since January this year when she started living in Almería,  a less popular but enchanting Spanish city. 
We truly believe there is no better way to learn about a new city, new country or a new culture than living there. Our Living Abroad series is designed to tell stories of living overseas and show people that the world is really not such a scary place. We hope it inspires more people to pack up their bags, travel slow and see what it's really like to live in a different place. If you'd like to tell your story, there's more information at the end of Sonja's story.  
Here's what Sonja had to say about Almería.
1. Where do you live?
I have lived in Almería, Spain since January this year.
86 Ways to Make Money Online
Download our free guide on legitimate ways to make money online in 2021
By signing up, you are agreeing to receive periodic emails from Fulltime Nomad. No spam. Only the good stuff.
2. Where are you originally from and what did you do before?
I'm originally from New Zealand, but in the last 5 years, I've lived in Australia, the United Kingdom, and Spain. I've moved around taking all sorts of different jobs to fund my love of travel. I've mostly worked in offices since finishing university, but I started my travel blog last year as a way to help me transition to online work.
3. What work do you do there?
In Spain, I teach English in a school during the day, and in the evenings I run private English lessons.
4. What does a typical day look like for you?
I work 12 hours per week at the school, from Monday to Thursday. My classes can be anything between 8-2pm and in any breaks I have I grab a breakfast of toast and coffee in the school cafeteria. In Almería they still have siesta time, so after school, I'll have some lunch and relax at home, or sometimes I take Spanish lessons. In the evening I have conversation classes with adult students wanting to improve their English. After this, I'll sometimes meet friends for tapas since everyone eats really late in Spain!
In the evening I have conversation classes with adult students wanting to improve their English. After this, I'll sometimes meet friends for tapas since everyone eats really late in Spain!
5. Why did you choose Almería?
I used to live in Edinburgh and after my visa ended there I just knew I wasn't done with Europe yet. I'd been trying to teach myself Spanish for years with little success, and teaching English was something I wanted to try my hand at. The Auxiliar de
The Auxiliar de Converción or English Language Assistant program in Spain gave me the opportunity to merge living in Europe, learning Spanish and teaching English all in one! As part of the program, I could only choose the larger area I wanted, not the specific place. I'm so happy I was placed in Almería, as I love it there!
6. What do you love about living in Almería?
I love living in Almería because it feels like real Spanish life to me. It's a beautiful place but the city is relatively undiscovered, which means I don't feel like I'm living in an expat bubble, which can sometimes happen in very popular areas. I love the food, the people, the history, and the beautiful scenic areas around the city as well.
7. What are the local people like?
I've found the people in Almería to be very friendly. My Spanish is limited, but everyone makes an effort to make me feel welcome. I attend a language exchange evening to help me make friends and practice my Spanish, and it's really helped!
8. Anything unique about the local culture?
In Almería, there are traditional tapas of a very high quality. When you order a drink you're given a menu and you choose a free item from it. I don't often eat a full meal, because if I'm hungry I'll just order a couple of extra tapas for a very low cost, and they're delicious!
9. Are there any challenges that you've faced?
Not really knowing Spanish when I arrived in a city where not so many people speak English definitely lead to some frustrating moments, mostly with myself for being unable to communicate what I wanted to! I've definitely improved but I also have a long way to go. I also have to do a lot of paperwork for my visa and doing that with a language barrier has lead to me running around circles more than once!
10. What is it like to live in Almería as an expat/ foreigner?
I haven't met many other expats in Almería, which I kind of love. I think knowing Spanish would definitely help but there are also plenty of classes where you can learn if you arrived and you didn't know anything. Almería is close to popular cities like Granada and Malaga, but I like that is it much less touristy. Most of the attractions are free or only a few euros!
Almería is a little isolated and doesn't have great links to the rest of Europe. There is an airport but it's always cheaper to fly from nearby Malaga, although the buses and the flights don't do a great job of linking up! This means if you want to travel a lot it is more expensive than living in a well-connected city like Malaga or Madrid. But, this is what makes Almería still like it is, so I can live with that!
12. What is the cost of living in Almería?
I earn €700 per month working at the school, and then extra from private tutoring. I have plenty to live on in terms of my accommodation and daily expenses. I spend a little extra on Spanish lessons and traveling around more than normal. I don't think you can pack away the savings here by any means, not working and traveling as I do anyway, but the living cost is relatively low so you can also work less!
13. What's the availability of short term accommodation in Almería?
I live in shared accommodation with a friend. We have an apartment in the center of town within easy walking distance to everything. There is plenty of accommodation available in the city, and you just need to negotiate how long you want to stay. There is a lot of furnished accommodation which makes things easier, although sometimes it will only be very basic.
14. How much do you pay for accommodation?
A 2-3 bedroom in the center of town is around €450 per month, plus water, electricity, etc. There are also much cheaper options the further you go out of the city.
15. What is the food like? (eating out & the quality of supermarkets)
The food in Almería is AMAZING. I mentioned the tapas before, which are usually of a very high standard. There are traditional tapas like meats, cheeses, salads etc and then more fusion gourmet options including Mexican and Italian.
Breakfast is normally toast with a range of different toppings like tomato, cheese, ham etc and coffee. It sounds boring but it's really nice bread and you add olive oil and it's fantastic.
16. Are there good places to work online e.g cafes/coworking spaces in Almería?
Most of my favorite cafes have plenty of space and wifi so you can work on your laptop. I haven't seen a lot of people doing it but maybe I'll start a trend haha. The low cost of food and drink also means you can sit there most of the day and spend very little.
17. Do you need a visa? If so how long can you stay in the country for?
As part of my program, I got a student visa, because I am technically learning to teach as an assistant. I renew this visa when I renew the program. Depending on where you're from there may also be a working holiday program agreement for people under 30 to work and live in Spain for a year.
18. How safe is Almería?
Almería city is relatively safe, although like any city there are certain areas I wouldn't walk by myself at night. I've had no problems, however.
19. Is there a big expat community?
I haven't found a big expat community in Almería, although there are a few of us around and I could make more of an effort. There are other people in the city of the Auxiliar program, but this can change every year depending on how long people want to stay.
There's also a university so there are study abroad students. Long-term expats are more likely to live in the surrounding smaller towns, given they have probably moved to Almería for a lifestyle change.
20. Are there any other good places to travel to close by?
Almería province has amazing beaches and the only desert in Europe, so there are plenty of fascinating and beautiful places to see nearby. It's also just 2 hours by bus to Granada, and 3 to Malaga, with plenty of beautiful seaside towns on the way.
21. Any other advice/tips for someone who might want to live there?
I would say you should try and have a job before you move here, or have a strategy for finding work. If you don't speak Spanish you're really limited to teaching English.
22. And, finally any advice or encouragement for someone wanting to take the leap and live overseas?
You won't regret it! It can be really tough, there's no getting around that, but I think the experience of living overseas can really enrich your life in ways you can't imagine before you go. So you should just take the leap and give it a chance. Once you get there, be open minded and ready for the ups and downs, and just keep going.
Sonja is a serial expat who has lived in 6 different countries and currently calls Spain home. You'll usually find her in a cafe drinking coffee and eating cake as she writes about her expat experiences and traveling through living abroad on her blog, Migrating Miss.
Follow her adventures on Facebook and Instagram.

Written by
---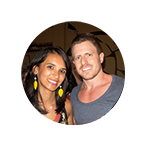 Fulltime Nomad
Fulltime Nomad is your passport to saying no to normal, and yes to a life of unlimited travel. Founded by Radhika & Johnny, this blog will help YOU take that big scary first step towards building your own freedom lifestyle. Are you new? Start here.