Brooklyn-based photographer and blogger Marie Frei's passion for destination exploration saw her living in Cape Town, South Africa. To date, the city still remains her most inspiring place in the world!  
We truly believe there is no better way to learn about a new city, new country or a new culture than living there. Our Living Abroad series is designed to tell stories of living overseas and show people that the world is really not such a scary place. We hope it inspires more people to pack up their bags, travel slow and see what it's really like to live in a different place. If you'd like to tell your story, there's more information at the end of Marie's story.  
Here's what Marie had to say about Cape Town.
Where did you live?

Cape Town, South Africa
Where are you originally from and what did you do before?
I'm originally from Connecticut and was based in Boston, Massachusetts leading up to my adventures abroad. I worked in the travel industry and helped my company put together deluxe and luxury group tours all over the world. I was stuck in a cubicle, calling and emailing with people in so many interesting destinations around the world… it helped fuel my wanderlust.
86 Ways to Make Money Online
Download our free guide on legitimate ways to make money online in 2021
By signing up, you are agreeing to receive periodic emails from Fulltime Nomad. No spam. Only the good stuff.
What work did you do there?

I worked for a British voluntourism organization who happened to have an office in Cape Town.
What did a typical day look like for you?

For the most part, I worked 9 to 5 in an office environment with a really fun mix of people from England, Australia, America and South Africa. I'd walk to work, stopping occasionally at a local cafe for my morning americano. In the evenings, I would walk home, work out, and cook dinner.
We moved offices a little over halfway through my time down there, and my new commute included a train ride along the False Bay coastline. Certain times of the year, we could see whales and dolphins from our apartment.  Living by the ocean was an incredible experience and I'll never forget it!
Why did you choose Cape Town?

I had actually visited Cape Town on vacation the year prior, so, I knew a little bit about what kind of environment I was getting myself into. The company just happened to have an opening in their Cape Town office, so I felt really lucky they picked me.
What did you love about living in Cape Town?
I loved being so close to mountains and the ocean. If you like to live life outside, Cape Town is a great place to be. It's incredible to live so close to such unique wildlife – like baboons, penguins, and dassies. The people, especially younger generations, have an energetic, entrepreneurial and creative spirit. I really loved being a part of that.
What are the local people like?

South Africans, for the most part, are incredibly friendly and have a wicked sense of humor. For me, the biggest challenge was making local friends. There are a lot of expats and volunteers who cycle in and out across companies and volunteer projects in this region of the world, so it felt like everyone I met assumed I was going to leave within a couple months. Half of the battle of making a new friend was proving them wrong, convincing them that I was going to stick around. Pushing myself to join local clubs and try new things apart from my fellow foreigners was the best thing I did.
What is it like to live in Cape Town as an expat/ foreigner?
Because Cape Town is so far away and often, expensive to fly to, I didn't have the luxury of visiting home very often. This was both a blessing and a curse. It forced me to really put down roots and create a life I loved, which in turn, made it even more difficult to leave.
I learned new words for things, learned new skills (driving on the left, cooking classes, surfing) and made lifelong friends. I learned more about humanity, both good and bad, through experience and interactions I could never have had back home.
What is the cost of living in Cape Town?
Life in Cape Town is as cheap or as expensive as you want it to be. This website gives good estimates of things like rent, food, and material items.
What's the availability of short term accommodation in Cape Town?
You can look at hostels and Airbnb's for short term accommodation. The other option would be to get a lease on an apartment, but then you should be ready to show proof of employment, guarantee that you will have the funds to pay for the accommodation, etc.
What is the food like? (eating out & the quality of supermarkets)

Food is fantastic in Cape Town! The Test Kitchen is one of the World's 50 Best Restaurants, among other top dining venues within the Western Cape province. The cafe and coffee culture in Cape Town is thriving at the moment, so you're never at a loss when looking for a space to work remotely from.
Do you need a visa? If so how long can you stay in the country for?

There is a 3-month tourist visa. A work visa would need to be sponsored by your employer.
How safe is the city?
Safety in Cape Town involves taking the same precautions as if you are living in any big city like NYC or London. You need to use caution at night, avoid certain public transit routes through rough areas, avoid public transit at night, etc. It just takes common sense and trusting your gut.

Is there a big expat community?

The expat community in Cape Town has grown tremendously in the past couple years! You'll hear American and European accents everywhere in public places (especially Saturday morning's Neighbourgoods Market). The economy isn't great at the moment, and it's unfortunate, but also makes it an ideal time to be in South Africa there because it's more affordable than ever before for foreigners to visit and travel around.
Are there any other good places to travel to close by?
The whole of Southern Africa is at your doorstep! Whether it's by road or by plane, there are lots of options for exploring the rest of South Africa. A safari in Kruger National Park is a must. For bigger adventures and to experience different landscapes and cultures, I recommend traveling to Namibia, Botswana, Zimbabwe, Swaziland, and Lesotho.
Any other advice/tips for someone who might want to live there?

Cape Town is pretty far from home for most expats, plus, the airfare isn't cheap, so you'll need to accept that going home a couple times a year just won't be possible if you're being budget-conscious. Also, there are so many different options for neighborhoods to live in within Cape Town's city center (called the "City Bowl"), and much more options beyond the city and into the suburbs.
Narrow down your research to a handful of neighborhoods you think you might like and stay in a backpackers/hostel/Airbnb in that neighborhood for a couple nights so you can tell if you feel comfortable in that area before moving there.
And, finally any advice or encouragement for someone wanting to take the leap and live overseas?
It's challenging to transition from one life experience to the next when you're living at home, so don't be surprised that living abroad takes research and hard work in order to set yourself up for success. Make sure you know why you're making this life change and that it's going to benefit you (not set you back) in the long run.
Make sure you have enough savings to fly home in an emergency (and buy comprehensive travel health insurance if you're not on a plan that works abroad). Plan for your transition back home (or wherever is next!) before you depart so that you have some sense of focus on what's next and feel like you're moving in a forward direction. You'll also want to keep in mind that priorities can change, so be a bit flexible if other great opportunities arise while you're abroad.
Marie is a photographer and blogger who never turns down the opportunity to explore someplace new with her camera and carry-on bag. Though she's also called Boston and D.C. home, she describes Cape Town, South Africa as the most inspiring place she's ever lived. She currently lives in Brooklyn and is enjoying exploring New York City's boroughs one (pizza) slice at a time.
Follow her adventures on Twitter, Instagram and on her blog at www.onecarryon.com.

Written by
---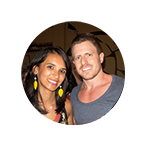 Fulltime Nomad Fulltime Nomad is your passport to saying no to normal, and yes to a life of unlimited travel. Founded by Radhika & Johnny, this blog will help YOU take that big scary first step towards building your own freedom lifestyle. Are you new? Start here.