Expat life is a great opportunity to travel the world, learn new cultures and earn money. Nicole has been living in Changwon working as an English teacher and she loves every bit of it, including her tiny apartment 🙂
We truly believe there is no better way to learn about a new city, new country or a new culture than living there. Our Living Abroad series is designed to tell stories of living overseas and show people that the world is really not such a scary place. We hope it inspires more people to pack up their bags, travel slow and see what it's really like to live in a different place. If you'd like to tell your story, there's more information at the end of Nicole's story.  
Here's what Nicole had to say about Changwon.
Where do you live?
I'm currently living in Changwon City.  Changwon is on the Southern Coast of South Korea about a 1 hour bus ride from the city of Busan.
86 Ways to Make Money Online
Download our free guide on legitimate ways to make money online in 2020
By signing up, you are agreeing to receive periodic emails from Fulltime Nomad. No spam. Only the good stuff.
Where are you originally from and what did you do before?
I'm originally from Scotland. Before coming to Korea I had studied music at university and after graduating I worked as a merchandising assistant for an outdoor clothing company.
What work do you do in Changwon?
Like most expats in Korea, I'm here working as an English teacher. This is my second year living here. I spent my first year working in a private language academy, teaching English to elementary and middle school students in the evening. This year I work in a public elementary school during the day instead.
What does a typical day look like for you?
I'm a bit of an early bird and try my best to wake up at 5am every day to squeeze in some yoga session (need to get my zen on to set me up for a day surrounded by children!) and do some chores around the house.
My school day consists of classes in the morning and planning time in the afternoon but actually, like most teachers here, I don't actually need that much time to plan.
This extra time, known as "deskwarming", is one of the biggest perks of my job. A lot of people hate this. Since I'm a travel blogger, it's the perfect time for me to write blog posts and catch up on my social media.
My time after work is spent doing anything from chilling out at home, watching movies at the cinema or catching up with friends for dinner or drinks.
Why did you choose Changwon?
After finishing university, I wasn't really sure what to do with my life. I took a job in merchandising thinking it would be like The Hills which it definitely wasn't! I never did the whole gap year thing and hadn't really travelled much and felt I was missing out a bit.
Teaching English in South Korea seemed like the perfect way to see some more of the world, experience a new culture, save some money and figure out what career path to take next!
What do you love about living in Changwon?
I mentioned before that one of the reasons that I decided to live in South Korea was to save money. English teacher's salaries are proportionately much higher than the cost of living, so the potential to save is huge.
And of course, I can't talk about Korea without mentioning the food. Luckily, I really like spicy food so I've enjoyed trying all the local dishes.
What are the local people like?
Korean people are extremely kind and resilient and I've had mostly good experiences with the people here. Life as a foreigner can be difficult though as Korea is an extremely homogenous society and it's easy to feel like an outsider.
I've even had close Korean friends tell me that they feel a lot of prejudice towards English teachers in Korea. It's for that reason that a lot of expats agree that Korea could never be home.
What is it like to live in Changwon as an expat/ foreigner?
The English teaching community here is huge and there is an abundance of expat bars and weekend trips for foreigners. Making friends is no difficult task.
Personally, I prefer to do things my own way. My boyfriend and I tend to only eat at Korean restaurants and organize our own weekend trips around the country. I feel like I've had a more authentic experience through this lifestyle.
What is the cost of living in Changwon?
The cost of living in Korea is extremely low. At the moment I'm saving for a big trip and am living comfortably on 500,000 KRW per month (around $430.) It all depends on your lifestyle though- if you drink a lot, eat out at western restaurants and buy imported groceries then, of course, you can expect to spend around double what I do.
What's the availability of short term accommodation in Changwon?
Here's another perk about teaching English in South Korea, all contracts come with free accommodation! I live in a small studio apartment on the outskirts of my city.
While I wouldn't say I live like a king here, I must say that my accommodation is comfortable and convenient. It's definitely been a learning curve, trying to live a more minimalist life in such a small space.
If I didn't have the help of my school, finding accommodation would be a lot more difficult. One of the biggest expenses for renters is "key money", which is essentially a deposit. This averages around 10,000,000 KRW (c. $8650.) Of course, this is refundable and you'll get it back at the end of your housing contract. A small studio apartment like mine would cost around 300,000 KRW ($260) per month.
What is the food like? (eating out & the quality of supermarkets)
Like I mentioned before, the availability of delicious and budget friendly food is one of the best things about living in Korea. Eating out is often cheaper than eating in, which is great for people who are happy to eat Korean food everyday.
Supermarkets, on the other hand, are strangely expensive! Imported goods like fruit, cheese, breakfast cereal and dairy products can really set you back. To avoid this, I tend to stick to buying locally grown products and whatever vegetables are in season.
You need to be creative with what's available, and eat what the locals are eating. People who really need their home comforts are catered for- but they will feel a sting in their wallets.
Do you need a visa? If so how long can you stay in the country for?
Yes, my visa is sponsored by my school and allows me to stay in the country for 1 year. Most nationalities can enter Korea on a tourist visa which is valid for 90 days. There are plenty of budget flights to Japan so doing a visa run isn't difficult.
How safe is Changwon?
The level of crime in Korea is extremely low so I usually feel like I can walk around my neighbourhood at night with no worries. But sadly, I do think that women in particular should take some precautions.
There have been a few incidents when older drunk Korean men have approached me in the street and acted inappropriately towards me. There is a common misconception among men in Korea that a lot of foreign women are prostitutes or are just generally down for checking into a love motel with them.
Luckily for me all of these men turned out to be harmless and have left quickly after a firm no. However, I do sometimes worry that one day I won't be so lucky.
Is there a big expat community?
There are HUGE English teaching communities in most cities here. A quick search on Facebook will find you all sorts of expat groups from hiking to running and yoga. It's definitely not difficult to meet people. Although the expat community can seem a bit "clique-y", most people are in the same boat and are looking to make friends.
Are there any other good places to travel to close by?
I live an hour away from Busan, which is Korea's second largest city. Busan is a city that has everything- the beach, restaurants, shopping and nightlife. That's why a lot of people refer to it as The L.A of Korea! There are also a lot of really beautiful coastal villages nearby which are great for escaping city life at the weekend.
Since Korea is so small and has such a great public transport system, it's easy to get anywhere in the country within 5 hours.
Any other advice/tips for someone who might want to live in Changwon?
Definitely join a few Facebook groups when you arrive, they're the best places to find out about what's going on in the city and for meeting people!
And, finally any advice or encouragement for someone wanting to take the leap and live overseas?
If you really want it then trust your gut and go for it. The worst thing that could happen is that you don't like it. In that case, you can move on or go home. But you will never know until you try!
Nicole is a teacher by day, and travel blogger by night. You can learn more about her expat life in Korea on Wee Gypsy Girl, where she writes about her adventures on a shoestring around Korea and the rest of the world! Follow her on Facebook and Twitter to make sure that you never miss an update!

Written by
---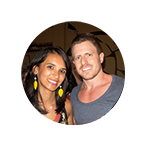 Fulltime Nomad Fulltime Nomad is your passport to saying no to normal, and yes to a life of unlimited travel. Founded by Radhika & Johnny, this blog will help YOU take that big scary first step towards building your own freedom lifestyle. Are you new? Start here.