We left Australia only about 2.5 weeks ago but it feels like a life time already!
We're living in Ho Chi Minh City, Vietnam (or, HCMC or, Saigon) for 3 months. We've been here for exactly 2 weeks now and it's finally starting to feel like home. In saying that, I have to admit HCMC has been the most challenging place for us to settle into so far.
Why?
The Heat
We've decided to live in HCMC at the peak of the hot season here. The monsoons are meant to start any day now (but they haven't yet) so temperatures have been soaring. The heat combined with the humidity and the pollution have taken some getting used to.
LEARN HOW TO WORK &

TRAVEL

THE WORLD

FULL TIME
---
Download our FREE guide in seconds!
By signing up, you are agreeing to receive periodic emails from Fulltime Nomad. No spam. Only the good stuff.
Big City
Saigon is a big city. Surprise surprise. The thing is, we haven't lived in such a big city on our nomad travels, yet. We love big cities but the challenge of making a big city a home is something we hadn't experienced yet.
After Chiang Mai and the Gold Coast, HCMC seems even bigger and things seem further away. Plus, the big city traffic has been a bit loco! If you've seen the Saigon scooters, you'll know what I mean.
See this amazing video by Rob Whitworth to get an idea:
Apartment Hunting
So usually we like to come to a new city, scope out the areas and see our new home in person before we commit to renting it. In most places we've lived in before, the choice of areas to live in has been limited to one or two. In HCMC, we had (too) many areas to choose from.
This, made apartment hunting a bit more challenging than usual. And while we found an apartment within 5 days of being in HCMC, it's usually takes us about 2-3. 😉
Some photos of our apartment follow…


Food Availability
The street food in Saigon is incredible and we haven't even scraped the surface yet! However, as you know we like to cook as much as we like to eat out. In this respect, the supermarkets and local markets of Saigon have been a little bit of a let down. Especially when we compared them to the quality of the supermarkets in Chiang Mai. The Coop Mart supermarket we went to in District 1 was horrible. Luckily, the Citi Mart supermarket was better and closer to our place.
We eat very simple and the fresh produce from the local markets has been great. But, some of our other staples such as fresh milk, oats and spices have been a challenge to find here.
It's not the end of the world but again, it took a bit of improvising and getting used to!
The Language Barrier
Not knowing the local language is a lot more difficult in Ho Chi Minh City than it was in Chiang Mai. I feel very arrogant not being able to say much in Vietnamese. Not being able to communicate with locals is still new to us because in Latin America we got by pretty well with our Spanish.
In saying that though, the Vietnamese are incredibly friendly and even when they can't speak to us in English, they've been helpful and done their best to figure out what we need.
The Internet
The internet in Saigon is really good (and fast)…when it works. The internet here is government controlled which means when its slow in one place, it's slow everywhere. The slow periods affect our work a lot, obviously.
Unfortunately right now it's a bit moody (fast-slow-slow-fast-fast-fast-slow-slow-slow) because apparently sharks chewed on the undersea internet cables. It's not the first time it's happened either. It's expected to be fixed from May 10th, but we'll see.
We Miss Home
We went back to Australia for 2.5 months after 16 months of being away. It was an amazing trip and I think because everyone knew we were only there for a limited time, we spent a LOT of time with family and friends. It honestly felt like Christmas time… but for 2.5 months!
It was hard leaving. Always is. Our family and friends mean the world to us so it's only natural that we're missing home still.
So why do we keep doing it?
Because we wouldn't have it any other way!
I'm not being negative about Saigon. In fact, I already know this will be an experience we will love!  I just wanted to talk about the realities of nomad life and what it's like for us to move to different places, adjust and call them home. Every new place takes a bit of getting used to… some a bit more than others.
But, once that initial discomfort wears off (like it is for us now), nothing else compares to the thrill. Travel, new cultures, new foods and new experiences stimulate us like nothing else. So, we'll take these few periods of discomfort over a one dimensional life, every day of the week.
More About The Ho Chi Minh City Digital Nomad Life
Since this initial post, we've written a few more articles about our digital nomad life in Ho Chi Minh. If you'd like to learn more about what it's like to live in Saigon, be sure to check them out.
What about you? Have you ever lived in a place that was hard to get used to at the start? We'd love to hear about your experience.
Written by
---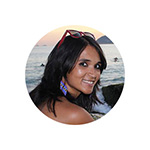 Radhika B.
After turning her back on office life in Australia, Radhika set out to create a life lived on her own terms (a constant work in progress). As co-founder of Fulltime Nomad, she is super passionate about helping others live life with more freedom and flexibility, and a bit of travel thrown in for good measure.