Soraya and her husband decided to take a leap of faith to live the life of travel they've always desired. They quit their jobs to travel and work online and the first adventure was living in Kuala Lumpur. Soraya fell in love with Kuala Lumpur especially because she could easily enjoy the comforts of life back home, as well as a good dose of culture and history.
We truly believe there is no better way to learn about a new city, new country or a new culture than living there. Our Living Abroad series is designed to tell stories of living overseas and show people that the world is really not such a scary place. We hope it inspires more people to pack up their bags, travel slow and see what it's really like to live in a different place. If you'd like to tell your story, there's more information at the end of Soraya's story.
Here's what Soraya had to say about Kuala Lumpur.
1. Where did you live?
Earlier this year I was based in Kuala Lumpur, the capital city of Malaysia.
86 Ways to Make Money Online
Download our free guide on legitimate ways to make money online in 2021
By signing up, you are agreeing to receive periodic emails from Fulltime Nomad. No spam. Only the good stuff.
Merdeka Square is a famous landmark in KL
2. Where are you originally from and what did you do before?
I am originally half Malaysian and half Swiss, but I am Australian by nationality. I grew up living the life of an expat, having lived in 10 countries (across 12 cities). From 2009-2016 I was based in Australia, and this year my hubby and I took a leap of faith – we quit our jobs to travel and work online.
3. What work did you do there?
I run my own travel blog called Hello Raya, which focuses on travel and food around Southeast Asia. I used Kuala Lumpur as a base, while I slowly traveled around Southeast Asia.
I also have been working on my own online business called Discover Online You, an online learning business for aspiring female entrepreneurs. The aim of my online products is to help aspiring female entrepreneurs through the key steps to designing, launching and running an online business that is uniquely theirs.
4. What did a typical day look like for you?
We had two bedrooms, and one was converted into a makeshift office space. With an excellent internet connection, a good office chair and my laptop, I was able to work from home. I am most productive in the morning, so most mornings I would be working away on my travel blog and online business. Then in the afternoons I would take a break to go somewhere, such as to the gym or swimming pool, or would head into the city to explore some more.
5. Why did you choose Kuala Lumpur?
I have family currently living in Kuala Lumpur, so it's familiar to me. But I also find that Kuala Lumpur is affordable, it is a city easy to get around in, and it is easy to adapt to the way of life here.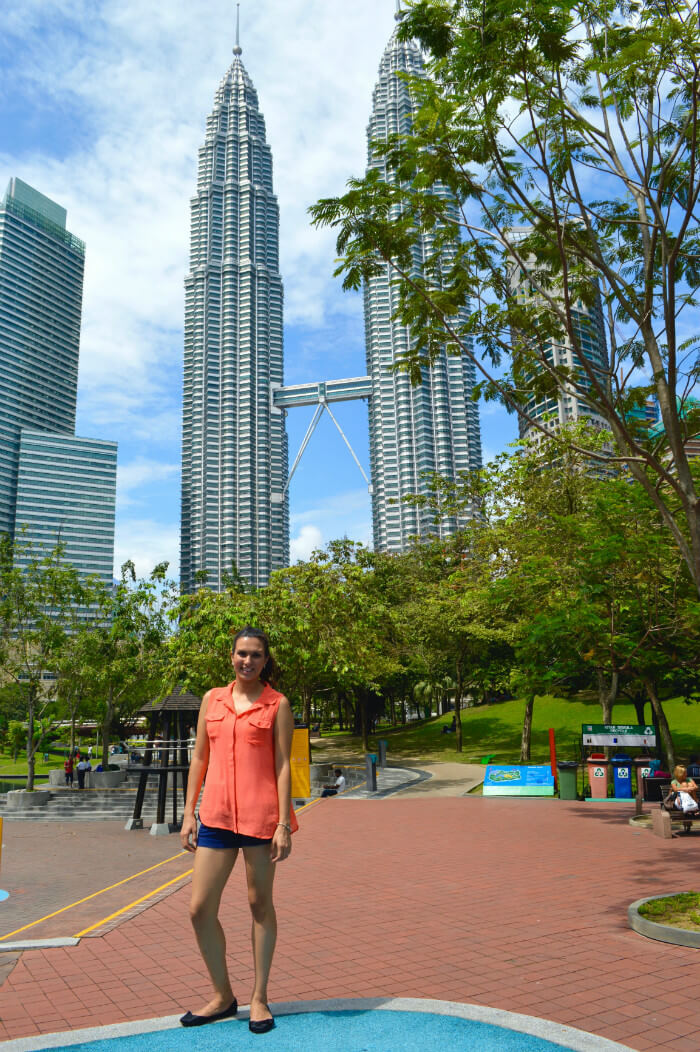 The Famous KL Twin Towers
6. What did you love about living in Kuala Lumpur?
THE FOOD! I love the food too, so that's a big 'thumbs up' for a foodie such as myself. I absolutely loved how easy it was to get good quality and cheap Malaysian food. Plus there were plenty of options if I wanted another cuisine.
7. What are the local people like?
I found it really easy to adapt to life in Kuala Lumpur because the locals were so friendly and welcoming. Most speak English, which makes it even easier to get around, but it also helps if you make an effort to speak a bit of the local language too.
8. What is it like to live in Kuala Lumpur as an expat/ foreigner?
Kuala Lumpur is an easy city to live in – it has all the comforts of life back home, but also a good dose of culture and history. It is so easy to get around, the supermarkets are packed full of foreign and local products, there are so many restaurants available to eat at for every budget, the shopping is excellent and affordable…and the list just goes on.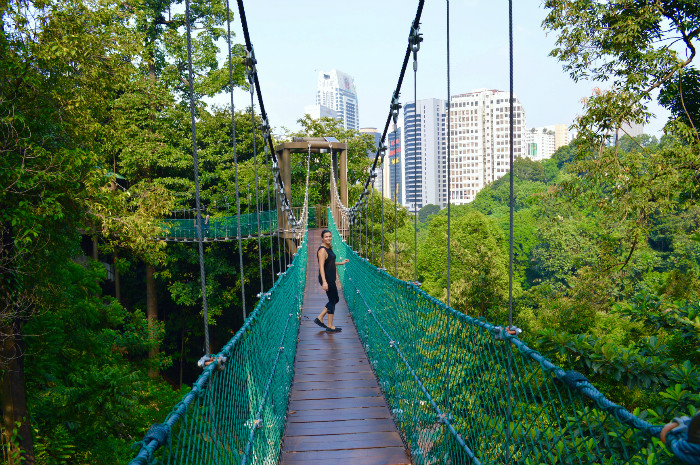 Staying healthy in KL, by walking through the Bukit Nanas Forest Reserve
9. What is the cost of living in Kuala Lumpur per month?
As an expat/foreigner, it is possible to live off approximately RM3,000-RM3,500 per month, which is approximately A$1,000 – A$1,200 if you are on a tight budget. Otherwise, for comfortable living, I would recommend budgeting RM6,000 or A$2,000 per month.
10. What's the availability of short term accommodation? Describe your accommodation.
There is a wide range of accommodation available throughout Kuala Lumpur, and many can be found on various websites. The closer to the city centre, the more expensive and usually the smaller the place is, compared to if you head further away from the city.
11. What is the food like? (eating out & the quality of supermarkets)
The food options are never ending in Kuala Lumpur. Whatever cuisine you are looking for, I am sure you will find it. The local food is also delicious and it is cheap. One thing the Malaysians do love is their food, so many local restaurants are usually packed during lunch and dinner time. Plus I have never once gotten sick eating the street food here. Some must try include Nasi Lemak, Banana Leaf and Roti Canai.
The supermarkets are also fantastic. There are local supermarkets, where the products are much cheaper and you'll find a huge range of local products. If you are looking for some foreign goods (like vegemite for us Aussies), then there are a number of fantastic supermarkets like 'Jasons,' 'Village Grocer' and 'Jaya Grocer,' which offer a wide selection of foreign and local products.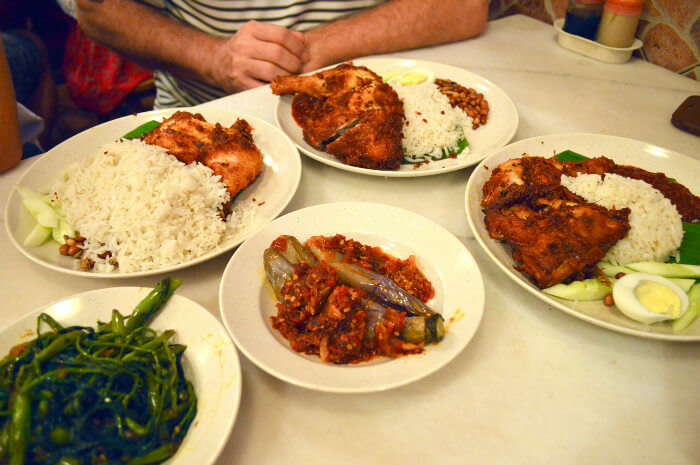 Local Eats – featured is the famous Nasi Lemak
12. Do you need a visa? If so how long can you stay in the country for?
In terms of the visa, as an Australian, you can stay in Kuala Lumpur for up to 3 months visa free.
13. How safe is Kuala Lumpur?
Overall Kuala Lumpur is a safe city, but it is important to also be aware of your surroundings. I recommend not to roam the streets by yourself late at night. Also when you are walking along, hang tight to your bags, because unfortunately there have been cases of snatching.
14. Is there a big expat community?
Yes, there is a huge expat community living in Kuala Lumpur. The best way to find them is through joining the expat Facebook Group or through clubs such as Inter Nation.
15. Are there any other good places to travel to close by?
Yes! So many lovely places to visit around Kuala Lumpur and Malaysia. Malacca is about a 2.5 hours drive from the city. It's a fantastic city that actually has been protected as a UNESCO World Heritage Site, because of its heritage history and architecture. I also recommend visiting places such as Georgetown in Penang, Langkawi, Tioman Island, Sarawak and Sabah.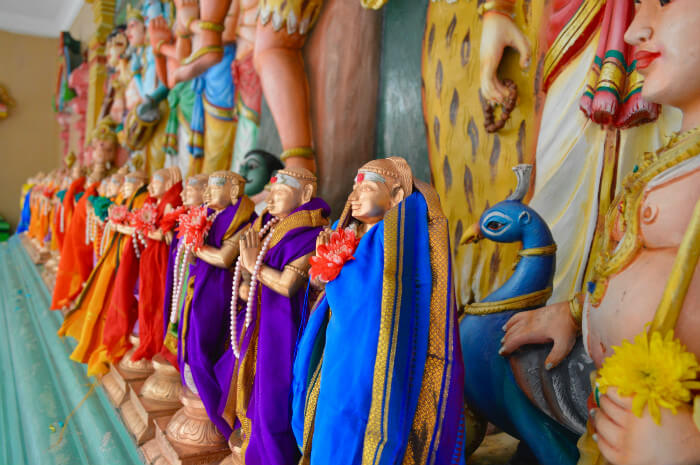 KL is a wonderful melting pot of cultures. Here I am exploring a local Hindu temple
16. Any other advice/tips for someone who might want to live there?
Do a bit of research in advance to find out about the different areas of the city. If you are going to be working as an expat in a particular area, then do some research and find places to stay that is not too far. Kuala Lumpur does have some terrible traffic jams in the morning and after work, so it's best to try and avoid it.
The public transportation system is fantastic. I love taking the LRT and Monorail to get around – it beats the traffic! But if you do need a taxi, I recommend using Uber – it's super cheap and I have never had a problem with them.
17. And, finally any advice or encouragement for someone wanting to take the leap and live overseas?
It's the best thing that I have done – I have been able to experience some amazing cities and cultures, plus I have met so many wonderful people along the way. The life of an expat is not easy by any means, but it is a fantastic experience. It'll challenge you, but in the end, it will make you a stronger person. It will teach you how to be more adaptable and tolerant because you will come by different people and cultures. Plus you will learn things about yourself that you probably didn't know before.
Soraya grew up in a family of travellers and lived the life of an expat for more than 23 years. After 7 years of settling down in Australia, she is back on the road with her Hubby, where they are exploring and discovering this vast world of ours. She is an official 'travel-oholic' and foodie, and she shares her experience on her travel blog Hello Raya . 
When she is not writing about her travel experiences, she is working with aspiring female entrepreneurs and helping to guide them through designing, launching and running their own online business. Follow her adventures on Instagram and Facebook.

Written by
---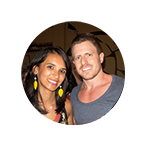 Fulltime Nomad
Fulltime Nomad is your passport to saying no to normal, and yes to a life of unlimited travel. Founded by Radhika & Johnny, this blog will help YOU take that big scary first step towards building your own freedom lifestyle. Are you new? Start here.