Our friend Cristiano Del Giacco has a special connection with Brazil because of his passion for Brazilian Jiu Jitsu. On winning a BJJ sponsorship, Cristiano spent a few months living and loving Brazil's Cidade Maravilhosa (Marvelous City) – Rio de Janeiro. 
We truly believe there is no better way to learn about a new city, new country or a new culture than living there. Our Living Abroad series is designed to tell stories of living overseas and show people that the world is really not such a scary place. We hope it inspires more people to pack up their bags, travel slow and see what it's really like to live in a different place. If you'd like to tell your story, there's more information at the end of Cristiano's story.
Here's what Cristiano had to say about Rio de Janeiro.
Where did you/do you live?
I was lucky enough to have the opportunity to live in Barra da Tijuca, which is an area located along one of the beautiful beaches in Rio de Janeiro, Brazil.
86 Ways to Make Money Online
Download our free guide on legitimate ways to make money online in 2021
By signing up, you are agreeing to receive periodic emails from Fulltime Nomad. No spam. Only the good stuff.
Where are you originally from and what did you do before?
I am originally from Alice Springs in the Northern Territory, Australia, but moved to the Gold Coast when I was a teenager.
What is it like to live in Rio de Janeiro as an expat/ foreigner?
At first it can be a little scary, as generally the only concept you have of a foreign land comes from various media outlets, movies and word of mouth. With a place like Rio de Janeiro you can imagine the stories I heard before going over there.
I took the initiative to learn Portuguese before I left and achieved a competent level. This provided me with a better experience than I'd assume others might of had.
After getting over the initial culture shock, I found it fairly easy to assimilate into the local scene as many people in Rio, once warmed to you, are extremely friendly and a pleasure to be around.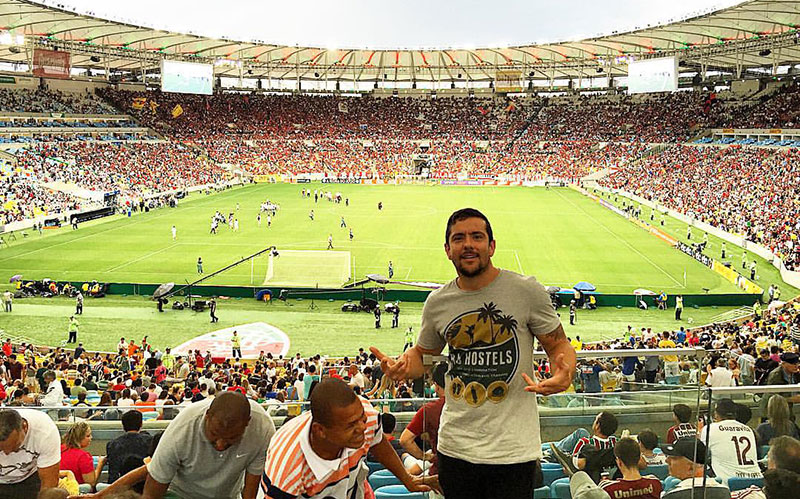 What did a typical day look like for you?
I was lucky enough to have earned a sponsorship as a Brazilian Jiu Jitsu athlete, which provided me with free accommodation. Part of my sponsorship deal required me to fulfill certain tasks during the course of each day.
Upon rising, I would clean the pool at the hostel I was living in, then take the bus to Copacabana for the first training session of the day. After this I had to perform certain tasks helping out other guests in the hostel, as I was one of the only people staying there who could speak Portuguese. These tasks included helping people purchase groceries, souvenirs, plan trips, find gyms etc,.
Later I would visit the beaches for some "me" time before making my way to the second training session for the day.
Upon returning home it was time to pig out and get ready for bed; looking forward to repeating the process all over again the next day.
My weekends were very different to the days I just mentioned. Weekends, were filled with food, beer, beaches and dancing with the beautiful girls that were nice enough to acknowledge me.
Why did you choose Rio de Janeiro?
Partly because of the sponsorship I received and partly because of the beautiful sites and people famous for that area.
What you loved about living there?
I loved many things about Rio: I loved the training, I loved the beaches and I loved the food.
I was also really lucky to have been living with some amazing people, originating from all over the world; making friendships that I now have for life.
What are the local people like?
The people were great. I mean, just like anywhere there are going to be people who will try and take advantage of others, and I think at times Rio has a bad reputation for people like this. But, in my experiences I met some really great people. People who welcomed me with open arms into their homes, to their city and took the care to make sure I had a great time in Rio and a great time in their company.
Probably the biggest disadvantage I experienced was trying to convince the girls in the bars that I was an Australian. Australian men are sought after by Brazilian girls I found out; though, when you are short, dark skinned and dark haired, named Cristiano and speak Portuguese very well you tend to give off the vibe of a guy pretending to be Australian in order to pick up women… Next time I'm going to bleach my hair blonde and lay my Aussie accent on super thick; "G'day maaaaaate!"
What work did you do there?
I had 4 jobs while I was there:
Writing articles about my experience as an athlete in Brazil for the hostel's social media marketing campaigns.
Going to training sessions at the various academies around Rio.
General duties involving the day-to-day operations of the hostel.
Working multiple cans of beer into my mouth each and every weekend.
What is the cost of living in Rio de Janeiro?
While I was in Brazilian the Real plummeted significantly against the USD. Inflation quickly compensated for this, resulting in a fairly high cost of living, which is already high in Rio to begin with, when compared to the rest of Brazil.
But, taking the bus and eating from all you can eat buffets helped to circumvent this issue. Plus the fact I wasn't paying for accommodation made it a lot easier.
What's the availability of short term accommodation in Rio de Janeiro?
As I mentioned I didn't pay for accommodation and everything was pretty mhttps://www.fulltimenomad.com/cheap-places-to-live-abroad/ uch provided for me.
Though, I do suggest booking a hostel to begin with, then search for an apartment via Airbnb as you may find that the cost for an apartment between friends could be very similar to what you are paying in the hostel. Just don't commit to any place for a long period of time without sourcing out all of your options first.
Some people even spend some time staying in the favela's (slums) for the stories they can tell people back home… Not my cup of tea to tell the truth, but hey whatever floats your boat I guess.
What is the food like? (eating out & the quality of supermarkets)
Food is great. I can honestly say the best barbecues in the whole world, hands down!
Do you need a visa? If so how long can you stay in the country for?
For Australians, visas are necessary. Depending on your method of obtaining the visa it could cost anywhere from $40 to $90. I used the link on the Brazilian Consulate's Australian website and found it very affordable. If I remember correctly I think the initial visa allows a person to stay for 3 months, which can be extended later.
How safe is the city?
Just like everywhere in the world, there are safe areas and there are not so safe areas. Rio has a reputation for crime but if you're smart you shouldn't experience any.
Is there a big expat community?
Not that I was aware of, though I was living in a hostel full of transient visitors from around the world.
Are there any other good places to travel to close by?
Many! Check out some of the nearby islands like Ilha Grande and Angra do Reis for some absolutely spectacular sights. Also buses to other cities are very affordable.
Any other advice/tips for someone who might want to live there?
Learn the language, or at least some of it. It will help you out a lot and the locals will respect you more for trying.
And, finally any advice or encouragement for someone wanting to take the leap and live overseas?
Do it! Honestly, why are you still reading?
Cristiano Del Giacco is an expert health and fitness writer and a personal trainer. He has travelled the world teaching English and training in Brazilian Jiu Jitsu. Cristiano offers his clients high quality content through his writing and keen observations of life.
You can find Cristiano at www.cristianodelgiacco.com and www.howweroll.com.au.

Written by
---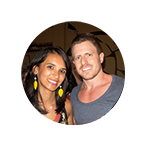 Fulltime Nomad Fulltime Nomad is your passport to saying no to normal, and yes to a life of unlimited travel. Founded by Radhika & Johnny, this blog will help YOU take that big scary first step towards building your own freedom lifestyle. Are you new? Start here.