Digital Nomad Hannah Finch has been travelling the world for a while now. Never in her wildest dreams did she imagine that her travel would lead her to the love of her life or help her learn how to build a successful online business. She recently spent 16 months living and working from São Paulo, Brazil.
We truly believe there is no better way to learn about a new city, new country or a new culture than living there. Our Living Abroad series is designed to tell stories of living overseas and show people that the world is really not such a scary place. We hope it inspires more people to pack up their bags, travel slow and see what it's really like to live in a different place. If you'd like to tell your story, there's more information at the end of Hannah's story.
Here's what Hannah had to say about São Paulo.
Where did you live?
I've spent a total of 16 months in Brazil and most of that time was in São Paulo, in the Itaim Bibi neighbourhood. We literally just left the city last week.
86 Ways to Make Money Online
Download our free guide on legitimate ways to make money online in 2020
By signing up, you are agreeing to receive periodic emails from Fulltime Nomad. No spam. Only the good stuff.
Where are you originally from and what did you do before?
I was born in the UK, however, my parents decided to emigrate to Australia when I was 10 years old, so I'm still kind of confused about what to say when someone asks me this question. Before travelling I tried the whole university thing and didn't like it. Instead, I became an office manager, bartender and photography set supervisor (among other things) while I figured out what the hell to do with my life. I then began travelling.
What work did you do there?
I met my Brazilian boyfriend whilst travelling solo in Thailand and he taught me the ins and outs of running an online business. We travelled together for a year before we decided to set up base in Brazil to work on growing the business within Brazil before expanding internationally.
Basically, along with a small team, we run a digital marketing company. We all have different jobs. I'm in charge of our travel blog so it's my responsibility to create content (articles, videos, photos, emails), launch digital products (eBooks, courses), establish affiliate partnerships, grow our social media presence and reach out to hotels and travel companies for collaborations.
The rest of the team create content for our other sites and create partnerships with digital product owners who want to generate more traffic and grow their sales.
What did a typical day look like for you?
We would normally wake up at 8:30am, if we were hungry I would cook some tapioca (like a Brazilian crepe made of cassava) and then we would hit Starbucks to work until lunch time. We had two different Starbucks' just 2 minutes walk either side of our apartment and both were set up with plenty of comfy chairs and tables for remote workers.
Sometimes we would spend the morning working from home but we found that we were more productive in a café, where we couldn't get too comfortable.
When lunch rolled around we would usually walk to somewhere nearby. We often ate a savoury crepe with salad or 'self-service' which is like a budget (but good) buffet. The afternoons were usually spent working in another café or at home before heading out for dinner at one of the many amazing restaurants in the neighbourhood.
Other days I would simply be a good ol' housewife (grocery shopping, cleaning the apartment, etc).
Why did you choose São Paulo?
Well, if we weren't focusing on the growth of the business, we definitely wouldn't have chosen São Paulo. It is not the idyllic, beautiful destination people imagine you to live in when you say you work online. That being said though, it's the economic capital of South America and for this reason, it's the best place in Brazil to do business. So that's why we decided to stick it out for a little while. Besides, we knew it wouldn't be forever (we've got a whole world to travel!).
What did you love about living in São Paulo?
The things that we did love about São Paulo were:
The extensive choice of restaurants in our neighbourhood (Itaim Bibi) which ranged from budget to very very chic.
The casual nightlife – we never went clubbing but we loved discovering unique little bars all over the city.
The 'grunge' vibe in Vila Madalena is awesome, I wish we visited more. Vila Madalena is a very alternative neighbourhood with quirky shops, bars and cafés as well as a huge street art scene.
Being able to walk everywhere we generally needed to go.
Having an Uber arrive 2 minutes after ordering one when we needed to get to another part of the city.
Paulista Avenue (the most famous avenue in São Paulo) closes access for cars on Sundays and they open it up to street performers and vendors who make the place come to life. Very cool!
What are the local people like?
You see, Brazil is an extremely diverse country so the local people in one city are often totally different to the local people in another. São Paulo is one of those cities where everyone is in 'make money' mindset.
After speaking to many locals most of them say the same thing – they don't 100% enjoy living there but it's the best place for them to make a living. Because of this, it's evident that locals aren't the cheeriest bunch compared to those who live in the more relaxed areas of Brazil but generally speaking, they are still very welcoming and chatty people.
What is it like to live in São Paulo as an expat/ foreigner?
Coming from Australia it's difficult for me to live in a place like São Paulo – not Nepal difficult but there are still some things I really miss about my home… Like being able to walk out onto a clean street, free from graffiti and breath in the fresh air, for example. You don't get that in São Paulo.
Unfortunately, Brazil is facing a major economic crisis right now and as a consequence, more and more people are winding up on the streets (many with a drug addiction). It's not just São Paulo, it's happening all over the country. In fact, out of all the countries I've visited, Brazil has really shocked me the most when it comes to this issue.
On the other hand, there are a lot of wealthy people living in the city as well, especially in and around the neighbourhood we lived in, so it's really weird to see such a divide. For example, it's not uncommon to walk through a littered street where the homeless line the sidewalks in order to get to a fancy shopping mall at the end which is filled with high-end designer stores. I'm still trying to get used to that.
With all that said though, I've learned a lot through living in São Paulo – mostly about appreciating how freaking good we have it in Australia.
What is the cost of living in São Paulo?
While living in São Paulo we kind of splurged. You can do it much cheaper than we chose to but we wanted to live comfortably. One of our main hobbies was scoping out new restaurants to try so that definitely didn't help to keep costs low. We also chose to live in one of the safest/nicest neighbourhoods in the city through Airbnb so that didn't help either.
If you want to live comfortably in São Paulo, I would say, $2,000+ per month but if you cut out the fancy dining and rent through a local you could probably do it on $1,600 per month.
What's the availability of short term accommodation in São Paulo?
We rented by the month through Airbnb. It was $1,400 per month and it was an apartment/duplex located in a very good area. It also came with WiFi, cable TV and a washing machine.
There are plenty of short term accommodation options in São Paulo on Airbnb but it wouldn't hurt to do some more research and see if you can find a local site that lists cheaper options.
What is the food like? (eating out & the quality of supermarkets)
Personally, I'm not the biggest fan of Brazilian food – it's nice but to me a lot of it tastes salty. With that said though, São Paulo is where you need to be if you want to experience global cuisine. No other city in Brazil has a variety of restaurants quite like São Paulo. There are some great cafés with free WiFi as well, especially in neighbourhoods like Itaim Bibi and Vila Madalena.
We had a giant supermarket (like those American ones) right near our apartment which was handy and the quality was pretty good too. The fresh produce wasn't the best though so I would walk one minute around the corner to Hortifruiti, which is like a small boutique grocery store with amazing produce.
Do you need a visa? If so how long can you stay in the country for?
Australians and north Americans need a visa and but British people don't. You need to apply for it at least one month before you arrive in Brazil and it gives you 3 months in the country. You can then go to a Federal Police station and extend for another 3 months.
How safe is São Paulo?
Just being honest here – not very safe. Most big cities in Brazil face the same problem but here in Curitiba, where I am right now, it does feel safer. It does come down to neighbourhoods though.
Certain neighbourhoods are dangerous and others are fine. If you plan to visit São Paulo, I recommend staying around Itaim Bibi, Vila Olímpia, Jardims or Parque Ibirapuera.
Is there a big expat community?
Comparing it to Thailand or Bali, I don't think so but most mornings in my local Starbucks there would be at least a couple of foreigners working remotely.
Are there any other good places to travel to close by?
São Paulo is about one hour away from the beach so Santos is a nice place to travel to nearby or you can head for the mountains behind São Paulo in the cooler months.
Any other advice/tips for someone who might want to live there?
As I touched on before, São Paulo is a huge city made up of a number of diverse neighbourhoods. To feel comfortable and safe living in São Paulo (and still be among some of the best restaurants and bars in the city) I recommend staying around Itaim Bibi, Vila Olímpia, Jardims and Parque Ibirapuera as you are still quite central without 24/7 craziness.
Opt for Uber instead of taxi – it's much cheaper.
Don't walk outside alone late at night – all the locals will tell you this.
WiFi in SP is not the greatest in terms of speed (but it's still 99.9% better than the WiFi in the north of Brazil).
Test the WiFi speed before you go and order your coffee.
Learn some Portuguese because most people don't speak English.
Purchase electronics before you leave because they are heavily taxed in Brazil.
If you wear flip-flops outside in São Paulo be prepared to get some funny looks.
And, finally any advice or encouragement for someone wanting to take the leap and live overseas?
Living overseas is the absolute best way to learn about a place first hand and expand your mind in so many ways. It forces you to let go of judgements and preconceived ideas about the world and actually find out the truth for yourself.
In many cases, living overseas can help you to really appreciate where you come from (and make you more appreciative in general).
You only have one life so if you want to travel and live overseas, don't hold back! At the end of the day, our biggest regrets are from not doing the things we wanted to do. Go live your life!
Hannah is a 24 year old Australian nomad and Founding Editor of StoryV Travel & Lifestyle. After finishing her studies in Business Administration Hannah took off to Thailand with her father for a life-changing volunteer experience that shaped the way her future panned out. The day she returned home she took up 3 jobs and booked her next ticket out.
3 months later she had quit the rat race completely and was off to Thailand once more – this time, on her own. Little did she know, that solo adventure would lead her to meet the love of her life and go on to explore the rest of the world as a digital nomad. Now with a thirst for experiencing unfamiliar cultures in exotic destinations around the world, Hannah most enjoys chasing sunsets, lazing on tropical beaches and getting lost among a myriad of crooked buildings and small alleyways.
Follow her adventures on Instagram and Facebook!

Written by
---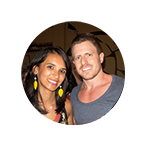 Fulltime Nomad Fulltime Nomad is your passport to saying no to normal, and yes to a life of unlimited travel. Founded by Radhika & Johnny, this blog will help YOU take that big scary first step towards building your own freedom lifestyle. Are you new? Start here.