For Cassandra, living in Spain always gives her a sense of peace and the feeling of home every time she goes back. From the medieval city of Toledo with high stone walls and cobblestone streets to the small, rural town of Córdoba, she tells why this is her favourite country in the world. 
We truly believe there is no better way to learn about a new city, new country or a new culture than living there. Our Living Abroad series is designed to tell stories of living overseas and show people that the world is really not such a scary place. We hope it inspires more people to pack up their bags, travel slow and see what it's really like to live in a different place. If you'd like to tell your story, there's more information at the end of Cassandra's story.
Here's what Cassandra had to say about Toledo and Córdoba.
1. Where did you live?
My first year in Spain, I lived in a small town outside of Toledo. During my second year, I was in another small town outside of Córdoba. During my first year abroad, I was completely awe-struck by the lifestyle in a small, rural town. There was a total of about 12,000 people who lived there, so can you imagine what a suburban girl like me thought when I could walk from one side of town to the other in 30 minutes?!
There were a lot of things that bored me in the area since it was so small, but every time I return there, I always feel a sense of peace and the feeling of "home". If you've ever been to Toledo, or maybe haven't been, the city is enchanting. It may just be me feeling these mystical emotions, but for real. THIS CITY CAPTURES EVERY FIBER OF MY BEING AND GIVES ME TINGLES!
86 Ways to Make Money Online
Download our free guide on legitimate ways to make money online in 2021
By signing up, you are agreeing to receive periodic emails from Fulltime Nomad. No spam. Only the good stuff.
The old city centre of Toledo is perched on top of the city in general. It's a medieval city with high stone walls and cobblestone streets. Once you enter, you'll be walking up hills for the rest of the day! The main plaza is a bit touristy since most people make day trips from Madrid. But, if you walk through the small narrow streets, up and down alleys, and admire the architecture this city offers, you'll be amazed. It honestly gives me chills every time I walk around, no matter how many times I've been there.
2. Where are you originally from and what did you do before?
Originally, I'm from Virginia in the United States. Before I moved abroad, I was studying in college and graduated from James Madison University with a Bachelors of Science degree in Hospitality Management. Two days before my graduation, I received an email saying that I was accepted into the Auxiliaries de Conversación program, and would be leaving for Spain to teach English abroad! It was crazy!! I couldn't believe it!! I was also celebrating with a few "beverages" with my classmates, and as soon as I received the email, everyone celebrated with me!
Before leaving, I worked a summer job as a Cheese Bartender in a restaurant near my home. With that job, I was able to save up enough money to buy my ticket to Spain and to have a good amount of "cushion" to set up my life.
I worked a lot in the restaurant industry and with hospitality management, but then decided I wanted a life filled with travel and doing something out of the norm! While a lot of my friends went into their full-time corporate jobs, I decided to have a little bit of fun!
3. What work did you do there?
While living in Spain, I worked as an English Language and Culture Assistant for two years in an elementary school, high school, and an adult night class. I was part of the auxiliaries program through the Spanish government. I also had various private lessons with other students who wanted to improve their English skills in the afternoon.
If I wasn't working as an English teacher, I found a lot of online freelance work as a copywriter for different companies. The bills still needed to be paid for in the United States!
See also: Freelance Writing Jobs: 26 Resources for Finding PAID Work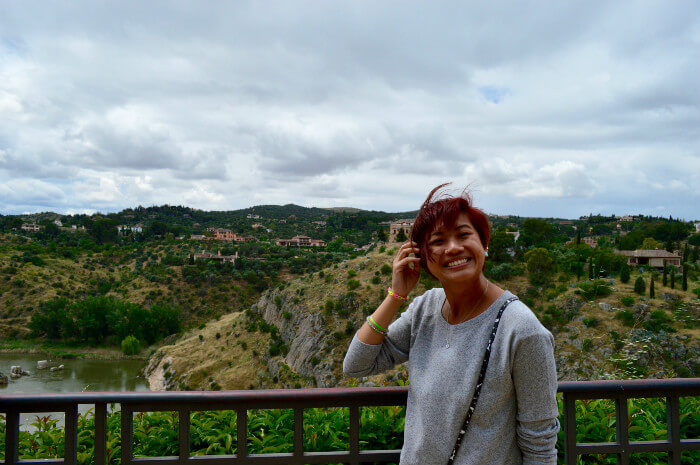 Toledo, Spain
4. What did a typical day look like for you?
A typical work day was usually spent in the classroom with a Bilingual teacher. This past year, I worked in two different schools. I worked in a bilingual high school and a bilingual elementary school and would switch back and forth every other week. A normal day was usually spent in the classroom in either an English class or a different class like math, history, geography, etc. Most of the time I helped the teacher with different activities and games to help the students feel more motivated to practice their English. Sometimes I would read to the students so they could hear my accent and other days we would play games or talk about the culture in the United States.
I was only required to work 12 hours a week! I know, that's a very enviable work schedule! In the afternoons, I had private English lessons that would usually go all evenings. I didn't have to work Fridays though, which was a plus! I usually had a lot of free time to do what I wanted and invest my time in different hobbies, like blogging and travelling! Some days I was able to wake up a little later and other days I was able to come home earlier. It varied with the school's class schedules.
5. Why did you choose Spain?
The reason I chose this place is because, in high school, I travelled to Spain for 10 days during Spring Break with my Spanish class. I don't remember much of the trip, except for visiting Madrid, Barcelona, and Toledo. And of course, Toledo left a big impression on me. I think it was actually fate that I was assigned there my first year!
Another big factor was after I volunteered in Ecuador for one week with a school, I had a strong pull to travel more and work with kids. I wanted to improve my Spanish and wanted to find a way to travel easily. Spain seemed like a good option! It also helped that one of our family friends had already done the program for a year, and she encouraged and helped me to apply. Also, if you know the movie The Cheetah Girls, I was a HUGE fan when I was younger. In their second movie, The Cheetah Girls travelled to Spain.
Also, if you know the movie The Cheetah Girls, I was a HUGE fan when I was younger. In their second movie, The Cheetah Girls travelled to Spain (specifically Barcelona) and competed in a music competition. I was adamant about living in Spain and calling it my home! I did always tell my parents when I was younger that I had a feeling I was meant to be European, haha!
6. What did you love about living in Spain?
This is so difficult to say! I loved everything about Spain, even the growing pains that I shared with this country and culture. The language is beautiful, it rolls off your tongue (once you become fluent enough to speak it), it's romantic, vibrant, and packed with energy. I loved the lifestyle that Spaniards had, when things were rough they always seemed positive. The rich culture that each region in Spain offered, the traditional holidays; all of it really captured me in a way that I didn't expect!
Catedral de Toledo
7. What are the local people like?
In each area of Spain, a Spaniard's personality can differ greatly. You'll hear lots of different stereotypes about each region of Spain, pertaining to food, the way they party, personalities, and friends! For example, in the south of Spain, where I lived this past year, the stereotype is that they are always ready to party, are always drinking, and are so open and friendly. I found this to be true, compared to where I lived my first year. In Toledo, they picked up a lot of different "Madrid-esque" things. Since Madrid is the capital of Spain, their lifestyle was fast-paced and similar to a city, even though the town was only 12,000 people!
I think the local people are all very nice, hospitable, and friendly. I did meet my boyfriend in Spain! There are always going to be "bad" people wherever you go, so being smart is always key. One of the biggest challenges I faced was the curiosity (to say it nicely) of my ethnicity. I am a born and raised United States citizen, but my parents did immigrate to the United States from Vietnam. So, I don't look like the "normal" US citizen that most people see on TV or the movies.
Moving into such a small town of 12,000 people, there was obviously a lack of diversity and immigration. I only saw Spanish people, Moroccans, and Chinese people, but a lot of the Spaniards couldn't tell the difference between one Asian race from the next! Can you imagine my surprise whenever someone called me a "china", Spanish for a Chinese girl, or yelled "Nihao" to me? I was so taken aback!
At first, it really frustrated me and bothered me, especially everywhere I walked and everyone stared and whispered about me or pointed to me! I even got into an argument with a Spaniard in a bar once about where I was originally from. He kept telling me I was Japanese and my family bombed Pearl Harbor, which is why the United States doesn't like Japan. For thirty minutes, my roommate and I argued with this random stranger that I was born in Virginia and my parents are originally from Vietnam. The guy clearly had no idea what he was talking about, and when the conversation evolved into Duck Dynasty and GTA5, I decided to leave haha.
8. What is it like to live in Spain as an expat/ foreigner?
I can't answer for everyone because I think depending on where you're from, what your ethnicity is, and many other factors, the experience is really different for a lot of people. I think it also depends on the area that you're living, whether it is a bigger city, smaller town, or even the different regions of a country!
I think if you are an expat, people are generally a bit more curious about you and interested in the things that you do. I also think they're a bit nicer! I've met so many different people, younger and older, that have shown me incredible hospitality and even welcomed me into their home like one of their own. I've made family friends in Spain, been invited to first communions, family dinners, and even on trips! The biggest and most important thing, I think, is to be kind to people, because kindness definitely gets you a long way.
9. What is the cost of living in Spain per month?
The cost of living really ranges in Spain, like any other country! The south is considered to be extremely cheap and the north a bit more expensive. When living in Torrijos (the small town outside of Toledo), cost of living was generally a lot cheaper than the United States. But, because the town was only 30 minutes away from Toledo (a big tourist attraction) and one hour away from Madrid, they drew a lot of their prices from these areas.
When I lived in the south of Spain, EVERYTHING was much cheaper. Beer, coffee, food, rent, and even utilities! So, depending on where you go, prices can change. The smaller the town, the cheaper it will be, and of course larger metropolitan cities will be a bit more expensive. In the south of Spain, you could order a small beer for 1 euro and receive a giant tapa for free! If you ordered a few drinks (it could be beer, soda, water, anything) you could have a dinner off of tapas and only pay for your beverage!
10. What's the availability of short term accommodation? Describe your accommodation.
Short term accommodation is really easy to find. There are a lot of different websites that expats and foreigners can use to find an apartment (piso – in Spanish) by yourself or with roommates. Most of the landlords prefer that you rent for up to a year, but they also understand that there are a lot of people who move around in Spain. Due to the economic crisis, many Spaniards move often to find jobs, so landlords are understanding of that fact.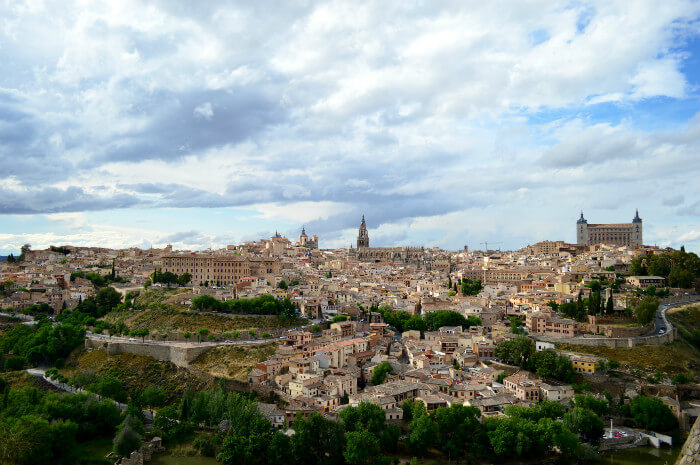 View of Toledo
11. What is the food like? (eating out & the quality of supermarkets)
Oh goodness, I feel like I could go on and on about the food in Spain! I love the food that Spain offers! There are so many different dishes to try, from the typical Spanish ham, the Spanish omelette, and paella. Each region of Spain offers original dishes, for example, paella is known throughout the country but originated in Valencia. The great thing about Spain and their food is that dishes are seasonal depending on availability of ingredients. For example, there are specific dishes that are only made during the winter time, that make you feel full and warm.
Also, if you travel throughout the country, in the north of Spain they offer pintxos with your drink, and in the south they offer tapas. Each of these is really different and consist of different ingredients. Tapas are usually served on small or large plates and pintxos are served on wooden sticks or held together with a stick (think: kabob).
I really enjoyed shopping at the supermarkets in Spain. I felt like they had A LOT more produce on sale and they had a wide array of anything I needed. It only got difficult when I wanted to find an Asian ingredient, where they didn't have a lot of those. But, the abundance of quality olive oil is great! I really miss cooking with olive oil now that I'm back home!
12. Do you need a visa? If so how long can you stay in the country for?
As a United States citizen, I had a 90-day general tourist visa. But, because the program was for 8 months (October to May), I had to apply for a student visa to receive an Identity Card. The identity card would serve as my long term visa until the program was finished. In the beginning, I had a student visa that I received from the Spain consulate, which allowed me to stay for up to three months.
As soon as I got to Spain, I had to start doing the paperwork to receive my Identity Card to stay until the end of May. The paperwork was such a long process to go through! Dealing with the Spanish government means A LOT of paperwork and making A LOT of copies! I remember the first time I went to the foreigner's office, with very little Spanish skills and tried to figure out what I needed to do and what they were telling me. I returned to the office about three or four times in a month, each time to either hand in one piece of paper, do my fingerprints for the card, drop off more documents and then finally pick up my card one month later. It's definitely a long and gruelling process, but worth it because I could stay for 8 months!
13. How safe are the cities?
I never felt unsafe or threatened in any part of Spain that I visited. Of course, there are areas that you have to be careful of pickpockets and there are "gypsies", that will approach you and beg for money. But, other than that, I've always felt comfortable walking home by myself at night or travelling alone. Just use your common sense and watch your things, because in the touristy areas pickpockets will be there.
14. Is there a big expat community?
I think there is a larger expat community than I am aware of. When I first applied to the program I thought I was one of the few who would be living abroad and teaching English. I soon learned that this is TOTALLY not true. There was a huge Facebook group with thousands of us! I think the first time I was in my program, there were around 5,000 expats, not including the ones that have been there for years! You won't have any problem finding fellow expats while in Spain, we're everywhere!
15. Are there any other good places to travel to close by?
Spain is neighboured by Portugal, and if you're feeling adventurous and live in the south, you can make a road trip out of it. My boyfriend and I drove to the coast of Portugal in four hours. It's very doable! Flights are also cheap and so easy to find! If you've ever wanted to travel to Morocco, the country is only 14km (I think). That is so close! It takes 30 minutes by ferry to arrive in Morocco, and on a clear day, you can see Africa from the southern coast of Spain! Flights are also so cheap to travel throughout Europe, and if you didn't want to do that, there are a lot of options to travel by train, bus, and carpooling. Spain makes travelling throughout the country so easy!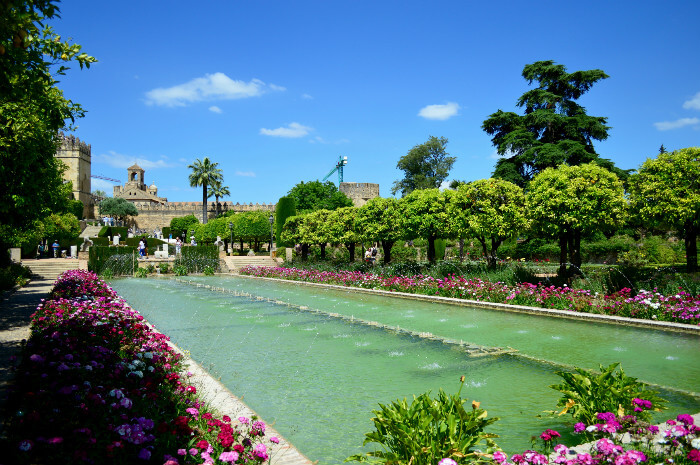 Alcázar de Los Reyes Cristianos in Córdoba, Spain
16. Any other advice/tips for someone who might want to live in Spain?
Spain is beautiful, vibrant, full of life, and definitely rough around the edges. The country offers a vast array of different landscapes, from mountains, lush greens, very dry, city life, country life, beaches and even cities that give you the best of both worlds!
My advice for anyone wanting to live there is to know a bit of Spanish before you arrive because that will definitely help. And if you end up going and don't know a lot of Spanish, like me, then don't be afraid to practice the language. Also when picking where to live, you should take certain things into consideration. The north is a bit more expensive, colder, rainier, but more green and mountainous. The south is cheaper, extremely hot, has a difficult Spanish accent, but offers the beach.
Another important thing to take into consideration is if you want to live in the city or in a smaller town. The smaller towns allow you to really immerse yourself in the language, but you may get bored. City life offers such a big array of things to do! You'll be able to meet people from all over Spain, as well as expats from all over the world! My suggestion is to live in a town, that is an hour or two away from a larger city.
17. And, finally any advice or encouragement for someone wanting to take the leap and live overseas?
Wow! I would say, GO FOR IT! It's scary and most of the time you might be questioning why you're doing this, but it's worth it. Be prepared for moments when you're broken down, lonely, and unsure of where you're going in life. With all of these growing pains, also comes experiences, adventures and the opportunity to travel and experience another culture! It's thrilling and nerve-wracking at the same time! I'll leave y'all with my favourite quote that I ALWAYS tell anyone looking for advice to do something:
"Good judgment comes from experience and experience often comes from bad judgment"
– Rita Mae Brown
Cassandra is a Lifestyle and Travel Blogger from the United States. She's on a mission to break out of society's norm and create an unconventional lifestyle! After living abroad in Spain for two years, she is now back home in the States figuring out how to create HER "American Dream" outside of America. She is a big advocate for chasing dreams, women empowerment and harnessing your inner diva.
Her blog, The Quirky Pineapple, is a place to find inspiration to chase after your dreams and learn to love, accept and relish in all of the awkward happenings and spontaneous adventures that life and travelling bring. Keep up with her adventures on Instagram and Facebook.

Written by
---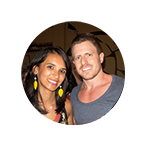 Fulltime Nomad
Fulltime Nomad is your passport to saying no to normal, and yes to a life of unlimited travel. Founded by Radhika & Johnny, this blog will help YOU take that big scary first step towards building your own freedom lifestyle. Are you new? Start here.