Dawn loves to travel and during one of her many adventures she got the chance to visit New Zealand a country she fell deeply in love with. Five years later as fate would have it, her husband's company opened a new office in Auckland city and they didn't need to think twice about moving. They are currently living in Wellington and Dawn has lots of good things to say about the city.
We truly believe there is no better way to learn about a new city, new country or a new culture than living there. Our Living Abroad series is designed to tell stories of living overseas and show people that the world is really not such a scary place. We hope it inspires more people to pack up their bags, travel slow and see what it's really like to live in a different place. If you'd like to tell your story, there's more information at the end of Dawn's story.  
Here's what Dawn had to say about Wellington.
1. Where do you live?
Wellington, New Zealand.
86 Ways to Make Money Online
Download our free guide on legitimate ways to make money online in 2021
By signing up, you are agreeing to receive periodic emails from Fulltime Nomad. No spam. Only the good stuff.
2. Where are you originally from and what did you do before?
Originally, I am from a small Cornish town called St Ives, which is in the UK. But, I am now living in New Zealand with my husband. When we first moved here in 2014 we lived in Auckland but have recently relocated to Wellington. Before I left the UK I was the manager of an international backpacking company.
3. What work do you do there?
Work wise I am now a travel consultant slash blogger slash virtual assistant – it's keeping me really busy!
4. What does a typical day look like for you?
A typical day looks a little something like this:
5am  – Wake up – check my emails – work through till 8am
8am  – Make myself a glass of orange and a bowl of cereal, catch up on Facebook till 9am
9am through to 1pm work, work, work & work.
1pm – Grab some lunch
2pm – Head out and explore!
7pm – Check my emails – work till 8pm
Typically, I like to start early and leave a big gap in the middle of the afternoon to explore or go cycling.
5. Why did you choose Wellington?
I moved to New Zealand with my now husband, his company opened a new office in Auckland city – it seemed like the logical choice.
6. What do you love about living in Wellington?
A few weeks ago we decided to move to Wellington for my husband's business. We are slowly discovering this small compact city! But, in general, we love NZ for its long kiwi summers, the laid back vibes, and the kind natured people!
7. What are the local people like?
New Zealander's (Kiwis) are a great group of people, I've quite a few friends who are born and bred Kiwis. They are always very welcoming and willing to share their expert local knowledge.
8. What is it like to live in Wellington as an expat/ foreigner?
Wellington is a very cosmopolitan city and is unlike any other place in New Zealand. Most foreigners settle either in the city or in the suburbs. I've experienced no issues, other than being called a whinging pome occasionally! A term that is regularly used here to describe a British person, we take it on the chin though and laugh with them about it!
9. What is the cost of living in Wellington?
Living in Wellington is about 30% more expensive than living in Cornwall where we grew up. I've found during winter groceries in New Zealand are very expensive when out of season, also our rent is much higher.
On the flipside, we don't have to pay council tax as a renter and there isn't a TV license fee here. My full cost breakdown of living expenses when we lived in Auckland can be found here I am intrigued to find out in the next coming months how my expenses differ to living in Auckland now we are in Wellington.
10. How much do you pay for accommodation?
I pay $920NZD (514GBP) every two weeks for a two-bedroom, two bathroom apartment with parking on the city fringe. We actually shipped all our furniture and personal belongings over to NZ with us when we first moved here, something that we strongly recommend people consider. Having those personal possessions that you are familiar with really did settle us in quicker.
11. What is the food like? (eating out & the quality of supermarkets)
Wellington is a great place to eat out, you can find anything if you look hard enough. We especially like the international food courts as they often have food that reminds us of traveling throughout Asia.
12. Do you need a visa? If so how long can you stay in the country for?
There are plenty of visa options for New Zealand. The first time I came here – I used the visa on arrival service which allowed me to travel for up to 6 months.
13. How safe is Wellington?
Wellington is fairly safe, certainly compared to the boozy nightlife of UK cities at the weekend!
14. Is there a big expat community?
I think there is a big expat community in Auckland and we've joined groups like the Auckland Expat Meetup, we are yet to join one in Wellington but I'd highly recommend you check out the Meet Up app.
15. Are there any other good places to travel to close by?
We are still discovering Wellington! So would love to hear from those who have some tips for us! Domestic flights here are very reasonable so we have taken a few trips to the South Island since we have been here.
16. Any other advice/tips for someone who might want to live there?
If you are planning to pack up and move to New Zealand, I'd strongly recommend gaining as many skills as possible. Wages in New Zealand tend to be lower than that of the UK and US, so having more skills could help you command a better salary.
17. And, finally any advice or encouragement for someone wanting to take the leap and live overseas?
As Nike would say – Just do it!
Dawn is a Cornish globe trotter and a storyteller with itchy feet. She is the main blogger at Going NZ and runs a virtual assistance business for people like you. She first visited New Zealand with her husband in 2009 when they fell in love with the country, five years later she took the brave (but scary) leap and moved to NZ permanently.
Connect with her on Facebook and Instagram and follow her story.

Written by
---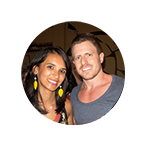 Fulltime Nomad
Fulltime Nomad is your passport to saying no to normal, and yes to a life of unlimited travel. Founded by Radhika & Johnny, this blog will help YOU take that big scary first step towards building your own freedom lifestyle. Are you new? Start here.