Imaginary conversation alert.
Person A: What do you do?
Person B: I am a blogger.
Person A: You've got a blog. That's cute.
FREE 5 Day Course
How to start a blog
that makes money
---
In this free course, we will take you through, step-by-step, everything you need to start a profitable blog.
By signing up, you are agreeing to receive periodic emails from Fulltime Nomad. No spam. Only the good stuff.
I mean, it's so great that you've got your own little piece of the internet. But it's not really a career. I mean, what do you do for work?
And that ladies and gentleman is how most people think about blogging. It's a great hobby and all, but people don't actually make money from blogging.
Or do they…?
Actually, there are thousands of real bloggers out there who are making very real incomes from their blogs. And today, I want to show you exactly how people make money from their blogs – with some real examples to prove I'm not making this stuff up.
Lets get this started!
Related posts:
*This post may contain affiliate links. If you click on them and purchase something we get a small percentage of the sale. More info here*
How to Make Money Blogging
Firstly, it's important to mention that making money from a blog doesn't happen overnight. The reality is that blogging is a grind. It takes a lot of time and effort to get a blog to a point where it can generate income. You can't just throw a blog up and expect to make money. It won't happen.
To be able to make money from a blog firstly you need to –
Set up a blog/website on a self hosted domain.
Write great content that people want to read, share and talk about.
Promote your content, develop relationships and build an audience.
These steps are vital to the success of your blog. Skip them or do them half-arsed and you will find it hard to generate traffic to your site. And without traffic you won't make money.
Do the above steps right and you will start to build an audience.  This is when you implement revenue streams to monetise the traffic you have coming to the blog.
6 Popular Income Streams From Blogging
There are several ways people make money from blogging. These are the six most popular ways.
1. Advertising with Google Adsense
Adsense is an advertising platform owned by Google that makes it very easy for bloggers to display ads on their website. In return, you are either paid when someone clicks on your ad or by the number of views the ad receives on your site.
What's great about Adsense is that it has the largest ad inventory in the world and will automatically display ads that are closely related to the content on your site. For example, if you run a fitness blog your readers might see ads about sporting equipment, supplements, gym memberships etc.
Adsense also has the ability to show ads based on the user's interest or browsing behaviour. Not creepy at all… I know! You know that ad that just keeps following you around the web no matter what page you're on? It's because Google knows what you're interested in.  😉
The example below is from securityguardtraininghq.com. Here you can see the Google ads displayed on the blog. Each time a visitor clicks on one of those ads, the owner makes money. This is known as pay-per-click advertising.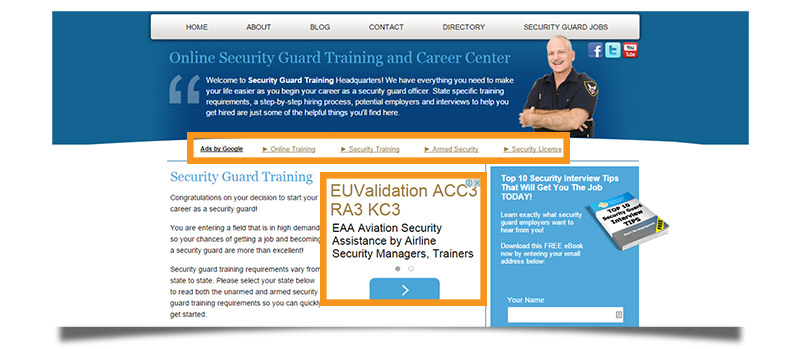 How much money can you make from Adsense?
The amount of money you can earn from Adsense heavily relies on the amount of traffic coming to your site. Obviously the more visits you have, the more views and click on your ads you will have.
Earning potential for Adsense also depends on a number of other factors such as:
The niche your website is in – Advertisers in competitive niches pay more for ads.
The number of ads and the positioning of those ads on your blog
The quality of content you have on your site – Highly engaging content results in visitors spending more time on your site. This will generate more ad views and clicks.
Securityguardtraininghq.com makes over $3000 a month in revenue from Adsense. Not bad for a site about security guard training! You can only imagine what larger sites with millions of visitors per month are making.
Adsense is great way to start generating income from a blog. However, it generally requires you to have a lot of traffic coming to your site in order to make it worth its while, so don't expect to make much if you are just starting out.
2. Affiliate Marketing
The basic idea of affiliate marketing is that you receive a commission for promoting someone else's product on your site.
Affiliate marketing is one of the most popular ways of making money online because you don't need to create the product to sell. You are simply recommending products on your blog/website and linking to the page where people can view and buy the product.
When linking to a company's product you don't just use any link. You use whats called an affiliate link. These links contain a unique ID that can track where referrals come from. If someone clicks on a link from your blog and makes a purchase, then you make a commission.
Ok so where do you get affiliate links from?
Once you have a blog up and running you need to join an affiliate program. Here companies provide lists of products and services that they want people (bloggers/website owners) to promote. Affiliate programs provide the affiliate links and banners so that you can use them on your website to refer traffic and make commissions.
Some popular affiliate programs include:
Lets have a look at a site that uses affiliate marketing.
Coolest-gadgets.com is a blog that writes articles and reviews the latest gadgets and electronic devices. On the right hand side you can see that there is an Amazon banner promoting a bunch of selfie sticks. This is a very targeted ad as you will notice that the article is about a particular selfie stick.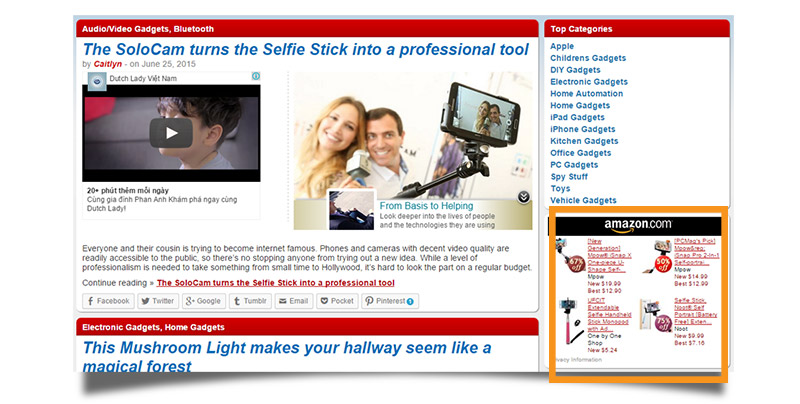 If someone was to click on one of those products in the Amazon banner, they will be taken to the product page on Amazon. If that person goes on to buy the selfie stick, Coolest-gadgets.com makes a commission because they referred them from their site.
But it's not only banner ads that are being used on Coolest-gadgets.com. In the example below, the article is about a cordless microdermabrasion system. The article has some 'buy now' buttons and links to the website where people can purchase that product.
Again, if someone clicks through and makes a purchase, Coolest-gadgets.com receives a commission.
How much money can you make from affiliate marketing?
Affiliate marketing can be very lucrative – some people have become millionaires from affiliate marketing.
While most people won't become a millionaires, you can definitely make a full time income from affiliate marketing alone, and lots of people do.
3. Selling Advertising Space on The Blog (Private/Sponsorship)
Another popular way of generating income from a blog is selling advertising space on your site. This is where you place an advertiser's banner on a page of your blog and charge a fee (usually per month).
But where do you find business and companies that want to advertise on your blog?
Well this can be done two ways; you can approach the advertisers yourself and negotiate a price or use an ad network who helps with the process and takes a commission.
However, you can't just expect any old business to want to advertise on your site. You want to find companies that fit the demographic of your blog audience. For example, say your blog is about restoring vintage cars, you might try to find businesses that sells car parts or accessories online.
In this screenshot below from yogadork.com you can see on the right-hand side, under the heading 'Supporters', there is an ad for yoga retreats. This is an example of private/sponsorship advertising.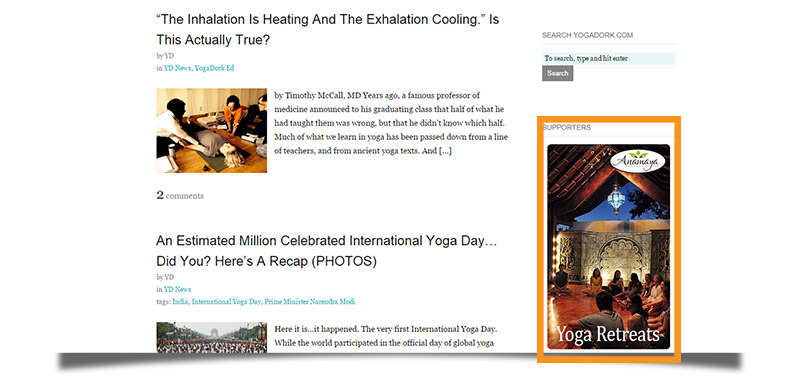 The company that is advertising with Yogadork is obviously a good match as you would assume yoga retreats is something that this audience would be interested in.
To be able to convince an advertiser to buy your ad space you typically need a decent amount of traffic coming to the blog to make it worth the while for the advertiser. However, the amount of traffic isn't always everything. If your blog audience is highly relevant to an advertiser's product, then you might be able to convince advertisers to buy your ad space based on the quality of traffic rather than the amount of traffic.
How much money can you make from selling ad space?
Ad space is usually charged 2 ways:
By per 1000 impressions  – an impression is when an ad is displayed to a website visitor.
By negotiating a flat monthly recurring fee with the advertiser.
People charge anywhere from $50 per month to thousands of dollars per ad, depending on things such as number of  impressions, the demographics and the quality of traffic.
In another example, expertvagabond.com uses the sidebar to promote other bloggers in the travel niche. The site charges $100 a month to display an advertisement here.
Selling ad space is a great way to generate income for you blog. Once set up it is relatively hands off; all you need to do is wait for that payment to come through each month.
4. Digital Products and E Books
Selling digital products on your blog is one of the most profitable ways to make money online.
With digital products there is no physical item (obviously). They include products such as ebooks, online courses, webinars and video tutorials. Customers either get access to view these products online or they are sent links to download after a purchase. This is great because it removes a lot of the hassles associated with selling a physical product, like shipping, returns and inventory.
An example of a digital product can be found on the site pinchofyum.com, a food blog about simple and tasty recipes. They have created an ebook that helps people improve their food photography skills.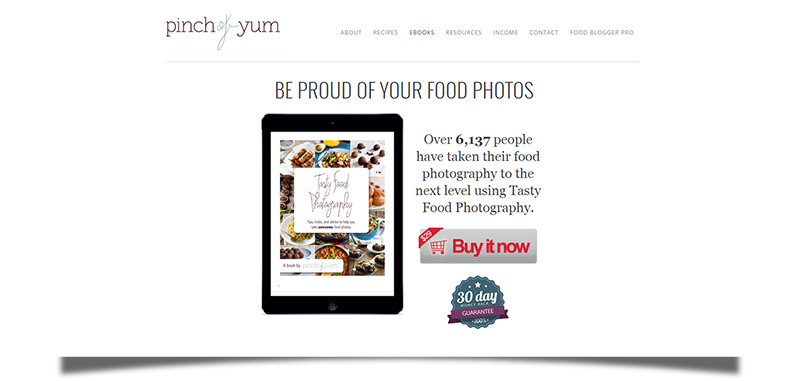 While the initial time to produce a digital product can be time consuming, once it is done it is a great way to passively generate income from your site.
How much money can you make from digital products?
The ebook from Pinch of Yum has been downloaded 6,137 times at $29 a sale. That equals $177,973 in revenue!
The sky really is the limit when making money from digital products. Once you have a digital product you're not just limited to selling it on your blog. There are other channels where you can promote and sell your product such as Clickbank.
In the example below, tens of thousands of people have bought the 21 Day Sugar Detox product at $69 a pop. So if that's 20,000 sales that equals 1.3 million dollars in revenue.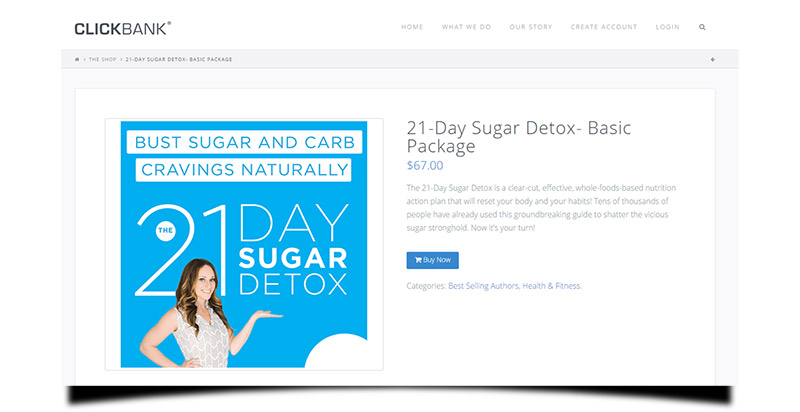 I honestly think every blogger should aspire to make and sell their own digital product, whether that be an ebook, online course or video series. The profit margins are huge and once the initial work has been done, you have a product that can not only be promoted on your blog, but through other channels as well.
5. Membership Areas
A more advanced method of making money online is having a membership area on your blog. A membership area means having a section of your website that has restricted access. This area might have premium content, courses, videos, or a forum that are only accessible once a person has paid the monthly subscription fee.
timothysykes.com is a blog/website about trading penny stocks online.  He has created a membership area on his site where he has video lessons teaching people how to trade penny stocks. He charges $99.95 per month to access this area of his site.
Creating a membership area and retaining those customers every month does take a lot of work. Adding new content, engaging with the community, providing answers and ongoing support is all part of maintaining a membership site. You need to continually provide value to your customers or they will cancel their subscription.
How much money can you make from a membership area?
A big reason having a membership is one of the most attractive form of making money is because of the recurring monthly revenue it can generate.
Lets have a look at the Timothy Sykes example.
He charges 99.95 per month to access this area. Let start modestly and say you have 20 members access that area. That equals $1999 of recurring revenue per month. What about if that number goes up to 50? That equals $4997 per month! And 100 members? $9995 per month every month!
You can see why a lot of bloggers want to create membership areas on their sites.
A membership area on your site does take a lot of work and upkeep. However, the high earning potential of having a community of people paying a monthly fee make it a very attractive model for generating income online.
6. Selling your own physical product or service
You know you've made it when you can sell a product or service that is associated with your blog's brand. There are many bloggers who have successfully built their online brand to a level where they now have an audience who is gagging to buy their products or services.
Take the blog nerdfitness.com for example. Nerd Fitness is a blog about educating nerds (self-proclaimed) about health and well-being. The site has done an amazing job of building up such a loyal following and community that it now runs offline fitness camps.
People travel from all over the world just to attend this camp. All this coming from a niche blog idea combining geeks and fitness.
The advantage of selling your own physical products or services is, that there is no middle-man. You make 100% of the profits.
On top of that you are building your brand and adding value to your business. Your blog is not just a blog any more – it's an empire! Okay maybe not an empire but you get the point.  😉
In another example, the site blogilates.com (blog + pilates) has its own shop where you can buy Blogilates branded clothes, DVDs, equipment and even lingerie.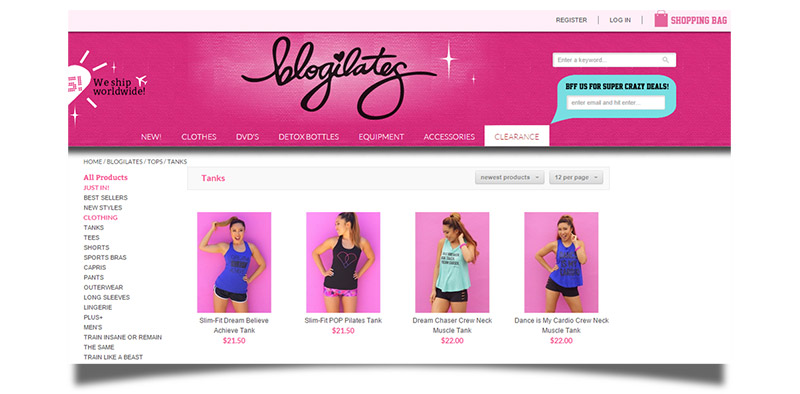 How much money can you make from selling your own products?
With a physical product sales are not just limited to your blog audience. You can market your product to a much larger audience online. You can set up a website to sell your products or use other platforms like Ebay and Amazon.
The great thing is that you will have a band of loyal followers (your blog audience) who are likely to spread the word about how good your product is when they buy it.
Ok, so there you have it. Real examples of how people are making money with their blog. Pretty inspiring stuff hey?
Success didn't happen right away for these people. They have put in a lot of effort and commitment to reach this point.
How do we make money from blogging?
So does Fulltime Nomad generate an income for us? Yes, definitely!
At the moment we make money from our blog in a number of different ways:
Affiliate marketing
If you are familiar with the blog you will notice that from time to time we recommend certain products.
For example the WordPress theme that we use on our blog is the Divi theme by elegant. We recommend this because we use it and we like it.
If someone (e.g. you) clicks on the link or banner and then goes onto to make a purchase we make a small commission from that sale (at no extra cost to our readers, of course.)
Course sales
Our course – the Digital Nomad Roadmap – is also another source of revenue from the blog. We promote this course via email, social media, paid advertising and in our articles.
Sponsored posts
A sponsored post is where someone who has a product or a blog will write an article on your site and pay you for it.
Wait? Someone writes an article for to publish it on your blog and they pay you too?! Yeh pretty good right. The benefit to them is that they get exposure to your audience in return.
To be honest we've done very few paid sponsored posts so far as we're super picky about our content and who we want to promote. We will only partner with a brand if we feel it's a good fit for our audience.
Consulting clients
Fulltime Nomad has also helped us generate new clients for our digital marketing business. This is not something we expected but it's great!
Many of our existing clients follow the blog, and we have picked up extra work because of this. For example, a client who we only did Facebook advertising for, decided to hire us for blog writing work as well. Woo-hoo!
We've also gained a couple of new clients after they found us through the blog. In fact, one of our new clients said they chose to hire us after seeing our blog and the pride we seemed to take in our freelancing work.
In fact, we always tell newbie digital nomads to be open with their clients about their lifestyle. We are, and it has lead to awesome work with awesome clients.
I guess, what better way to show off your work than on your own blog, right?
So there's just an insight into how we make money from our blog. Hopefully it inspires you a little to start your own blog.
Are you ready to start making money from blogging?
There are thousands of topics that you can start a blog about. Seriously – that's no exaggeration.
Theres the popular ones like health, money, business, relationships, and then there's more obscure ones like pet grooming or cake decorating.
Either way, if you put in the right focus and a good amount of effort we believe that anyone can make money blogging, even if the topic is super unique.
So to give you a bit of kick in the butt we have created a list of blog topics to help you get started. Check it out here: 80+ ideas you can create a blog about.
Anyone can make money from blogging
Our advise is simple. If you want to start a blog – just start.
Don't get too stuck on the details or it can become too overwhelming. Just take it step-by-step, write what you like to write about and you will be able to grow it into a money-making business.
Blogging doesn't require any special knowledge or skills. All you have to do is want it, and work hard at it. If you do, it can become the dream business that will let you work from anywhere in the world.
Starting is simple, check out our blog post here: How to Start a Blog in Under 10 Minutes
Have you seen any other ways people make money from their blogs? Do share with us in the comments.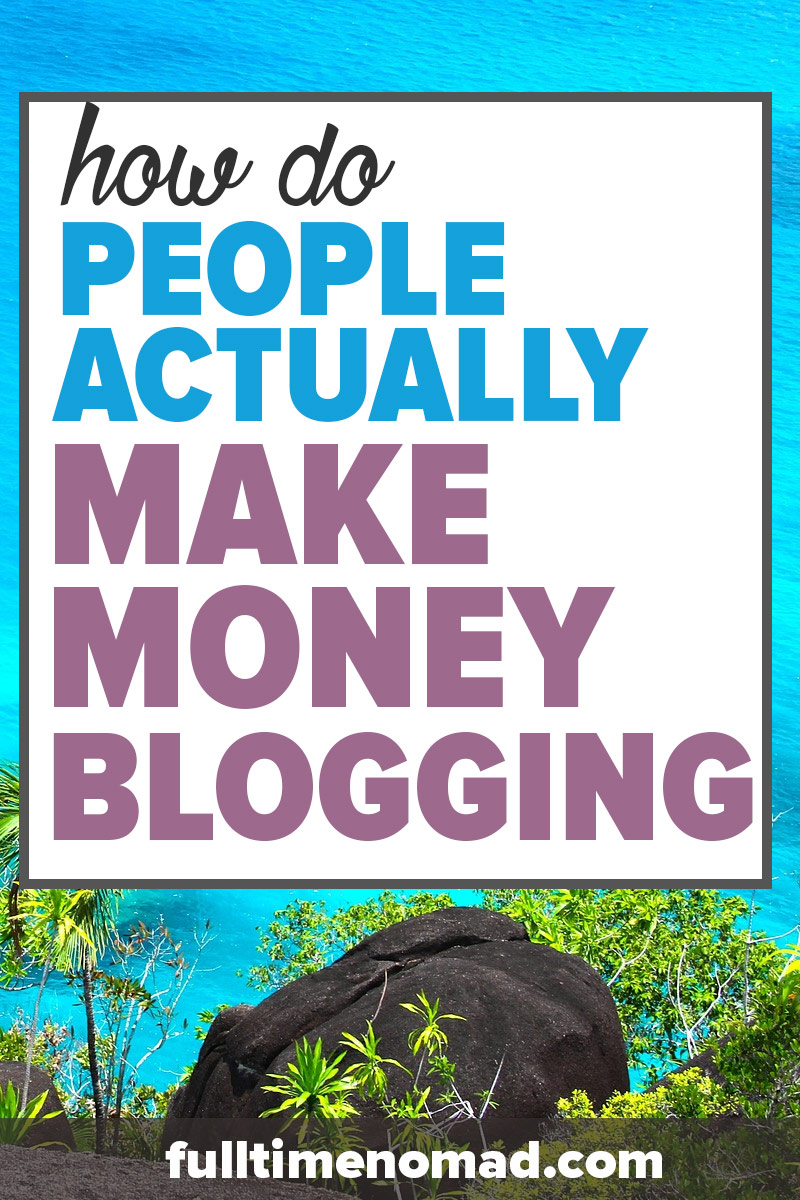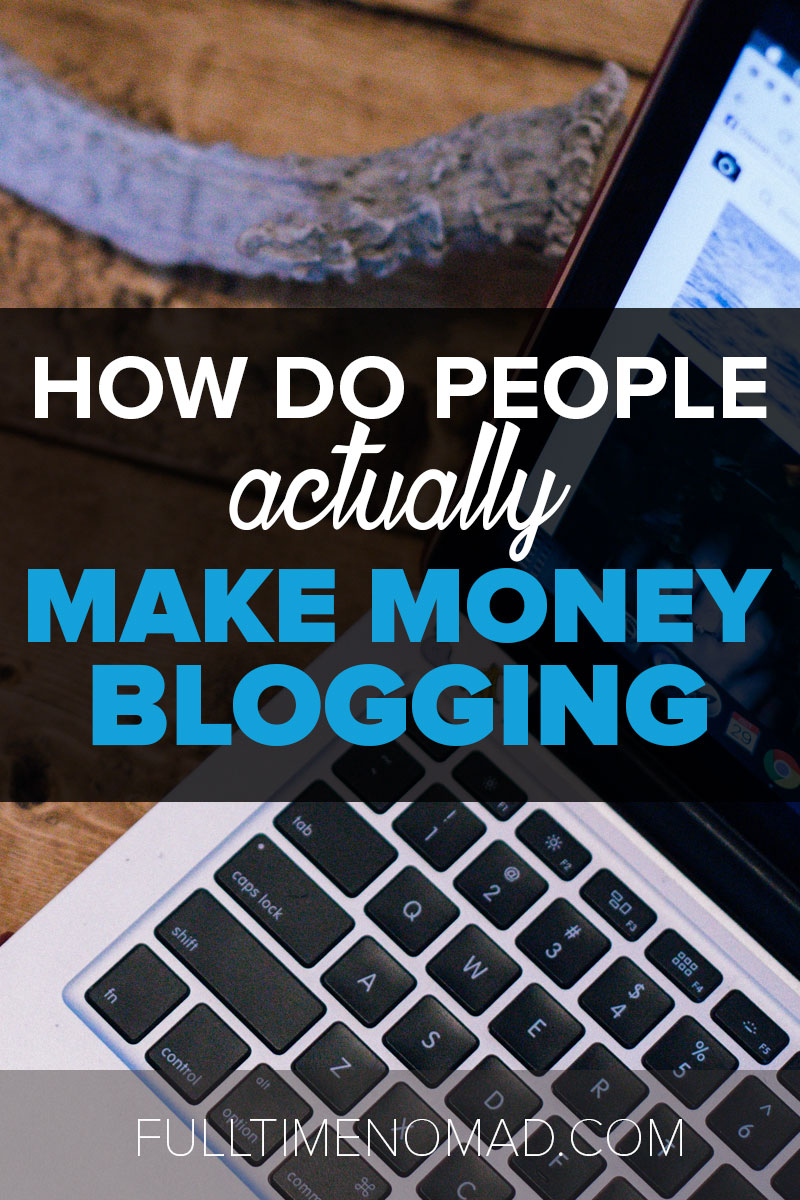 You might also be interested in:
Written by
---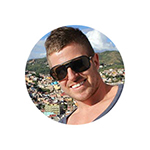 Johnny H.
As the co-founder of Fulltime Nomad, Johnny really believes the world is too big to stay in once place. In 2013 he broke away from his non-location independent job to chase his passion of travel and living abroad. Now he helps others do the same.