Can't afford to just give up your job and hit the road?
No worries. Why don't you just take your job with you?
For all you wanderlusters – there are a variety of jobs out there that allow you experience the world, while also making an income.
Here are seven ideas on how you can make money while you travel.
LEARN HOW TO WORK &

TRAVEL

THE WORLD

FULL TIME
---
Download our FREE guide in seconds!
By signing up, you are agreeing to receive periodic emails from Fulltime Nomad. No spam. Only the good stuff.
1. Teach English
If you're a native English speaker, this is a very lucrative option. A college degree and certification will definitely get you better-paying jobs but in many cases, they're not necessary. Travel to places like Brazil, Japan, Spain, South Korea and many more as an English teacher. Dave's ESL Cafe is a good place to start looking for more information.
Six more ideas to help fund your wanderlust over on SuperheroYou.
Ever worked while you were traveling? What job did you have? Would love to hear about your experience. 
Written by
---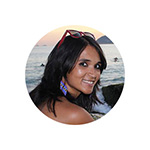 Radhika B.
After turning her back on office life in Australia, Radhika set out to create a life lived on her own terms (a constant work in progress). As co-founder of Fulltime Nomad, she is super passionate about helping others live life with more freedom and flexibility, and a bit of travel thrown in for good measure.