Before ever setting foot in Mexico, one of the things on my travel-to-dos was to go see a Mexican wrestling event. Colourful masks, scantily clad ring girls, and death defying moves – sounds like a winner to me. 😉
Fortunately for Radhika and me, there were no problems finding a show in Guadalajara – a city we called home for 2 months. So on a Tuesday night, we got our tickets and made our way to the Arena. It didn't disappoint. Mexican wrestling or Lucha Libre (freestyle wrestling) as it's known in Mexico was everything I expected and more.
While Lucha Libre is similar to it's American cousin – WWE; it is particularly known for its crazy aerial manoeuvres, bright masks and costumes worn by the Luchadores (wrestlers).
Lucha Libre In Guadalajara
Held every Tuesday and Sunday at Arena Coliseo de Guadalajara, tickets for Lucha Libre can be purchased a few different ways –
Online at Ticketmaster
At the arena itself, or
If you want to have some drinks beforehand and really get in the swing of things like we did, head to the Estacion Central bar (also known as Red Pub) on the night. Here you can buy a ticket that includes admission, a bus to and from the arena and a free beer at the pub before.
The buses leave Estacion Central pub for the arena around 8pm.
We arrived around 7 to ensure we took advantage of the free beer and some more. After about an hour of pre-wrestling drinks, 2 buses arrived to pick up the 50+ plus people going from the pub. We purchased a beer each for the road and hopped on. The trip to the arena took about 20 minutes, which gave us just enough time to finish our drinks.
The Arena Coliseo de Guadalajara
The arena is situated in an older part of town and has loads of character. Around the stadium there are numerous stores selling merchandise like masks, posters and figurines. The inside is old, run down, and very loud as the noise reverberates around the building.
The atmosphere was electric and wasn't at all what I was expecting at a wrestling match. There were rowdy fans chanting against one another, people out of their chairs screaming at the wrestlers, and cheers for every one of their spectacular moves.
 The Mexican Wrestling Experience
The show itself is very entertaining. The luchadores are very skilful and know how to get the crowd into the match. Their moves and acrobatics were incredible, I was amazed how no one was seriously hurt. I also found myself laughing throughout the night, in particular at the gay flamboyant wrestler who no one wanted to fight because of all the awkward positions he would put them in.
The entertainment did not stop there. Between each fight about half a dozen sexy young women in short skirts and tight tops would enter the arena and dance to loud music. I don't know what for but none of the male patrons were complaining.
Another great thing is that you don't ever need to leave your chair to buy anything. Vendors are readily available in every aisle, waiting to take your orders for beer or snacks. Just be careful to ask for your change as our particular vendor tried to get away with a large tip.
The whole night of fighting doesn't actually go for that long, about 2 hours total. After it finished we walked out of the arena to the awaiting bus and were driven back to the pub where we were given drink coupons – great if you are not ready for the night to end.
Lucha libre was one of the highlights of Mexico. It's a fun entertaining night out especially if you have a group of people. If you are in Guadalajara, I would recommend it for sure.
What you need to know:
Where: Arena Coliseo de Guadalajara
Cost: Tickets are 60-130 peso at the door or online at Ticketmaster. 175 peso for a ticket at Estacion Central pub with transport to and from the venue plus a free drink. Buses leave Estacion Central around 8pm so get there early to enjoy a drink.
Have you ever been to a Mexican (or other) wrestling event? We'd love to hear about your experience too. Leave us a comment!
Written by
---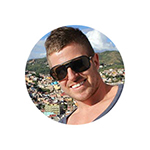 Johnny H.
As the co-founder of Fulltime Nomad, Johnny really believes the world is too big to stay in once place. In 2013 he broke away from his non-location independent job to chase his passion of travel and living abroad. Now he helps others do the same.