A couple of weekends ago we took our first break from Ho Chi Minh City and found refuge in Mui Ne.
Mui Ne is a fishing village turned coastal resort town on the south eastern coast of Vietnam. While not a particularly spectacular beach, it's definitely a good getaway from Saigon and the perfect spot for a lazy weekend.
So what was it like?
For what it's worth, I'll be honest and tell you Mui Ne is a strange place. We've been to several fishing villages turned tourist hubs now – Jericoacoara in Brazil and Taganga in Colombia come to mind straight away. Each of these places have established a certain identity for themselves. Some remain sleepy villages with unpaved roads, some become backpacker hubs, others become party towns while still others become adventure sport meccas. The identity is perceptible straightaway and adds character to these towns.
Mui Ne seems to have various identities fighting for prime place – kitesurfing haven, backpacker stopover, leisure resort town, Russian tourist hub, weekend getaway spot and more. No one particular identity stands out and neither do they seem to gel together to give the town a personality of its own. In fact the laid-back beach town vibe you tend to expect at a place like this is entirely missing.
May be it's still trying to find its identity but for now, the vibe of the town didn't do much for me. May be it was because it was low season but I suspect apart from the number of people in town, not much else changes in Mui Ne in high season.
Oh and strangest of all, Mui Ne is not actually Mui Ne at all! The part of town where all the resorts and hotels are – is actually Ham Tien. Mui Ne is the actual fishing village but this is where the locals live and not where the tourists actually go.
Is Mui Ne worth a visit then?
We had a really relaxing weekend at Mui Ne. And, ate some delicious seafood! If you need a break from Ho Chi Minh City, it's a great getaway. If you're heading south to north (or vice versa) and need a break from the bus travel, go for it. Also, a huge positive was that we had little to none of the usual tourist harassment – possibly because it was low season.
For the more adventurous among you, Mui Ne has also developed a reputation for windsurfing and kitesurfing. Johnny had originally planned on giving windsurfing a go but in the end the lure of a sleepy afternoon on a sun lounger won him over instead.  😉
However, don't tell me I didn't warn you – there isn't much of an actual beach in Mui Ne as a lot of it has been destroyed by erosion and parts of it are filthy.
I highly recommend finding a nice resort and having a few days of nothing. It's the perfect way to unwind. If it wasn't for our resort, I think we probably wouldn't have enjoyed our weekend as much as we did.
What to do/see in Mui Ne
Like I said before, we didn't do a whole lot in Mui Ne. We just wanted to laze and enjoy the beach. Although, we did hire a motorbike ($6 for the day) and did a bit of exploring on one of the days.
Everything in Mui Ne is located along one main strip (Nguyen Dinh Chieu Street) so it's impossible to get lost.
Depending on your interests, things to do in Mui Ne include:
Rent a motorbike to check out the Mui Ne village and market.
Kitesurfing, windsurfing, jetskiing, stand up paddle boarding etc. There are a few windsurfing schools where you can take lessons and/or hire equipment.
Get a massage. There are lots of spots around town. Hotels also offer massage services.
Visit the sand dunes and go sand boarding. We drove to the sand dunes but didn't bother with the boarding. If you do decide to do it, be careful with your stuff as the kids who rent out the boards are known for being petty thieves.
Visit the Fairy Stream.
Check out the fishing boats at Phan Thiet harbour.
Eat delicious seafood.
Lay on a sun lounger and alternate between the pool and the ocean. This one gets our top vote.
Where to eat in Mui Ne
When we managed to get ourselves away from the pool side, we had some delicious food in Mui Ne.
Banh Mi Lady
On our first evening of wandering around town, we stumbled upon this banh mi lady, right outside the Full Mean Beach resort.
If you've been to Vietnam, you know that the pork in the banh mi can be done in various ways – depending on where you're eating it. This lady's banh mi had little grilled pork patties – which we love! She also toasts the bread on the grill for a couple of minutes for extra toastiness.
Mr. Crab on Bo Ke Street
Bo Ke street (seafood barbecue) in Mui Ne is a must-do. There are a number of restaurants and smaller joints set up along the ocean that serve up the freshest catch of the day. We went to Mr. Crab. They have a bigger restaurant down the street, but we chose to go to the open-air establishment by the ocean.
There was a massive array of fresh (and alive) seafood to choose from; including but not limited to prawns, lobster, crab, snakes and frogs. We loved the food here so much we had dinner here on both our nights in Mui Ne.
On the first night we ate some grilled barracuda and grilled crab. Along with a plate of fries, salad and coconut water, it cost us about 300,000 dong (US $15) for the whole meal.
On the second night, we had the barracuda again (!) and two plates of grilled prawns. Prices were similar.
If you like scallops (we don't), that is the most recommended dish to have at Bo Ke street. They are cooked on the grill and served with spring onions and an onion garlic sauce.
Lâm Tòng
Address: 92 Nguyễn Đinh Chiêu
We ate lunch here on our last day and it's worth going here for a very relaxing meal, seated at a balcony overlooking the ocean. Lâm Tòng is next to Mui Ne Backpacker's and a couple of doors down from Joe's.
We ate some prawns, egg rols and chicken vermicelli noodles. The food was pretty good but it's the relaxed vibe and the views that are the main attraction of this place.
Joe's Cafe
Address: 86 Nguyen Dinh Chieu St
We ate some sandwiches for lunch on one of the days and they were ordinary at best but recommend going to Joe's for an evening drink. They have live music every night and it's a really chilled out place to hang out at for a couple of hours.
Where to stay in Mui Ne
Trying to figure out the right place to stay in Mui Ne was a little bit confusing but I'm happy to report we did very well.
We stayed at a bungalow at the Ananda Resort and absolutely loved it!
It's a small resort, with a great pool and right on the beach. Our stay also included a full buffet breakfast. It was clean, comfortable and had the comfiest sun loungers I've ever fallen asleep on.
The beach front bungalows are also right in front of the pool so it could be a bit noisy. We stayed in a garden bungalow and the preferred the quietness and privacy of it.
Unfortunately the beach in Mui Ne is becoming heavily eroded so several of the hotels no longer have any beaches to speak of. Ananda is perfectly located because we actually had a beach to enjoy. This part of town, unlike other parts of Mui Ne (Ham Tien?) still has a beach and it was relatively clean as well.
Most hotels/resorts are located along the ocean and you are definitely better off staying in one of these as the beach can otherwise be a bit difficult to access as the resorts restrict access.
Ananda and a few other resorts on either side of it have more beach but if you're staying elsewhere, you can simply walk down to this part of the beach.
Other accommodation options in Mui Ne
How to get to Mui Ne
We originally intended to take a train to Mui Ne. We went to the Saigon train station the day before our trip and were given a token to wait in line. There were 163 people waiting ahead of us and the queue was moving at snail's pace. We stuck around for about 30 minutes but soon realised we would be waiting 2-3 hours until our turn, so we gave up on the idea of the train.
Train
If you're keen to catch the train, there is one every morning from Ho Chi Minh City that goes to Phan Thiet. From Phan Thiet, it's a short 15-20 min taxi ride into Mui Ne. The train takes 4 hours. Travel agents can help you book train tickets too but I'm not sure if it's possible last minute.
Bus
We ended up taking a bus to and from Mui Ne. There are several every day. For the sake of convenience, we headed to one of the various travel agents in Pham Ngu Lao (backpacker area) and they booked us on a bus for a small fee.
We took an open tour sleeper bus there and back. They're not flash but they're comfortable and air-conditioned. You get a pillow and a blanket too.
On the way there, we were given seats in the back so were able to stretch out quite comfortably. On the way back though, we struggled a little bit to fit ourselves into the sleeper seats that are clearly only designed for smaller people. The bus trip cost roughly US $6 each way.
It took 4.5 hours to get to Mui Ne with a short 10 minute stop in between. We were told that the bus drops you off at your hotel. However, they drive straight to a restaurant first and insist you have lunch there and then the bus will drop you off. We declined and caught a taxi (5 minute ride) to our hotel instead.
On the way back, the bus picked us up from the hotel (40 minutes late). Don't be surprised if they are late but have a phone number handy in case you need to call someone. It took 5 hours to get back to HCMC with two short breaks along the way.
Mui Ne isn't one of our favourite places but you know what, a lot of other people really love it. We didn't hate it but we didn't love it either. Travel can be like that – different people have different reactions to places. Despite its strangeness, I will always look back at Mui Ne as one of the most relaxing weekends we've had (it helped that we didn't bring our laptops with us). So you know, go and experience it for yourself and make up your own mind.
Have you ever been to a place that was just so-so for you? Where the vibe just didn't do it for you? Tell us more.
Written by
---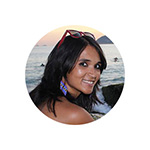 Radhika B.
After turning her back on office life in Australia, Radhika set out to create a life lived on her own terms (a constant work in progress). As co-founder of Fulltime Nomad, she is super passionate about helping others live life with more freedom and flexibility, and a bit of travel thrown in for good measure.