If you love all things internet and probably even know a thing or two about marketing then perhaps it's time to consider working as a digital marketer.
If it's been your dream to find a job that lets you travel the world, going for remote digital marketing jobs is certainly a good direction.
Freelance digital marketing jobs allow you to easily work from a coffee shop, at home, or anywhere you please.
So what can you do as a freelance digital marketer? Here are a few job categories within remote digital marketing jobs:
86 Ways to Make Money Online
Download our free guide on legitimate ways to make money online in 2021
By signing up, you are agreeing to receive periodic emails from Fulltime Nomad. No spam. Only the good stuff.
To succeed as a freelance digital marketer, you definitely need clients. So to help you get started, we have for you a full list of resources that you can use to find digital marketing remote jobs today.
Related posts:
But first, if you haven't quite got the skills yet and want to brush up on your digital marketing knowledge – you can easily do so with a variety of online courses.
Best Courses for Wannabe Digital Marketers
The digital marketing world is constantly changing making it very important for every freelancer who wants to excel in it to keep expanding their skill sets.
Before you start looking for clients, consider taking a few courses to expand your knowledge especially if you have no experience in digital marketing.
There are quite a number of online courses that you can take free or for an affordable fee to keep you at the top of your game.
Let's take a look at a few good ones:
1. Copywriting skills
Courses on Udemy:
Courses on Courses on Skillshare:
2. Email marketing skills
Courses on Udemy:
Courses on Courses on Skillshare:
3. Social media marketing skills
Courses on Udemy:
Courses on Skillshare:
4. PPC and SEO skills
Courses on Udemy:
Courses on Lynda:
See also: Best Online Course Providers: Learn the Skills You Need to Become a Digital Nomad
Top Resources for Remote Digital Marketing Jobs
As a new freelancer, the best place to find digital marketing freelance jobs is on popular online freelance job sites.
There are quite a number of freelance sites that you can try out. Some are really good, while others are really up to no good.
Before you join a site do some background research to make sure that it's worth your time and effort.
To save you some precious time, here's a roundup of some of the best freelance sites where you can start finding remote digital marketing jobs today:
See also: How to Become a Digital Marketer & Travel the World
1.
Upwork
Upwork is one of the biggest, if not the biggest, freelance jobs site. The site has jobs for every type of freelancer that you can think of. That includes digital marketers.
There are thousands of digital marketing jobs such as social media management, blogging, email marketing, PPC jobs, content writing, online community management and so much more.
Jobs available on Upwork are both short or long-term and available on either hourly or per-project basis. It doesn't matter whether you're a newbie or an expert in your field, there's something for everyone on Upwork.
As with any huge site, competition is high so you have to create an impressive profile, bid for the right jobs and write a really good job application to beat out competition.  
See also: How to be Successful on Upwork: Your Complete Guide to Freelancing
2. FlexJobs
FlexJobs is another popular site that is similar to Upwork. The site has numerous freelance digital marketing job opportunities for those interested. Jobs on the site are available on full time, part time or remote basis.
FlexJobs is particularly popular because it screens the jobs advertised on the site to weed out scams. So often than not you're guaranteed that any job available on the site is genuine.
The site however, comes at a fee for this kind of premium service. You can either pay subscriptions monthly ($ 14.95), quarterly ($ 29.95) or yearly (49.95).
See also: Sites like Upwork & Freelancer: 16 Similar Alternatives
3. Freelancer
Freelancer just like Upwork and FlexJobs sees hundreds of jobs posted daily. Just like these two sites you're required to create a profile on Freelancer to land jobs. However, on Freelancer, instead of bidding for the digital marketing jobs available, you will be required to participate in contests in order to win the jobs.
This may seem like too much work, but, it's a great way to showcase your skills and even if you don't win one job, you may impress the client enough to offer you the next job.
Freelancer is a great site for digital marketers who have a competitive edge and are not scared to put their best work forward.
4. Craigslist

Craigslist isn't just a site to find cars, houses, flatmates etc. you can also find lots of genuine digital marketing jobs.
A lot of small business looking to hire quickly without the hustle of using jobs boards will normally turn to Craigslist to find freelancers.
It can pay off spending an hour or two daily searching for relevant jobs, you might just land yourself your first client here.
Word of caution though, exercise due diligence when engaging clients on Craigslist. Do some background research on the client before you accept any work just to make sure they are genuine.
To also make sure that you get paid, as the site doesn't monitor payments unlike the jobs boards, have the client sign a contract before you begin working with them.
5. LinkedIn ProFinder
LinkedIn ProFinder is a marketplace for professionals. The site matches freelancers with companies that have jobs available.
Though quite new, the platform has a growing number of freelance jobs including digital marketing jobs.
What makes this website easy to use is that it pulls information from your LinkedIn page and creates your resume instantly.
To find jobs on LinkedIn ProFinder, you need a LinkedIn account first. Then apply to be a professional (referred to as 'pro') on the site. It will normally take between 3-5 days to have your request reviewed. Once accepted, you can start submitting your application to available jobs.
The site is unfortunately, currently only available to businesses and freelancers in the U.S. Hopefully this will change as the site gets bigger and popular.
6. People Per Hour
People Per Hour features all types of freelance jobs that freelancers can bid for. Though bidding for jobs can be tough because most clients will pick freelancers with the lowest rates, as a beginner you will find lots of digital marketing jobs that you can work on and gain experience.  
As you gain more experience you can post your services (referred to as "hourlies") and sell them to clients at your preferred rates.
To get started simply register on the site free and then create your online portfolio on the platform. You can then start bidding for jobs and also sell your hourlies.
7. Guru

Guru attracts freelancers with various skills based anywhere in the world. As a freelance digital marketer you can find various jobs suitable for your skill sets and experience level.
Search for digital marketing jobs under the sales & marketing category. You'll then find digital marketing such as AdWords, PPC, SEO, Internet Marketing, analytics, etc.
The number of jobs on Guru are not as many compared to other freelancing websites. However, the advantage is that the few available jobs on the website have a higher quality, with better pay.
The site is growing in popularity and you have to create a really good profile if you want to land the best jobs on the site. Take advantage of the site's feature to showcase your past work experience.
The site also matches freelancer with relevant jobs daily allowing you to keep up with new jobs whenever they are added.
8. Working Nomads
Working Nomads is a site dedicated to digital nomads who want to travel while working. The site curates remote work opportunities from companies that allow employees to work from anywhere around the world.
There are plenty of categories to choose from including marketing, sales, development, legal, writing, management, etc.
The site lets you subscribe to job notifications in a category of your choice, this would be marketing for you. You will then receive daily job alerts on available remote digital marketing jobs delivered right to your inbox. This service is free.
9. Inbound.org
Inbound.org is not a jobs board per se but more of an online community for marketers. The site members however, will post available marketing jobs from time to time.
Why is it good for you?
As a newbie you need to fully understand the digital marketing industry and there is no better way to do so than being in a community of industry experts.  
Inbound.org is a great platform to find curated articles and tips relating to the digital marketing world.
10. SimplyHired
SimplyHired curates freelance jobs from around the internet. This gives the site an expansive selection of jobs. Jobs on the site are constantly updated giving you a better chance of finding a suitable digital marketing job.
You don't have to join the site to start finding jobs simply run a quick search using date, relevant keywords, company name, your education or experience. The site will then generate the most relevant listings for you.
You can still choose to join the site for free and post your resume on the site, sign up for email alerts and save your searches to apply to jobs later.
11. Remotive.io
Remotive.io posts jobs from companies looking to hire remotely. Most of the jobs are from startups and tech companies. Job categories on the site include marketing, sales, engineering, human resources, and a few other areas.
Each job listing also includes contact and social media information of the hiring company to make application for the job easy for you.
12. Remote OK
Remote OK is another great site for freelancers who are interested in becoming digital nomads. The site curates remote jobs only. The site is updated on a daily basis.
You can find all kinds of remote digital marketing jobs by simply searching the site or subscribing to daily email alerts.
13. CloudPeeps
CloudPeeps is an online platform that connects freelancers with businesses looking for the best remote work talent.
To find clients offering digital marketing jobs you have to join the site and become a 'peep'. You can then add your services and set your hourly, one-time or fix rate. You can also search for jobs by category, type of work, salary range and availability (full time, part time etc.).
While joining the site is free, unfortunately, with a free account you can only send up to 3 proposals per month. For $19/m you can send 10 proposals or choose to pay $49/m and send unlimited proposals.
14. Indeed
Indeed is a popular jobs board that curates jobs from UK and US businesses. The site covers an extensive range of job categories including customer service, writing, date entry, graphic design, legal, finance and certainly digital marketing.
You don't have to create an account on Indeed you can simply search for jobs using categories, keywords, location or salary range. You can also get daily job notifications from the digital marketing category in your inbox if you subscribe to the site's email list.
15. Mashable Jobs Board
Mashable Jobs Board is the official jobs board by Mashable a popular digital media site. This is a perfect place for freelance digital marketers to find jobs as it's dedicated to connecting digital marketers and social media managers with relevant clients.
See also: Social Media Management Jobs: 15+ Resources for Finding Freelance Social Media Marketing Work
Digital Marketing Groups
Joining relevant social media groups is another fantastic way of finding digital marketing jobs. The advantage of finding clients on social media groups compared to freelancing job sites is that clients here tend to pay higher rates. You also get to save on freelancer fees charged by the online sites.
There are so many groups on Facebook and LinkedIn. Find a few relevant ones and join them. The secret is to identify your ideal client and then ask yourself what kind of groups would they be interested in. These are the ones you should join.  
Groups are also great for networking and meeting other digital marketing freelancers and industry leaders. You get to learn from the experts.
Let's take a look at some popular ones that might be of use to you.
Disclaimer: These are some groups that have been recommended to us but we have not tried these particular groups ourselves.
Facebook Groups
Digital Marketing Questions:

This niche Facebook group is great for new freelancers who are just starting out in digital marketing. You will find lots of useful tips to help you understand the industry and do your job effectively. Whether you have questions regarding SEO, Social Media management, PPC, analytics, copywriting etc. you will find willing experts to answer you.

The eCommerce Group

: This private group targeting eCommerce experts, vendors and online store owners. Members discuss digital marketing topics such as  SEO, social media strategy, eCommerce best practices etc. to help store owners run effective businesses. 
LinkedIn Groups
Finding a digital marketing client doesn't have to be so hard, you simply need to take advantage of all the resources available to you and put in the work.
With this extensive list of freelance digital marketing jobs resources you should be on your way to winning your first client!
Have you found your first digital marketing client already? Which job hunting strategy did you find most useful?
Like this article? Share it on Pinterest.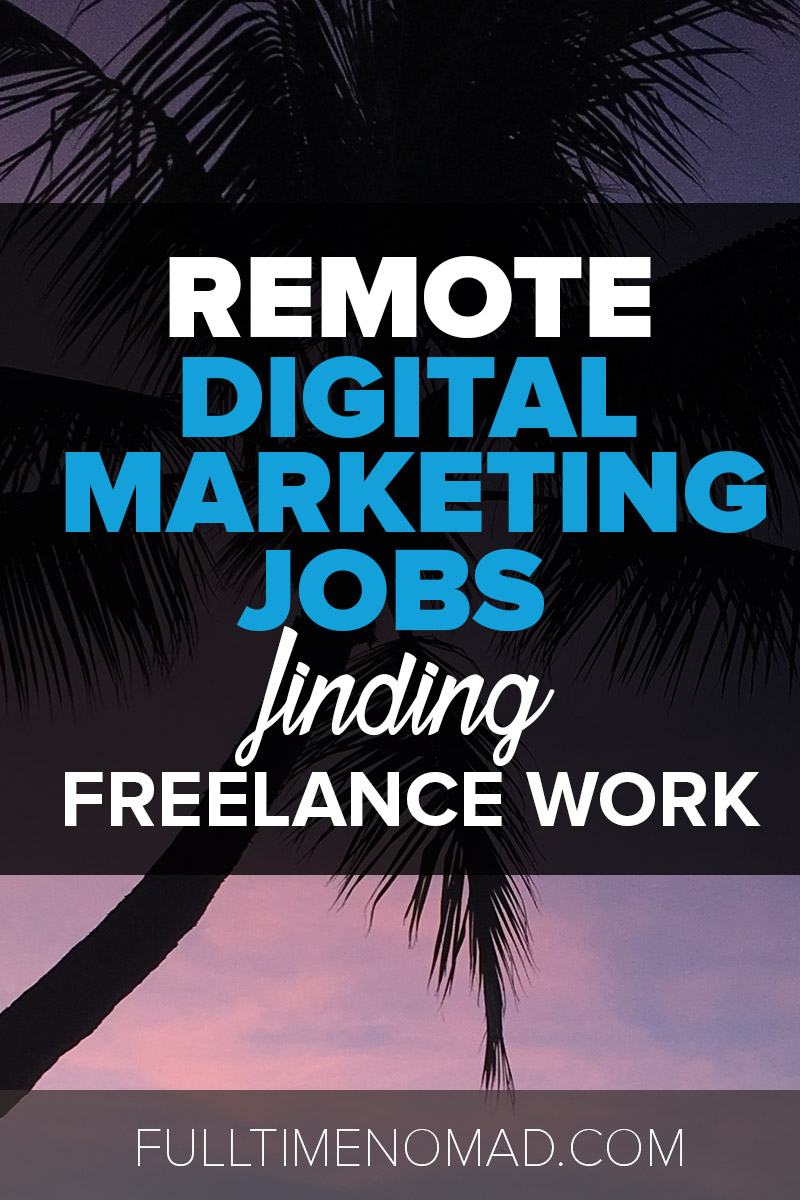 You might also be interested in:
Written by
---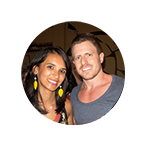 Fulltime Nomad
Fulltime Nomad is your passport to saying no to normal, and yes to a life of unlimited travel. Founded by Radhika & Johnny, this blog will help YOU take that big scary first step towards building your own freedom lifestyle. Are you new? Start here.