Traveling is all about exploring and seeing new and exciting places. The problem most people have when visiting a city is that, getting around is usually limited to walking, public transport or organised tours. Unfortunately, this can only get you so far.
To really see a city you can't beat renting a scooter or motorbike. The freedom to explore places off the beaten path is priceless.
While renting a scooter in Chiang Mai is relatively cheap and painless, it is fraught with dangers that you need to be aware of; dodgy dealers, faulty bikes, inadequate insurance and corrupt police are common. Thankfully I managed to avoid almost all of these dangers and ended up having many amazing travel experiences with my rented scooter.
Where to Rent a Scooter in Chiang Mai
There are dozens of places throughout Chiang Mai where you can rent a scooter. The highest concentration of these can be found within the old city and around Tha Phae Gate. With so many people offering to rent scooters, who do you choose?
86 Ways to Make Money Online
Download our free guide on legitimate ways to make money online in 2021
By signing up, you are agreeing to receive periodic emails from Fulltime Nomad. No spam. Only the good stuff.
If you are looking for a recommendation then I highly recommend Mango Bike Rental. The most important thing when looking to rent a bike is quality. Mango's bikes are well looked after and always in good condition.
What to look out for
While you might be tempted to go for best price, it is far more important to chose a place that is trusted and reputable. After all, a scooter can be dangerous and expensive is something were to go wrong.
A reputable dealer will have a large selection of scooters/bikes. They will take the time to answer any questions you may have and explain the differences in the types of bikes.
The bikes will be in good condition and have proper tread on the tyres.
I would also check online to see if they have a website and any reviews or feedback about their service.
Tip: If there is any damage on the bike make sure you ask for them to write it down on the contract. What can happen is that when you return the bike they ask you to pay for damage even though it was done prior to you renting it out.
What to check before renting your scooter
Body Damage
Check the whole bike for any signs of damage, scratches, dents, marks write them down and take pictures if possible.
Tires
Make sure that the tires are in good condition and have proper thread. The roads can be very dangerous in Chiang Mai, especially in the wet season.
Test Drive
Take the bike for a quick test drive. Check to see that all indicators and lights work and that the brakes function properly. If you don't feel comfortable or something doesn't feel right, ask for a different bike.
Helmet
Get a helmet that fits properly. Make sure there are no cracks or any major signs of damage. Ask for a full helmet rather than a skull cap as these only provide minimal protection.
Fuel
Check to see if the tank is full. Generally most places will rent the bike out with a full tank and expect it to be the same upon return. Know what type of fuel to use and how to open the tank.
Insurance policy
Pay for insurance! I can't stress this enough. Then understand exactly what the insurance covers. Does it cover 3rd party damage and damage to your scooter? Does is cover theft? Make sure you ask all these questions before taking the bike out on the road.
In case of emergency
Find out what you need to do in the event of a breakdown, accident or theft. Do you need to inform the rental company straight away? Do the police need to be informed? Make sure you are given an emergency contact and keep it on you at all times.
Scooter Rental Company Recommendation
As mentioned before we recommend Mango Bike Rental. These guys have been around since 2012 and have a great reputation in Chiang Mai.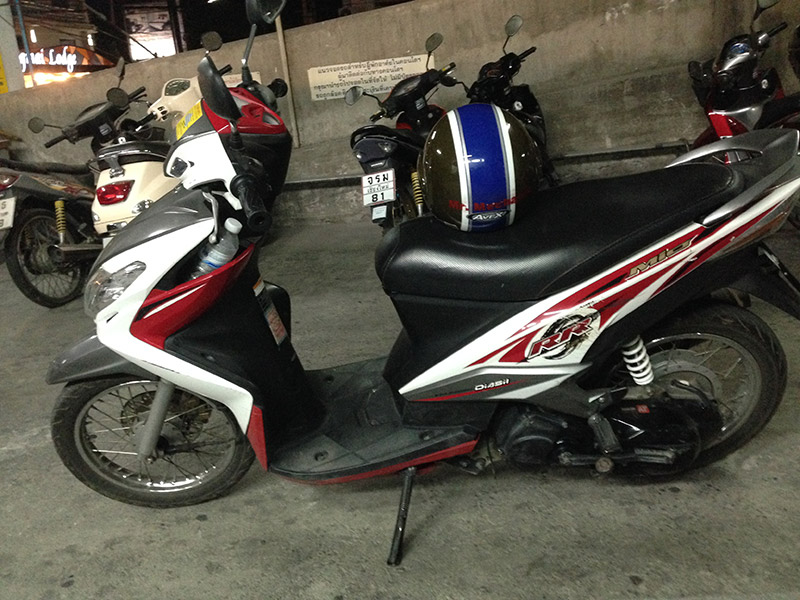 The Cost of Renting a Scooter
Renting a 125cc scooter per day with insurance will cost between 200-250 Baht (8-12 USD). If you take it for a longer period you can negotiate a price, for example I rented my 125cc scooter for 2500 (70 USD) for one month. Prices vary slightly from place to place but generally I found them all to be pretty similar.
What you Need to Rent a Scooter
To rent a scooter you will need:
Current drivers licence
Cash or credit card to pay
Passport (or cash for a deposit)
Address and contact of hotel or accommodation
If you can provide all of the above then you are good to go. They will write you out a contract that you have to sign and that's pretty much it. Make sure you read the contract!
Do I Need an International Drivers Licence?
To hire a bike or scooter you do not need an international drivers licence. However, if you are unlucky and get pulled over by the police like we were, they will fine you or ask for a bribe if you don't have one. Look out for frequent police road blocks targeting tourists, you have been warned!
Although there are a number of precautions you need to take when renting a scooter, it is totally worth it. The freedom it gives you to explore a city makes the traveling experience so much more fulfilling. Just make sure you choose a reputable dealer, avoid the police and drive safely on the roads.
Have you rented a scooter in Chiang Mai or anywhere else? What was your experience like? Let us know in the comments.
Written by
---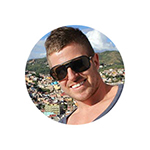 Johnny H.
As the co-founder of Fulltime Nomad, Johnny really believes the world is too big to stay in once place. In 2013 he broke away from his non-location independent job to chase his passion of travel and living abroad. Now he helps others do the same.