For any business, having an email address with your own domain name is massively important.
Not a Gmail address, not Yahoo and definitely not a Hotmail.
I'm taking about something like [email protected]
Why is this such a big deal?
86 Ways to Make Money Online
Download our free guide on legitimate ways to make money online in 2021
By signing up, you are agreeing to receive periodic emails from Fulltime Nomad. No spam. Only the good stuff.
Well it actually says a lot about you to a potential client or customer.
Think about it.
Let's say you were contacting a business and their email address was [email protected]
I don't know about you, but I'd be like what's with the gmail?
Does this guy even have a business or is he just doing this as a side hustle in his mum's basement?
Now compare that to an email address with a custom domain like [email protected]
Now this is a lot better. It seems like this guy has got it together. He has as a legit business you'd feel confident that you're hiring a professional.
Point being, If you want to be taken seriously as a business owner, and you want to be seen as a professional, then it's time you create an email with your own domain name in it.
Related posts:
What you need to set up an email with your domain name
To set up an email address with your own domain you are going to need 2 things:
A domain name e.g. www.yourcompanyname.com
Email hosting or web hosting.
So what's the difference between email hosting & web hosting?
Email hosting is a service that provides email accounts and management via email servers. Basically if you have a domain name and want to use an email with that domain, you need some kind of email hosting.
Web hosting on the other hand provides you with domain management, website hosting and your email hosting. Basically everything you need to have a domain name, a website and a customised email address.
Now the reason I'm even mentioning web hosting is because if you don't have a website, it's probably time you had one.
If you have a business, I honestly don't see the point in having a contact email like [email protected] for example, without an actual website to visit as well.
Additionally, there are many other reasons you need to have a website for your business. Check out this post to see exactly what I'm talking about.
Now if you want to get set up with web hosting we highly recommend Bluehost. Not only did we set our very first site up on Bluehost, but you also get a free domain and unlimited email addresses included.
It's very user friendly especially for non techies and it's really affordable. Their plans start at like $3.95 a month.
I have written an article showing exactly how to set up get your domain name and set up web hosting via Bluehost in 3 simple steps.
It's very easy and the how process will take around 10-15 minutes.
After you have your domain and web hosting in Bluehost, then you can create an email address with your domain in it. Most hosts will usually include free email hosting within the plans.
How to set up an email with your domain name via Bluehost
For this article I'm going to show you how to set up your email address within the Bluehost control panel.
Now even if you are not using Bluehost for your hosting, the process is going to be very similar.
Once logged in, go to email.

Next click create an email address.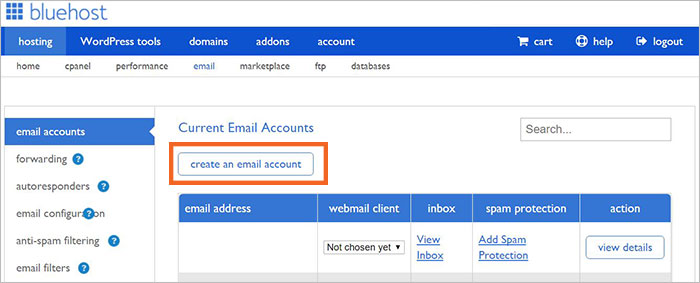 Type in the email user name you want to create. This could be your name or it could be hello, info, support etc.
Then select the domain on your hosting account.
Next type in the password you want for that user. Retype the password to confirm.

Click create account and you're done!!
Once you have created an email you will see your new email address listed here:

How to access your email account
To access your email account go to emails accounts. Click view inbox.

Here will be prompted to login in.
Type in your email address and password. And that is it!
Once you have logged in you will be able to manage all your emails for the new custom email account you have just created.
I hope you found this article useful and if you have any questions please leave them in comments below.
Like this post? Share it on Pinterest.
Written by
---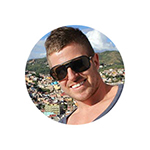 Johnny H.
As the co-founder of Fulltime Nomad, Johnny really believes the world is too big to stay in once place. In 2013 he broke away from his non-location independent job to chase his passion of travel and living abroad. Now he helps others do the same.