There are so many people who want to join the freelancing world and live a life of freedom. This is in fact, a good thing since the way we work is now changing. The problem is that they jump right in without giving much thought to the kind of skills they have and want to offer to clients.
With platforms like Upwork now becoming more selective about new freelancer admissions, you have to make sure you create a good quality profile that highlights your skills.
So many people have written to us about their profiles getting rejected and asking for tips on how to get their profiles accepted.
Our number one advice is always to put the effort in right from the beginning because a poor quality and incomplete profile may mean you won't even be accepted to the platform.
Follow our tips on How to Create an Upwork Profile That Gets You Clients, FAST.
Top skills on Upwork
Upwork is continuously making effort to provide clients with freelancers who offer relevant and current skills. To make this happen, Upwork conducts an annual survey to find out the most in-demand skills in the freelance job market so definitely keep an eye on that survey.
We also wrote an article discussing the skills we think will be valuable as you enter the future workforce. You can check out the rest of the top skills here: The Most In Demand Skills of 2018 – Digital Marketing, Tech & IT Skills.
Understanding the most sought-after skills is very important especially if you're just starting out on Upwork. You want to make sure that you have an edge over other newbies and there's no better way to do so than to offer a skill that everyone wants!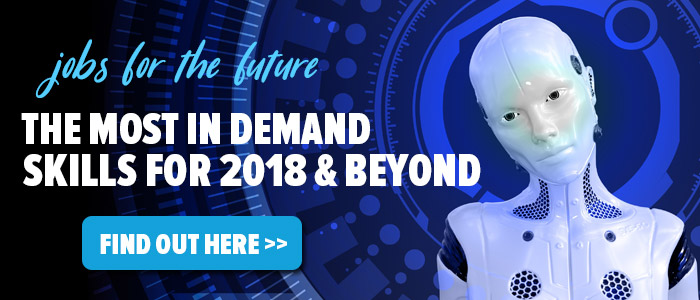 Related posts:
5 must-have skills to become an in-demand freelancer on Upwork
While the above-mentioned skills are popular right now, there are other more basic skills that are necessary to be able to effectively work and collaborate online, regardless of the service you're offering.
So in additional to your professional skills, these are five others skills you should definitely spend time working on:
1. Microsoft Office
Microsoft Office is one of those things that has refused to go away. Even as technology continues to advance, there's still use for Office products. We just can't escape Word, Excel or Powerpoint.
Lots of clients still work with Office products, so at the bare minimum, you should know how to use a Word document, work with Excel and create presentations using Powerpoint. Even if you are skilled in using cloud applications such as Google Drive, perfect your skills for the good old Microsoft Office.
2. Cloud tools such as Google Docs & Dropbox Office
Clients on Upwork will normally be interested in hiring people who are able to work remotely. As such, they will be sharing and editing documents with you via Google Drive or Dropbox. You might need to keep your work organised with tools like Asana or Basecamp.
As a digital nomad, you'll find yourself moving around often and relying on your laptop to get your work done.  Being able to use such cloud tools will front you as a convenient freelancer to work and collaborate with.
Getting started on most cloud tools is very easy. If you have a Gmail account, you can automatically get access to Google Docs. You can easily learn how to use these tools by accessing online tutorials offering step by step guides.
3. Online communication
Communication is one of the most important qualities used to rate both clients and freelancers on Upwork. Online communication skills are a must if you want to excel as a freelancer.
Good communication makes working and collaborating virtually, easy and efficient. Communication includes the ability to express yourself in a pleasant and understandable manner. A lot of online communication will be done via chat or email. So you have to make sure your written communication is good too.
4. Organisation
As a freelancer, you'll be your own boss so you run your own agenda. Unlike a traditional job where you'd have only one client/boss, when it comes to running your own freelancing gig – you'll likely have several clients.
Your ability to stay organised is crucial. It will help you work with multiple clients and deliver high quality work within set deadlines. This will help you keep track of work done as well as payments earned.
5. Time management
Procrastination and distractions are quite common when you're own boss. You can easily get sidetracked and lose your productivity. Time management skills are very important if you want to make working on Upwork a full time thing.
Managing your time effectively will help you work on your projects within the deadlines that clients set for you. Delivering work on time makes you a reliable freelancer that clients will want to work with.
These are just a handful of the skills that you require if you want to succeed on Upwork and get your life as a freelancer going.
Want to know which skills are handy for freelancing and working from anywhere? Here's a list of 25 money making digital nomad skills that will help you work from anywhere.
If you don't have any of the skills mentioned above, don't worry. You can easily acquire them by taking online courses. We have a fully detailed article on the best online course providers that can help you learn the most popular skills for freelancers wanting to become digital nomads.
Now back to Upwork 🙂
How to fill out the Upwork "experience" field effectively
So anyway, once you have these basic freelancing skills sorted it's time to bring our focus back to Upwork.
When you register your profile on Upwork, you will be asked 3 questions to help assess your skills and experience:
The first question refers to the category of work you do – What are the main services you offer to clients?
To help illustrate the point, I've picked Web, Mobile & Software Dev.


The next question is to help you further refine and niche down your category of work.
You can choose up to 4 subcategories but be sure to only pick ones that are relevant. What type of Web, Mobile & Software Dev do you do? Could be mobile development, desktop software development, QA & Testing and so on.


The third question is: What skills do you offer clients?
This is the question that seems to confuse a lot of people so we're going to expand on this further.
All you have to do in this section is add skills (I like to refer to them as skill tags) to your profile. You can add between 3-10 skill tags.


See also: How To Make (More) Money On Upwork By Finding Your Niche
Why add skills to your Upwork profile?
Adding your skills is very important when you register on Upwork. This is the section that tells whether you have the skills that clients on the platform are interested in.
Adding your skills, therefore, shows your expertise and increases your chances of getting your profile accepted.
Some clients also list the skills required for particular jobs that they are advertising. Listing your skills on your profile will help to get you matched to relevant jobs.
Skills also act as keywords and increase the chances of clients finding your profile first.
Remember to only add the skills that are relevant to your niche. So, in the above example. if you set your subcategory as mobile development ( a few of the skills you could add could include iOS, Android, Java, PHP and so on.
Upwork allows you to add up to 10 skills.  We highly recommend that you make use of the 10 and add in as many relevant ones that you can.
What skills should you add to your Upwork profile?
So how do you know what skills to add? These are my top 3 tactics to help you figure it out.
Tip 1: Use keywords
Begin by thinking about the words/ phrases that people use to describe your skills. Consider also relevant words that people often use interchangeably when describing your skills. These will be the words that clients are most likely to use when looking for someone with your skills. So these are the words that you want to use when adding your skills.
So, for our Front-End web developer, good skills would include:
iPhone app development
Mobile programming
Swift
Javascript
Tip 2: Search job feed for relevant skills
This link https://www.upwork.com/i/job-categories/ will come in handy when you're deciding on the skills to add to your profile so bookmark it right now.
When you open the link you should see this page: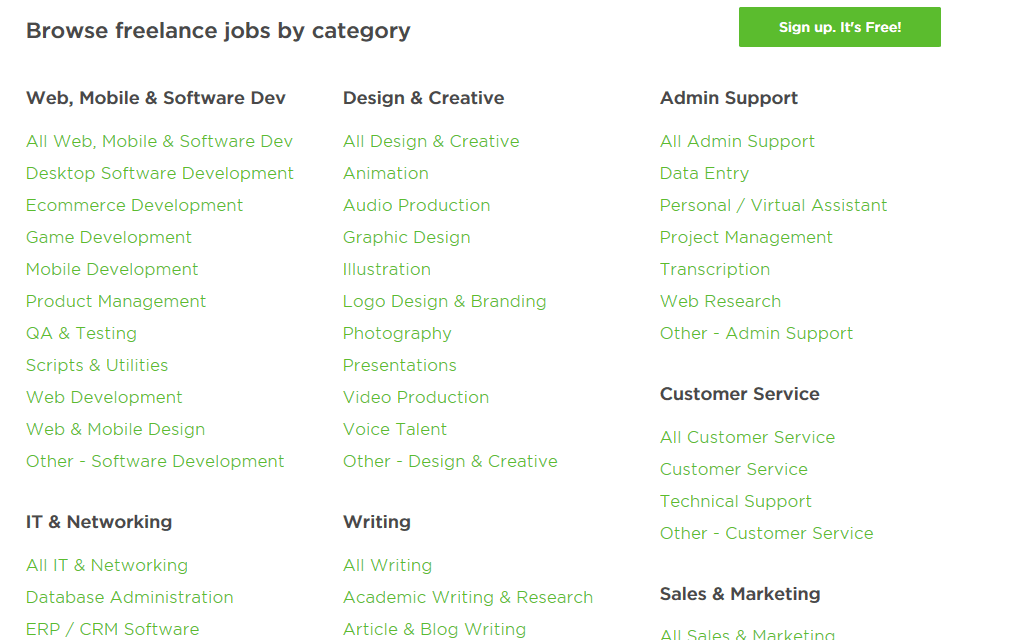 As you'll see, the page lists ALL the jobs on Upwork, divided into specific categories.
The next step is to find the category that is most relevant for your chosen niche and click on it.
So here we go with mobile development.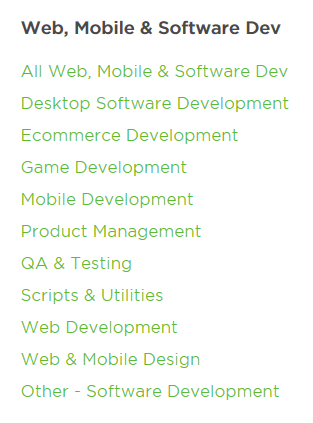 When you click on the chosen category you'll then see a list of available jobs in that category. Remember to do this when you're logged into Upwork.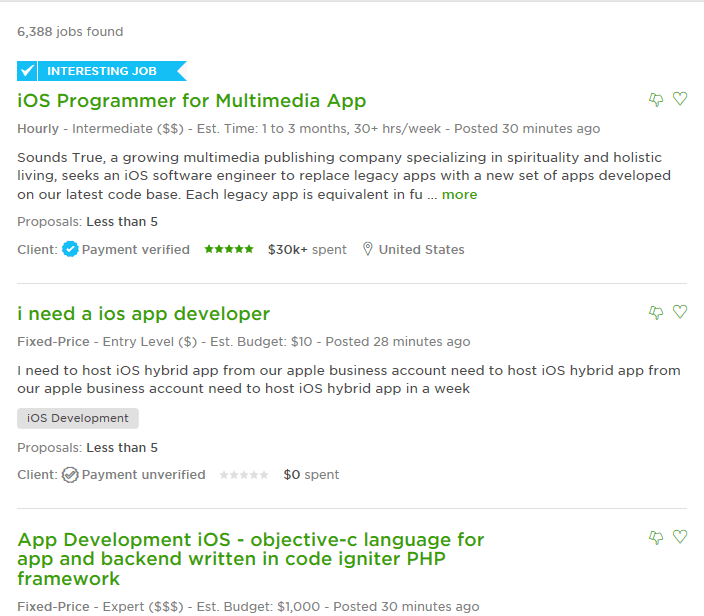 Scan quickly through the listed jobs checking for other relevant keywords that clients have used to describe what they are looking for.
Write down every skill that seems important and relevant to your niche. You're better off having a long list to choose from.
Tip 3: Check clients' skill tags
As you are scanning through the jobs in your category, keep an eye on the skill tags added by clients. Clients will normally add specific skills they are looking for to their job ads. The skill tags are great because they show you what clients in your niche are looking for.

If you see a relevant skill that was not on your list, be sure to add it. From the job example above,  AppleXcode is a good skill to add to the mobile development list of skills.
You don't need to scan so many jobs, a basic search to identify popular skills is good enough.
Once you're done finding all the relevant words/phrases, now it's time to pick the most popular 10 that adequately describe your skill set. You can then go ahead and add the skills to your profile. Make sure that you spell your skills correctly.
Freelancing is growing by the day and the market is already flooded with freelancers looking to bag the best clients. For this reason, clients are now increasingly demanding skilled freelancers.
Ready to Succeed on Upwork?
Have you been struggling to make a footing on Upwork? Check out these online courses that teach you how to beat the competition on the platform:
Upwork courses
To be successful on Upwork, it is important that you focus on creating a quality profile that highlights your skills and experience to potential clients. If you are not yet confident about your skills, I recommend upskilling and taking some courses to get better at what you do before you sign up to Upwork.
What skills do you offer clients on Upwork? We'd love to know how you showcase yourself to clients. Let us know in the comments box below.
Written by
---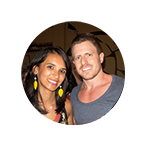 Fulltime Nomad
Fulltime Nomad is your passport to saying no to normal, and yes to a life of unlimited travel. Founded by Radhika & Johnny, this blog will help YOU take that big scary first step towards building your own freedom lifestyle. Are you new? Start here.