Rhonda and her husband are digital nomads traveling through the Americas in their Adventurer truck camper. They plan to drive the entire Pan-American Highway from Oregon to Patagonia and are currently making the most of their time in Guatemala and Mexico. !
We truly believe there is no better way to learn about a new city, new country or a new culture than living there. Our Living Abroad series is designed to tell stories of living overseas and show people that the world is really not such a scary place. We hope it inspires more people to pack up their bags, travel slow and see what it's really like to live in a different place. If you'd like to tell your story, there's more information at the end of Rhonda's story.  
Here's what Rhonda had to say about their digital nomad life in a camper van.
1. Where do you live?
Well, we officially live in our Adventurer truck camper (on our Toyota Tundra)! We have been nomadic now for nine months, traveling all throughout Mexico. We just entered Guatemala this week, but are actually heading back to Mexico the end of the year for more of one of our favorite countries.
86 Ways to Make Money Online
Download our free guide on legitimate ways to make money online in 2021
By signing up, you are agreeing to receive periodic emails from Fulltime Nomad. No spam. Only the good stuff.
2. Where are you originally from and what did you do before?
We are from Oregon (although I grew up in Minnesota). Jim worked in a variety of industries, but all revolved around sales. I was in the travel industry for 25 years.
3. What work do you do there?
Most recently, Jim worked for a company that sold security systems, DVRs, and such. I had worked for the same travel company for 17 of 19 years (the time in the middle when we backpacked around the world in 2007-2008) and prior to that worked for a Mexico wholesale travel company and also a Hawaii tour operator.
4. What does a typical day look like for you?
Most days we are up fairly early. Aspen and I are early risers, and poor Jim is then forced to get up too! I take Aspen out, feed her, and make coffee. Then we usually take our to-go cups and head out for a walk along the beach (my favorite!) or hike in the hills, depending on where we're at.
Next up, most days we try to do some yoga, as we always feel better for it. Breakfast, and then we get to work. We work for a few hours, take a nice long lunch to play with Aspen and enjoy wherever we're at, and usually work for a few more hours. By 4pm we're generally pretty much done. More play time with Aspen, happy hour, and the inevitable discussion about what to have for dinner. THIS, Lol, is our favorite talk of the day!
Usually at least a few times a week we spend half of a day sightseeing. Whether this means climbing the Pyramid of the Sun at Teotihuacan, spending a couple hours at a café in Patzcuaro, or drinking beer on the beach, it's all the bonus of the nomadic life.
And then there are travel days. Even back in our backpacking days, we generally had to mentally prepare for travel days. The best of travel days means there are no breakdowns, no terrible roads, and you get to your next destination approximately when you thought you might. The worst of travel days involve being pulled over, nearly impassible roads, terrible weather, and so on. Luckily, most of our travel days are tiring, but otherwise on the good end of the spectrum.
5. Why did you choose Mexico?
We are actually driving the entire Pan-American Highway from Oregon to Patagonia. Mexico is, of course, the first country en-route! We have visited this amazing place dozens of times on holiday, but are finding it even better spending so much time here.
The culture and history are fascinating, the people friendly, and the climate extremely diverse. We have experienced deserts, beaches, high mountain lakes, and elevations above 9000feet. The food is a delight, and although we greatly miss the amazing craft beer of the Pacific Northwest, we are finding more options than on previous trips.
6. What do you love about living in Mexico?
Well, first of all, we LOVE the people of Mexico. It's so sad to us that the current warnings about the safety are so widely, and inaccurately, reported. We feel much safer in Mexico than in the United States, and anyone reading actual statistics, instead of falling for media nonsense, will understand this.
We also love the laid back way of life. The day to day life is much more integrated between work and home life, without the frenzied attitude of the United States, and the "living for the weekend" mindset. And, who doesn't love street tacos? And empanadas? And fresh limes and mangoes and avocados literally dropping from the trees around you? And tequila? We could go on…
7. What are the local people like?
The people of Mexico, and now Guatemala, are as diverse and varied as the climate. There are over 25,000,000 indigenous people in Mexico alone! These various ethnic groups are most in evidence in the highlands of central Mexico and the southern states of Chiapas and Oaxaca. Now we are based at Lake Atitlan in Guatemala for a few months, and love meeting all of the brightly clad ladies in their ornately embroidered outfits.
8. Are there any challenges that you've faced?
Our biggest challenge, so far, is of our own making. We should have learned Spanish before embarking on our journey. We are now taking classes online, and plan on taking someone one on one class soon, but the inability to fully communicate is becoming a frustration. We have traveled to over 40 countries on five continents, so we are certainly able to "make do" in our day to day needs, using simple Spanish and hand gestures, etc.… but our trip will be much enriched as we learn more of the language.
9. What is it like to live in Mexico as an expat/ foreigner?
We are somewhat used to being the minority so that part is no problem. Our biggest frustration is often the other expats! There is a certain percentage of them who spend a great deal of time complaining about everything they are "forced" to deal with in their life as foreigners and it can be very off-putting.
Other than that, we spend a great deal of time being stared at! We are both tall, unusual on its own in these parts, and we are generally attached to the leash of a friendly black lab. Believe me, when we walk down the street, we are noticed! You quickly learn the true difference between want and need, and also learn to truly appreciate how blessed you are to even have the opportunity to travel and choose a different life when so many have so few options.
10. What is your cost of living in Mexico & Guatemala?
We use Never Ending Voyage's wonderful TRAIL WALLET to keep track of our expenses, and unfortunately, they vary month to month. On average we have been spending around $2000/month all in. However, our overall average for the year is higher due to costs such as getting our camper repaired after an accident, and vet fees when we lost our dog, Porter, etc. We spend much less when we aren't moving much. This past month (September) we spent a total of $1755, and we are predicting it to be near $1500/month during our time here at Lake Atitlan.
11. What's the availability of short term accommodation in Mexico and Guatemala?
Between local rentals, Airbnb, and Facebook, it is simple to find short term accommodations nearly everywhere. Most give very good discounts for month stays. We live in our camper most of the time, so normally are at campgrounds. We did, however, rent an apartment in Puerto Vallarta, and are currently renting an Airbnb in Guatemala. Interestingly enough, for a campground that offers hooks ups, Wi-Fi, etc., it is nearly as expensive as an apartment. We did free camp on the beaches of Baja and experienced some very inexpensive campgrounds, but others have been nearly on par with prices in the United States.
Interestingly enough, for a campground that offers hooks ups, Wi-Fi, etc., it is nearly as expensive as an apartment. We did free camp on the beaches of Baja and experienced some very inexpensive campgrounds, but others have been nearly on par with prices in the United States.
12. How much do you pay for accommodation?
Our current rental is only $21/night for a studio apartment, right in San Marcos, with free laundry, free filtered water, and a big yard for Aspen.
13. What is the food like? (eating out & the quality of supermarkets)
We end up cooking a LOT. In fact, I just did a pretty detailed article for Truck Camper Magazine on that very subject. However, eating out can be incredibly inexpensive. We actually found shortly into our trip it was cheaper for us to eat out half of our meals than to cook "at home". Throughout our life of travel, we have generally always figured our daily food budget approximately equaled our accommodation price. This could just be a formula that makes sense for us, but we've found it generally rings true. Here, at Lake Atitlan, this is already proving itself, with us spending $21/night on lodging and around $20/day on food with a combination of cooking and eating out.
The quality we have found throughout Mexico and Guatemala is generally exceptional. We are not vegetarians but do eat vegetarian about half of the time, and the joy of eating truly ripe fruits and vegetables for very low prices is a huge bonus. In addition, many areas offer local cheese and yogurt and honey, for instance, that are inexpensive and fantastic. Quality meat can be harder to find in some cases, although near any large city you find Walmart's, Chedraui's and other large grocery stores where you can find nearly anything. On the whole, we have found that anywhere expats congregate there are options.
14. Do you need a visa? If so how long can you stay in the country for?
For Mexico visitors from the US are allowed 6 months. We merely crossed back into the US after Baja and renewed our visa. For Guatemala, the visa is good for 90 days, however, the catch is that it is 90 days for all C4 countries (Guatemala, Honduras, El Salvador & Nicaragua). However, you can renew the visa once and there are ways around it. For instance, for our vehicle, I imported it this time in just my name. When we head back to Mexico the end of the year and re-enter, we will use just Jim's name. Then, we will also be able to renew, in the country, one time, making for a total of 9 months in those four countries, if we so choose.
14. How safe is Mexico?
That varies widely. In general, Mexico is much safer than the United States. That being said, security issues can occur anywhere. It's important to be aware of the local tensions, pay attention to local news, and pay attention to your surroundings. Don't obviously walk around with expensive jewelry. Don't flash big wads of cash. Be respectful. It's really all common sense. Of course, sometimes, stuff happens. But that is no different than at home. I have not felt at risk once.
15. Is there a big expat community?
Again, that depends on the location. Cities like Puerto Vallarta, Cabo San Lucas, Cancun, San Miguel de Allende are officially considered "gringo land". And, in spite of many travelers moaning about such a fact, we know it's for a reason. They are wonderful places! Our very favorite places have often been scorned as being too gringo by some, and yet we have found that a decent size population of expats makes life comfortable. In the best cases, such as Los Barriles in Baja, one of our very favorite spots, the streets are mostly clean, there is an active recycling center, weekly free spay and neuter clinics, and movies in the park. We don't believe any of these things are bad! Certainly, expats need to be conscious of the fact that it isn't their job to change a culture. But helping locals better learn how to handle some of the common social concerns helps everyone.
In the best cases, such as Los Barriles in Baja, one of our very favorite spots, the streets are mostly clean, there is an active recycling center, weekly free spay and neuter clinics, and movies in the park. We don't believe any of these things are bad! Certainly, expats need to be conscious of the fact that it isn't their job to change a culture. But helping locals better learn how to handle some of the common social concerns helps everyone.
16. Are there any other good places to travel to close by?
Oh yes! Basically, most of Mexico is a traveler's paradise. The culture and history and food and scenery are spectacular. And the fact that it is so varied makes it all the better. If it's too hot on the beach, head to the hills. If you are tired of the wet season in the jungle, head to the desert of Baja. There is no bad place to be. Amazing beaches line the extensive coastline and upper elevations offer backpacking, canyons, and interesting culture. It's a marvelous country.
17. Any other advice/tips for someone who might want to live there?
Be open minded. Do your research, make a visit before you actually move, ask others for their opinion. But then form your own opinion. We have repeatedly found some places that others simply raved about, simply didn't really suit us. Everyone is different and just because a lot of expats have moved to a particular city or area doesn't necessarily make it right for you. Remember, people tend to follow where others have led.
By being open to what YOU are looking for, you might just buck the tide and end up where you least expected. Then, remember to respect the local culture. You chose to move there. Appreciate that what makes it different is, well, what makes it different. You very well may not be able to get your favorite snack, and dealing with the local electric company may make you want to bang your head on the wall. But, these challenges are part of what makes it great.
18. And, finally any advice or encouragement for someone wanting to take the leap and live overseas?
To quote Nike, JUST DO IT! Life isn't meant to be lived in a bubble and at best your entire life will change for the better. At worst, know nothing is forever, and at least you had the guts to take a chance. We leave you with one of our favorite quotes "He who jumps into the void owes no explanation to those who stand and watch." – Jean-Luc Godard
We are Jim and Rhonda Delameter, a (gasp) middle-aged couple on a quest for a life less ordinary. After spending too many years traveling the world on short vacations, we sold our house in 2007 and backpacked around the world for 14 months. Out of money, and back in Oregon, we saved and planned and, on December 26, 2015, once again hit the road.
This time, we are driving the PanAmerican highway, exploring every country in Latin America on the way. This time, we brought along our Labrador, Aspen. This time, we are working as we go, creating a location independent lifestyle. Follow us along on our blog at The Next Big Adventure, or Facebook and Instagram.

Written by
---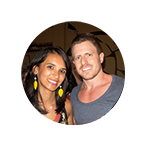 Fulltime Nomad Fulltime Nomad is your passport to saying no to normal, and yes to a life of unlimited travel. Founded by Radhika & Johnny, this blog will help YOU take that big scary first step towards building your own freedom lifestyle. Are you new? Start here.