Welcome to Day 3. 🙂
Do you want to create a blog that makes money? Of course, you do!
We're all about making income with a blog. There is no point in starting a blog that has little to no potential of generating an income for you.
It's fine to start a blog with no real focus if you don't plan on monetising it. However, if you want to live your ideal lifestyle, you need to start thinking about blog niches that make money
You will want to do this right, right from the beginning. Don't waste time creating blog posts that are unlikely to generate much traffic and revenue. Choose a profitable blog niche to start with and create all your content based around this niche.
Here's a tip: if you want to make money from your blog, treat it like a business. Not just a hobby. This doesn't take the fun out of it, but it does make sure you stay focused on the stuff that is likely to make you money.
What type of blogs make money?
So then, the question is what blog niches make money? As a new or wannabe blogger, what areas can you focus your blog on if you hope to generate income from it?
The good news is you have lots to choose from. There's more than one best niche for blogging and we're about to reveal these to you below.
Remember: You want to enter markets that are thriving. By setting up a blog that focuses on one of the industries we discuss below, you are giving yourself a much bigger chance for success as you're much more likely to generate an audience.
So first things first, let's take a lot what factors you should consider when you're looking at blog niche ideas and trying to pick the right one for you.
Profitable blog niches: 5 important questions to ask
Now obviously there plenty of blog niches that make money. We've listed five blog niche ideas below but of course, there are many, many more you can think about.
So if your chosen niche doesn't happen to be on our list, no worries. The 5-question checklist below will help you decide whether or not your preferred niche is a good choice for your blog.
1. Is it a big market?
Think about the industry your blog caters to (broadly). Is there a lot of money being made in the industry – not just from blogs but in general? If yes, then there's probably potential for a money-making blog.
2. Is there potential for traffic?
Do people in this industry regularly search online for advice, news, tips and other content? If so, then there is likely to be a potential to generate traffic to your blog.
3. Does the audience have purchasing power?
Think about the potential audience for your blog. Do they have money to spend to buy products and services you recommend via your blog? For example, a blog that targets teenagers only (and not their parents) can be a difficult choice if you want to generate money from it.
4. Are there opportunities for affiliate marketing?
Affiliate marketing is one of the easiest and most common ways to make money from a blog, especially for newbies. You promote someone else's product and/or services and receive a small commission when one of your readers makes a purchase. Think about brands and businesses in your niche. Research to see if they offer affiliate partnerships.
5. Are you interested in this niche?
Most importantly, are you interested in the niche? There's no point starting a blog about something you have zero knowledge or interest in. You will quickly get bored or tired of it. Pick an area you can create unlimited content about, without losing steam.
All of the above will make more sense once you see our summaries of the most profitable blog niches, below.
Remember: At all times, think of your blog niche ideas in terms of whether or not you can generate an income from it.
Blog niches that make money: What you will learn today
So before we jump into our list of most profitable blog niches, we want to give you an overview of what you're going to learn in this lesson:
The blog niches that make money
Examples of the real life blogs – to give you an idea of the types of blogs you can start today
And how to make money in each of those niches.
There a many ways to make money from your blog. However, as this post is focused on new or wannabe bloggers, we don't want to overwhelm you with too much information.
So, when talking about making money from a blog, we are going to mainly focus on two areas:
Affiliate marketing – Someone clicks on a link to a product that you recommend you get a commission for referring that product
Digital products – Ebooks, courses, membership sites.
When it comes to blogging, especially when you're just getting started, these two forms of income (in our experience) are the most lucrative.
5 most profitable blog niches: blogs that make money
So let's get started with these niches. We've chosen these particular niches as these industries are broad and there is plenty of opportunity for diversification.
Here are five blog niches that make money:
Profitable blog niche #1: Travel
You don't need us to tell you that travel is a hugely profitable industry.
In 2016, people spent $564.87 billion on online travel purchases.
This figure is projected to grow to $755.94 billion in 2019!
From flights to travel clothing, hotel bookings to tours – the potential for making money online, in the travel industry is HUGE and varied.
With numbers like that, it's no surprise that travel blogging is one of the most profitable blog niches to go after.
Blog niche ideas for travel
There are many sub-niches you can focus on if you decide to start a travel blog and are wondering what to blog about, here are a few ideas:
A personal travel blog
Asian travel blog (or other region-specific blogs)
Adventure travel blog
Food travel Blog
Camping travel blog
The travel industry is one of the biggest when if comes to affiliate marketing. The key is to be unique or find a niche so that you can stand out.
How to make money with a travel blog
So how do you make the most of affiliate marketing and digital product opportunities to generate income from a travel blog? Here are some ideas:
1. Hotel reviews – Write a review of a hotel you stayed in and make money with affiliate commissions from Booking.com or Skyscanner.
2. Recommend travel gear – Make affiliate income by mentioning specific travel gear that you use.
3. Write a travel guide – Create a travel guide in the form of an ebook and sell it to your audience.
Inspiration: travel blogs that do it well
Need some real life examples of blogs that are making the most of this very profitable blog niche?
Holiday Pirates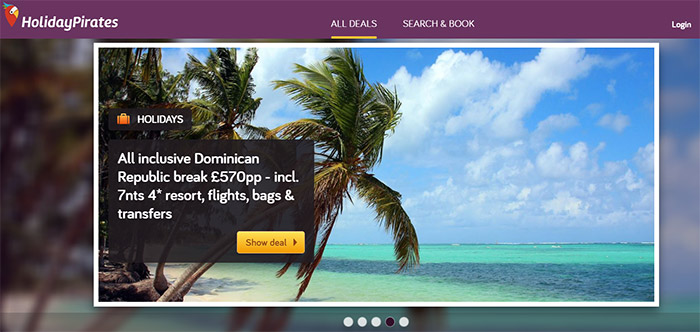 Holiday Pirates is a site that finds travel deals such as flights, hotels and packages. Everyone loves travel deals and  Holiday Pirates do a good job creating a sense of urgency with their time sensitive deals.
Most of Holiday Pirates income is generated through affiliate links. They make a commission when they post holiday deals and people book hotels, flight, and car rental.
Two Monkeys Travel Group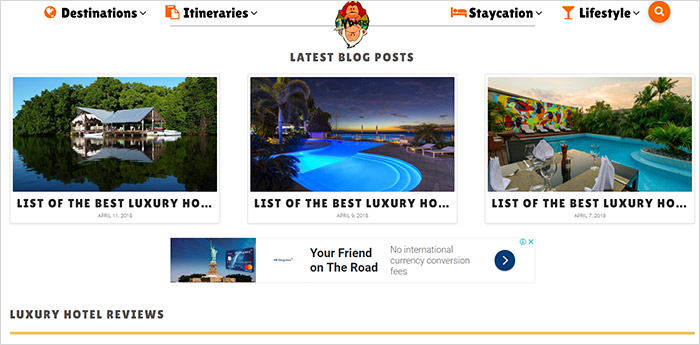 Two monkeys is a very successful sailing luxury and adventure travel blog run by a couple. The site focuses on in-depth travel guides and reviews of luxury hotels around the world.
They generate income from their blog in a variety of ways including affiliate income from hotel reviews, review of travel apps and gadgets,
They even have their own Amazon store well they sell products and offer life and travel coaching services.
Profitable blog niche #2: Health
The health and wellbeing industry is massive – no secret there.
One of the reasons this market is so huge is because of how varied it is. So whether you're talking about health care, supplements, fitness, general wellbeing or even diet – it all falls under the general umbrella of 'Health'
And this variety makes this market one of the best niches for blogging. There are so many blog opportunities in this market.
Also, there are hundreds of brands and companies in this market, leading to many amazing affiliate marketing opportunities for bloggers.
Blog niche ideas for health
So of course when an industry is this huge, the potential for sub-niches is also massive. There are hundreds of health and wellbeing related topics you could create a blog about – choose something that is interesting to you.
Here are a few blog niche ideas to get you thinking:
Women's fitness blog
Gym supplement blog
Yoga Blog
Healthy eating blog
Crossfit blog
How to make money with a health blog
1. Recommend gym gear – You might write an article and review your favourite pair of yoga pants that you wear and make money via affiliate links on Amazon.
2. Healthy recipe cookbook – Write an ebook of your favourite healthy recipes and promote it to your blog audience.
3. Create an online workout plan – Develop a workout plan in the form of an ebook or video series and then sell it to your audience.
Inspiration: health blogs that do it well
Nerd Fitness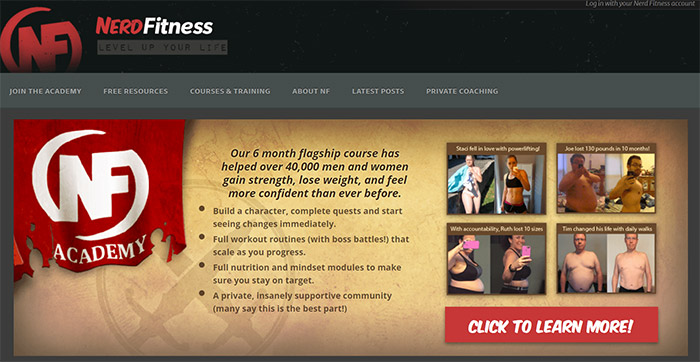 Nerd fitness is one of the most popular fitness blogs on the web. The creator has found a niche in helping nerds become fitness superstars.
Nerd Fitness has done extremely well in building a strong brand and community. Because of this Nerd Fitness has a lot of its own products that it is able to sell to its audience including digital courses, training programs, and private coaching.
SupplementReviews.com
Supplement Reviews, is, yes you guessed it, a site that reviews supplements.
They mainly focus on products for bodybuilders, athletes and people who regularly go to the gym. Things like protein powders, pre-work drinks, creatine and weight loss products. They review products and ranks them in order.
The site generates income from affiliates commissions from these products.
A review site is a very popular form of affiliate marketing and can be replicated across any product category.
Profitable blog niche #3: E-Learning
The internet has completely changed the way we learn new things. Why physically go to a class, when you can do the class from your bedroom?
In fact, industry experts say the industry will grow to $325 billion by 2025.
E-Learning has made knowledge and learning more accessible to everyone – including those living in remote areas and lesser developed parts of the world.
As a result of this huge demand for online learning content, e-learning has emerged as one of the most profitable blog niches.
If you can create a blog that focuses on helping people learn a new skill online – it can turn into a huge money-maker for you.
Blog niche ideas for e-learning
Once again, you can teach or offer advice about almost any skill or topic area online. Here are some ideas to get you thinking:
Photoshop tutorials
Guitar lessons
English language Lessons
Web development classes
Pet care and training
If you are an expert in a particular skill or knowledge area, you can create a blog around that knowledge and monetise the content.
How to make money with an e-learning blog
1. Recommended courses – Recommend courses related to your niche. Sites like Udemy and Skillshare have good affiliate programs.
2. Create your own course – Create your own digital course and promote it to your audience. Platforms like Teachable, Udemy and ClickFunnels make it easy for you to build and host a course.
3. Offer one-on-one coaching – Charge premium rates by selling your time and expertise one-on-one. Use Calend.ly or YouCanBookMe to easily schedule online bookings.
Inspiration: e-learning blogs that do it well
Learn To Code With Me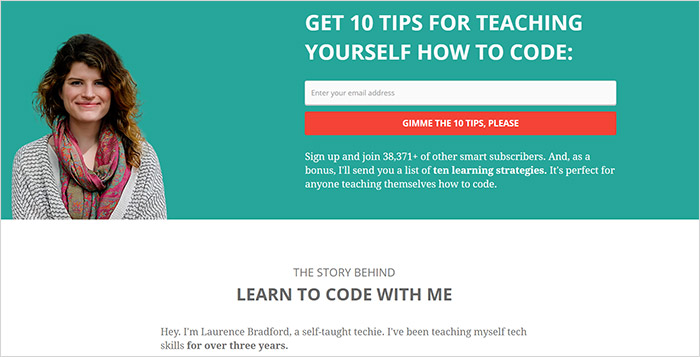 Learn To Code With Me is a site dedicated to helping teach people how to start a career in coding.
Lauren, the creator monetises her site through affiliate commissions by recommending coding courses, books and other related products.
PHLearn

For people who want to learn Photoshop, PHLearn is the site for that. This is a site completely focused on providing high quality photoshop tutorials via video.
PH Learn montises their site by offering a monthly membership to access all of their tutorials. They also make money from selling individual tutorials on their site.
Profitable blog niche #4: Fashion
$1.66 billion.
That's how much money the retail fashion industry generated from our collective online shopping habits around the world!
So many of us (and it's not just women) are fueling our fashion addiction online and the spending is only going to keep growing. Online shopping is easy, stress-free and definitely addictive.
When an industry has such huge potential for online sales, it only makes sense for bloggers to capitalise on that opportunity.
So if you've got a passion for fashion, why not start a fashion blog as it's definitely one of the best blog niches that make money.
Blog niche ideas for fashion
Fashion can mean so many different things to different people. From clothes to accessories to makeup – there are a variety of sub-niches you could think about. Here are some ideas:
Personal fashion blog
Makeup tutorial blog
Womens shoes
Jewellery review blog
Men's fashion blog
Fashion blogs have great affiliate marketing potential because most of the content is about products and this is really what affiliate marketing is all about, recommending products. With a fashion blog, you can easily do this without being sleazy.
How to make money with a fashion blog
1. Makeup video tutorials – Do makeup video tutorials, recommend the products that you used during the tutorial and make money through affiliate links.
2. Review the best shoes for summer – Write an article about the 10 best shoes for summer. Refer people to Zappos.com or Amazon for affiliate commissions.
3. Write an article about trendy beard styles – Make affiliate commissions by including banner ads of beard trimmers for sale on Amazon.
Inspiration: fashion blogs that do it well
The Beauty Department

The Beauty Department is a site that specifically focuses on hair, makeup and nails. The site has thousands of tutorials and reviews of the beauty products.
Most of the income is generated by The Beauty Department from affiliate marketing. They do this very well by including a list of products they use (with affiliate links) alongside each of their step-by-step tutorials.
Fashion Mumblr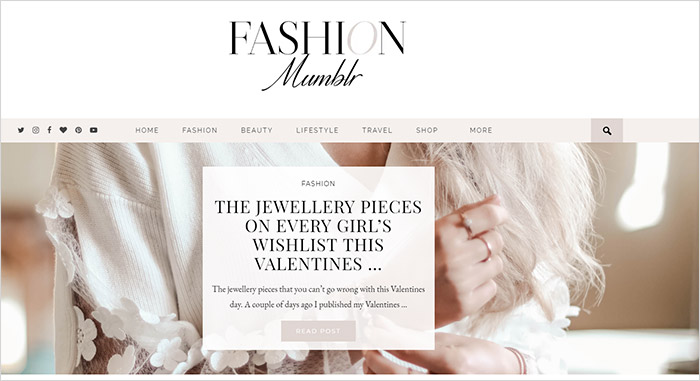 Fashion Mumblr is a lifestyle blog that combines fashion, beauty and travel.
The creator Josie posts high-quality photos of herself modelling the latest fashion trends from exotic locations around the world.
The blog generates income through affiliate links to the products she models and from her own products that she sells in her online shop. Josie also generates income by selling the Photoshop presets that she uses on her photos.
Profitable blog niche #5: Tech & Gaming
The tech industry is one of the fastest growing markets out there. Add to that a gaming market and you've got yourself a winner!
Customers are not shy about spending hundreds of dollars on the latest tech (Apple Watch anyone) and if you're a gamer, you know you don't care about how much the latest game costs. You have to have it.
Like most of our other niche ideas above, this is also a wide and varied industry. There are many different kinds of audiences in the tech market including tech experts, gadget shoppers, gamers and more.
If this your area of knowledge, then consider starting a blog around it as tech and gaming is defintely one of the most profitable blog niches around.
Blog niche ideas for tech & gaming
The potential for sub-niches within this category is huge. If this is a category that appeals to you, think about topics that you are knowledgeable about or have a lot of interest in and go from there.
Here are some ideas to get you started:
Video game reviews
App reviews
Tech gadget reviews
PC repairs and builds
Video game tutorials
How to make money with a tech & gaming blog
1. Review the latest apps – Write an article about the best apps for a particular use (e.g. travel). Make money through Apple's affiliate program.
2. Review the latest tech gadgets – Whether it's the latest iPhone or a new drone – create articles about the latest tech gadgets and make money through affiliate referrals.
Inspiration: tech blogs that do it well
PC Magazine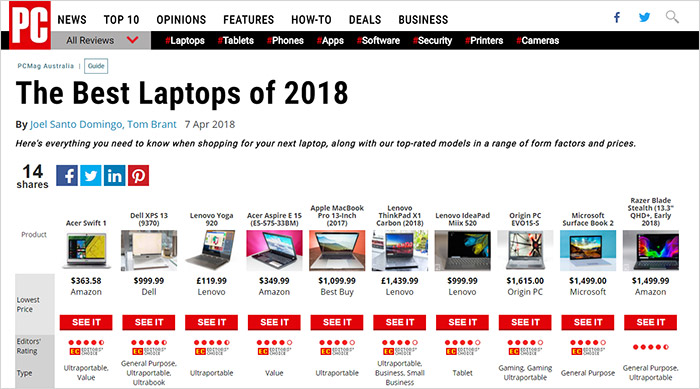 PC Magazine is a very successful blog that reviews computers software and other related products.
Most of their income is generated via affiliate marketing. For example, they will do a post like the 'Best Laptop for gaming' and list the top 10 in this category. Each product links to affiliate partners so when their readers make a purchase, they make a commission off it.
Techradar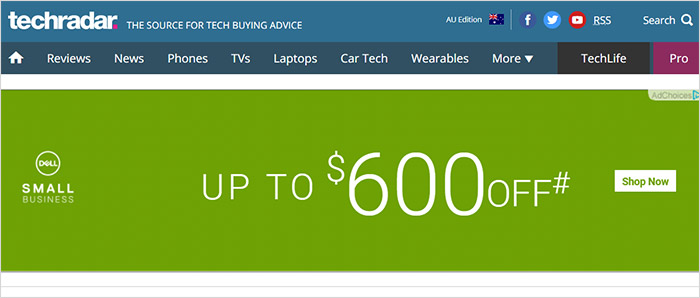 TechRadar is one the largest news and product review blog for all things tech.
Their content covers everything from laptops, phones, cameras, tablets and gadgets even VR and wearable technology.
Affiliate marketing is the big revenue generator for this blog, with lots of product reviews.
Blog niches that make money: conclusion
There you have it. You asked us – what type of blogs make the most money and we've given you five solid ideas above.
You don't have to limit yourself to our blog niche ideas above but we hope you find the list and the examples helpful for setting up your own blog.
We also have a fantastic list of topics here for inspiration: What Should I Blog About? 80+ Ideas You Can Create a Blog About
Remember to choose a niche that already has a big, well-established market or else it may be difficult for you to make money.
But most importantly, remember to choose a niche that interests you as it must be something you can continue to create content about, without losing interest.
However, don't sweat it too much. Pick a general theme and just get started and you can always refine your blog niche later down the track.
For example, when we started FulltimeNomad, we fully intended it to be a travel blog. However, after doing our first few pieces of travel content, we realised we loved travelling but didn't enjoy writing travel guides and such.
So, we pivoted and have now become a blog that teaches people how to create a lifestyle that will allow them to work from anywhere and travel whenever they want. And we love it!
The most important thing is to just get started
Haven't got a blog yet? Use our exclusive BlueHost link to get started for as little $2.95 a month. You will also get a free domain + our Exclusive Bonus Pack worth $525.
Bluehost Bonus Pack
Want to get these bonuses?
Click this link here and sign up to Bluehost
Send us a screenshot of you confirmation email to [email protected]
We will then send you your bonuses
Coming up next
Full of ideas and ready to build your blog Tomorrow that's exactly what we will be doing. On Day 4, we're getting hands-on and will show you how to launch your blog – step-by-step. Woo-hoo!