Remote work is on the rise and more companies around the world are opening up to the idea of their workers clocking in from various remote locations.
As industries look for the best of the best, it's essential they help remote employees stay cyber secure while they perform their everyday duties. According to Shred-it, 86 percent of C-level executives believe that the risk of a data breach is higher when employees work remotely. Data breaches can wreak havoc on businesses leaving them to downsize or even close.
If you work remotely, and want to make sure you won't want to become a security liability to your company, here are some steps to ensure you are set up with proper cybersecurity:
Protect your devices
While working as a remote employee, your work life will revolve around your devices in order to stay connected to your team. This includes company laptops, tablets, cell phones, and any other devices needed to get the job done. All of these devices should be armed with a virtual private network service.
86 Ways to Make Money Online
Download our free guide on legitimate ways to make money online in 2021
By signing up, you are agreeing to receive periodic emails from Fulltime Nomad. No spam. Only the good stuff.
This product will come in handy whenever you are working from a public location (coffee shops, libraries, campuses, etc.) A VPN establishes a private network while you're connected to a public Internet connection in order to virtually hide your IP address. It also blocks other people on the same network from seeing your browsing history, location, and your other devices.
Here are some things you should be looking for in a VPN provider:
 – Cost: Check to see if your company has any discounts for VPN services. If not, find a VPN that is affordable for you, keeping in mind that if it's free, you might be paying in other ways through ads or even having your information sold to third-parties.
 – Data limits: Make sure your VPN doesn't have specific data limits. Depending on how much Internet you use on a daily basis, bandwidth is something to look into when choosing a VPN.
 – Privacy: Fully read through the information on the service you end up choosing. Examine to see if they have a no-log policy showing that the company does not track or log your Internet activity.
Perform regular updates
Making updates to your devices may feel daunting and unimportant but they are actually an essential part of using your device. Updates are actually a way to improve your device's overall security. This includes repairing security holes, computer bugs, adding new features, removing outdated information, and more.
Pay attention to what you access on a daily basis. It probably includes a web browser, some form of a writing app (whether it be Google docs or Microsoft Word), other note taking apps, design software, etc. All of those everyday tools have updates every now and then in order to improve the app's overall security and ease of use.
Software updates actually help protect your personal data. Think about all the emails, documents, pictures, and other forms of media on your email and desktop of your computer. All of your data is an asset to cybercriminals and could be used against you in a data breach or cyber attacks. Having updated software will continuously protect your data from any harm.
Keep in communication with the IT team
Since remote work relies heavily on technology, you might run into some issues along the way. This is why it's important to have a great working relationship with your company's IT team. Not only are they there to educate you on cybersecurity but they can help troubleshoot any issues you might have related to your remote devices. Keep their email and phone numbers on hand for any emergencies you might have.
Always inform the IT staff if you see anything out of the ordinary on your device or if it's not working properly. The faster you report the issue, the faster it will get fixed and addressed. Don't be afraid to connect with other remote employees to discuss some of the best ways to work remote successfully. Other people might have some tips and tricks to help you have the best workday possible.
Keep these tips in mind as you progress with your remote career as a digital nomad! The more you know about cybersecurity, the safer your online experience will be.
Written by
---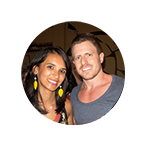 Fulltime Nomad
Fulltime Nomad is your passport to saying no to normal, and yes to a life of unlimited travel. Founded by Radhika & Johnny, this blog will help YOU take that big scary first step towards building your own freedom lifestyle. Are you new? Start here.