When you're starting out as a new digital nomad, who wants to work remotely, the most common thing to do is work from a place with a low cost of living.
Like most newbies, we also started out in a city with a significantly lower cost of living than our home country, Australia. In 2013, we packed our bags and moved to Medellin, Colombia.
Living in a city with a low cost of living when we started out was great because we didn't have to worry about not making enough money just yet. It gave us the freedom to pursue our business dreams without having to spend thousands of dollars on basic living expenses.
Since then, we have lived in many more cities with low costs of living and it has been fantastic for our lives. We look out for cities that are a good mix of affordability and yet still allowing us to leave a good quality of life.
LEARN HOW TO WORK &

TRAVEL

THE WORLD

FULL TIME
---
Download our FREE guide in seconds!
By signing up, you are agreeing to receive periodic emails from Fulltime Nomad. No spam. Only the good stuff.
So let's explore why you should consider places with low cost of living as well as four cities that are great options for you.
*This post may contain affiliate links. If you click on them and purchase something we get a small percentage of the sale. More info here*
Related posts:
4 Reasons Places with Low Cost of Living can Improve your Life
Here's why countries with low cost of living are great for you.
1. You can have a higher standard of living
If you were living in New York a $2000 a month apartment would be probably not much more than a box.
However, spend $2000 a month on an apartment in Mexico and you would have a 2 story penthouse with a spa on the beach!
If you're going to pay rent anyway, why not pay it for something that gives you something better?
2. Better lifestyle
If you can live somewhere cheap you can effectively work fewer hours than you would back home to cover expenses. This gives you more free time to spend travelling or doing whatever else it is that you love. This is often a reason why digital nomads choose to live in a cheaper place.
3. It's great for building a business
If you are just starting out and making a modest income you can still live cheaply abroad as you spend time building your business.
This is exactly what we did. You can minimise your expenses while living in a cheaper place, and focus all your energy on working and creating a business.
4. You build your savings quicker
Obviously, if you are spending less then you are going to save more. In the first example if you moved from New York to Bangkok you would save an extra $4600 a month. You can use this money to reinvest in your business or however else you like to invest your money.
So maybe as you start to look at places yourself, you might want to consider living in places with low cost of living. Even if you are making enough money to live somewhere more expensive.
Regions like South-East Asia, South and Central America, and Eastern Europe have numerous cities where you can find a low cost of living but still with a high quality of life.
The choice is yours.
However, if you are one of those people who just wants someone to tell them where to go… then you're in luck!
We're going to list some of the recommended cities with low cost of living for new digital nomads who are just starting out and need help picking their base.
So the thought of moving to a new a country can be a little daunting. And that's fine it's only natural.
Moving overseas does have its challenges:
Finding a new home
Adapting to a new way of life
Understanding cultural differences
Being lonely
Language barriers
New climate
Different food
These are all issues that you will face when moving abroad.
Looking back when we packed up our bags and left Australia for Medellin, Colombia, there was definitely some anxiety.
What if we don't find an apartment, or what if the food sucks, what if we hate the place??
We had done a bit of research and found that Colombia was a good place to travel to, but we were planning on staying there for a few months… what if we were wrong?
Anyway, it turned out that it was a great city for our first experience of living and working abroad. We settled in pretty quick and loved living in Medellin.
And this is why a lot of other digital nomads chose Medellin as a place to live in.
The point is I think when you first start out you want to choose a place that you can quickly adapt to and easily settle into.
One that's not too far out of your comfort zone to begin with.
So we want to showcase some of the digital nomad hot spots and what makes them so great.
For any person starting out, I would recommend choosing one of these places with low cost of living to begin. It will make the transition of moving abroad that much easier.
Cities With Low Cost of Living that Are Great for Digital Nomads
1. Playa Del Carmen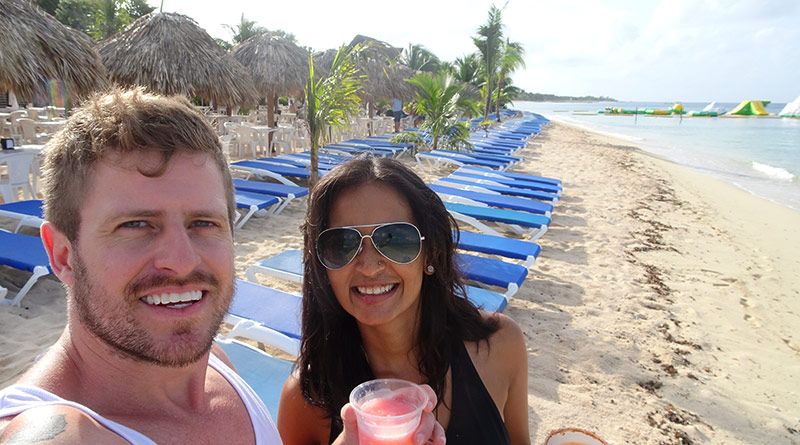 Playa Del Carmen or simply know as Playa is on the Yucatan coast in Mexico. It's become one of the most popular places for digital nomads.
We haven't lived there but we have visited. We spent two weeks over Christmas and New years there one time. Boy was it fun, I didn't want to leave.
Anyway, the reason this place makes a great city for digital nomads is:
Easy to find short-term apartments and condos.
The place has all the comforts of home. Big supermarkets, nice gyms, nice restaurants and bars. There's a massive Walmart. (not a big fan of Walmart but when you've seen supermarkets and department stores in Vietnam, Walmart is like a godsend)
A lot of people speak English in Playa. So if your Spanish isn't up to scratch, it's not so hard.
There's good cafes and Coworking spaces to work from.
Lots of beaches and places for diving. I did a cavern dive there and it was insane.
Low cost of living – cheap, especially considering that you're right next to the ocean.
Great base to explore places nearby, including the Caribbean.
Decent sized expat and digital nomad community.
Easy to travel to for Americans and Canadians who still want to be close to home.
Plus it's an excellent time-zone if you work with U.S and Canada based clients.
Playa Del Carmen is almost the ultimate digital nomad location. The only negative for me is that it is very touristy. Still, I think it's a great place to start.
It really offers a great lifestyle. Just be careful not to get caught up in partying every night. It's a bit like that.
2. Chiang Mai, Thailand.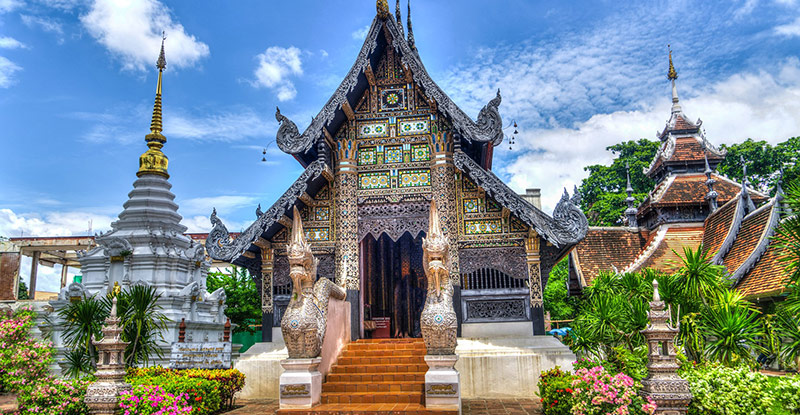 Chiang Mai has become the digital nomad mecca. We love Chiang Mai and have lived there a few times already. You will find hundreds (if not thousands) of expats and digital nomads calling Chiang Mai home and there's plenty of reasons why.
Like Playa Del Carmen there's easy to find short-term apartments and lots of condos
There are big supermarkets, nice gyms, nice restaurants and bars but also there are some amazing local markets with fresh fruit, veggies and meat.
A lot of locals can speak English.
There's some really goods cafes and coworking spaces. The coffee is amazing by the way.
A big digital nomad scene – This provides a great opportunity to network and meet other digital nomads and freelancers.
Really low cost of living, even by Thailand standards.
Chiang Mai is full of culture and tradition. This is great to experience.
The Thai food. Some of the most delicious food I have eaten in my life period.
Easy to get around by scooter, bus or tuk-tuk.
Easy to access for people from Australia, NZ and Asia and the Middle East.
And it's a great time-zone for managing clients in Australia, NZ and Asia.
While it might not have a beach like a lot of other places in Thailand, Chiang Mai really is an amazing place to live. It has everything that you'll need, the food is great, and it's easy to meet great people and make friends.
3. Medellin, Colombia
Medellin was known for being one of the most dangerous cities in the world. Since then it has transformed itself and is one of Latin America's cities on the rise and a favourite for digital nomads.
Well, why is Medellin such a great place to live?
First, the locals in Medellin are amazing. Some of the friendliest people I have ever met and that alone makes me want to go back to Medellin like yesterday.
You can easily find massive supermarkets, modern apartment complexes, amazing cafes and restaurants.
Great weather – It is called the city of eternal spring.
Easy to find short term apartments or rooms
Low cost of living
Latin Culture – Medellin is vibrant, locals love to salsa, party and enjoy life. It's a fun city to live in.
Big digital nomad community and
Coworking places to work from.
They are mad for Football – ok that's not appealing for everyone, whatever. Go check out a Football match when you are there. It will blow your mind regardless.
Easy to get to from the U.S and Canada.
Also good for working with clients in the American time zones.
We loved living in Medellin. We really want to get back there soon. I'd recommend it for anyone wanting to live abroad.
4. Tarifa, Spain
Now we actually haven't lived in or visited Tarifa but I'm including it because it is becoming one of the digital nomad hotspots in Europe. So why is Tarifa a great place to work from?
Easy and cheap for Europeans to get to.
It has a great climate
Lots of water sports activities like surfing, diving and kiteboarding
Big entrepreneur and digital nomad community.
There are coworking spaces. Actually, there's a coworking hostel!
Everything you need is within walking distance.
Great place to explore other areas. There are daily ferries to Morocco.
Time zone is great if you have clients in the U.K and western Europe.
So if you are in Europe or from anywhere else for that matter, Tarifa from what I have heard is a great spot to start.
So there you have our top four cities with low cost of living that we recommend when starting out. Now there are 1000's of cities around the world that you can choose. You don't have to go to one of the cities we suggested.
We just think that choosing somewhere suited to digital nomads is important so that you can easily settle in and focus on your business and adjust to living away from home.
After you have a feel for this life then maybe you can go live in I don't know….. Madagascar or some super exotic place. (As long as there's WiFi of course… yes, yes I know.. I've said that about a 1000 times already!)
That is the best thing about this life. It's up to you.  You can live and work where you want.
Have you discovered any other countries with low cost of living great for digital nomads? Share them with us in the comments section!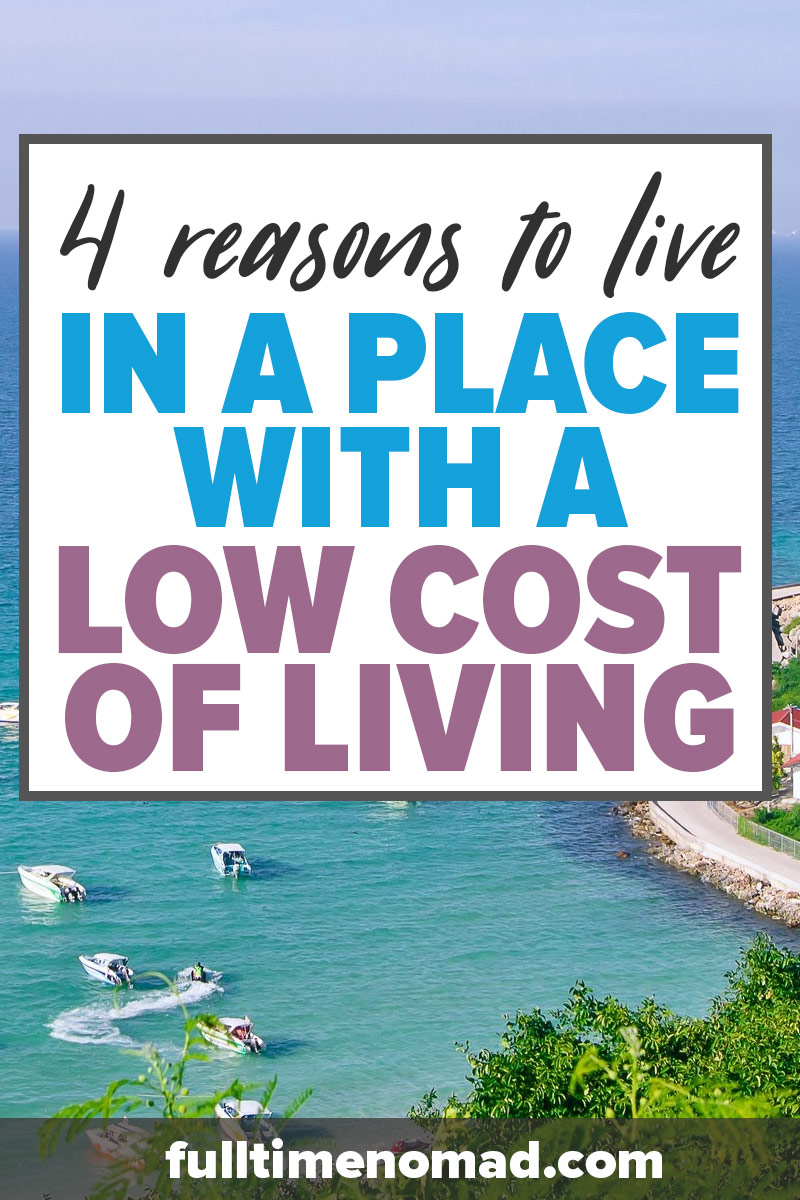 Written by
---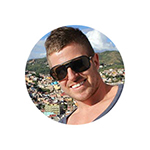 Johnny H.
As the co-founder of Fulltime Nomad, Johnny really believes the world is too big to stay in once place. In 2013 he broke away from his non-location independent job to chase his passion of travel and living abroad. Now he helps others do the same.