Ready to set off into the sunset and get started with your digital nomad travel adventures?
I am SUPER excited for you!
Even if you've done a lot of travelling before, living the digital nomad life is a completely different experience. You will no longer just be a traveller. Travel will be your life.
Why Digital Nomad Travel is Different
Now many of you are probably already experienced travellers are like, I don't need travel planning advice, thanks very much.
LEARN HOW TO WORK &

TRAVEL

THE WORLD

FULL TIME
---
Download our FREE guide in seconds!
By signing up, you are agreeing to receive periodic emails from Fulltime Nomad. No spam. Only the good stuff.
That's cool.
But planning a digital nomad kind of trip does have a few unique considerations. So, even if you've done this a million times before, have a read of my 9 steps and I'm sure you'll still find this of value.
I honestly had NO idea what to expect when we left Australia in 2013. I was equal parts scared and excited.
Looking back, of course I wasn't entirely ready for digital nomad travel. I had no idea how to work AND travel at the same time. I was disorganised and didn't quite know how to set myself up for productivity in a new place.
But of course, I have learnt my lessons and today I want to share some advice on how to plan your first digital nomad trip.
*This post may contain affiliate links. If you click on them and purchase something we get a small percentage of the sale. More info here*
Related posts:
Step 1: Visas for Digital Nomads
Visas are a complicated and thorny issue and not many (if any?) countries actually have a digital nomad specific visa.
As Johnny already mentioned in Module 8, visa rules and regulations are wide and varying by nationality so I'm not going to go into that. When you decided on your digital nomad destination, you probably already looked into the visa rules.
So if you get a visa on arrival, that's great. Easy peasy. If not,
Find out how to apply for your visa. It may be directly at your local embassy or it might be through a visa agency.
Find out all the documents you will need for your visa and start to get them in order. This could include things like bank statements, proof of accommodation, flight tickets etc.
Once everything is ready, apply for a visa well in advance. Don't leave it till the last minute and then not have your passport back. It could mess up your whole trip! Give yourself (and the embassy) enough time for the visa to be processed.
Another thing to keep in mind is that sometimes if you apply for a visa, you might be able to stay in a country longer than just a visa-exempt stamp on arrival.
For example, many nationalities are exempt from a visa for Thailand so they can just show up and get a stamp in their passports that allows them to stay in the country for 30 days. However, if you apply for a visa in advance, Thailand gives you 60 days. So if you want to stay in a country longer, look into whether applying for a visa in advance is a better option.
2. Flights for Digital Nomads
Every seasoned traveller has their own hacks and secrets for booking flights and finding good deals.
Johnny did a very detailed post about our flight booking process, a while ago so if you're interested, click here to read it.
Of course, booking flights in advance often works out to be cheaper. I mean sure, sometimes you get the amazing last minute deals but I wouldn't recommend leaving your flight bookings till the last minute.
Once you a pick a location and set the date, start researching. Our first point of research is usually Skyscanner.com and Kiwi.com.
Kiwi.com is really great because it takes care of a lot of the things Johnny describes in that blog post I shared earlier. It helps you combine flights from different airlines and really makes life a lot easier. Google's flight finder is another great one too. New flight booking tools are always coming up so definitely do your own research too.
This will also give you an idea of which airlines fly to your destination. Go and sign up to their newsletters – that way you'll know when there's a sale.
For example, when we flew to Vietnam, we managed to get a great deal on tickets on Scoot airlines, flying from Australia to Singapore. We made use of this and had a quick break in Singapore before continuing on to Vietnam.
Ok, so a few things to think about when booking your flights:
How much luggage do you need? If you're traveling with carry on only, that's great. We're not that minimalist so we always check baggage restrictions. Some budget airlines will charge you for checked-in luggage so keep this in mind when booking.
Always check the arrival time. It's always much less overwhelming if you arrive in a new place during the day. There are more people around, the airport is lively and transport is definitely easier to find. When we first arrived in Medellin, it was late at night. A bit of a rookie error but we also didn't have many flight options. We were really nervous and the whole way from the airport to the hotel, we were on edge. We try not to do that any more.
One more thing to think about, especially if you're planning to travel halfway across the world, is that your flight time is your down time. Meaning, if it takes you a whole day to get somewhere, you're missing out on a whole day's work.
For some of you, this might be ok and you CAN take a couple of days off. If it's not, book your flights so you travel over the weekend and it doesn't affect your work. Sometimes flying over the weekend can be a bit more expensive but if it means you can work on a weekday instead, it saves you from losing out on a day's work, right?
Also, sometimes, you might also need to provide proof of an outward flight. In our experience, this is usually something the airlines do rather than the people at immigration.
When you're checking in, they might ask if you have a return flight. If you do, great. If you don't, they might deny you boarding or you may have to buy a ticket on the spot. The weird thing is, not every airline does it, and they don't always ask for it. But it DOES happen.
If you don't want to buy a return ticket just yet, you can rent one from a service called FlyOnward. It's a legit ticket and only costs about $10 so you have an onward flight incase you get asked. Handy right?
Finally, remember to give yourself enough time to recover post flight. Flying can be exhausting, especially over long distances, so don't plan to jump into work immediately if you've just done a 15 hour flight. Give yourself time to relax, and catch up on sleep.
There will be many more flight tips and hacks you will learn along the way, I'm sure. You probably already have some up your sleeve. These are some of the most important things to keep in mind when you're booking your flight.
3. Accommodation for Digital Nomads
We travel pretty slow and like to stay in one place for a few months. So, we usually don't pre-book our apartments in advance.
What we do instead is, book a hotel or an AirBnB for a few nights and then kick off our apartment hunt when we get there. We like to suss out the neighbourhood, and see the apartment in person before we commit.
You can book your initial accommodation via Booking.com, Agoda.com, AirBnB or if you'd like a hostel, try hostelworld.com. These are the ones we use most frequently but I'm sure there are many more.
Book a place that is central and easily accessible.
In Step 9, I'll go into more detail about how to get organised and have everything ready so you can get your apartment quickly.
4. Insurance for Digital Nomads
So here's the thing. I never used to be a big believer in travel insurance. We have always had it because Johnny has always insisted on it and I went along but in my heart of hearts, I thought it was a waste of money.
But, in 2015, when we were living in Mexico I had an accident which required surgery. We also had to make an emergency trip back home. Our insurance came through and out of about $5000 worth of expenses, we may be only paid about $100 out of pocket.
I'm definitely a believer of travel insurance now… haha.
So you know, get travel insurance!
Insurance companies and policies vary by region and country, so do your research and find out is available to you. Be sure to read the fine print and confirm what you are covered for. You don't want to be left in the lurch when you really need it.
If you're curious, we are insured with World Nomads and have been since the beginning.
They have:
good health coverage but also
accident insurance,
trip cancellation coverage and what sealed the deal for us was the
coverage for our computers and other electronics.
We usually pay for about 6 months and then renew again as needed.
5. Vaccinations + Other Medical Concerns for Digital Nomads
It's always a good idea to have certain vaccinations when you're traveling overseas.
Some are precautionary, while others might be part of the entry requirements of a country. For example, many South American and African countries will ask for proof of yellow fever vaccination. Thankfully this vaccine is valid for 10 years, sometimes even your whole life so you don't have to worry about it too often.
What vaccines you need specifically will vary by where you plan on going but some ones to consider include rabies, typhoid, Hepatitis A and B, tetanus etc. The best thing to do is go to a travel doctor – they usually know what you need and what you don't.
You could also look up your government's health advisory websites, if there are any.
Vaccinations are a personal choice, I understand that… so you know, just make a sensible decision and do whatever you think is the right choice.
Also, if you have any other medical concerns or need to take certain medication regularly, it's definitely a good idea to start looking into things as soon as you can. Speak to your doctor and of course, do your research about how easy or difficult it might be to have access to your medication overseas.
A special note for the ladies, if you are using birth control, be sure to consider how you're going to manage this overseas as well.
Remember to start planning and organising all of this well in advance so you have everything you need before you go.
6. Money & Banking for Digital Nomads
This is again one of those topics that is so hard to give advice on because where you're from and what your local banks offer will greatly impact your options.
The truth is, the financial world is yet to catch up with us digital nomads so it can be a bit of pain accessing and managing your money easily.
We have a bank account in Australia and use the attached debit cards to access our money overseas. When we first started travelling, we used to have travel cards that locked in our money at a set exchange rate but we don't use them so much any more because it doesn't really end up saving us much money.
What you need to do is, research. Google, ask on forums, check with other digital nomads on Facebook groups — find out what the best option is for you. Look for bank accounts, debit cards or even credit cards that offer low fees or even no fees for accessing your money abroad.
7. Packing List for Digital Nomads
So, unlike many digital nomads, we are not carry-on only travellers. There is no right or wrong way so you know just do what suits you.
If you check in luggage, sometimes you will have to pay extra, like I mentioned but sometimes this might be worth it.
The first time you will probably bring much more than you need but you'll see what works and what doesn't and refine from there, I'm sure.
Instead of giving you packing advice, I'll share some links with you. Go check these out for some advice from other experienced digital nomads on what to bring and what not to.
Think about your
Tech gear: Make sure you have everything you need to get work done such as your computer, travel adaptors, hard drive etc.
Appropriate clothing: Bring clothes that are not only appropriate for weather but also culturally appropriate. Do your research to learn more about this.
Shoes: Bring comfortable shoes. That is all.
Toiletries: Thankfully, you can get most things overseas so don't bring a whole lot more than what you need for the first few days. The rest you can just buy when you get there. The only thing I struggle with is moisturiser in South East Asia — everything seems to have bleach in it. Yuck!
Anyway, go check out those links and start working on your own packing list.
Remember to pack sensibly and you really will need much less than you think you will. Having an idea of what you need to bring will also prepare you for the next step.
8. Getting Rid of Your Stuff: Prepping for Digital Nomad Life
Like most people, you probably have stuff you need to get rid off. I mean, even if you're not a huge hoarder, you still have STUFF.
Johnny & I never owned much, even when we were living in Australia full time yet when it came to getting rid of our stuff, there seemed like there was so much.
We sold most of our stuff when we left and left a couple of small boxes behind with family. Selling your things is easy these days with so many online options.
Make use of eBay, Craigslist, Gumtree, Facebook groups and any other options you have available locally.
If garage sales are popular where you live, host one to get rid of things faster.
If you are not prepared to sell everything, your other option is to put your things in storage. This could be at a friend or family member's house or you could rent a storage shed and dump all your stuff there. Just remember though, this is an ongoing cost that you will have to factor into your monthly expenses.
Either way, minimise what you own. Throw, donate or sell. Start working on this as early as you can, so you can do it with plenty of time in hand and don't stress about it just before you leave.
Getting rid of your stuff can be an emotional process but it's also a necessary one towards preparing for your new life. As they say, out with the old, in with the new. Plus, if you can sell your stuff and make a bit of extra money – it's a winner of a decision right?
By the way, if you need some advice on decluttering and how to sell your stuff, check out these links:
9. Settling into Your Digital Nomad Life
This is the final step – the things you need to keep in mind for your transition into your new life.
This is a list of all the things you need to research and organise to make your arrival as smooth as process.
A lot of this is just research, research, research before you go so when you arrive at your destination, you're armed with information and ready to dive in and get settled in.
So the first thing to research is
1. Your Arrival
These are some things you should be organised about:
Research the airport you're arriving at. Does it close at night, for example?
Are taxis easy to find? Do the taxis run by metre or do you have to bargain?
Are there any other transport options from the airport to your hotel or hostel?
Do you know how to get from the airport to the hotel? You don't have to know the details but it's good to be prepared. We always download the map for the city on our phone, on Google Maps. This way, you can follow the GPS along even if you are offline. You can also take screenshots of the location and the map and save them on your phone, in case you need it. Taxi drivers can be hopeless sometimes.
Speaking of screenshots, save everything on your phone (or write it down somewhere). Screenshot your hotel name and address. Save the booking details on your phone. You might even need some of this info for arrival cards or at immigration.
Rome2Rio is a great tool to start your research on how to get from Point A to Point B. It usually tells you train and bus options as well. A bit of Googling also never hurt. We've found lots of really helpful information on TripAdvisor forums and blogs.
Next, start researching your
2. Accommodation
If you're planning on finding an apartment when you get to your destination, be organised about it so you don't waste time when you arrive. Start doing your research and getting prepared so you hit the ground running when you arrive.
So your research would include looking into things like:
Neighbourhoods: Every city has certain neighbourhoods that are better than others for safety and convenience reasons. Before you go, scour the nomad forums and the internet in general to figure out the best areas to live in.
In Chiang Mai for example, digital nomads tend to live in the Nimmanhaemen area or in Old Town. In Medellin, foreigners usually live in Poblado, Envigado and sometimes Laureles. Narrowing down your search to specific neighbourhoods will definitely be much more helpful when you're looking for apartments.
How and where to find apartments: Every city will have its own unique ways to find apartments so being prepared ahead of time helps. These days, we find Facebook groups super helpful in finding accommodation.
This is how we found our apartment in Ho Chi Minh City. Other ways people find apartments include agents, AirBnB, expat forums etc.
Make contact: If you find any apartments you like, set up some times to meet with agents or apartment owners when you arrive. Having this organised before you go will save you lots of time.
Have a list handy: Make a list of your contacts and other info that you need to go apartment hunting. Maybe you've been recommended a certain condo and want to go check it out in person when you arrive? Write it down.
See also: How To Choose A Good AirBnB Apartment
Ok, so with accommodation research done, move on to
3. Coworking spaces/ cafes
If you can work from home, that's great but sometimes that can get boring or stifling.
We love coworking spaces so we always look into this before we go.
See what your options are. If you're not keen on a coworking space, research cafes that might double up as potential workspaces for you.
If finding accommodation takes a bit of time when you first arrive at your destination, knowing where you can work from is going to be very helpful because at least your business won't suffer.
If a city is popular with digital nomads, you'll easily be able to find the information you need for this.
You should use your time to get an idea of
4. Where everything is
Meaning, if you decide to live in one part of your town but your coworking space is elsewhere and the gym is too far from home – how are you going to get around?
Researching things like supermarkets, gyms, yoga studios, bar and restaurant areas etc is great because it starts to give you a feel for the city.
This helps you get a better idea of where to live so you're close enough to the things that matter to you but also, when you arrive, and say you need deodorant, you know exactly where to go.
Next, also think about your
5. Transport options
It's good to have a bit of an idea of how you're going to get places in your new home. Whether it's Uber, tuk tuks, the train or renting a bike – it helps to know what's available.
Say you plan to rent a bike, research reputable bike providers in town so you can go there and get your transport organised as soon you arrive.
6. SIM card
Finally, look into your phone options. A smartphone is actually a pretty important tool for digital nomad life so get yourself a phone number overseas. Look into who the best providers are and where you can get a new SIM card. It's usually very easy to do and in many places, you can easily get one at the airport as well.
And that completes your 9 steps to planning, researching and organising your trip. Lots to do right?
Before you go I want to remind you NOT to make a rookie mistake we see many newbie digital nomads making.
Digital Nomad Rookie Mistake: Planning a Holiday instead of Planning a Digital Nomad Trip
Even if you are a super experienced traveller, it's important to remember you're not going on vacation this time… you're going on a workation.
Many seasoned travellers plan their digital nomad trips the same way they would a holiday. They research sights to see, and the best hotels to stay at but do none of the other crucial research and preparation steps we've just talked about.
Then they get to a place and start fumbling around looking for a place to work or somewhere to live and end up wasting so much time and don't get important work done.
Don't fall in that trap.
Don't hate me for reminding you again, but you're not going on holiday guys! So follow this checklist and start your planning and prepping as soon as you can.
Get in that digital nomad headspace and start preparing for your trip the right way.
Want to Become a Digital Nomad but Don't Know How?
If you've always wanted to live the digital nomad lifestyle but don't know where to start or how to find work, don't worry. That's exactly what we're here for!
Our program – The Digital Nomad Roadmap is the complete, hand-held guide to taking you from a rookie to a well-prepared, online income-earning nomad rockstar.
Click here for all the details.
More questions about planning your digital nomad travel? Drop us a comment below and we'll be happy to help.
Like this post? Share it on Pinterest.
Written by
---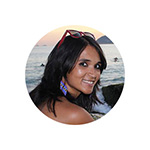 Radhika B.
After turning her back on office life in Australia, Radhika set out to create a life lived on her own terms (a constant work in progress). As co-founder of Fulltime Nomad, she is super passionate about helping others live life with more freedom and flexibility, and a bit of travel thrown in for good measure.