Every blogger wants to be on page one of Google. If you make it to page one, you've made it.
But most people don't fully understand how to actually achieve that. As a blogger, you understand Search Engine Optimisation (SEO) matters but do you know what exactly SEO for blogging involves?
With the ever-changing algorithms, tough to understand technical terms and not to mention all the new animals Google keeps throwing at us like penguins, pandas and hummingbirds, SEO can be tricky. But not impossible!
Making use of proper SEO techniques for blog posts will help your blog rank higher in search engines and get more traffic to your site.
FREE 5 Day Course
How to start a blog
that makes money
---
In this free course, we will take you through, step-by-step, everything you need to start a profitable blog.
By signing up, you are agreeing to receive periodic emails from Fulltime Nomad. No spam. Only the good stuff.
Contrary to popular belief, it doesn't have to be time-consuming or super technical either. You simply need to get the basics right. Keep reading, we'll explain.
*This post may contain affiliate links. If you click on them and purchase something we get a small percentage of the sale. More info here*
Related posts:
Top 10 SEO tips for blogging
For Fulltime Nomad, the majority of our traffic comes organically from Google. We spend a lot of time keeping up to date with what's going on in the world of search engine optimisation and of course continually optimise our own site as well.
These SEO tips for blogging are things we consider essential and practice ourselves as well. All of the SEO advice below is "good" SEO, not black-hat at all.
SEO is about keywords, but also about so much more than that. Here are our top 10 SEO for blogging tips:
1. Do good keyword research
The success of any SEO campaign depends on keyword research.
Before you start writing your blog posts, you need to find out what kind of keywords are ranking for your topic of focus.
Why are keywords so important?
You want people to find your content as they browse online, right? This is only possible if you include the words that people search for on your topic.
Using the right keywords will also help Google understand what your content is about. This increases the likelihood of your blog posts showing up whenever people search for your topic.
Keyword research can be tedious, especially if you're like us and like to go deep with it, but absolutely worth it.
When you're doing your keyword research, the goal should be to find the words that have the biggest potential to bring traffic to your blog.
You want to find the keywords with a high search volume but also have low competition. What this means is that while they may not always be the most searched words, there is still a huge number of people looking it up.
Google Keyword Planner is a perfect tool to find such information, but be aware that you need to have a Google Ads account set up to use the tool. We'll talk more on which tools to use later in the post.
Google's Keyword Planner
Another way to find the right keywords is by considering these 3 aspects:
How do you expect readers to find this specific blog post?
What would you type in Google to search for information like this?
What are people likely to type if they want to have information on this topic?
Always ask yourself what the intent of your target audience is when they're looking for the kind of information you intend to share. What are they hoping to find? By knowing this, you'll be able to get a better idea of which keywords are better for each of your blog posts.
2. Look for low difficulty keywords
Keyword Difficulty is the metric that shows how hard it would be to rank for a particular search query.
In addition to considering the search volume and competitiveness of your keywords, you also want to consider keyword difficulty. You obviously want to have keywords that are easier to rank for; meaning your blog post will show higher up on Google when searchers use those keywords to search for information.
Keyword Difficulty is indicated on a scale from 0 to 100. The lower the value, the easier it is to rank for the keyword on the first page of Google and other search engines.
Ahrefs is a good tool to find out the keyword difficulty score for your keywords.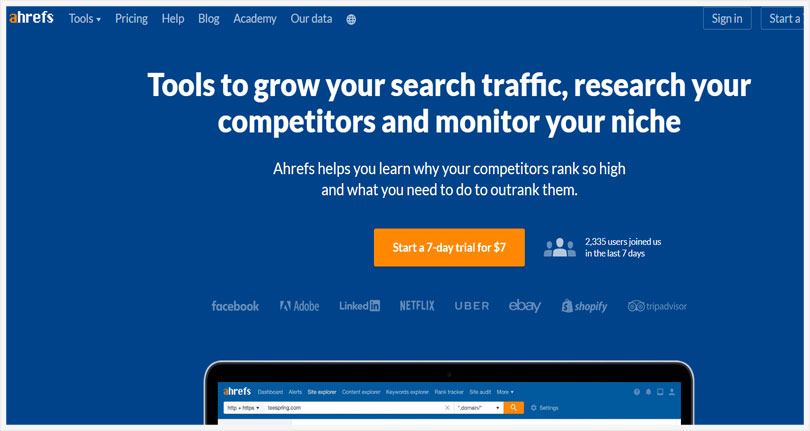 3. Write quality content
Many bloggers (wrongly) believe that writing for SEO equals writing poor quality content and stuffing them full of keywords and throwing it out into the ether for Google to (hopefully) pick up.
That's so 2005.
Gone are the days when it didn't matter to search engines what kind of content you had on your blog. Today, Google is focusing on value more than anything else. The more value your content offers searchers, the higher your blog will rank.
It's therefore very important that you focus on quality if you want to get ahead of the competition and nail SEO for blogging. Your readers will love you for it and so will the search engines.
Always aim to produce blog posts that are creative, informative, thorough and entertaining. Create blog posts that are simply amazing.
4. Distribute your keyword usage
Once you've figured out which keywords are the best, the next step in the SEO for bloggers process is utilising the keywords in the correct manner in your blog post.
You don't want to stuff your blog post with keywords just for the sake of it. You want to make sure that your keyword is distributed correctly throughout the blog post.
Here's a breakdown of the areas on your blog post that should have your keyword:
The headline (H1): The title of your blog is what attracts searchers and search engines first. It's important that you insert your keyword in the title so that a reader understands what your blog is about and is attracted to go and read it.
Subheadlines (H2, H3, H4): Your subheadlines are also important in improving your SEO. To rank even higher, try to use related keywords smartly in your subheadlines.
The URL: Another important aspect of SEO for blogging is optimising your URLs. Every blog post has a unique URL. Add the keyword in the URL as well to help each blog post rank higher.
Meta Description: This is a preview that shows up in search results and tells readers what your blog post is about. It's what readers see in Google search results. The meta description should be a summary of your blog post and is limited to 158 characters.
5. Optimise images
Optimising blog images is perhaps one of the most ignored SEO blogging tips. What most bloggers don't know is that Google Image Search can send a lot of traffic to your blog if you optimise your images properly.
And here's the best part; all you need to do is add alt text (description in the Alternative Text) to your images. Make sure your alt text contains your keyword for better results.
Another good tip to optimise your blog images is to compress them so that they load fast. You don't want large images that will slow down your blog. TinyPNG is a great, free tool for this.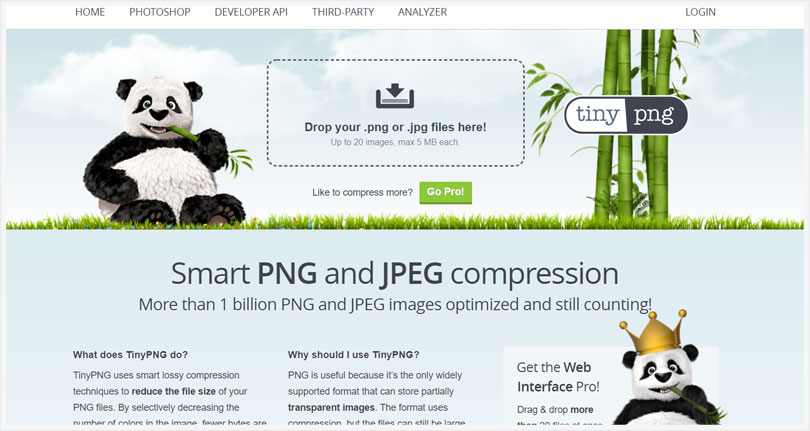 6. Improve site speed
Speaking of slowing down your blog, page load speed is another important ranking factor. The faster your loading speed the better the search engines will rank you.
You can find out how your blog is currently fairing by entering your URL on Google Pagespeed Insights. It will show you if you need to do anything to speed up your blog.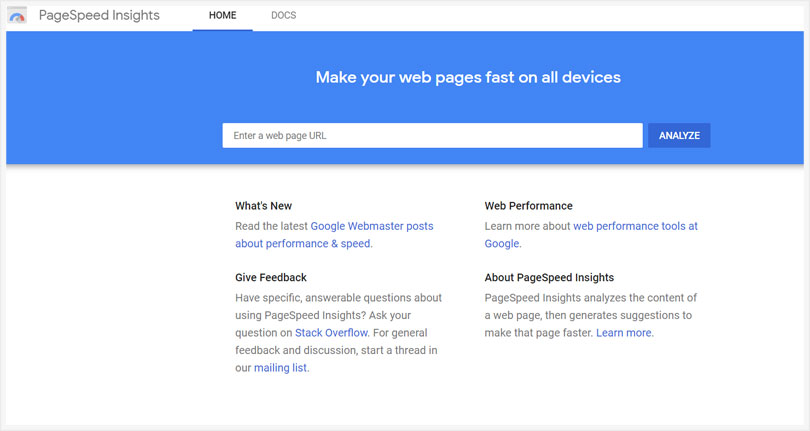 Google's PageSpeed Insights
Another great way to optimise your blog speed is to install a caching plugin on your WordPress blog. W3 Total Cache is a great plugin and the one we use.
See also: Best WordPress Blog Plugins: 9 Must-Haves For Your Blog
7. Link internally linking between articles
Link your blog posts to older content as much as you can. However, even though the content you link to is yours, make sure that it's relevant to the blog post you're working on.
This will help spread some love across the rest of your site, and potentially push your other articles up on the search result pages too.
Internal linking also makes it easier for Google to crawl your site and ensures that your posts are getting properly indexed.
8. Link to external sites
In addition to linking to your own content, link to other bloggers and useful websites too.
Linking to external content will make your content more authentic, valuable and trustworthy. This is exactly what Google wants.
External links also reinforce the message in your post. For instance, using referenced statistics and research data gives your claims more weight.
9. Make sure your blog is mobile-friendly
Google uses the mobile version of your blog for indexing and ranking. So the more responsive your mobile site is, the higher you will rank on Google search results.
It's therefore very important that your site works well on mobile devices, even if most of your traffic is on desktop.
You don't need to be a tech wizard to make sure your blog is mobile-friendly. To optimise your mobile site, simply use a responsive WordPress theme. There are many WordPress responsive themes available. You can pick one from our list of Top 10 Blogging Themes.
10. Make the most of SEO tools
There are some amazing tools that make SEO for blogging easier to understand and implement. No need to struggle through the technical stuff, simply use these tools:
There you have it! 10 SEO tips for a blog to get you started on optimising your site for search engines. Follow these tips and we're confident you'll start seeing positive results from search engines.
Remember, SEO is a long game. These SEO for blogging tips won't get you to page one overnight. You've got to be patient and keep doing it to get to the top and stay at the top!
Written by
---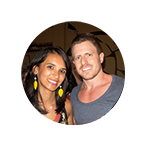 Fulltime Nomad
Fulltime Nomad is your passport to saying no to normal, and yes to a life of unlimited travel. Founded by Radhika & Johnny, this blog will help YOU take that big scary first step towards building your own freedom lifestyle. Are you new? Start here.