What if you didn't have to dip into your paycheck for every little thing you need to pay for? What if you had a quick easy side gig that allows you to earn some extra cash? Wouldn't you love that?
Let's kick out the what ifs. Paid online surveys are the best legitimate way to earn some quick cash without having to invest a lot of effort.
Big brands are always looking for ways to understand their customers and are willing to pay the best online survey sites available for this information. As a customer, you can make some quick cash by answering a couple of easy questions by joining these online survey sites.
Yep, it's true that there are quite a good number of some dubious survey sites and you may doubt the effectiveness of this simple side hustle, but trust me, there are a good number of online survey sites really worth your time.
FREE 5 Day Course
How to start a blog
that makes money
---
In this free course, we will take you through, step-by-step, everything you need to start a profitable blog.
By signing up, you are agreeing to receive periodic emails from Fulltime Nomad. No spam. Only the good stuff.
Today we bring you 14 of the best online paid survey sites that are legit (and high paying).
*This post may contain affiliate links. If you click on them and purchase something we get a small percentage of the sale. More info here*
Related posts:
How to Make Money with Online Surveys
The concept of getting paid to take online surveys is quite simple. Big brands pay reputable online survey sites to collect customer input on their products or services. They want to know about their customers' TV-watching habits, favourite places to eat, what kind of clothes they prefer, their preferred mode of payment, etc.
The survey sites then pay you to provide this information. They, therefore, act as a middleman between you and the big brands in need of customer information.
Because your input is valuable to the big brands, the survey sites will offer you money, gift cards, and all sorts of other cool stuff in return.
Taking online surveys is quite simple and all you need is a computer, internet connection and some free time. You don't need any special skills or qualifications. You simply need to be a consumer.
Most sites will offer surveys and other additional tasks. You can get paid to play games, watch YouTube videos, test products at home, shop online, conduct online research and refer other customers.
Most of these are tasks you do occasionally anyway, but now you can get paid to do them.
How Much Money Can You Make with Online Surveys?
Taking surveys on a number of the best paid survey sites is definitely a fun way to earn some extra cash with minimal effort.
Granted, it won't make you rich and neither will it be income that you can rely on to pay all your monthly bills. But, wouldn't it be nice to be paid to fill in simple questionnaires as you watch your favourite TV show?
The beauty of this online side hustle is that it takes very little effort and just a few minutes of your day. With such little investment, you can easily make an extra $75-$100 per month.
See also: How to Start a Side Hustle Online: 12 Ideas to Make Extra Money
Got plenty of time that you can fill with just a bit of work? Carry on reading for tips on how to take advantage of reputable online survey sites.
Tips for Making Money with Surveys
The number one tip for making money taking online surveys is to cast your net wide. Join as many sites as possible.
Online surveys don't pay that much simply because it doesn't take that much to get them done. However, in this disadvantage lies the advantage: you can do very many surveys in one day.
To earn a lot you need to take as many surveys as possible. This means joining different survey sites to increase your earning power.
You also need to keep your options open because not all sites will have paid surveys available every day. You may have the time to take surveys but you may find that the site you joined doesn't have any paid surveys for you. So if you want to have constant work then you need to join more than one site.
Another reason why you need to be on multiple sites is that you will not be eligible for all the paid online surveys you come across. So the more you can find, the better your chances of being eligible and the higher your chance of making more money.
What are the best paid online survey sites?
There are lots of online survey sites, both legit and scams. Don't get overwhelmed by all the sites you come across. Save yourself some headache and set your eye only on our top 14 recommended best paid online survey sites.

What makes Survey Junkie one of the best survey sites to make money is the fact that it's straightforward and quick to make money on the site.
The site has over 5,000,000 members, which makes it one of the top best paid online survey sites available on the web.
The site doesn't ask for any special requirements, nor are you required to install anything. Better still, they add new surveys every day.
If that's not convincing enough, you get to know exactly how much you stand to earn before you even start the survey. That way you know exactly how much you're going to make for your time.
How it works: Signing up on Survey Junkie is super easy. You can register in just a few seconds using your Facebook profile. One thing that sets this site apart is that you get paid for answering their screening questions.
Once you sign up, browse the categories to find a survey you like and complete it. Once you complete the survey cash/points will be added to your account. You can take as many surveys as you like.
How much will you make? Most surveys on the site will earn you between 100 and 200 points. You can cash out via PayPal when you reach the $10 threshold (1,000 points).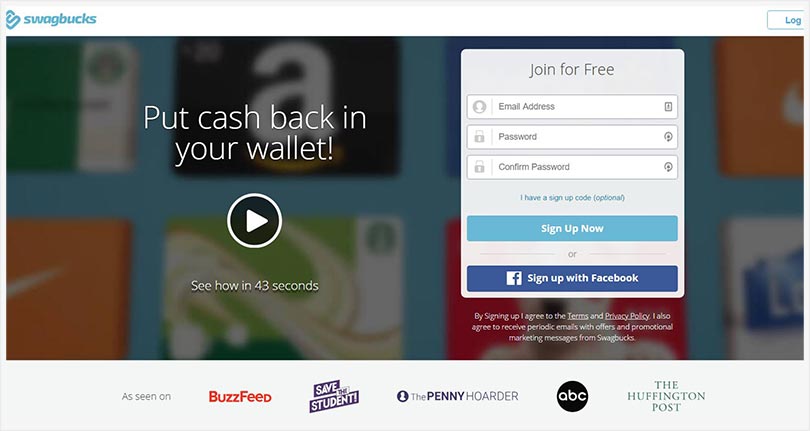 Swagbucks is a highly rated online survey site with an A+ rating with the Better Business Bureau. What makes this site a beauty is that you can do a couple of surveys a day when you're bored at work and add up your cash and rewards pretty quickly.
How it works: When creating a Swagbucks account, you'll be asked to enter some demographic information about yourself and your household (age, income, interests, etc.). From the answers you give, you'll receive surveys the site believes you are eligible for.
For every survey you take, you earn "Swagbucks," also called SBs. You can then convert the SBs you accumulate into cash or gift cards to your favourite retailers (Amazon, Walmart, Target, etc.).
Pretty straightforward, right?
You can also earn money on the site by:
Shopping online
Online search
Watching videos
Playing games
Discovering deals
Buying a gift card
How much will you make? First, you get a $10 welcome bonus once you sign up for a free Swagbucks account. Second, you earn between from 1 to 1,000 SBs, for every survey depending on the length and value of the survey.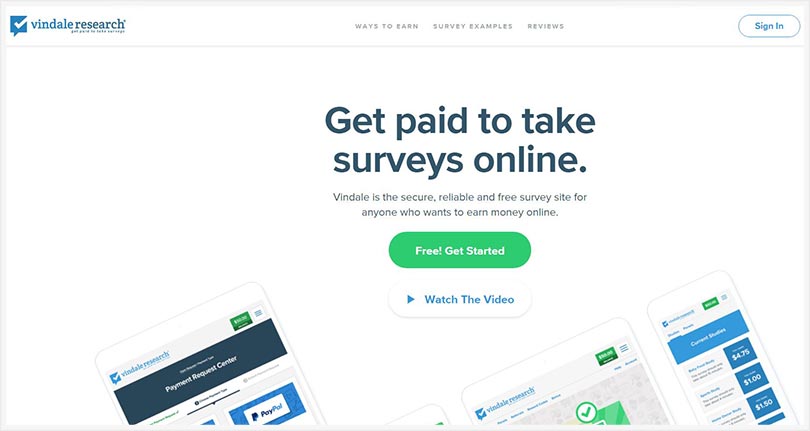 If you don't want a survey site that pays in form of points then Vindale Research is your best bet. The site pays you cash for all the surveys you take.
Another thing that makes this one of the top best paid online survey sites is that it pays above average compared to other paid survey sites.
How it works: Creating an account on Vindale Research will take you less than 2 minutes. To start doing surveys, first, you have to complete your profile by adding a few details about yourself such as your ZIP code, relationship status, annual household income, etc.
There are short simple surveys you can take to earn some quick bucks. There are also high paying online surveys on the site. These are usually more complicated and will take longer to complete, but certainly, are a great way to make extra money.
Other ways to make extra money on the site:
Referrals
Sending your photo with your reward
Participating in cash contests.
How much can you make? Vindale pays between $0.25 and $50 for each completed survey. Not bad at all! You'll also get a $5 bonus just for creating your account.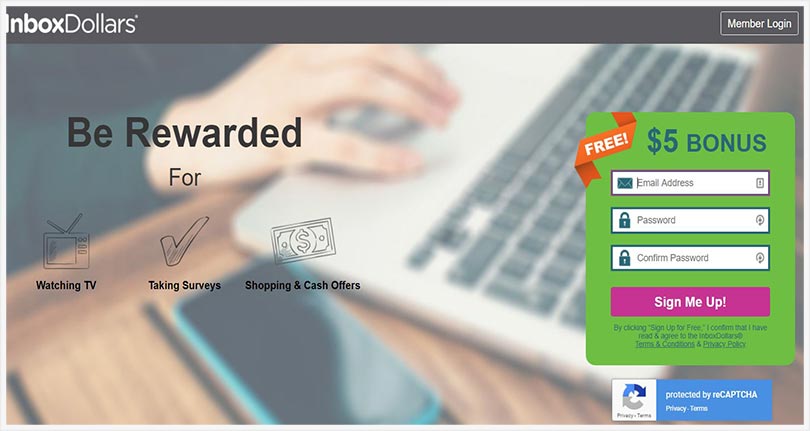 InboxDollars is another survey site that works on a cash only system. You don't have to worry about converting points to cash or being paid in gift cards. The site claims to have paid out over $57 million to users to date.
How it works: Signing up is a breeze. Simply sign up with your email then answer a few basic questions like income level, race, education, and health questions. After this watch a couple of tutorial videos on how the site works and earn $5 on the spot.
After this, you can start taking as many surveys as you want. You can also get paid for playing games online.
Unlike other sites, InboxDollars offers a site tour to explain your earning options. This helps you get your bearing pretty fast.
How much can you make? Pay per survey is typically between $0.25 and $2.00.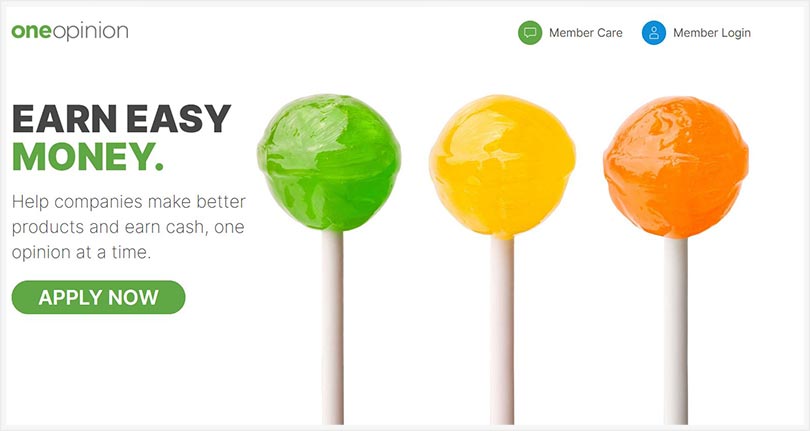 OneOpinion is a simple test product and paid survey site open to anyone 13 years old or older and a resident of the United States, Germany, Italy, France, the Netherlands, Australia, Canada or the UK.
How it works: Signing up with OneOpinion is free and will take you about one minute. Like many other online survey sites, OneOpinion works on a points system. You can redeem your points either for a gift card or Paypal cash transfer.
You can access surveys on OneOpinion in three ways:
Survey invitations sent to your email address
Searching for surveys on the site
Through the site's mobile app that comes with extra mobile surveys
In addition to surveys, the site also offers product testing. You can become a panel member and get to do paid market research and test new products at home before they are released to the market.
How much can you earn? You stand to earn a minimum of 50 points. Every 1,000 points are equivalent to $1. You can cash out once you reach 25,000 points. You can earn $1 to $5 per survey and sometimes you could even come across longer surveys that pay $15.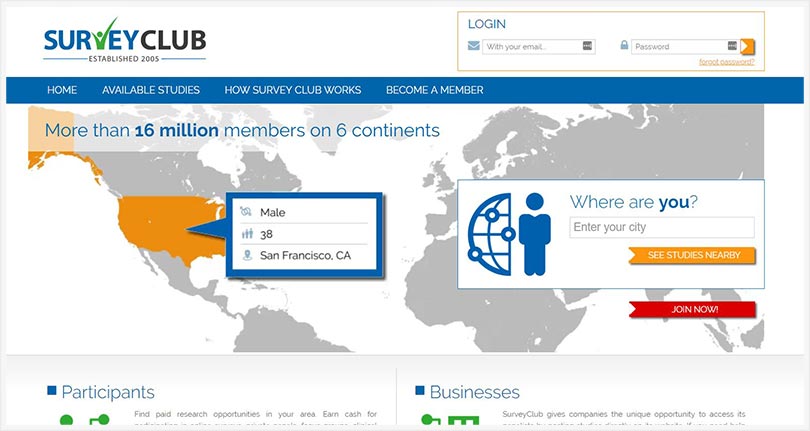 One thing makes Survey Club stand out from the other best survey sites that pay cash is that it acts as a middle man for other paid survey sites. This means that by creating an account on the site you have access to an entire directory of surveys instead of just one survey site.
On the downside, because they are a middle man, in most cases, you will earn slightly lower compared to what you'd earn if you were to find the surveys yourself. Nonetheless, being able to find a ton of paid surveys in one centralized spot is pretty nice.
How it works: You can participate in the latest surveys, research, product test, focus groups, and clinical trials, and get paid for it. Most of the surveys will be around 20 minutes long. You get paid in gift cards, cash and check for the tasks you take.
How much can you make? You can earn anywhere between $0.10 and $1000. Paid focus groups pay between $10 to $200 while online clinical research studies can pay up to $1,000 or more.
MyPoints is a survey site that pays members to take surveys, shop online, watch videos, play games, and more. The site is owned by the same company as Swagbucks, giving it credibility.
MyPoints has been operating since 1996 and has paid over 10 million members since then.
How it works: Registration on the site is quick and easy – just click the join now button and fill out the information required. You earn points for every 10 profile questions you answer. You can use the mobile app (available for iPhone only) for more convenience.
Once you reach the minimum redeemable points (700), you can exchange them for gift cards that include 70 top retail and restaurant brands, travel miles, or a direct deposit to your Visa prepaid card or PayPal account.
One thing that makes MyPoints stand out is that the survey points you earn are redeemable immediately, in comparison to other paid survey websites that make you wait up to 12 weeks before you see your updated balance.
How much can you make? The amount earned will vary according to the survey´s length, but generally, it won't be more than $6 per survey.
Earning Station is a very straightforward survey site where you earn money by providing your opinion through surveys. You get rewarded in the form of gift cards.
How it works: The site works on a points system using "Station Dollars" (SDs). SDs can then be converted into gift cards (Walmart, Amazon, etc) or PayPal cash.
There are other ways to earn points and make some money including:
Watching a 1-3 minute video
Clipping coupons
Downloading a game
Signing up for free trial offers
Make a Groupon purchase
Creating an email or website list.
How much can you make? Earning Station will allow you to earn $25 to $50 a month. If you want to cash out gift cards you need a minimum amount of $10. If you want to withdraw money to your PayPal account, you need at least $25.
This is a unique kind of paid survey site where you bid and win prizes. VIP Voice conducts more than 12 million paid online surveys every year.
How it works: You'll not be working for money. Instead, when you complete surveys you win the opportunity to enter a sweepstake or bid on an auction. You get to win things like TV's, computers or international vacations.
How much can you earn? You cannot convert your points into gift cards or cash as it is with other paid survey sites. You use the points you get to enter into sweepstakes and auctions for great rewards.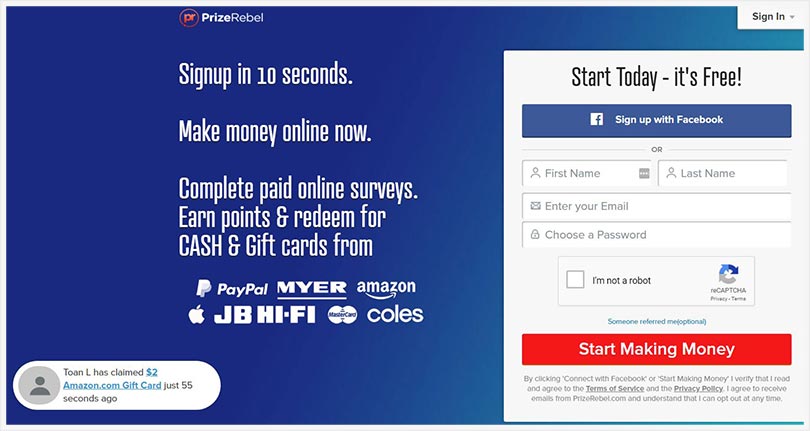 PrizeRebel is an online survey site like no other. The site offers a lot of quick easy to complete surveys giving you a chance to earn a fair chunk of cash very quickly.
How it works: You can sign up via Facebook and start making money from the tons of surveys on the site. The site sends you daily challenges tapping into your competitive spirit and encourages you to earn as many points as possible.
Converting your points is pretty easy. You can choose to have gift cards or if you have earned at least 500 points ($5) you can have the money transferred directly into your PayPal account.
How much can you make? You can earn between 60 to 85 points for a 5-10 minutes survey. Each PrizeRebel point is worth $0.01. You need a minimum payout of $5 for an Amazon Gift Card. You can also be paid via PayPal, with BitCoin or direct to your bank account.
Harris Poll Online is an authentic and high paying survey panel backed by Nielsen, a popular market research company. The site has over six million users from over 90 countries. The site features an A+ grade on the Better Business Bureau.
How it works: The signing up process is a straightforward one. During sign up, you will be required to fill in your personal information. After signing up, you are required to confirm your email address.
Once you verify your email, the site is immediately accessible and you can start earning. You can also occasionally get invited to focus groups and telephone surveys.
You accumulate points for every survey that you take. Redeem your points for a variety of gift cards right from Walmart to Amazon.
YouGov is another highly trusted survey site run by an international Internet-based market research and data analytics firm. The surveys on the site are usually short and will take at most 20 minutes.
How it works: You can sign up for YouGov online or via its mobile app. Make sure you add your region because the site is open to members from a wide range of countries.
Once you sign up you will receive an email with a link straight to your first survey. This is a typical demographic survey that will take about five minutes only and earn you 100 points.
You can receive cash payments awarded via PayPal in some countries, while gift cards are available in most countries. Retailers include Amazon, Best Buy, iTunes, Walmart, and more. YouGov branded merchandise is also available.
How much can you make? On average, you will be awarded between 300-500 points per survey. 1,400 points are equivalent to $1.00. You will get 2,000 points for the first survey you take after signing up.
Just as with the majority of the best paid online survey sites, Valued Opinions offers rewards in many different forms, but their main payment method is gift cards. Another form of reward is airline miles which are great for people who like to travel.
How it works: One unique thing about Valued Opinions is that it offers a unique program where you can collect "badges" depending on your level of participation. There are 5 levels, Bronze, Silver, Gold, Platinum and Diamond, that you can achieve by completing various mini-tasks.
A typical survey will take 15-20 minutes to complete, however, the estimated time is always outlined before you actually take it. Make sure you do the surveys as soon as you get invited because they don't last long especially if they are high paying.
How much can you earn? Most of the surveys are worth between $1 and $5
Branded Surveys is a simple user-friendly online survey site with a perfect blend of a good payment amount and a high quantity of surveys. In addition, it has a high rating on the Better Business Bureau. So, you know you can trust the site.
How it works: You need to be qualified for each survey you choose to take. Provide your demographic information truthfully in order to get matched up with more surveys that you qualify for.
Once you complete a survey you will earn points that you can redeem for cash or gift cards to popular outlets.
You can also make money on Branded Surveys by:
Redeeming offers
Shopping for local deals
Research studies
Referrals
How much can you make? You earn points for every survey you take. You can about 300 points per survey.
It never hurts to have extra bucks in your pocket. And how awesome would it be if you can make these bucks quick and easy?
If you stick to reputable survey sites out there and make a consistent effort to surveys, there's absolutely no reason why you won't be able to rake in at least a hundred bucks a month in cash and other rewards.
To start making money today, get on to our list of the best paid online survey sites and bag that extra buck!
You might also be interested in:
Written by
---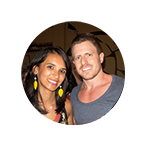 Fulltime Nomad
Fulltime Nomad is your passport to saying no to normal, and yes to a life of unlimited travel. Founded by Radhika & Johnny, this blog will help YOU take that big scary first step towards building your own freedom lifestyle. Are you new? Start here.