Lucy threw caution to the wind and decided it was time to deal with her love for adventure. It's not easy to trade a career and a nine-year old relationship for a life out of a backpack. But that's what she did. Lucy has been travelling the world, enjoying the adventure and hoarding good memories along the way. She recently spent a year living in Australia and loved every bit of it!
We truly believe there is no better way to learn about a new city, new country or a new culture than living there. Our Living Abroad series is designed to tell stories of living overseas and show people that the world is really not such a scary place. We hope it inspires more people to pack up their bags, travel slow and see what it's really like to live in a different place.If you'd like to tell your story, there's more information at the end of Lucy's story.  
Here's what Lucy had to say about Australia.
Where did you live?
I'm from the UK but just spent four months living in Melbourne, and another four months living in Darwin, Australia. Heading back to Australia in September.
86 Ways to Make Money Online
Download our free guide on legitimate ways to make money online in 2020
By signing up, you are agreeing to receive periodic emails from Fulltime Nomad. No spam. Only the good stuff.
Where are you originally from and what did you do before?
Originally from Norfolk, UK, where I was working as a journalist before quitting my job to travel Asia, Australia and New Zealand for a year. I spent five months in Asia and a year in Australia – ended up falling in love with Australia and never made it to New Zealand!
What was it like to live in Australia as an expat/ foreigner?
Melbourne and Darwin gave me two very different experiences of Australia. Darwin, up in the Northern Territory, has a really tropical climate and a much more relaxed way of life, it's totally outback and you don't have to venture very far to be surrounded by nothing but dry, dusty, wild, rugged landscape.
It is truly what you imagine when you think of Australia, it's the real Aussie lifestyle. Darwin is a perfect place for travellers, I met some of the most well travelled Aussies when I was up there and the city is full of backpackers. It's a transient place which suits those of us who are travellers at heart.
Melbourne is completely different, it's much more polished and new, it has a feel of a city that is just beginning to discover itself, so it has a place for everyone. You don't have to move far out of the city to be surrounded by true natural beauty so it's perfect for those who love city life but like to get away from it all. So much more relaxed than Sydney, Melbourne is an amazing place to live that always has something going on and the people are so welcoming.
Again, it is such a multicultural city and full of travellers so you're sure to have a real experience as a foreigner and meet people from all over the world. I have never felt more welcome in two different cities than I did in these, I have never felt more at home so quickly. They will be a home to me for life.
What did a typical day look like for you?
When I was living in Darwin I worked in a theatre and one of the main party bars. My days started early so I could get all my chores and blogging work done, then I would laze by the pool until my shifts started. I would work for 10-12 hour shifts then head home to go running along the esplanade or down at Mindil Beach in the dark before heading back to party with friends.
On other days when my shifts started early I would finish up my days watching the sunset at Mindel Beach Markets with friends, having barbecues or enjoying lazy afternoons at the waterfront. Darwin was all about the lifestyle, work was relaxed and it was all about who you were having beers with afterwards.
In Melbourne, I became a bit of a workaholic when I worked as a sales manager, I was working 12 hour days minimum, starting early and often not getting home until 9pm. Most of the time we would finish and head straight for work drinks at a nearby pub in Richmond before I headed home.
My one day off a week was always spent with my best friends or my love, we would head out of the city to go mountain biking or camping in the stunning national parks or beaches. The Melbourne lifestyle was amazing, with endless festivals, restaurants and clubs to enjoy, you could never run out of things to do. Plus it was nice to finally be settled somewhere – to have a local where the owners knew your name.
Why did you choose Australia?
I went to Darwin for work, I knew I could find a job easily there and the weather was amazing so I went for it. I found two jobs in less than 24 hours and met amazing people so I decided to stay a while. Plus the landscape and the idea of being in the outback really appealed to me, I loved seeing the real Australia.
I knew I would love Melbourne before I even touched down in Australia – word of mouth made me realise this was a city I would call home. It's vibrance and excitement shone through in the recommendations of others and after finding Sydney was not really for me, I knew Melbourne was the one.
What did you love about living in Australia?
Polar opposites really – for Darwin I loved the relaxed outback way of life, the way everyone was a bit rough around the edges and it was like the whole code of behaviour was different. It was exciting and completely unmanicured, just what I needed after two months of polished, predictable Sydney and East Coast life.
Melbourne was beautiful, it has great job prospects that pushed me out of my comfort zone and gave me opportunities I never knew I could have. It gave me a great quality of life, amazing friends, a great love. Everything just came together there and it really was a place I could see myself living for life.
What are the local people like?
In both places the local people were great characters, really welcoming and so diverse. They ranges from expats and travellers, to Australian travellers who had moved over from Queensland or New South Wales, to those who had grown up there – it was such a mixed crowd in both locations.
Both were very westernised areas for people, but Darwin did also have hints of Asia about it from being so close to Indonesia, it was lovely to see how some hints of the culture had leaked across.
What work did you do in Australia?
I worked in Darwin at a theatre and at a main party bar, both were great jobs and extremely well paid compared to elsewhere in Australia. The bar job was fantastic for meeting locals and for getting to join in all the after-hours fun of the city while earning money – I was paid to party every night.
In Melbourne, I worked as a sales manager for a team of 15, I worked my way up quickly and became their best manager, I was earning $2,000 a week. It was long hours and very stressful, but so much fun.
What is the cost of living in Darwin and Melbourne?
In Darwin, I paid $200 a week for my accommodation, which came with a pool, and probably spent around $50 a week on food at the absolute max. I got a lot of free food at the bar and free alcohol which helped me save a lot of money. It was very easy to spend very little up there and still have a lot of fun.
Australia doesn't have a cheap cost of living and Melbourne was supposed to be much pricier for living but my accommodation again cost me $200 a week with a gym, pool and balcony included, in a really nice flat in the centre of the city with views over Albert Park and the Botanical Gardens.
My food costed around $50 a week and I spent probably around $100 a week max on going out – I just didn't really have time to spend money because I worked so much. Again, I was earning so much that it was really easy to save a lot of money in a short space of time.
What's the availability of short term accommodation in Darwin and Melbourne?
In Darwin I lived in a hostel ($200 a week) for four months – it was actually a great option because it meant I could stay surrounded by all my friends, get free breakfast and a pool. All of the hostel were working various different jobs from construction to chef or cleaning jobs, and bar jobs.
We all worked different hours but managed to party and eat together every day which was a lovely, communal way of living. Plus my hostel was just 2 minutes walk from one job and 7 minutes walk from my other job.
In Melbourne I lived in a beautiful apartment with three other girls, it was a huge apartment building with a balcony overlooking sea views, park views and it's own gym, pool and tennis court.
Just a five minute tram ride from the centre of the city, a 15 minute train ride from my place of work, 30 minutes from the beach and across the road from two of the biggest parks in the city. It was perfectly positioned for me to live an incredible life. ($200 a week all bills included)
What is the food like? (eating out & the quality of supermarkets)
Supermarkets are fine all across Australia – you get a great range of anything you could need or want, I'm always very impressed by the range of vegetarian and vegan options compared to UK supermarkets.
Eating out is also great, I didn't really eat out much in Darwin as I was saving but Melbourne has an incredible range of restaurants with food from all over the world! Try Chapel Street and Brunswick Street for my favourites.
Are there good places to work online e.g cafes/coworking spaces in Australia?
Darwin has less opportunity for these, I mainly used hostel WiFi and went early to the bar I worked at if I needed space. Melbourne would have a great range of places to work, breakfast/brunch cafes, restaurants/bars/libraries. The list goes on, you could find anything you needed in Melbourne.
Do you need a visa? If so how long can you stay in the country for?
I was on a working holiday visa which gave me a year to stay there and if I completed three months of farm work, which I did, I can return for another year. I plan to head back there in a few months for my second year and will be heading straight back to Melbourne.
It is possible to apply for sponsorship if you have a good job, or citizenship if you want to stay longer. I have friends doing both and although it's a long/expensive process, it's worth it to stay in this amazing country.
How safe is Australia?
Very safe for both. Westernised culture so same as UK.
Is there a big expat community?
There is a huge backpacker community all across Australia of which are longer term travellers, and many of them choose to stay and work/live in Australia. I have lots of friends getting sponsored/citizenship who are based in both Darwin and Melbourne.
There are endless numbers of UK expats over there, but also from all over the world. Australia is one of the most multicultural places I have been so you'll never feel alone.
Are there any other good places to travel to close by?
Indonesia and Asia are just a hop, skip and a jump from Darwin, and down in Melbourne you're very close to New Zealand, Fiji and South Pacific islands.
Any other advice/tips for someone who might want to live in Australia?
Travel around Australia first before you choose a base, everywhere is so different that it's hard to know which place and which lifestyle will suit you best. Some of my closest friends found a real love of Sydney while I didn't like it, others rave about the West Coast. Don't pin yourself down too early.
And, finally any advice or encouragement for someone wanting to take the leap and live overseas?
Do your research – know all you need to know about visas, farm work, money, medical care etc before you pin your heart on a place. Visit it, trial out living there short term for a month or two, just to see if you actually like it. Try and find a skill you have that might been in short supply in the country – this can be a great way to get sponsored or to fast track your citizenship if the country need you to work.
Lucy blogs at Absolutely Lucy and has a taste for adventure. Two years ago, she gave up her career as a journalist and her nine-year relationship to travel the world. Now she carries her life in her backpack and the only thing she hoards is memories. She travels the world finding light, laughter and love in the strangest places and can usually be found living her mermaid dreams in the ocean or dancing her heart out at a festival. For her, travelling is about finding the balance between immersing yourself in local culture and living that backpacker lifestyle.
Connect with her on Facebook and Instagram 

Written by
---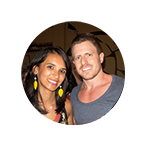 Fulltime Nomad Fulltime Nomad is your passport to saying no to normal, and yes to a life of unlimited travel. Founded by Radhika & Johnny, this blog will help YOU take that big scary first step towards building your own freedom lifestyle. Are you new? Start here.