Ben Weinberg absolutely loved living in Istanbul. After doing a study-abroad semester, he decided to return in 2014 to teach English. He ended up falling even more in love with the place, practising his Turkish language skills and of course, making the most of Istanbul's variety of delicious food. 
We truly believe there is no better way to learn about a new city, new country or a new culture than living there. Our Living Abroad series is designed to tell stories of living overseas and show people that the world is really not such a scary place. We hope it inspires more people to pack up their bags, travel slow and see what it's really like to live in a different place. If you'd like to tell your story, there's more information at the end of Ben's story. 
Here's what Ben had to say about Istanbul.
Where did you live?
I lived in Istanbul, Turkey.
86 Ways to Make Money Online
Download our free guide on legitimate ways to make money online in 2021
By signing up, you are agreeing to receive periodic emails from Fulltime Nomad. No spam. Only the good stuff.
Where are you originally from and what did you do before?
I am originally from Long Island, New York, United States and I had recently graduated from The George Washington University. I was working for Berlitz in Washington, DC as an English Language Instructor before I decided to put my TEFL/TESOL Certificate to good use and moved to Istanbul, Turkey in August of 2014.
What it's like to live in Istanbul as an expat/ foreigner?
Istanbul is a really fascinating city to live in. It is a very modern, cosmopolitan city but which also has deep cultural and religious meaning and history with it. It's a grand megalopolis of 15 million people but each part of the city has unique neighborhoods and places, which really make Istanbul a unique place for a foreigner to live and work.
What did a typical day look like for you?
As a teacher, I had a long day actually. I lived in an apartment at the time, which was quite far from the school I worked at. I would wake up around 6 AM, get dressed and have some light breakfast before getting picked up by the school's service bus for teachers. The service bus that was provided for us teachers really made the commute easier for me and it's a really unique aspect of Turkish culture that I hadn't seen anywhere else.
I would teach my classes during the day, grade essays and exams, and usually stay after school to supervise our school's Model United Nations program. During my breaks, I would indulge in a Simit (Turkish pretzel) and a warm glass of Cay (Turkish tea). Usually, I would have lunch with the rest of the teachers as well. After fighting the very intense traffic, I would head to the local gym for a workout or grab a bite to eat. Sometimes, I would play football with a group of expats in the evenings or go to a concert or smoke some hookah with friends.
Why did you choose Istanbul?
Istanbul is a really special place to me. I studied abroad as an undergraduate student for a semester in the spring of 2012. I was drawn to move back there as an English teacher because of the beauty, history, and culture of the city and Turkey itself. I had been studying the Turkish language for three years too and really wanted to practice my skills by moving to Istanbul too. To me, there's nothing better than drinking a tea or coffee and watching the ferries cross the Bosphorus Strait to Europe / from Asia on a warm, sunny day.
What did you love about living there?
I loved a lot of things about living in Istanbul. I really enjoyed the Turkish cuisine with my favorites being menemen, iskender kebab, baklava, lahmacun, borek, etc. I could go on and on about the food in Istanbul but you'll have to visit for yourself!
Being within walking distance of the Bosphorus was a real treat for me too. I'm a big fan of history so I liked learning more about the Ottoman Empire, the founding of the Turkish Republic, and visiting all of the great museums and monuments that Istanbul has to offer.
What are the local people like? Were there any challenges that you faced?
Istanbul is an enormous city with a lot of different people from different backgrounds mixing together. It's similar to a lot of other major cities where there's a lot of hustle and bustle so people may not be as warm or friendly as they would be in smaller towns or communities. However, there are a lot of smaller neighborhoods within Istanbul that are unique in that they feel smaller and people look out for each other. Overall, Turkish culture is very hospitable and kind. When you're invited to a Turkish person's home, be ready because they will feed you, enjoy your company, and care for you as a foreigner in their country.
The biggest challenges I faced were battling the horrendous Istanbul traffic on a daily basis and becoming advanced in the Turkish language. I tried to avoid it as much as possible by taking Istanbul's rapidly developing metro system but it's inevitable that you'll hit traffic 90% of the time. That's why I encourage people who come to visit Istanbul to stay close to the major tourism spots and/or near to the cool, hip neighborhoods. The Turkish language isn't that hard for foreigners to learn but you really have to memorize the grammar structures and be prepared to work on your pronunciation and vocabulary skills. It's not easy but the local people will respect and admire you very much if you try to learn Turkish.
What work do you do there?
I was an English teacher at a private high school working with Turkish students. I mainly focused on speaking and writing lessons while my Turkish counterparts who were also English teachers focused more on grammar and vocabulary lessons.
What is the cost of living per month?
My employer paid for my two-bedroom apartment so my cost of living was a lot less as a result. Still, I would say that you would need between US$800-US$1000 per month to live comfortably in Istanbul.
What's the availability of short-term accommodation? Describe your accommodation.
Airbnb is quite popular in Istanbul along with Couchsurfing as well for short-term accommodations. There are also plenty of hotels, hostels, and other boutique places to stay. Istanbul has a huge tourism industry so your options will be plentiful.
My employer was nice enough to pay for accommodations when I lived in Istanbul. It was a really nice two-bedroom furnished apartment with full utilities, full kitchen, living room, storage closet, bathroom, and a balcony. I also had access to my community's swimming pool, tennis courts, and gazebo café.
What is the food like?
Turkish food is excellent and there's also more and more restaurants opening that offer more international cuisine as well. Eating out is affordable depending on your budget. I usually ate out once or twice per week without any problems. There are a variety of supermarkets in Istanbul and they are widely connected to public transportations routes.
Are there good places to work online e.g cafes/co-working spaces?
As for coworking spaces, I never really frequented any during my time in Istanbul. There are numerous cafes throughout the city that are quiet and have a steady Wi-Fi connection.
Do you need a visa? If so how long can you stay in the country for?
The visa policy for an American citizen like me is to apply and pay for an e-Visa before entering Turkey. This e-Visa is valid for up to 90 days and includes multiple visits in and out of the country. The visa policy of Turkey depends upon which nationality you fall under but usually you'll have to pay $20 USD for an e-Visa.
How safe is the city?
Istanbul is a very safe city overall. The crime rate is low; the local police maintain order, and security effectively. There have been a few recent suicide bombings in the city recently so it's important to remain vigilant and be aware of your surroundings. The tourist areas have a heavy police presence there so you shouldn't feel uncomfortable about visiting those places.
Use your common sense and best judgment. Avoid any political protests or gatherings as well if you're a foreigner. I would say it's also fine to go out at night alone or in a group to the big nightlife areas without any problems. Watch your drinking intake and be aware of your behavior. Remember, you're still in a foreign country!
Is there a big expat community?
I would say the expat community in Istanbul is a relatively good size. I wouldn't say it's huge but you can find people living there from all around the world. I made good friends from countries like Canada, France, and Brazil.
There are many websites out there if you're looking to meet new people if you're new to Istanbul. I would recommend the following: Meetup, Couchsurfing, InterNations, and Yabangee.
Are there any other good places to travel to close by?
Without a doubt! Istanbul is a city, which is a major hub for people coming to and from Africa, Asia, and the Middle East. When I lived there, during my vacations, I was lucky enough to travel to eight different countries. In addition, it was great to visit other Turkish cities like Bodrum and Izmir, along with world heritage sites of Cappadocia, and Ephesus.
Any other advice/tips for someone who might want to live there?
Eat the local cuisine, as much as you can for as long as you can.
Respect and adhere to the local culture and religion. Avoid politics.
Learn some Turkish before you visit or live there. The locals will appreciate that.
Make new friends whether they be Turkish or from other countries.
Come with an open mind and be flexible. Relax and enjoy some Turkish tea or coffee.
And, finally, any advice or encouragement for someone wanting to take the leap and live overseas?
Do it. Have a plan and know what you're getting into but I highly, highly recommend it. If you're young, want to explore the world, and have a little money saved up; it's a worthwhile investment. It's a lot different living overseas than just being a tourist but it's a much more special experience. You get to experience the culture more, go deeper into the language, and a gain a more mature perspective of the world.
Ben is an English as a Second Language teacher who enjoys writing, learning foreign languages, and traveling to new places. Originally from New York, USA, Ben will be heading abroad again to Colombia soon to volunteer as an English teacher for an education NGO. You can follow his adventures and read his thoughts at his website: www.benjweinberg.com.
Connect with him on Facebook or follow him on Twitter (@BenJWeinberg).

Written by
---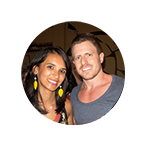 Fulltime Nomad Fulltime Nomad is your passport to saying no to normal, and yes to a life of unlimited travel. Founded by Radhika & Johnny, this blog will help YOU take that big scary first step towards building your own freedom lifestyle. Are you new? Start here.