Are you an English teacher in need of a second source of income? Or maybe you're not yet a teacher but you believe this is what you should be doing? We have a solution for you – teach English online.
Getting started as an English teacher teaching online is pretty simple especially if you're a native English speaker. It doesn't matter whether you've taught the language before as you can find companies that offer free training as well as course plans and resources needed.
All you need to do is find these companies. So today we'll take a look at the best online English teaching companies and how much money you can expect to earn from teaching English online.
*This post may contain affiliate links. If you click on them and purchase something we get a small percentage of the sale. More info here*
FREE 5 Day Course
How to start a blog
that makes money
---
In this free course, we will take you through, step-by-step, everything you need to start a profitable blog.
By signing up, you are agreeing to receive periodic emails from Fulltime Nomad. No spam. Only the good stuff.
Related posts:
What's required to teach English?
The requirements for teaching English online are quite straightforward. Obviously, you need to be very good in the English language, both written and spoken. Most teaching platforms will demand that you be a native English speaker or near-native English speaker.
In some cases, it's essential for an online English teacher to have a university degree in any subject or at least be enrolled in one.
It will also be helpful to have some kind of formal or informal teaching experience such as mentoring, working at summer camps etc. TEFL certifications, though not always a must, will give you a leg up in finding high paying online English teaching jobs.
It's also very important that you invest in the right gear if you want to be a successful online English teacher. Get yourself a decent laptop, a good webcam cam and headset – a noise-cancelling one is best – and a comfortable working space set up in a super quiet room. You'll also need reliable, fast internet, obviously.
How much can you make money teaching English online?
Thanks to the high demand for English lessons, you can earn a pretty decent income every month. It all, however, depends on how much time you're willing to put in.
If you're looking to teach English online full time, then you'll be able to put in more time than if you were to doing it to make money on the side with a full-time job.
Your experience will also determine how much you earn. Most new tutors earn about $10 per hour but this figure could go up to $25 per hour if you're a more experienced Englished teacher. So if you have been teaching English offline you could earn considerably more because you have the right experience.
Some companies will also pay you bonuses and referral pay.
Best online English teaching companies
There are lots of online teaching jobs available on the internet. With a quick search online you'll be able to find a good number of opportunities to teach English online and get paid, but we recommend you use highly reputable online teaching companies if you want a stable, high income.
Here are seven of the best companies you can use to teach English online:
1. VIPKID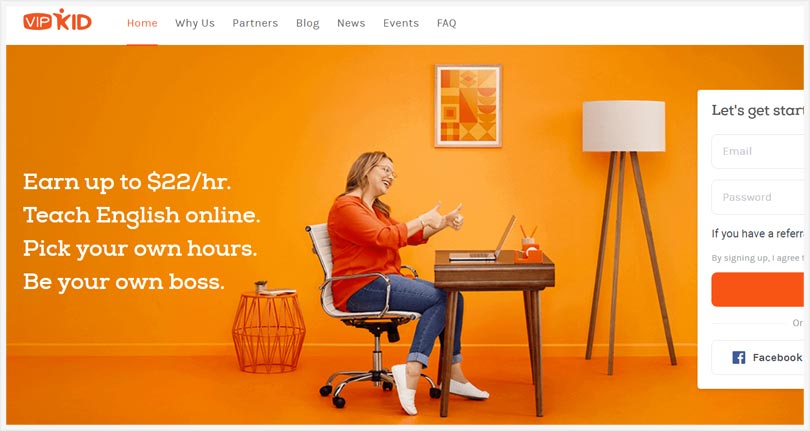 VIPKID is an online teaching platform popular among Chinese students interested in learning English.
You need to be a resident of the US or Canada and hold a Bachelor's degree to be a VIPKID tutor. The platform is quite flexible and allows you to set your own schedule. You also get lesson plans and course materials.
The pay for English teachers on the platform is between $14 to $22 per hour.
2. EF (Education First)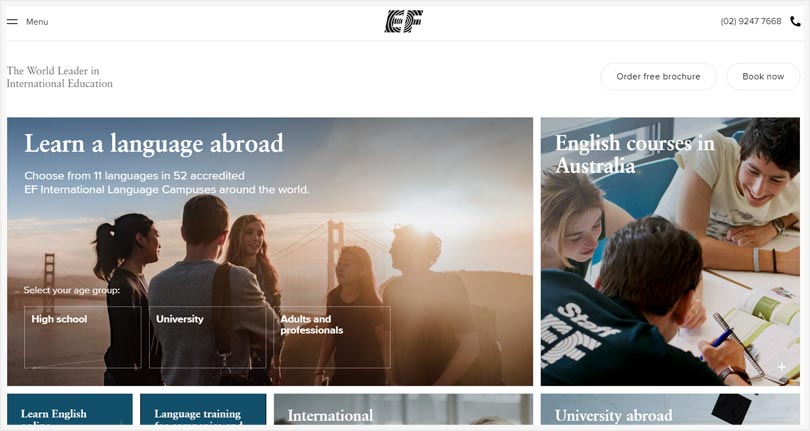 EF is another platform popular among Chinese students both adults and kids between 6 to 10 years old. You can make money teaching English online on EF no matter where you are in the world.
You have to undergo an online application process first before you become a tutor on the platform. Having a TEFL certificate or committing to get one will improve your chances of getting accepted on EF.
Once accepted you can start teaching. The classes are 25 minutes long and the pay is between $12 to $19 an hour.
3. 51 Talk
51 Talk is believed to be the biggest online English education platform in the world. The platform offers online group classes to Chinese students. The classes are 45 minutes each and you can expect to earn between $18 to $22 per hour.
There is an online application process for anyone interested in joining the platform. Holding a teaching certificate as well as other relevant qualification and experience is a must if you want to be considered for a job on 51 Talk.
4. Qkids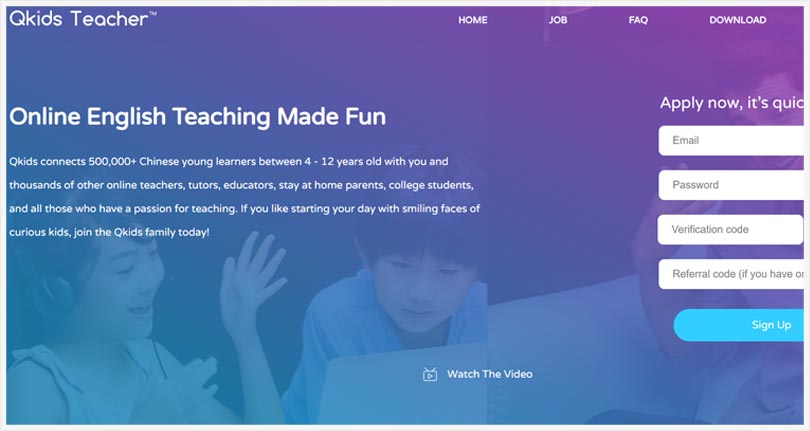 If you're a college/university student and an English native looking to teach English online, Qkids is a good platform to join. It's one of the few English tutoring platforms that doesn't require a degree. However, degree holders are also accepted.
The platform is open to people living in the U.S. and Canada. You also must be able to commit at least 6 hours per week. They offer paid training and provide you with all the necessary coursework.
5. Cambly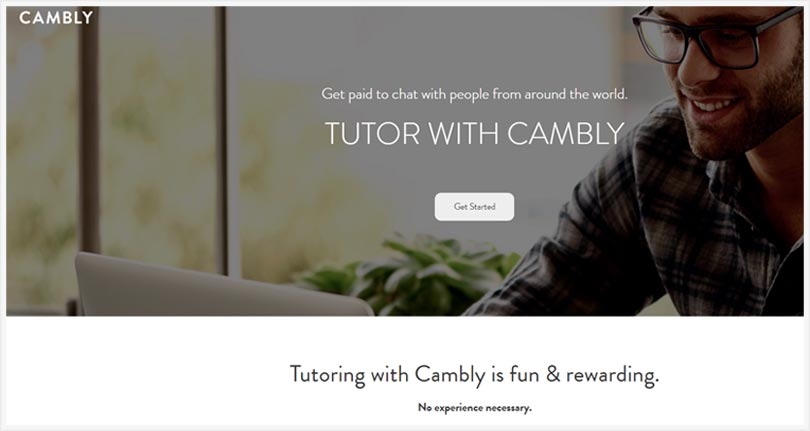 Cambly features students who have some level of English understanding and just want to brush up their conversational skills. This makes it a very good platform for someone who has no teaching experience and is just starting out.
The platform is available via an app. Students who sign up get to chat with tutors who are online. As a tutor, you can either log-in at random or book a shift.
The platforms pay by the minute and you can expect to get paid roughly about $10.20 per hour. You can set your own hours and work as many or as little hours as you want.
6. Italki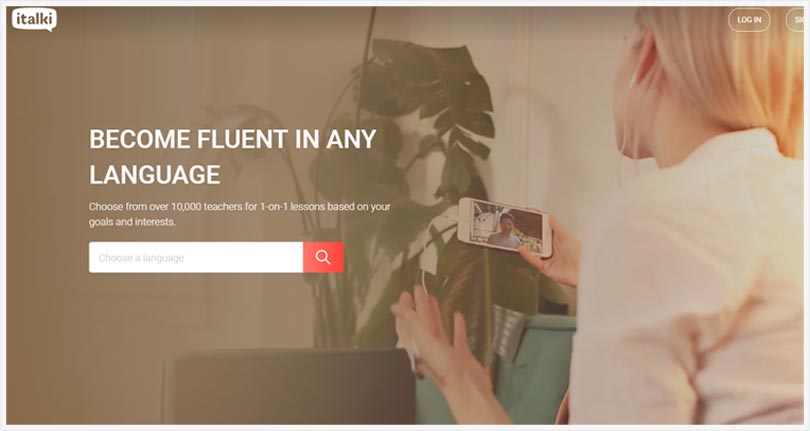 Italki works differently from all the other platforms we've mentioned. Unlike the others, you don't get paid a set rate, you instead set your own pay rate based on your previous experience, credentials and student feedback.
Word of advice; match what others are charging because if you price yourself out of the market you won't have any students.
Also, other than the popular teach English online jobs, the site also offers jobs to teach other languages such as Japanese, German, Russian, etc.
7. Englishunt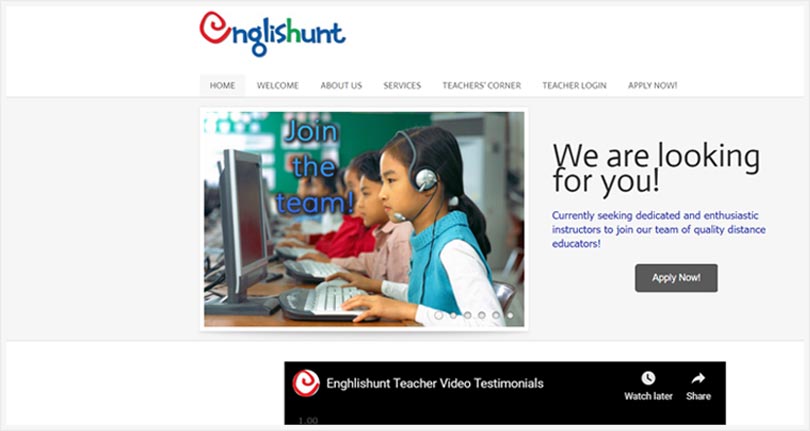 Englishunt is based in Seoul, Korea and Michigan, USA. They offer part-time teaching jobs to teach Japanese students. Their tutors only work about 8 to 12 hours each week. The company pays $14.50 an hour. They will also provide their own curriculum.
Most students are interested in practising their conversational English skills so lessons will mainly be conducted by chatting on the phone.
So there you have it: 7 of the best platforms you can join and get paid to teach English online. With the flexibility that these companies offer, you can work whenever you want and from wherever you are.
Choosing to teach English online can be a lucrative and rewarding decision for anyone with the necessary skills and qualification. Go on, try it today!
Written by
---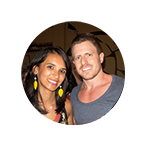 Fulltime Nomad
Fulltime Nomad is your passport to saying no to normal, and yes to a life of unlimited travel. Founded by Radhika & Johnny, this blog will help YOU take that big scary first step towards building your own freedom lifestyle. Are you new? Start here.