This is our good friend, Jan Stein's story about living in Guadalajara, Mexico. We met Jan in Mexico in 2015 and bonded straight away over a love for travel, digital nomad life, and our mutual obsession with tacos.
We truly believe there is no better way to learn about a new city, new country or a new culture than living there. Our Living Abroad series is designed to tell stories of living overseas and show people that the world is really not such a scary place. We hope it inspires more people to pack up their bags, travel slow and see what it's really like to live in a different place. If you'd like to tell your story about living abroad, there's more information at the end of Jan's interview
Here's what Jan had to say about Guadalajara.
Where do you live?
I've been living in Guadalajara, Mexico for around 10 months now.
86 Ways to Make Money Online
Download our free guide on legitimate ways to make money online in 2021
By signing up, you are agreeing to receive periodic emails from Fulltime Nomad. No spam. Only the good stuff.
Where are you originally from and what did you do before?
I'm from the beautiful City Nuremberg in the south of Germany. After finishing my Master's degree in Media and Communication I worked for two years in a Social Media agency in Berlin where I managed Facebook Ad campaigns and Facebook pages of several companies.
What is it like to live in Guadalajara as an expat/ foreigner?
Guadalajara is a really great place to live as a foreigner. People are very warm and welcoming here and extremely friendly to foreigners. There is everything you need in the city. You have a great bar area, heaps of good restaurants and a lot of culture to discover.
What does a typical day look like for you?
After my morning routine (cold shower, a big glass of water, meditating and a power shake) I decide if I work from home, go to a café or my coworking space. I usually start working between 8 and 9 AM. Depending on the amount of work I finish around 5 or 6 PM. Then I go to my crossfit box for a workout, meet some friends for dinner or just chill at home watch some Netflix and cook dinner. I go to bed around 11 or 12 PM.
Why did you chose Guadalajara?
I studied in Guadalajara in 2012 for one semester and I loved the city. I decided to come back as soon as I had my digital nomad business going.
What do you love about living in Guadalajara?
I love the warm Mexican people, the delicious food (Tacos, Pozole, Chilaquiles), the perfect climate (it's sunny almost every day and temperatures never drop below 20 degrees in winter during daytime) and just the vibe of the city. It's a great place to live.
What are the local people like?
People are very easy going and open. Often people smile at you on the street and they're always willing to help if you need assistance. The lifestyle is very laid back so people are not always as punctual as you might expect them to be. This is a thing one has to get used to.
What work do you do there?
I'm working as a freelancer for online marketing with European clients. I manage Facebook Ads, Facebook pages, Google AdWords and online marketing campaigns. I also work on my own blog project where I write about adventure activities.
What is the cost of living per month?
I spend around 1000 USD a month for rent, food and going out occasionally.
What's the availability of short term accommodation?
There is a lot of shared accommodation in the city. The best way to find a place to live is joining some Facebook groups with room offers and the local roomie websites. I pay around 300 USD for a 2 room apartment which is located 20 min by taxi from the center. The apartment is pretty spacious and I have a lot of room for myself. In Germany I would probably pay 3-4 times the price for this apartment.
What is the food like?
There is amazing street food which is really cheap. For around 4 USD you can get a complete meal. Restaurants are delicious and also pretty cheap and there is a huge range of international food all over the city. Supermarkets are usually more expensive than little stores, concerning fresh fruit, veggies and meat.
Are there good places to work online e.g cafes/coworking spaces?
There is a very good coworking space called Nevermind. If you are planning to work in Guadalajara, you should definitely check it out.
Do you need a visa? If so how long can you stay in the country for?
You can stay up to 180 days in Mexico with a tourist visa. If you decide to stay longer, you can just leave the country and as soon as you come back to Mexico you will usually get another visa.
How safe is Guadalajara?
The city is actually pretty safe. If you stick to some basic rules, you'll be fine in Guadalajara. Traffic can be dangerous so watch out when crossing the streets. People drive like maniacs here.  😉
Is there a big expat community?
In Guadalajara there are many expats but it doesn't feel too much. As a tall, not Mexican looking guy, you still stand out of the mass, especially when riding the bus with shorts – nobody ever wears shorts on the street in Guadalajara.
Are there any other good places to travel to close by?
It's only 3 hours by bus to the Pacific Coast. There you will find places like the resort town Puerto Vallarta or the hippie beach village Sayulita. To the lake of Chapala it's only a 45 minutes car ride and if you want to taste some good Tequila, you can be there in 1 hour. Other places like Cabo and Cancun can be quickly reached by air.
Any other advice/tips for someone who might want to live there?
A good way to get around the city is Uber. It is usually safer, cheaper and a lot more convenient than taking a bus or a cab.
Don't worry too much about getting sick. If you don't try the street food, you will miss out big time. Maybe you'll be struggling a couple of days in the beginning with your stomach but sooner or later your body will get used to the spicy food.
And, finally any advice or encouragement for someone wanting to take the leap and live overseas?
Living in another country with a totally different culture is the best thing you can do if you want to grow personally. You learn so many new things, meet hundreds of interesting people, try the best food and just have the best time of your life. Just go for it and don't hesitate too long.
Jan is from Germany and has been a digital nomad since August 2015. He offers freelance online marketing services. Check out his adventure website www.lebegeil.de where he writes about his adrenalin adventures in Germany and on his trips through the world.
He is currently living in Guadalajara, Mexico enjoying the great climate and the amazing food. You can contact Jan on Facebook: facebook.com/jan.stein

Written by
---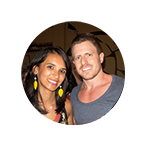 Fulltime Nomad Fulltime Nomad is your passport to saying no to normal, and yes to a life of unlimited travel. Founded by Radhika & Johnny, this blog will help YOU take that big scary first step towards building your own freedom lifestyle. Are you new? Start here.