Though tough at first, Inês Pinto got to love living in Maputo, Mozambique. From the unique sense of tranquility in a hectic city to the most gorgeous remote beaches, Maputo has become one of Inês's favorite cities! 
We truly believe there is no better way to learn about a new city, new country or a new culture than living there. Our Living Abroad series is designed to tell stories of living overseas and show people that the world is really not such a scary place. We hope it inspires more people to pack up their bags, travel slow and see what it's really like to live in a different place. If you'd like to tell your story, there's more information at the end of Inês's story.
Here's what Inês had to say about Maputo.
Where did you live?
I lived in Maputo, Mozambique.
86 Ways to Make Money Online
Download our free guide on legitimate ways to make money online in 2020
By signing up, you are agreeing to receive periodic emails from Fulltime Nomad. No spam. Only the good stuff.
Where are you originally from and what did you do before?
Alright, get ready: I was born in Lisbon, Portugal, moved to Mississauga (near Toronto), Canada when I was 11, then to New Jersey, US when I was 15, then back to Lisbon when I was 18 and then I studied for one year in Dublin. THEN I moved to Mozambique 🙂
What work did you do there?
I was working remotely as a copywriter, travel blogger and social media manager for various travel agencies and blogs.
What did a typical day look like for you?
I would wake up at around 6-7am (my boyfriend's dog is an early riser!) and get most of my work done in the mornings (sometimes until the early afternoon). Then I would spend the rest of the day exploring the city with my boyfriend.
When I wasn't feeling lazy, I'd hit the gym in the evenings. We would usually have dinner out twice a week, on the weekends mostly.
Why did you choose Maputo?
I had been in a long distance relationship with my boyfriend for two years at that point. He had been working in Mozambique for 2 years and I had been studying in Ireland. I had just finished up my master's degree and hadn't been able to find a job in Portugal. So I decided to move to Mozambique so I could look for a job there and be closer to him.
What did you love about living in Maputo?
Although it was a tough transition for me, I ended up loving the pace of life in Mozambique. Even through the crazy traffic and unbearable heat, Mozambicans have a special sense of time – as if time is on their side, and we are not fighting against the clock. It makes for a unique sense of calm and tranquility in the midst of what can otherwise sometimes seem like a hectic city.
I also loved how easy it was to escape the city on the weekends and head to some of the most gorgeous and remote beaches I have ever visited.
What are the local people like?
The locals are incredibly friendly and welcoming. They want to show you the best in their country and culture, and literally always have a smile on their face. They are also a very non-confrontational people who hate conflict and are always extremely polite.
This was a bit weird for me as I tend to equate confrontation with honesty and avoidance with shady behavior. But, for them, avoiding conflict is a way of showing respect. Women especially are treated with the utmost respect and are usually the heads of the family (although the occasional cat call is not unheard of).
Were there any challenges that you faced?
One of the hardest things for me was understanding the accent. In Mozambique, the official language is Portuguese too but it is spoken with a different accent and different local expressions are used. Thankfully my boyfriend was there to help translate for me!
What is it like to live in Maputo as an expat/ foreigner?
Living in Maputo as a Portuguese expat almost feels like you haven't left home sometimes. You can pick and choose where you go out at night, where you have dinner, where you go to the gym – some places will have only expats, others will have more locals.
At some points, Maputo can almost feel just like Portugal but with hotter weather, crazier driving and slightly more bureaucracy. This is good and bad at the same time: on the one hand, you can easily have the comforts of home whenever you want them. On the other, this shelters you a lot from experiencing the local culture – with all the good and bad that comes with it.
One thing that is completely different in Maputo (and I would argue in general for Mozambique) is the pace of life. In Europe (and the East Coast in the US and Canada as well), we are used to a fast paced life – we have to get our work done, travel to as many places as possible, see everything, do everything and all as quickly as possible. Mozambicans have a completely different relationship with time though, and that makes for an interesting experience.
What is the cost of living in Maputo?
Cost of living is pretty high in Maputo – and it has only gotten worse as the Mozambican Metical has been devaluing. A one-bedroom apartment in Maputo can cost up to USD$1,000 (or more), depending on where you choose to live. Many people choose to split apartments with friends.
Food is a little more expensive as well since everything is pretty much imported from South Africa. Eating out is surprisingly cheaper than expected though – roughly USD$20/person for a nice meal.
What's the availability of short term accommodation in Maputo?
As I stayed with my boyfriend, I didn't really have to search for accommodation. All I know is that they are constantly building new apartment buildings and so, consequently, there are increasing numbers of apartments for sale/rent. But, again, rent can be costly.
What is the food like? (eating out & the quality of supermarkets)
The food is TO DIE FOR. You can't get any better in terms of seafood and fish as the whole country has such a vast coastline. In Maputo, my absolute favorite place to eat was Zambi – they have some delicious fish and the best clams with a beautiful view of the river. (That is, when people don't decide to park their cars and blast their music as they have a drink by the river – that's mostly on Fridays though, so other days of the week you can have an unobstructed view of the river :D)
But you can't really go wrong in terms of food in Maputo. You have the whole variety as well: Italian, Portuguese, Mozambican, burgers, French bakeries, everything!
Supermarkets are great as well and most goods are imported from South African. Funny thing I discovered: NYE there is a serious shortage of fresh goods at supermarkets since the border is closed for the holidays.
Are there good places to work online e.g cafes/coworking spaces in Maputo?
The hotels in Maputo were perfect for working online – free Wi-Fi, a calm atmosphere and stunning views of the river make for a perfect office.
Do you need a visa? If so how long can you stay in the country for?
You do need a visa and it's become a slower and more bureaucratic process to get a visa. With a tourist visa, you can stay for up to 90 days. If you want to visit the surrounding countries (a weekend getaway to South Africa is highly recommended!) make sure to get a multiple entries visa.
How safe is Maputo?
Depending on where you live, the answer to this will be different. Generally, in the busier parts of the city (where most of the restaurants and hotels are) you'll be safe walking around, even by yourself (this applies to women or men).
Locals, of course, feel at ease doing this any time of day but I would advise expats (especially Caucasian or Asian expats) to avoid walking alone at night, anywhere. Houses/apartments usually have guards and there are plenty of gated houses in the more expensive parts of the city.
I would add, though, any time you walk through the city with a dog you'll be pretty safe! The locals tend to be very afraid of dogs, and this helps to fend off mean-spirited locals who are trying to take advantage of you in any way (they are the exception to the rule!!). No joke, my boyfriend's dog helped to catch a thief on the street once (totally by accident because she is the clumsiest and friendliest dog I know – but still! She's a local hero now!).
Is there a big expat community?
There is a huge and incredibly diverse expat community in Mozambique (and an especially large Portuguese one) so it's very easy to connect with people from your "home" country when the homesickness hits.
Are there any other good places to travel to close by?
There are plenty of gorgeous beach towns with a fun nightlife near Maputo – Ponta do Ouro, Bilene, Xai-Xai are all within a 3-4 hour drive away. If you want somewhere a bit more quiet, the Inhambane region (with beaches like Tofo, Tofinho, Baía dos Cocos) is a 6-hour drive away. The islands near Maputo are also great for a day trip.
Maputo is also a perfect base to explore a bit of other south African countries! South Africa is perfect for a weekend getaway (Kruger Park is right on the border between Mozambique and SA!!) and Swaziland is also pretty fun. You can go skiing in Lesotho pretty much year-round!
Any other advice/tips for someone who might want to live there?
Go out at night in Maputo! It's the best way to meet new people and make new friends. There's always a party somewhere 🙂 Also, if you're pale, wear sunscreen. Every day. SPF 50.
And, finally any advice or encouragement for someone wanting to take the leap and live overseas?
Living abroad in another country is one of the best things you will ever do in your life. You will learn so much about yourself – what you like, what you don't like, what can be adapted in your personality and what are some things that will never change about you. It will be a challenge, but it will be such a fun one!
Plus, what better way is there to discover a new country and culture than by completely immersing yourself in it? Sure, you will miss your home and your friends and your family – but they will all be there for you, ready for when you decide it's time to return. Until then, take the leap! Challenge yourself! Discover something new!
Inês (that's pronounced kind of like "eee"-"neige") was born in Portugal and is living her dream as a freelance travel writer. Besides writing for various travel agencies, she also blogs about her travels at www.thewanderlustfactory.com. She is currently living in sunny Lisbon
You can follow her daily adventures (featuring her adorable puppy) on Instagram or Facebook.

Written by
---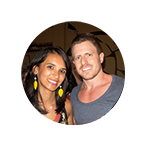 Fulltime Nomad Fulltime Nomad is your passport to saying no to normal, and yes to a life of unlimited travel. Founded by Radhika & Johnny, this blog will help YOU take that big scary first step towards building your own freedom lifestyle. Are you new? Start here.