Remote work, which gives you the ability to work from anywhere, is increasingly becoming popular as most start-ups and medium sized companies are opting to run remotely. Traditional companies have also embraced the trend of allowing some of their positions be filled by remote employees. Telecommuting jobs rose to 79 percent between 2005 and 2012 and the the growth is expected to continue this year.
This is great news for those of us who wish to or are already enjoying working while travelling, working from home, from a coffee shop or wherever we want. With constant remote work, we can now enjoy a digital nomad lifestyle, while working full-time.
A company in any industry can offer remote work, however, some fields are more digital nomad friendly than others. The most popular flexible working jobs include: IT, design, sales, administration, customer service, teaching, marketing, transcription, writing, coding, software development, social media marketing among others.
Types of Flexible Work that Allow you to Work from Anywhere
There are several types of flexible working opportunities that will allow you to work from anywhere. Each type has different levels of flexibility.
86 Ways to Make Money Online
Download our free guide on legitimate ways to make money online in 2021
By signing up, you are agreeing to receive periodic emails from Fulltime Nomad. No spam. Only the good stuff.
Remote Work/ Telecommuting
The terms remote work, telecommuting and working from home are commonly used interchangeably. These types of jobs allow the employee to work remotely away from an onsite office. With this kind of flexibility you can work from anywhere you want, from home, a coworking space, in a foreign country, a local coffee house, the choice is totally yours. These types of jobs can either be on a full-time or part-time basis depending on the company needs. Most companies who hire employees on a remote working agreement will provide them with several added benefits such as health care cover, paid leave etc.
Freelancers are hired for specific projects, either full time, part-time, or even seasonal freelance work. Freelancers normally operate as businesses themselves and offer specific services they are skilled in. A freelancer can work for more than one company at a time and is often not entitled to any added benefits except the agreed salary. As a freelancer you have total freedom to work from anywhere. 
Interested in freelancing? We have plenty of information about freelancing here.
Freelancers can also be hired on a contract basis and will be referred to as contractors. A contract arrangement is almost similar to a freelance agreement, but will generally involve working with one company at a time for a specified long term period and the contract ends when the project is completed.
Now let's dive right into a list of companies that are embracing the idea of having employees who thrive outside a traditional office by allowing them flexible work opportunities.
35 Companies that will Let You Work From Anywhere
1.Toptal
Work option: Remote
Toptal is a tech company that connects highly qualified software developers around the world with top companies. The company is completely distributed, with no onsite office. The company has a team of over 110 employees all working remotely from over 93 different countries. All jobs available in the company are remote on a full time or part time basis.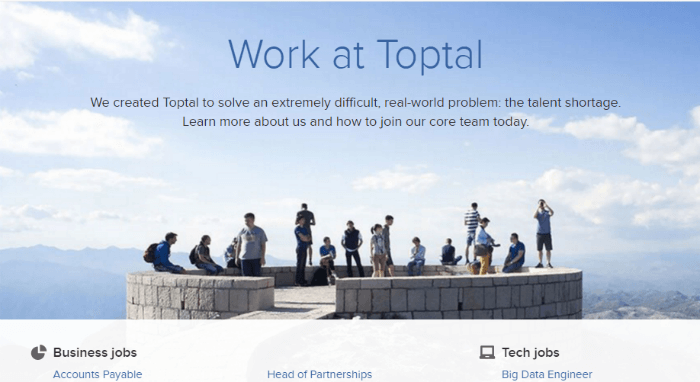 2. Upworthy
Work option: Remote
Upworthy is a fast growing content distribution media company. Employees in the company work virtually from wherever they please. Remote jobs in Upworthy are available on fulltime and freelance basis.
3. Dell
Work option: Remote/ Flexible hours
Dell is a privately owned, global computer technology company ranked as the third largest PC company in the world. The company has dozens of offices throughout the United States and abroad. Dell also offers multiple opportunities for flexible work, with employee work options including flextime, remote work, job sharing, part-time work, and compressed work weeks.
4. Buffer
Work option: Remote
Buffer provides businesses and individuals with tools for building an audience online and to effectively engage with their followers. Buffer employees are currently spread across 7 different time zones. If you join the team, you will be encouraged to live anywhere in the world that makes you the happiest, and most productive. Buffer offers remote jobs on a fulltime basis.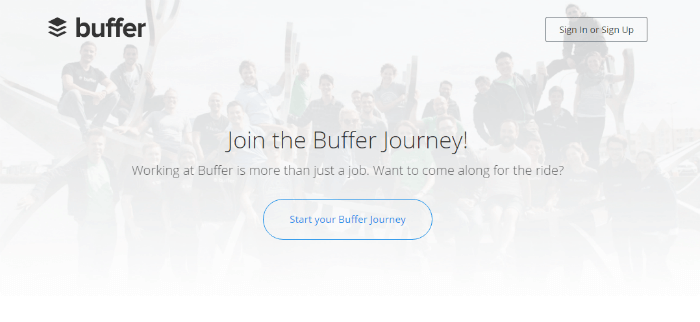 5. Basecamp
Work option: Remote
Basecamp is an online project management tool that offers to-do lists, file sharing, milestone management, time tracking, and a messaging system. The company has employees spread out across 26 cities around the world. The head office is based in Chicago, but employees are free to live and work wherever they want.
6. Mozilla
Work option: Remote
Mozilla is a nonprofit organization with a distributed team and remote workers based around the world. The company has 13 global offices and remote employees based in more than 30 countries. The company emphasizes on working remotely and therefore most of the open jobs are remote positions.
7. Help Scout
Work option: Remote
Help Scout is a leading customer support company that helps companies to keep their teams and customers organized and happy with a host of features. The company has an office in Boston but allows all their staff members to work remotely from wherever they choose.
8. Gadget Flow
Work option: Remote
Gadget Flow  is a platform that enables people to search for online products easily. With the platform you can discover and save and buy awesome products online. The staff at Gadget flow works remotely. Job postings are available either full time or part time.
9. FlexJobs
Work option: Remote/ Freelance
FlexJobs is a popular online jobs board that helps jobseekers find any type of work, anywhere in the world. The company operates with a 100% virtual team and currently has about 40 full time employees working from home across the U.S.
10. About.com
Work option:: Remote/ Freelance
About.com provides readers with helpful and useful information on a daily basis. About.com has continued to grow over the years allowing them to hire more freelance writers. If you are a US based writer interested in working for the company, you can apply for any of the freelance positions that will give you a flexible schedule and allow you to work from home.
11. Amazon
Work option: Remote
Amazon.com is the world's largest online retailer offering a vast selection of products. Amazon will once in awhile hire multiple candidates through single job listings. Remote jobs available on Amazon are fulltime or part time.
12. Jungle Scout
Work option: Remote/ Flexible hours
Jungle Scout is a platform that  equips sellers to make data-driven decisions and enable them to identify product opportunities. The company helps sellers to succeed on Amazon. The company's team is distributed across the globe. Job opportunities are available on full time and flexible hours basis.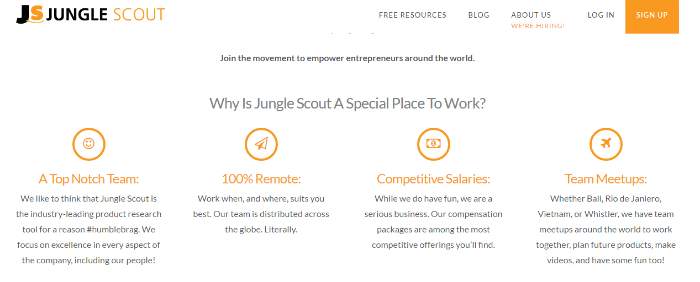 13. SalesForce
Work option: Remote
Salesforce is a Customer Success Platform helping businesses to connect with their customers. The company allows its employees to work remotely.
14. American Express
Work option: Remote
American Express is a global financial goods and services provider with services including payment, travel, and financial management solutions. The company has a headquarter office New York and employs more than 63,500 employees worldwide. American Express offers full time, part time work-from-home job opportunities
15. Oracle
Work option: Remote
Oracle is a cloud applications and platform service company offering comprehensive, fully integrated cloud applications, platforms, and engineered methods. The company is based in California. The company often offers full time telecommute jobs to qualified candidates.
16. Acceleration Partners
Work option: Remote
Acceleration Partners is a digital marketing agency. The company allows its full time employees to work remotely and offers them benefits such as work from home or flex offices. The company's goal is to offer work/life balance for all its employees.
17.  appendTo
Work option: Freelance/ Contract
appendTo offers expert web development training to companies and individuals across the globe. appendTo is 100% distributed and all their staff members work remotely. You can apply for remote job positions either on a fulltime or part time basis.
18. Art & Logic
Work option: Remote across the US and Canada
Art & Logic is a custom software and app developer based in California. The company's over 50 employees work in a virtual office. The employees are based all over the United States and Canada. Art & Logic hires people for flexible telecommuting work opportunities.
19. Allied Health Media
Work option: Remote
Allied Health Media is an online education service and career center headquartered in Houston, Texas. The company specializes in occupational therapy, physical therapy, audiology, and speech-language pathology. The company allows its employees to enjoy a telecommuting employment flexibility.
20. Cheat Sheet
Work option: Remote/ Freelance
The Cheat Sheet distributes daily news to readers in an easy to peruse and digest form. Even though the company is based in Asheville, North Carolina, its staff is completely distributed and can work from anywhere.
21. CloudPeeps
Work option: Remote/ Freelance
CloudPeeps is a freelance marketplace that provides businesses with top marketing, content and community talent. The company operates remotely and every employee has the freedom to work from anywhere, the way they want, wherever they are.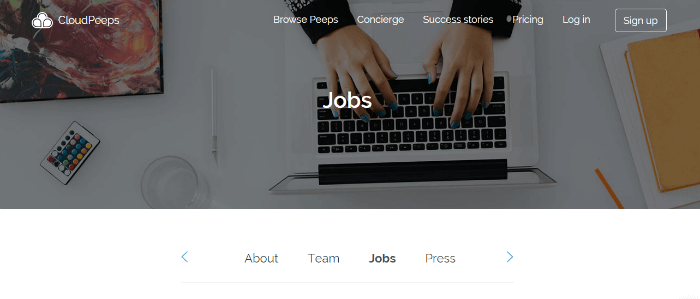 22. GitHub
Work option: Remote employee/ Freelance
GitHub offers developers a platform to easily discover, reuse, and contribute to various projects. The company has an office located in SOMA, but whenever a job allows for it, the employees are free to work from anywhere.
23. GitLab
Work option: Remote
GitLab assists large enterprises to build better software. The company is remote and you can work from wherever you want.
24. Hubstaff
Work option: Remote
Hubstaff provides a team management software used by over 8,000 agencies, freelancers, website owners and virtual teams all over the world. The company is run by a small team spread all over the world. The company's office space is virtual and any any job you apply to will be a remote one.
 25. General Electric – GE
Work option: Remote/ Freelance
The company has global operations in 130 countries and offers a broad portfolio of innovative software, products and solutions. GE has its headquarters in Fairfield, Connecticut but allows employees to work remotely. General Electric offers remote and freelance jobs.
26. Wikimedia Foundation
Work option: Remote/Freelance
The Wikimedia Foundation is a charitable organization that develops and distributes free, multilingual and educational content. The company has both onsite and remote employees. Most of its available positions are however, remote jobs.
27. VIPDesk
Work option: Remote/ Freelance
VIPDesk is a leading U.S. based outsourced customer service solutions provider headquartered in Alexandria, Virginia. The company employs a home based team working remotely, part or full time, throughout North America, to deliver inbound call center services and back office support.
28. Automattic
Work option: Remote
Automatic is a distributed company behind WordPress.com, WooCommerce, Jetpack, Simplenote, Longreads, VaultPress, Akismet, Gravatar, Polldaddy, Cloudup, and more. The company is spread out all over the world in more than 50 countries and everyone works remotely. Automatic offers various remote opportunities on a full time basis.
29. Invision
Work option: Remote
InVision is the world's leading product design platform that enables businesses to test web and mobile products. The company has a remote workforce with over 200 employees distributed across the globe. Jobs at InVision are on full time remote basis.
30. Thomson Reuters
Work option: Remote/ Freelance
This is a global company that provides financial, legal, tax, accounting, healthcare, science, and media information to businesses and professionals. The company is headquartered in New York and has 403 operations around the world. Thomson Reuters offers full time and part-time telecommuting and freelance jobs.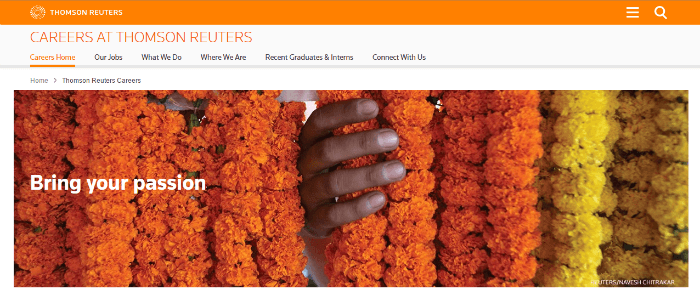 31. Zapier
Work option: Remote
Zapier offers applications to help people automate the most tedious parts of a job. The company has employees living and working remotely in 9 countries. Jobs at Zapier are available on full time remote basis.
32. Humana
Work option: Remote
This leading healthcare company offers a variety of health, wellness, and insurance products and services. Humana employs a team of approximately 49,000 associates on full time onsite and telecommuting basis.
33. Cactus Communications
Work option: Remote/ Freelance/ Contract
Cactus Communications provides clients with communications services such as editing, transcription, education, and training revolving around communications science, medical, and technical industries. The company has offices in the US, Japan, China, India, and South Korea. However, the company offers flexible work arrangements such as freelance, contract and telecommuting jobs in the professional writing and editing field.
34. Toggl
Work option: Remote
Toggle is the company responsible of developing the Toggl time tracker mainly used by people who bill for work done by the hour. The company is 100% remote and all the employees work remotely and are distributed all over the world. When you apply for a job at Toggl, expect to work remotely from wherever you wish.
35. West At Home
Work option: Remote/ Freelance
West at Home employs home-based customer service agents who offer customer centric services to clients in the healthcare and pharmaceutical as well as the hospitality industries. To work for this company, you have to have a telephone and access to a PC.
Tips to Get Hired Remotely
Do a Thorough Search of Positions Available
Find out about the various types of flexible work available and determine which one/s suit your needs best. Some of the common terms often used to describe flexible work include "telecommute," "remote work," "flexible schedule," and "virtual."
After your research, determine the industry that you want to work in and the skills that you have to offer. This will help you in narrowing down your job search and make it easier for you to find the right fit.
Write a Personalized Cover Letter
Once you find suitable companies with the kind of flexible work that you're interested in, create a personalized cover letter for each job position that you will be applying for. Don't be tempted to use a generic letter and send it out to everyone as most recruiters are able to tell between a generic cover letter and one that was written specifically for for a certain role.
Express the Value you'll Bring
When applying for a job, be sure to explain how you plan to apply your past experience to the new role. Mention the opportunities you've noted where you can add value in the company. Most importantly, mention any prior experience working as part of a remote team and how comfortable you are to work from anywhere.
Be Fully Prepared to Remotely
Working from anywhere requires a lot more than just having a home office or a travel appropriate laptop and having fast internet connection. Those are important but you also need certain soft skills to help you cope with working remotely and being productive. So make sure you have learnt this skills before you get down to applying for a remote job.
Whether you want to travel more, have some work-life balance, or simply get out of the cubicle life, a remote job can give you all of that and so much more by enabling you to work from anywhere in the world. So if you're looking for a remote job, why don't you visit the career pages of the above mentioned digital nomad friendly companies and give your job search the jump-start it needs and have you working remotely in no time!
Know of any other companies that let you work from anywhere? Let us know in the comments.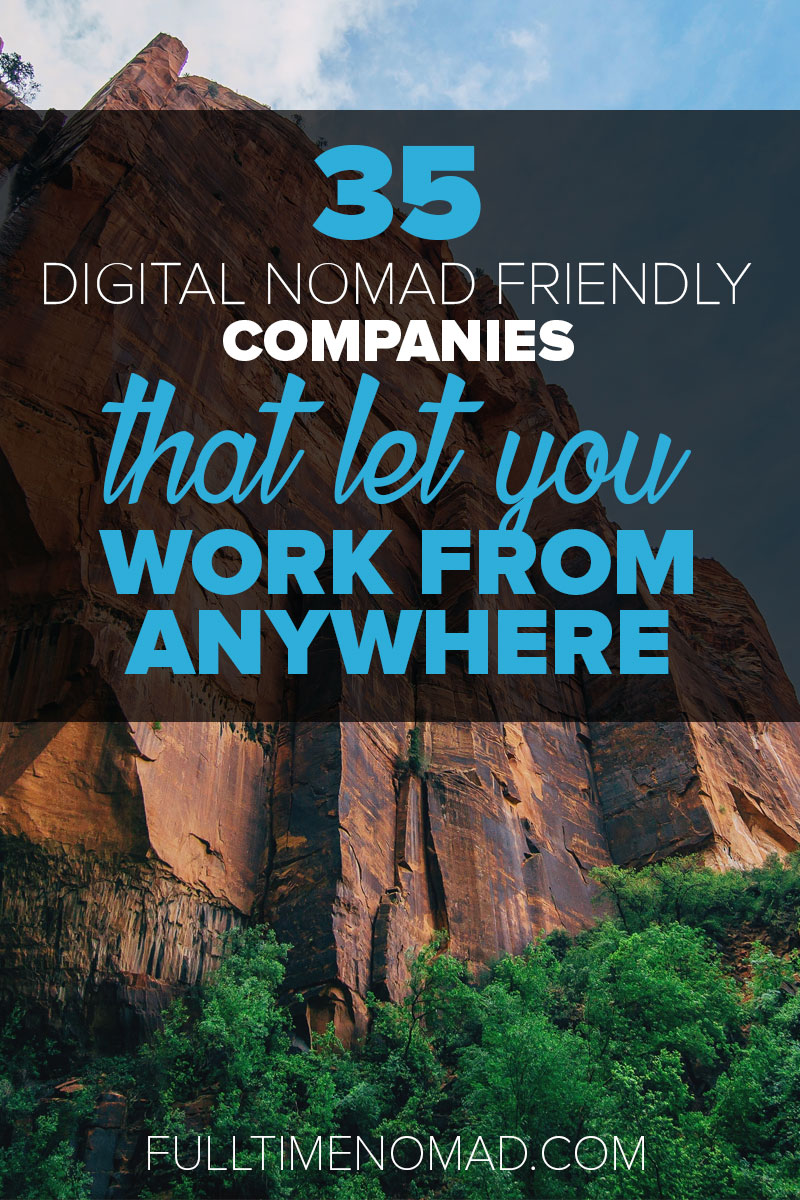 Written by
---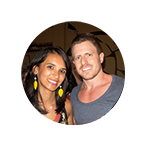 Fulltime Nomad
Fulltime Nomad is your passport to saying no to normal, and yes to a life of unlimited travel. Founded by Radhika & Johnny, this blog will help YOU take that big scary first step towards building your own freedom lifestyle. Are you new? Start here.