Finding your new home in a city the size of Ho Chi Minh can seem very challenging and overwhelming at the start. But, if you look deeper, you will see that in fact there are so many choices, that finding accommodation in Ho Chi Minh City is actually not too hard at all.
Since we travel slow and like to set up base for a few months, finding an apartment that is comfortable, good to work in and has a kitchen is crucial for us.
So based on our experiences, here's a guide on where to live and what look for when apartment hunting in Ho Chi Minh City.
Which District Should I Live In?
Ho Chi Minh City is divided into 24 districts (urban and suburban). For us, figuring out which district to live in was the most confusing part about finding accommodation here.
For most foreigners, the districts to choose from are: 1, 2, 3 and 7.
District 1 is the centre of town and also where the main backpacker and hotel area is located. But don't be put off by this as District 1 is huge and just a few 100 metres will set you apart from the tourist hubbub. This is where a large number of digital nomads (including us) choose to live.
We chose our apartment in District 1 because of its proximity to the local market and supermarket, cafes and the gym. If you don't have a scooter, staying in District 1 is helpful because you can usually walk to everything you need.
District 2 is the expat area of Saigon, with lots of villas and where a lot if international schools are located. It's the popular choice for expats living here long term or permanently. For us, it was just too far and not the best way for us to experience HCMC as we are only here for 3 months.
District 3 is a quieter (by HCMC standards) area, just north-west of District 1. It's close enough to the centre of the city and has plenty of apartments to choose from. Lots of foreigners choose to live in District 3 because it's a little less chaotic than District 1. It's a young, trendy and hip area of town and also has a lot of great cafes.
District 3 made it to our shortlist as well; however, the choice of apartments was limited (for a 3 month period) and the apartments that were available were small, cramped and much too noisy for our liking.
District 7 is a newer, more planned part of the city, with lots of high-rise buildings. It almost feels like a different city. There are some really great, affordable apartments in the area and lots of cafes and bars. I wouldn't mind staying here if we were living in HCMC for 6 months or longer.
Short Term Accommodation in HCMC
If you're planning on staying in Ho Chi Minh City for a short time (1 week – 1 month), then we definitely recommend finding a place on AirBnB in District 1 or 3. There are a lot of very affordable options to choose from – full apartments and room rentals.
We stayed with Anthony and Leandro when we first arrived in the city. Their apartment is in District 3 and gave us a good feel for the area. We recommend AirBnB apartments over hotels for digital nomads because they are more conducive to work.
Alternatively, you could find a hostel or hotel via Booking.com or Expedia in the Pham Ngu Lao (PNL) area, also known as the "Backpacker Area". It's the heart of town and close to everything you will need during your stay.
Longer Term Accommodation in Saigon
If you're planning on being in Saigon for more than a few months, your options for apartments are varied. The longer you stay, the more apartments you will have to choose from as most apartment owners prefer a long lease.
Local Agents
This is the best way to find your accommodation in Ho Chi Minh City. A quick Google search will deliver results. All you have to do is send them an email (or a text message if you're in the country) with details of what you're looking for and they get back to you with what is available.
Agents we communicated with:
BestReal.net – Our agent was Duong Thai. We highly recommend him as he was very communicative and really tried to understand what we were looking for. He was punctual for all our appointments and helped us find the apartment we finally chose to live in. You can contact him directly via email: [email protected] or phone: +84 164 466 7803
Facebook Groups
Join the expats group on Facebook. It's a strange group for various reasons, but there are a couple of accommodation related posts every day. Many of these are agents while others are just looking for flatmates. It's a good forum to keep an eye on.
The Housing in Ho Chi Minh City group is useful as well.
AirBnB
AirBnB is expensive for long term accommodation in HCMC. We found a few we liked, but they weren't willing to budge much on their nightly rates, despite the fact we were looking to rent for 3 months.
Before you Rent your Apartment in Saigon…
Start early
As HCMC is such a big city, it's important to start doing your research before you arrive. Even if it's just to figure out which districts you prefer. You can also start contacting agents a week or two before you arrive to set up appointments for you to go and see the apartments once you're in town.
Figure out what you need
Everyone has different ideas of what makes an apartment perfect for them. We've talked about our apartment preferences before – Wifi and kitchen being the most important and non-negotiable.
As HCMC is pretty chaotic, finding a quiet place, off the main streets was another important consideration for us.
Other things to consider:
Is it a safe area?
Is transport easily accessible (if you don't have a scooter)
Can I work from the apartment comfortably?
Communicate what you need to your agents otherwise you will be wasting time looking at apartments that don't fit the bill.
Double check what is included
When you start viewing your apartments, make sure you double check what is included. Many serviced apartments (like ours) will include internet, cleaning, use of laundry machines and cable TV as part of the rent. You will usually have to pay for electricity separately.
If you are offered very cheap rent and it doesn't include any services, be sure to check how much additional services (like electricity, laundry, water) will end up costing you. The cheap rent may not always be worth it.
Read the contract
Once you have committed to renting an apartment, you will probably be required to sign a contract. This is a pretty straightforward agreement between your landlord and you, regarding the rent and other rules. It's important to read your contract thoroughly.
Make sure everything you have discussed is included in the rental contract and if something is missing, don't hesitate to question it. Contracts have been known to leave out inclusions so you don't want to be stuck in an apartment that isn't what you were expecting.
Don't sign anything unless you're 100% positive about your apartment.
Whether you're staying in Ho Chi Minh City for a short stint or a longer term, it's city that definitely grows on you. It's a great place for digital nomads and the large number of apartments and rooms available here definitely make it an even better choice.
Are you planning a move to Ho Chi Minh City? We hope this helped you make better decisions about where to live when you arrive here. Leave us a comment and let us know if there's anything else you'd like to know about.
Written by
---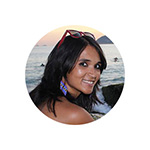 Radhika B.
After turning her back on office life in Australia, Radhika set out to create a life lived on her own terms (a constant work in progress). As co-founder of Fulltime Nomad, she is super passionate about helping others live life with more freedom and flexibility, and a bit of travel thrown in for good measure.