Interested in finding online customer service jobs? Well you've come to the right place for info.
An increasing number of businesses are looking for help to manage their customer service. These jobs are often done virtually/ from home – making it possible to work from anywhere.
The beauty of customer service online jobs is that there are a variety of jobs that you can explore and most of them don't require a college degree. With a good internet connection, phone connection and the right attitude you can easily make a comfortable living as a customer service agent.
Plus, even if you have never worked in customer support before, you can take a course.
86 Ways to Make Money Online
Download our free guide on legitimate ways to make money online in 2021
By signing up, you are agreeing to receive periodic emails from Fulltime Nomad. No spam. Only the good stuff.
Dedicating a few hours to take an online course will help you learn the skills that you need to get started in any of the customer service jobs that you're interested in.
So how and where do you start with customer service jobs online?
*This post may contain affiliate links. If you click on them and purchase something we get a small percentage of the sale. More info here*
Related posts:
Types of Online Customer Service Jobs From Home
First things first, let's talk about the different types of jobs you could do as a customer support agent.
Customer service representatives are generally responsible of handling customers and solving any problems that they may have. However different businesses may handle their customer support needs differently. 
Here are a few different online customer service jobs that might interest you:
1. Home Call Centre Agent

This is the most popular way of doing online customer service jobs from home. There are thousands of home call center jobs available online.
The internet has made it possible for companies to outsource their customer service departments.
So instead of having an in-house call centre to handle customer queries and offer support, most companies are now hiring distributed teams working from the comfort of their homes.
Call centre agents handle customer calls as well as offer chat and email support to customers of the company they are working for.
In most cases you will be hired to work on a per hour basis working between 15 to 60 hours a week.  
2. Online Chat Agent

You've probably noticed that almost all website have an online chat facility to help you contact the support team.
These facilities are run in the background by online chat agents.
As an online chat agent your role will be to offer tech support, answer billing questions or sell products.
Online chat customer service jobs are especially great for anyone who is tech savvy and does not want to interact with people on phone.
3. Virtual Assistant
You've probably heard about virtual assistant jobs. Yes, virtual assistance jobs are also part of online customer service jobs but, they tend to be more specialised.
A virtual assistant (VA) works remotely from anywhere they want; doing various business support tasks such as email marketing and management, customer support, social media management, data entry, copywriting, research, calendar management etc.
If you want to travel the world as you make money, working a virtual assistant job is a pretty good option with lots of opportunities available. Check out our extensive guide on How to Become A Virtual Assistant and Travel the World.
4. Travel Agent
While there are lots of online services that enable people to make their own travel plans today, there are still very many people and companies that depend on travel agents to do this for them.
A travel agent doesn't quite need to have a physical office to do a good job because the internet now allows people to communicate from anywhere in the world.
As a digital nomad wannabe, who obviously loves travel, you could find a job as an online travel agent to help people plan their holidays.
5. Technical Support Jobs
Companies are always looking to offer their customers with technical support as part of their customer service.
Technical support jobs can easily be done from home and even though you will need some technical know-how, most hiring companies will train you on how to provide support for their products, so that you have all the specific knowledge you need.
However, it's important that you start by learning some advanced computer skills before you start applying for technical support jobs.  

What Skills Do You Need To Do Customer Service Online Jobs?
Professionalism, a pleasant phone presence, and the ability to read a script and make it sound natural, are among the must-have qualities of a great customer service agent.
There are a few other skills that will give you a winning edge over competition. These include:
In most cases, you will be dealing with a lot of angry, anxious or frustrated customers. It's important to be able to calmly listen to what they have to say and then give them the most appropriate solution. Empathising with customers will be a huge part of your job.
It's important that customers know that they are being heard, no matter how ridiculous you may think their complaints are. Handling them in a friendly manner will help to calm them down and find the best solution without further confrontation.
Good communication skills
Communication skills are a must for any customer service agent especially if you will be handling phone calls. You need the ability to communicate effectively with customers regarding the products that you're promoting and in a manner that convinces them to take an action. The way you communicate a solution to a customer will also determine if the customer will be satisfied with it or not.
If you are going to be offering email customer support, it's important that you work on your writing skills. You should be able to write clearly and free of mistakes. Your email copy should be easy to understand and communicate your message effectively.
There are times you will find yourself handling more than one customer at a time especially if you're a live chat agent. Being able to handle more than one task is very important because it gives you the ability to stay on course even when doing more than one thing.
Handling an angry customer is not the easiest thing to do and so you need bucket loads of patience. Patience will help you to stay calm and friendly even as customers are shouting your ears off. Remember, at the end of the day you're at the customer's service so practice patience always.
Always be attentive to what the customer is saying and the way they're saying it. This is crucial in providing great service. Also be attentive to the kind of feedback that customers are giving. This way you'll be able to anticipate their frustrations and complaints and know how to handle them.  
Working remotely takes discipline and dedication. One of the things that you can't get away with is time management. When it comes to working online customer service jobs from home  time management skills will go a long way in increasing your success. If you're assigned a number of different tasks be sure to manage your time well so that you can get all tasks done.
Where to Find Customer Service Jobs Online
Get Skilled For Your First Online Customer Service Job
The beauty of online customer service jobs from home  is that you don't have to have a customer service background to get started.
You can easily start from scratch and take online courses to learn the skills required for the various  online customer service jobs.
Here are some of the best online courses that you should try out, depending on the type of customer service job that you want to pursue:
No matter which type of online customer service jobs  you decide to focus on, you're sure of finding something to work on as you enjoy the beauty of the world at your own convenience.
Remember, the trick is the right attitude, dedication, getting skilled and staying the course by putting your best foot forward.
So what are you waiting for? Get started today!
Have you been wanting to be a customer service agent? What difficulties have you faced so far? Let's discuss them in the comments section!
You might also be interested in:
Written by
---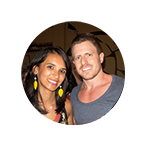 Fulltime Nomad
Fulltime Nomad is your passport to saying no to normal, and yes to a life of unlimited travel. Founded by Radhika & Johnny, this blog will help YOU take that big scary first step towards building your own freedom lifestyle. Are you new? Start here.